Sweet and soaring, Gone Gone Beyond's sophomore album '2030' radiates with existential love and an effervescent lust for life.
Stream: "Canyons" – Gone Gone Beyond
---
Our goal is to create an accurate emotional record of our experience.
Sweet and soaring, Gone Gone Beyond's sophomore album radiates with an effervescent lust for life.
A record of "existential love," 2030 puts the band's talents on full display through twelve tracks full of poetry and understanding, hope and connection, lost and found. Radiant, full-bodied harmonies and buoyant melodies shine alongside emotional lyrics that speak to our shared human condition – one that can withstand the darkest of days, with the promise of a better tomorrow.
I've been traveling a wave
That has led me to the water
While everybody in LA
Was safe at home
For sure my baby was an Earth sign
I fill the spaces up above her
She says I know you got a good heart
But there's a better way to love her
So I believe
Even if it's not real
There ain't nothing that time won't heal
And I'll see you in the canyons
– "Canyons," Gone Gone Beyond
Released June 25, 2021 via "Lucky Ones" Records, 2030 arrives two years after Gone Gone Beyond's debut album Things Are Changing put them and their eclectic, inspiring "future folk" sound on the map. The "international four-part musical hybrid group" of David Block (Los Angeles/NYC), Danny Musengo (Iowa/NYC), Kat Factor (Santa Cruz), and Mel Semé (Cuba/Barcelona), Gone Gone Beyond and their music are best understood as a beautiful, unique blend. Myriad influences and styles come together under an ever-expansive "folk" umbrella that brings together banjos and 808s, deep house and Americana, and more – all with stirring, vast vocal harmonies and touching lyrics that cut to the core of human existence, past, present, and future.
For the four-piece, 2030 captures them at their very best. "We basically started making this record as soon as we got together as a band," Gone Gone Beyond tell Atwood Magazine. "Our first record was a collection of songs we each had made individually with David [Block], so this is really the first time all four of us made an album together. There was a lot of exploration that happened in the past three years, but eventually the recipe got just right. All of us have very different and distinct artistic backgrounds, so the influences are all over the place. Because of that, we decided to ignore the boundaries of genre, letting the songs be bonded in spirit, instead. There was no distinct vision – it just came out of the life we were living and continue to live. Our goal is to create an accurate emotional record of our experience."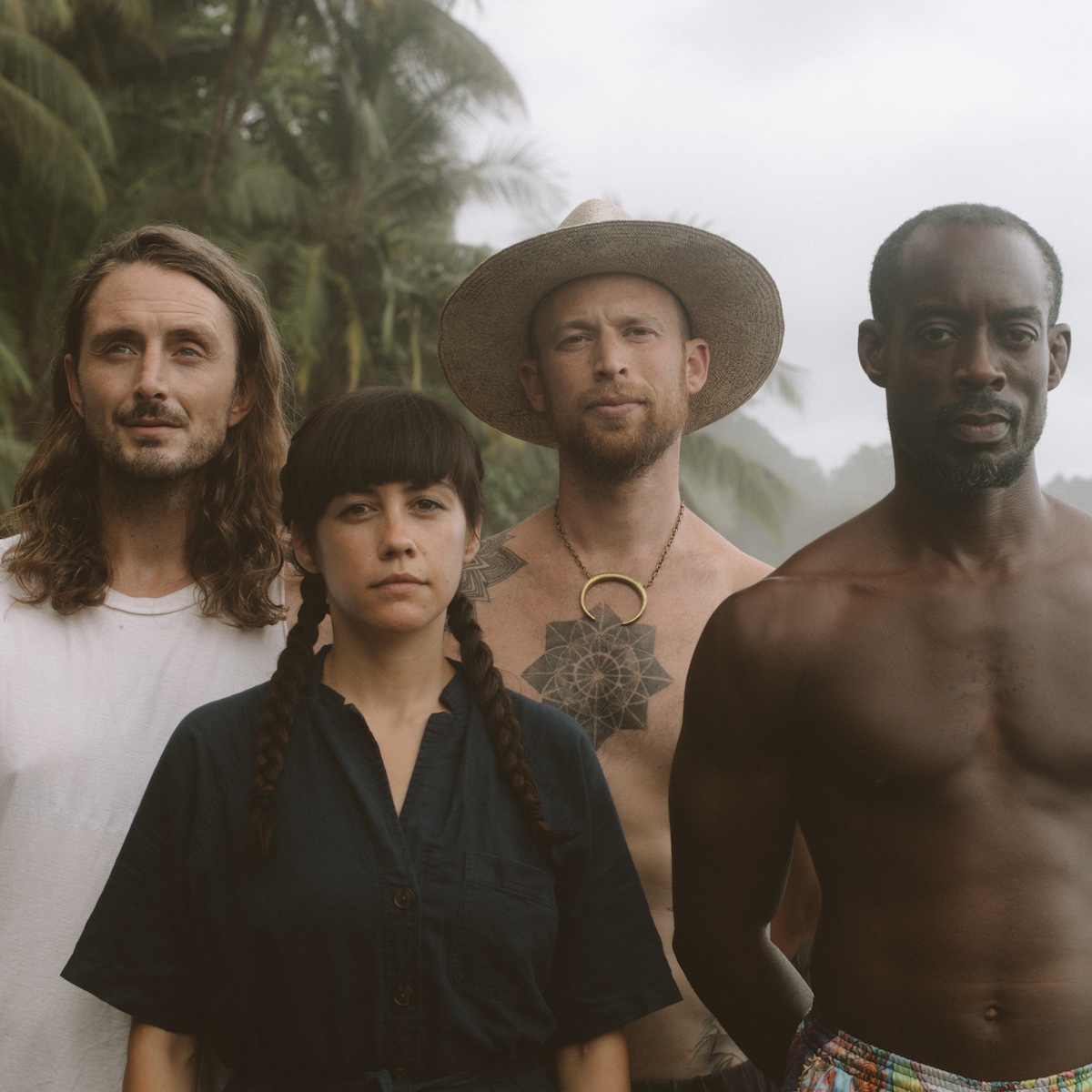 It's a new thing out in the world. An expression completely of its own. Genre-less, spiritual music with four lead singers. We feel it's the most honest and heartfelt capture of what these spirits sound like together. It's a perfect representation of the collective.
Gone Gone Beyond have evolved considerably beyond David Block's early conceptual roots (the band began as a series of collaborations with his project The Human Experience); as a unit, they defy simple definitions and transcend most boxes – and yet, 2030's songs are catchy, easily relatable, and instantly heartwarming. The album's name captures the band's roots, as well as some of what they stand for:
"One of our first gigs was at the United Nations, where they were talking about the 17 Sustainable Development Goals," they explain. "2030 was the date they set as a sort of a make or break for humanity. We think that just stuck with us."
Along that same line, the group cite the related lyric of their final song "Marigold" as their favorite: "I hope I see you in the year 2030." It's a simple line, and yet it speaks so much to the multiple crises at our doorsteps today. The full lyric goes,
I hope I see you in the year 2030
Just as pretty as you was when you was a kid
'Cuz after all the trouble of a thunderstorm
The sun came out again
And it was Marigold
---
Closing the record, "Marigold" is a song of hope for the future: One that, through heated acoustic guitars and hot-on-the-mic singing, captures the immediacy of everything around us, and the spirit of perseverance and resolve we each house inside.
It's just one of the many standouts on the record: From the soulful, stirring opener "Canyons" and the pulsing anthem "Rain Down" (which tells the story of future climate refugees), to the buoyant and breathtaking "Everything," the fiery and fierce "Coast" and the smoldering, vulnerable groove "Lost in America," 2030 invites us into moments of wonder, joy, uncertainty, and ambition.
The night is over
We turn our fires off and go
The morning started
With many more miles to go
We're looking for a new home
Cause the desert is all we know
Like nomads we're living in no mans land
What have we done to this place
Will our children have a place to play
I don't know, we'll keep on walking
Rain down
Rain down on me
– "Rain Down," Gone Gone Beyond
"The highlight of this album is definitely how it affects us when listened to from start to finish," the band share. "We really encourage everyone to give that experience a try. There's something special to the arc of the journey. This album represents an incredible amount of both artistic and personal growth for each one of us. We're all leaving the experience changed humans. As far as the listeners go, we have no particular agenda, but if it makes people look up at the stars a little more often, our job is done."
I could come along if you want it
But I think you'd be stronger on your own
I'll just write a song to remind you
There's a sky full of stars up above
Did you get what you want?
Are you good? Are you sure?
When it finally hits you, ain't it overwhelming?
Are you high? ' Cuz, I am
If it's love, just let it, baby
Everything, Everything, Everything is for you
From the day I met you, 'til the day you left me
When the tides were rising, when the sun was setting
Everything, Everything, Everything is for you
True, say it's true
– "Everything," Gone Gone Beyond
2030 is an album built on all kinds of love: Its songs "just can't help but shine" with limitless passion and a natural, earthen beauty. For what it's worth, we hope to see you in the year 2030 as well, Gone Gone Beyond.
Experience the full record via our below stream, and peek inside Gone Gone Beyond's 2030 with Atwood Magazine as the band goes track-by-track through the music and lyrics of their sophomore LP!
— —
Stream: '2030' – Gone Gone Beyond
:: Inside 2030 ::
— —
"Canyons" 
"Canyons" was the first song the band wrote after moving to Topanga Canyon in California.  It's a dreamy voodoo lullaby with all the whimsy of Alan Watts and all the heart of Neil Young.
"Little Moon" 
"Little Moon" is all starry-eyed romance with a chorus that seems to howl at the night sky. A tale for the galactic doter, following love to ends of the earth and beyond.
"Rain Down" 
With a production that smartly recalls the peak of Peter Gabriel, "Rain Down" tells the story of future climate refugees in an anthem fit for 2021 and beyond.
"Coast" 
On "Coast," 808s and banjos make a rare appearance together, uniquely supporting the transcendental, sing-song chorus, "It's out of my control, so I'm gonna coast for a little while."
"Riptide"
"Riptide" is an aching soul ballad written after a real life scare Kat had off the beaches of Costa Rica.
"Lost In America"
"Lost In America" uses Mel's transient life story to hold a mirror up at American Culture. Mel's daughters lend their backing vocals to this breezy summertime anthem.
"She Just Can't Help But Shine"
The closest song to Danny's country roots, "Shine" is the band's gospel-tinged tribute to the divine feminine. Tru Osborne lends his talents as choir director and his inspiring arrangement pushes this track over the top.
"Everything" 
Featuring Sean Rodman of Moontricks on vocals, "Everything" takes the listener on an unlikely journey both musically and lyrically.  The most optimistic of break-up songs, it manages to both tug on your heart and move your body at the same time.
"Gravity"
"Gravity" is a sort of cosmic acoustic prayer that seems familiar yet completely without time or place.  Danny pleads his lonesome case in the first verse, setting up Kat to completely break your heart in the second.
"Another Earth"
"Another Earth" is an esoteric love song that gradually becomes spiritual mantra. Kat delivers a haunting performance over the hypnotic pulse of finger-picked guitar, piano, and Shane Borth's otherworldly string arrangement.
"A Better Way to Love"
It takes a moment to realize that this is the exact same song as "Canyons," given new life by a pitched down vocal and David's downtempo production.  In this interpretation, the lyric "There's a better way to love her…" becomes the focus, leaving "I'll see you in the canyons" for the climactic drop.
"Marigold"
Mel closes the album with a message of hope in "Marigold." A simple strummed guitar accompanies the refrain, "After all the trouble of a thunderstorm, the sun came out again, and it was Marigold."
— —
— — — —
? © LP Hastings
:: Stream Gone Gone Beyond ::
---