A catchy, intimate unveiling of raw emotion with global hit potential, Gavin Haley's "Jet Lag" is a touching heart-on-sleeve declaration of love.
— —
Some songs just hit all the right nerves, sinking into our subconscious and seamlessly connecting with our very being. Music doesn't have to be complicated to get it right – and songs don't need to be layered in metaphor to be smart or nuanced. While it's not officially out until the end of the week, Gavin Haley's new single already feels like an absolute smash: A catchy, intimate unveiling of raw emotion, "Jet Lag" is a touching heart-on-sleeve declaration of love and devotion.
Yeah I'm jet lagged
Took a flight at 6 am
Just to see you babe
I was feeling real feelings
and they all for you 
and i'm messed up now,
'Cause you was gone by
8 am you was leavin babe
Now I'm doing anything
to get you off my mind, but…
Stream: "Jet Lag" – Gavin Haley
---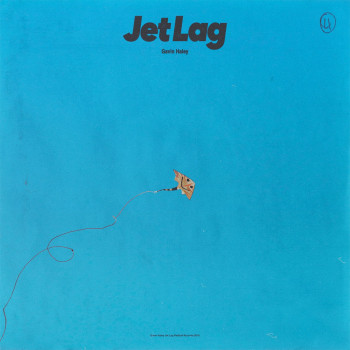 Atwood Magazine is proud to be premiering "Jet Lag," the latest in a slew of 2018 single releases from 21-year-old singer/songwriter Gavin Haley. Born in Michigan, Haley grew up in Louisville, Kentucky and at 16 competed with the US National cycling team in Belgium, where (so the story goes) he fell in love with the local music scene after sustaining an injury on the course. The years since then found him moving to Los Angeles and devoting his time to a career in music, bringing the same mentality he had with cyclocross into his songs and the studio.
Haley's 2016 debut single "Fades Away" found him bursting out of the gates with pop poise and down-to-earth vulnerability, landing on Spotify's Viral 50 chart in Australia, the UK, and US (#'s 1, 8, and 18 respectively). He released his follow-up "Picture Me Now" in 2017. Since then, Haley signed to Red Bull Records and has been gaining increasing visibility and attention with this year's songs "better off," "West Coast" and "Sad Season."
It would seem California is an ideal backdrop for Gavin Haley and his music, much of which gives off that sunny, washed-over vibe we so classically associate with the West Coast. "Jet Lag" is no exception, with its mellow guitar melody serving as simple, but all-too effective at capturing the artist's heartfelt intent. Haley croons softly over the guitar, moving from a nostalgic pre-chorus into an impassioned chorus:
I remember just chillin on the west side
In the city that we from 
your daddy's ride
We was filling up our lungs
So high, 
Yeah you got me so high
What goes up must come down
You in love without me now
I got it bad for you
Still got it bad for you
What we lost cant found
And you in love without me now
I got it bad for you
Still got it bad for you
"Jet Lag" is the kind of song that could easily be #1 on the radio – a pop music chart-topper in wait. A raw confessional in the vein of Justin Bieber's "Love Yourself" and James Arthur's "Say You Won't Let Go," "Jet Lag" is intimate, accessible, and instantly memorable – with a clear message for everyone.
"This song is relatable and simple," Gavin Haley tells Atwood Magazine. "It's a feel-good reminder that everything comes to an end and to hold onto the good things while you have them."
You been cuttin corners cut me out of your life, 
Straight up, its like I really need to take up your advice,
But did you hear my fuckin song,  about you, 
And this is just another song about you
One can imagine Haley sitting in a studio apartment in Los Angeles, guitar on his lap, strumming the chords and mumbling words to himself in the wake of some breakup. Everything flows naturally as Haley unburdens his heavy heart, always coming back to that infectious, palpable chorus: "What goes up must come down, you in love without me now, I got it bad for you."
Three stanzas: That's all it takes for Gavin Haley to succinctly capture a story of heartbreak we all know well. Bursting with longing and overcome by sorrow, Haley rises to a new level with "Jet Lag," a song that is sure to take the world by storm.
Stream "Jet Lag" exclusively on Atwood Magazine ahead of its worldwide release, and stay tuned for more music from this exciting new artist to watch!
— — — —
? © Red Bull Records
:: Stream Gavin Haley ::