RIYL: Olivia Tremor Control, Apples In Stereo, early Tame Impala, Dungen, Early Flaming Lips, Black Keys
I sometimes forget the power of a really crunchy guitar riff.
I  shouldn't, because of course that's the basis for all of rock and roll — that loud, raw, and pissed off squawk that sounds like thunder and a dive bar all at once. We have all heard it a million times, out of tube amps and modern ones, from people in garages and on stages. It sounds nostalgic for the kind of heroes your dad loved, and energized for a youth you can still feel in your soul even when you know better. That crunchy riff that made kings out of dudes with long hair in the seventies, that sent you back to your room to turn that shitty amp next to your bed up to eleven, that goes great with summer — it never went away. But when that music hits right, in the perfect way that it sometimes does, it can sound like you're hearing it for the first time.
Listen: "When the Sky Turns Blue" – Ghost King
[soundcloud url="https://api.soundcloud.com/tracks/249135923?secret_token=s-yLaxs" params="color=ff5500&auto_play=true&hide_related=false&show_comments=true&show_user=true&show_reposts=false" width="100%" height="155″ iframe="true" /]
---
Ghost King, a band of childhood friends from the Bronx, New York, know this well. "When the Sky Turns Blue," the first track from their upcoming debut album, starts strong, with a fuzzy, loud, low, crunchy, orgasmic guitar riff. It impacts your ears and lingers there, while another guitar spins a little around it and the drums do all of the things that drums thud and a crash. Ghost King's music takes advantage of the fuzziness of their instruments, the way that they can all mush together even while they're being played for maximum impact. Every riff has a linger of distorted feedback that makes it stick in your ears, and even the bass sounds like it's less played than smacked.
Ghost King's music doesn't exactly sound new. It's resolutely retro (and how could it not be in this day and age when all the instruments are guitars or drums), evoking the 90s indie bands that did their best to evoke 60s garage bands that did their best to play their guitars real loud. But it manages to sound fresh through this incredible mastery of that crunch, so irrational that has been rock and roll's pulse for more than fifty years. It punches you, and it takes you with it where it's going.
I spend an absurd amount of time wondering about the future of rock music, about whether music that is becoming a grandparent still has a future, about how much of current rock music is consumed by retroism and an almost nostalgic feeling for a past that maybe was. And then I hear songs like "When the Sky Turns Blue," which Atwood Magazine is excited to be premiering today, and all of those thoughts feel absurd, because damn if crunchy guitar riffs don't still work just as well as they did in 1964.
Listen to "When the Sky Turns Blue" now, and get ready for BONES, Ghost King's debut album, available for pre-order now and out March 25th digitally and on cassette via Fleeting Youth Records.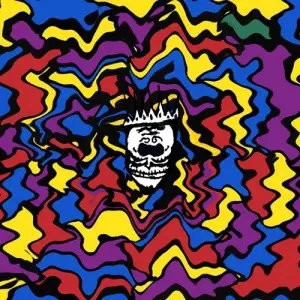 Follow Ghost King on Facebook, SoundCloud