In a self-directed video, pop-upstart Greta Isaac raises her hook-laden single "Like Me" to a new level of delightful weirdness.
---
Greta Isaac wants someone to like her. Whether that someone has yet to come around in the week since the release of Isaac's newest single, "Like Me," we at Atwood Magazine have yet to hear. But we sure like Isaac and are proud to be premiering the "Like Me" video.
You know the rhythm well. It's a set of Billy Joel piano eighth notes like a heart attack-ack-ack with speed. The high energy will make dancers dance, the half-time beat will make heads bob, and the production team even slipped in a funky hook for the air-guitar crowd. Above it all, Isaac startles us with a tension-wrought performance on the track as well as in the video. Through the complete package of music and film, Isaac shows us the topsy turvy dichotomy of likability. Speaking of the song, she says, "It's probably the most [on the nose] in terms of just wanting to be validated and how that is my intention behind everything I do. But I still wanted it to sound like a euphoric release, for it to give you relief from any panic that I felt."
With the "Like Me" video, Isaac pushes the line between everyday insecurity and paranoia. On that edge, she finds a special kind of charisma built on naked honesty. Isaac, in character, worries that she's not enough. In the process of changing herself into someone more likable, she gets caught in a state of delightful weirdness. Isaac finds herself alone in a house with a mannequin. Unsure of how to act, Isaac takes the mannequin's hodgepodge clothes for herself and begins gyrating about the house. She tries out every bed, chair, and floor as a space to compose herself, each time giving in to the manic choreography that she just can't seem to temper. She wants to dance like nobody's watching, but she keeps watching herself as her own worst critic, and that sets her off.
It's the kind of video you would want to watch in 3-D. The camera moves almost as much as Isaac, sometimes following her, sometimes leading her. It falls, jerks, and rolls loosely with Isaac's (nearly) stop-motion choreography. The effect on the viewer is something like being stuck on a capsized ship in a storm. We are trying and failing to dance along with Isaac, her force of personality being the thing that sets us on and off; we move on her accord.
Not only is Isaac the video's sole performer, but she was also its director. "Directing videos and film has always ticked away quietly in the back of my mind," she says. "Film is such a huge inspiration for me and music has always felt like a vehicle for expressing myself through visual art forms."
The audio and visuals will ring starkly familiar with just about anyone. Identity is hard to make, harder to break, and often seems at odds with compatibility. I'm sure most listeners can relate to that anxiety. Isaac can add to her list of talents the ability to wrestle complex emotions into simple words and hooks, as well as into compelling visuals. And she does a good job of being likable even when dressed as a thrift-store mannequin.
Stream the music video for "Like Me" exclusively on Atwood Magazine, and look for Greta Isaac's new EP Pessimist due this May!
— —
Watch: "Like Me" – Greta Isaac
— — — —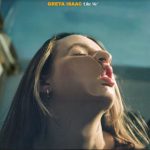 ? © Karina Barberis

:: Stream Greta Isaac ::
---