In his overall tribute to poet Bob Kaufman, 'Bob's Son', R.A.P. Ferreira pays an equally important homage to jazz and the beat poet movement as a whole.
•• ••
Listen: "redguard snipers" – R.A.P. Ferreira
---
R.A.P. Ferreira, formerly known as Milo and Scallops Hotel, has forged an identity for himself that is equal parts rapper, poet, and philosopher.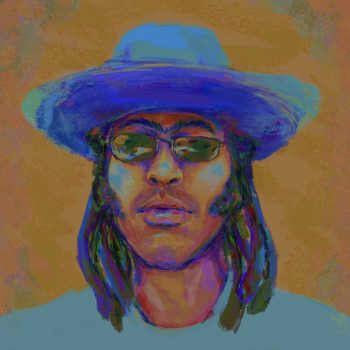 From references to Sartre and Greek philosophy(see "diogenes on the auction block"), to the implied subtlety of the Ruby Yacht (Rubaiyat), Ferreira proves across his entire discography that he is well-read. On his latest release, whose full title is Bob's Son: R​.​A​.​P. Ferreira in the garden level cafe of the scallops hotel, Ferreira pays tribute to jazz, beat poetry, and more specifically, the work of poet Bob Kaufman.
As a whole, Bob's Son is another strong release for the entire Ferreira discography. While the production feels a bit predictive at times, like an overlapping of ideas spread across a few tracks on the album, the beats and sounds still work in the greater scheme of things. That being said, Ferreira's writing and deliveries make top marks on this project. His writing flows, his references are creative, and his delivery matches, if not exceeds, the overall jazz and beat vibe of the album. Regardless of the name he is going by, Ferreira continues to release albums that are thoughtful, relevant, and forever poetic.
Listen: Bob's Son – R.A.P. Ferreira
:: Inside Bob's Son ::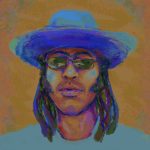 — —
"battle report" featuring Pink Navel
The opening track serves two purposes: To show off Ferreira's affinity for undulating, looping jazz piano production, and to introduce himself as the son of Bob. There is some random cackling and jawing from contributor Pink Navel, but still, this song is introductory.
"the cough bomber's return"
Ferreira truly has an ear for jazz beats and production, and this track is no exception. A lo-fi harp strumming arpeggios sits on top of an equally lo-fi, and dragging groove of a drum beat. Halfway through, a voice seemingly thanking the Lord for the Cough Bomber's return, summons a new beat. The harp is replaced by a low-key organ and what sounds like muted horns. At this point, Ferreira takes on a more laid-back and less verbose flow all in the name of oatmeal cookies; an observation of the Abomunist Manifesto.
I'm back up on my oatmeal
I'm back up on my oatmeal cookies
"yamships, flaxseed"
This one starts off casually with relatively bright production, looping background synth flourishes and a prominent and straightforward drum beat. However, by the half way point when Ferreira's verse is up, the beat turns into a dark combo of jazz piano and low-presence, syncopated drums. Ferreira matches the vibe with a calm, almost spoken delivery that sounds like every word he's saying isn't so much being spoken, but just kind of happening and occurring; that is until he starts rhythmically groaning and syllabizing at the end of the track.
"diogenes on the auction block"
Diogenes was a Greek philosopher who, in a very cursory and Wikipedia-based summation, criticized "social values and institutions of what he saw as a corrupt, confused society." Ferreira, the modern Diogenes so to speak, boils down the current political situation by comparing Sprite to Sierra Mist. To put it colloquially, Ferreira is all about bars on this track.
I stepped up to the auction block
Cleared my throat, I was like, dig, uh-huh
I'm the type I'm slave you buy if, uh, you, uh, need a new master
I could wrap the blues backwards and around myself
Tied in the front like a karate belt
And high kick the moon out it's socket
All my good times was pursued outta pocket
Might step inside and out the pocket
If it all becomes description, why does the problem persist?
Political spectrum be Sprite or Sierra Mist, it's disgusting
"redguard snipers" (ft. SB The Moor)
Of all the tracks on this album, "redguard snipers" might be the catchiest of the bunch. SB and Ferriera combine in equal and complementary ways: SB with the brighter energy in contrast to Ferreira's generally casual vibe. On top of that, the chorus is sticky and, again, of all the beat changes that Ferreira likes to put halfway through songs, the change in this one is definitely a highlight.
New slurs, new verbs
New curves, new nouns, new sounds
New pounds, new rounds, new hounds
"sips of ripple wine"
Catchy, sporadic, and prone to restlessness. "sips of ripple wine," which starts with what could perhaps best be described as a theme song to a gritty, 70's detective movie, changes, metaphorically, compositional outfits several times. Multiple transformations, slow, stuttering flows, a general ode to wah-guitars and 70's funk, and two excerpts from jazz poet and musician Ted Joans make up this killer and sonically dense track.
"skrenth"
Taking cues from the prior track, "skrenth," features excerpts from poets Amiri Baraka and Gregory Corso and a backing track that seems like it could, as well, be featured in a gritty, 70's detective film. It's dark and it grooves. These two tracks work nicely back-to-back.
If you wanna be a poet, you can't be
You gotta know you are a poet
And then you've got no fucking choice
"bobby digital's little wings"
This is the second track on the album to feature arpeggiated and looping harp samples and it really jams. The rest of the track features gentle notes of static texture and again, a relatively lo-fi drum beat. Though this is one of the more compositionally simple songs on the album, Ferreira's lines benefit from the more direct approach and again features guest excerpts from Rita Dove and Shay Stewart Bouley.
"listening"
Unsurprisingly, the pianos and drums that make up this song are jazzed, nimble, and of the lower-fi variety, respectively. Ferreira's vocals feel as loose and improvisational as ever, like his words and delivery make up as much of the jazz as the instrumental of the song; and it does. Plus, his attention to alliteration and wordplay is in top form on this number.
Al Gore allegory in Allegheny with the pocket torch
Weighing me down
Turn a frown to a simile
Cannot a Borg assimilate?
"high rise in Newark"
Though there are moments on every track where Ferreira's words catch and hold the ear, sometimes for political reasons or social references, this track shows some of his best flowing, stream-of-consciousness writing. Ever the poet, Ferreira thoroughly solidifies his beat poet credentials by this point on the album.
Spittin' like a gun muzzle
Found oneself bumfuzzled, or was it bum-rushed?
Regardless, left dumbstruck
Off the dilly-dally, on the humble-bumble
With thе woompty-woomp, it happens every day
You may havе sauce, but one must marinate
Acquiring flavor a lot more than desiring papers, learn not to hesitate
"rejoice"
Save for the last leg of this one, "rejoice" keeps and features a fairly dreamy and ethereal composition. The drums, as usual, are straightforward and locked in while the synths and general sounds shimmer, gently swell, and repeat. It's a strong and poignant penultimate moment.
"abomunist manifesto"
Split between something that resembles a Jaco Pastorious bass composition and some combination of both country and western music, Ferreira closes the album reciting sections from Kaufman's "Abomunist Manifesto." According to the Poetry Foundation, Kaufman adhered to an oral tradition, rarely placing his words on to paper, and for the most part, Ferriera translates that idea well across the album. Even when he is speaking words that weren't initially his, they feel natural, like he is truly carrying on a longstanding, oral, poetic tradition. Perhaps he is.
— —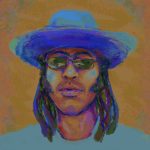 Connect with R.A.P. Ferreira on
 Instagram, Twitter
? © R.A.P. Ferreira
:: Stream R.A.P. Ferreira ::