While 'SICK!' cannot claim to be as musically cohesive as his previous work, it represents a huge step forward for Earl Sweatshirt.
Stream: 'SICK!' – Earl Sweatshirt
---
It's one of the more bizarre quirks of music history that the Horrorcore collective Odd Future has ended up commanding a lot of influence over the landscape of hip-hop in recent years. With dozens of members, the group has launched the careers of Frank Ocean, Tyler, The Creator, and Domo Genesis. Earl Sweatshirt is one of its most famous alumni, starting in the group after being discovered by Tyler, The Creator on Myspace. He quickly rose to prominence and started releasing material on his own terms. His solo career is as long as his association with the group, and he has become one of the leading voices in alternative hip-hop.
Earl is usually a solo artist, but on SICK! there are eight credited producers, with Earl himself featuring on just three tracks. This collaborative approach bears a lot of fruit: SICK! is the most musically diverse Earl Sweatshirt record to date. The sunny trumpets on "Lye," the trap-infused bouncy bass of "Lobby" and the stratospheric, luxuriant piano on "Vision" are all textures Earl Sweatshirt has rarely felt—but unsurprisingly excels at rapping over. His slow baritone style belies a versatile talent for fitting his voice over any track he cares to come across. Linked up with his deep introspective poetry, his is a voice laden with potential. Working with a legendary beatsmith like The Alchemist, the key moments on SICK! are something to get excited about.  
We keep facts in the midnight wax, family tree sap
Light leak through the leaves on familiar tracks
I know it's real even when I'm feeling bad
Resilient as they built the black
She shimmy into the—yeah, that's consent gettin' established
You only trash if you trash, I keep it simple and dynamic
"Tabula Rasa" is this album's centrepiece. Earl is joined by up-and-coming New Yorkers Armand Hammer on a song that neatly summarises the intent of SICK! By galvanising the hard, dry east coast verses of Billy Woods and Elucid with the clip-it and snippet sounds of his self-production, EarlSweatshirt is putting a new spin on his trusted methods; sitting on the edge of the alternative hip hop scene he has been so instrumental in developing and casting his net further. The contrast between the merciless beat chopping and the ebullient vocal sample is familiar, but it also offers something new. "Tabula Rasa" is a cleaner hit than the rest of this album, dropping in unannounced and leaving no traces on completion. It's the first song that reaches out to you, and lingers the longest in your mind on every play through.
This kind of rapping is smart, but it's not cerebral; Earl Sweatshirt's style is chiefly situationist. He is often assessing his immediate environment, the last 5 minutes, thoughts that are zipping around his brain this second. He's not rapping about setting up a colony on Callisto, or travelling back in time. He's rapping about his life and experience, and whether that be past relationships or a skit about robbing a drug dealer, he delivers it with wisdom and insight. On SICK! there are many themes, the album is mainly about living through the pandemic, but on a more general level you'll find Earl engaged in reflection and nostalgia: "Old Friend" is almost certainly about his fellow Odd Future members, while "2010" is, amongst other things, a dedication to his late friend Mac Miller. 
Singular current event, everything we in the midst of
How long you waiving the rent?
Moratorium extendo, I'm just evading the pit
Ain't no parade in the tent
Fuck out my face with syringe
Earl Sweatshirt's father, the South African poet and political activist Keorapetse Kgositsile, passed away a few years back, which adds to the contemplative nature of the record. SICK! also appears to make several references to African culture. To lose a parent under any circumstances is tragic, but Earl will have barely been into his mid-20s at the time. With his nods to Fela Kuti and acknowledgement of being "cozy with the East Africans up north", he makes sure to honour his roots.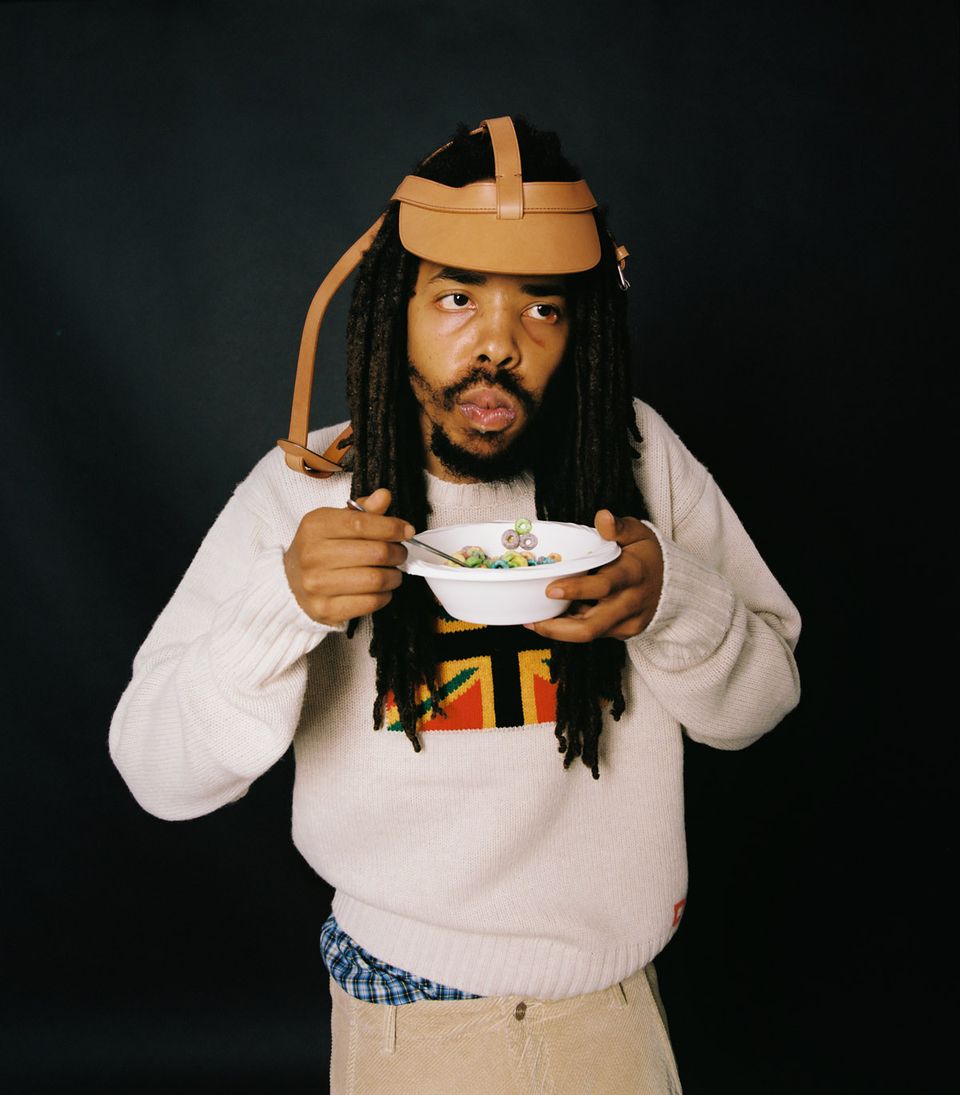 The album closes with "Fire In The Hole," one of the finest compositions on SICK! The beat is the easiest yet, a simple repeated guitar line with the thin distant feel of a tape deck in the other room. It's the final few stanzas and Earl is once again scrutinizing his past. He offers thoughts on promises made that weren't kept, or pacts broken due to circumstance, rather than betrayal. "Hit, leaning into the crutch, speedin' through the lulls/Take heed, we took an oath to the sword/The shield took a couple chinks but it never broke". He's still an honourable guy, but hey, life happens. It all breaks down to a simple piano melody, a palate cleanse after what has been a richly-layered 25 minutes of differing beats.
These days, I'm mindful of what I embrace
Operating on an empty tank, spank me, fumes fueling a flame
My grandfather spoke thirteen languages
Somehow never had nothing to say to Buti Raymond
Sensed hazel, made sense of it through prayer
Booze is a fool's fragrance
Ipeleng, the glue that saved us
Through his brain getting chipped away at daily
His body on a road, where his mind flailing, funeral weightless
While SICK! cannot claim to be as musically cohesive as Some Rap Songs, it represents a step forward for Earl. Lyrically he's been on an upward trajectory since day one, however it's best to think of his beats as an exploration. Those statements about him being a prodigal genius way back when he dropped his first mixtape are steadily becoming reality – As Earl Sweatshirt grows and achieves greater levels of artistry, it won't be long until he's considered in the same breath as some of hip-hop's finest ever to do it.
— —
— — — —
Connect to Earl Sweatshirt on Facebook, Twitter
? © Lindsay Ellary
:: Stream Earl Sweatshirt ::