The Jesus and Mary Chain dive deep into their first album in almost 19 years 'Damage and Joy', their hesitancy to return, and rehabilitation.
— —
Almost a decade after what appeared to be an unsalvageable breakup, The Jesus and Mary Chain reformed in 2007 to perform in front of a crowd from all over the world at Coachella and Meltdown festivals. The tumultuous relationship between brothers Jim and William Reid was no secret and by their 1998 album, Munki, being in the same recording studio without provocation was near impossible. The Scottish band's debut album, Psychocandy, set a precedent for distorted rock at it's purest, but the frenzy that manifested from it was fueled by the turbulence between the members who made it.
After years of stubbornness and assuming that the other would never want to reunite, in 2017 they put to bed all animosity that once festered and released their first album in almost 19 years, Damage and Joy. They welcomed collaborations on it, including with Sky Ferreira, and have been heavily touring since, most recently opening for Nine Inch Nails across North America. Before their first of two sold out nights in Brooklyn, NY, Atwood Magazine sat down with Jim to discuss their most recent album, hesitancy to return, and rehabilitation.
William and I bonded during the making of 'Damage and Joy' in a way and we got along better than we had in decades. It kind of repaired our relationship.
A CONVERSATION WITH THE JESUS AND MARY CHAIN
ATWOOD MAGAZINE: IT'S BEEN A LITTLE OVER A YEAR SINCE DAMAGE AND JOY CAME OUT. HOW HAS THE RECEPTION BEEN?
Jim Reid: Generally pretty good. I suppose about as well as we can expect really. I mean, it's our first record in almost 20 years. And it could've come out, it could've gone totally unnoticed. It actually charted in the UK. It went 16 in the UK album charts which I suppose these days means it probably sold about 25 copies but it's still better than nothing. Yeah, it did very well I think.
BECAUSE IT HAD BEEN A LONG TIME SINCE YOU PREVIOUSLY RELEASED AN ALBUM, DID YOU FEEL MORE ANXIOUS DURING THE RECORDING PROCESS OR AFTER IT WAS RELEASED?
Reid: There's always a bit of anxiety when you make an album in the studio because there's so much at stake. When it's finished, you're a bit more relaxed because by the time you finish it you become generally pretty happy with the way it's turned out. Because it wouldn't get to that point unless you feel pretty good about it. But, the recording process, it's like trying to hail a cab sometimes. Sometimes it seems to be getting away from you, that idea in mind, and it doesn't seem to be going the right way. Then, with a little luck, it all just gets together when it needs to. Or sometimes it's like a happy accident when you've got an idea in mind and the song turns out nothing like your idea but it turns out like something else that's just as good or maybe even better. The recording process I don't enjoy but once it's done and you've captured the thing, it feels pretty good.
HOW HAS THE RECORDING PROCESS CHANGED SINCE YOU WERE IN THE STUDIO LAST?
Reid: It's quicker because technology's moved on quite a bit since we last made a record. And not that we were masters of that technology. We did have a producer. It was the first time we had used a producer but there was also a guy that worked all the computers and stuff, Michael Rendall, and he was amazing. He'd sort of come up with an idea that, back in the old days, you'd spend maybe the entire day trying the idea. You'd say something like, "Wouldn't it be good to have a cello at this part?" and you'd sort of send out for a cellist but find that it doesn't exist and then you've wasted a day. Whereas with Michael you'd say, "Oh God this would be good with a 1960s Beatle's drum kit" and he'd just go [moves hands around] and then it would be exactly what you were thinking of. It's amazing what you can do now. So, in a lot of ways, it was quicker but in other ways it was very much the same. The same process but it's just more efficient now I think.
YOU STILL USE THE SAME DISTINCTIVE FEEDBACK AND DISTORTION SOUND IN DAMAGE AND JOY THAT YOU HAD ALWAYS USED. DID YOU FEEL PRESSURED TO EVOLVE INTO A DIFFERENT SOUND?
Reid: Never felt pressured into being anything other than just what you want to do. That bit's quite simple. We've always made records to suit ourselves and hopefully other people will get into it. Thankfully enough people have that I'm still here talking about it 30 odd years later. It was the same with this record. We just made the record that we wanted to hear. That was it. There was no pressure really. The pressure's in your own head.
DO YOU TRY TO ACHIEVE THE SAME THING IN YOUR MUSIC NOW AS YOU DID WHEN YOU FIRST STARTED?
Reid: Just a record that you could live with at the end of the day. That was always the driving force. Just a record that once it's made, five years later you listen to it and it still sounds good. That's why we made this record. We made records because we didn't like what we were hearing coming out of the radio. That was the reason why we always made records. People don't realize that sometimes negativity can be a positive. In the 1980s we used to listen to, in the UK there's a national radio station called Radio 1, and they play all Pop. There's very little radio over there than there is on the internet but then you would turn on the radio and it would be Durand Durand, Culture Club, and the same old garbage really. And we just thought this isn't good enough. We wanted to put better music on national radio. That was the driving force back then. Still is.
Never felt pressured into being anything other than just what you want to do.
YOU MENTIONED YOU WORKED WITH A PRODUCER FOR THIS ALBUM. WHY HADN'T YOU WORKED WITH ONE BEFORE AND WHY DID YOU USE ONE THIS TIME AROUND?
Reid: We tried before in the '80s. It wasn't so much that we thought it was important back then. Other people sort of said to us, "You should try a producer." We couldn't really understand why at that time but we kind of explored that possibility. We met with producers that were suggested to us and we just didn't hit it off with anyone. I remember we met Daniel Lanois, the guy that produces U2, and we met him and he was saying things that were just a totally different type of approach. Things like, "Well what we'll do, we won't do it in a recording studio. We'll hire a church or something like that and we'll just sit and get stoned." In that particular time we were going through a hit Pop phase. We started saying things like yeah but we want to get on KMR and have an Urban, Hip Hop drum feel. He was sort of thinking stoned musician and we were thinking of drum machines, electronic, and getting samples and all of that. He just wasn't having any of that. We met a few of those like that as well and it just never went well. This time, because the last record we made was so damaging to the band and to me and Will and our relationship, I was terrified about making a record. That's the reason why it took as long as it did after we reformed. William was actually keener than I was. He was like, let's get in the studio and I was thinking well, I didn't want to entertain before, but I was making excuses up to not make a record. Then it got to a point where we told so many people we were making a new record, so many people kept asking us "How is that going?" and I just got fed up lying and saying it's nearly finished. Then I thought let's just do it. Fuck it. Let's just do it. But we sort of thought that having a producer involved would add an extra element to it that wasn't there before. Also we thought that this person would be like a peace keeper. A United Nations of the situation. We thought it would be someone that if we started swinging at each other with instruments that there would be a person to slap us around and say "Don't be fucking stupid. We're here to make a record." So, Youth was suggested, I can't remember who by, and we met him and it seemed like it was going well. We tried a couple tracks to see if it would work and it did. As it turns out, the peacekeeping aspect of it wasn't necessary. William and I bonded during the making of Damage and Joy in a way and we got along better than we had in decades. It kind of repaired our relationship. Weird.
ALONG WITH WORKING TOGETHER, YOU HAD A FEW FEMALE VOCALISTS THAT YOU BROUGHT IN TOO LIKE SKY FERREIRA. WAS IT EASY FOR YOU GUYS TO COLLABORATE WITH ARTISTS OUTSIDE OF THE BAND?
Reid: Well we've done it before and it was quite easy. These days it's easier. You just email your track to someone in L.A.. Isabel Campbell sang on the record and I'd never met her. Still haven't met her. I was just a fan of her voice and her music. We were just looking for people to ask and we heard she was keen. We tried to link up with her in L.A. and play but when we were in Los Angeles she was in Scotland at the time so we just didn't link up. But yeah, it's pretty easy to do.
WOULD YOU SAY THAT THE ALBUM TITLE WAS REFLECTIVE OF WHAT THE MARY CHAIN BROUGHT FOR YOU AND WILLIAM?
Reid: It described the state of The Mary Chain at that point. A lot of damage, a lot of joy. It's actually, the literal English translation of the German phrase schadenfreude, which means to take pleasure in the misfortune of others. But it's got nothing to do with that. We just like the words damage and joy, and thought it seemed to sum us up.
YOU TALKED ABOUT BEING HESITANT TO GO BACK IN THE STUDIO BECAUSE OF HOW IT WAS PREVIOUSLY BUT ULTIMATELY YOU ENDED UP HAVING YOUR BIG BREAKDOWN WHILE YOU WERE ON TOUR. WERE YOU HESITANT TO START TOURING AGAIN BECAUSE OF THIS?
Reid: The touring bit's easier because you've got your own space on tour. It is quite closer for a bit but not as claustrophobic as spending a summer in the recording studio together. When we reformed back in 2007, although we were telling everybody our relationship was fine, it wasn't really and there were mega bust ups back then and depending on whether we were were drinking or not because we both had problems with alcohol and stuff. At that time I was sober when we reformed, he was still drinking and then I fell off the wagon and then that was it. Kaboom. We're both getting wasted and that was just very volatile to say the least. But, you could still go on the road. There was still enough space to get away from each other. I was definitely worried more about the studio than touring live.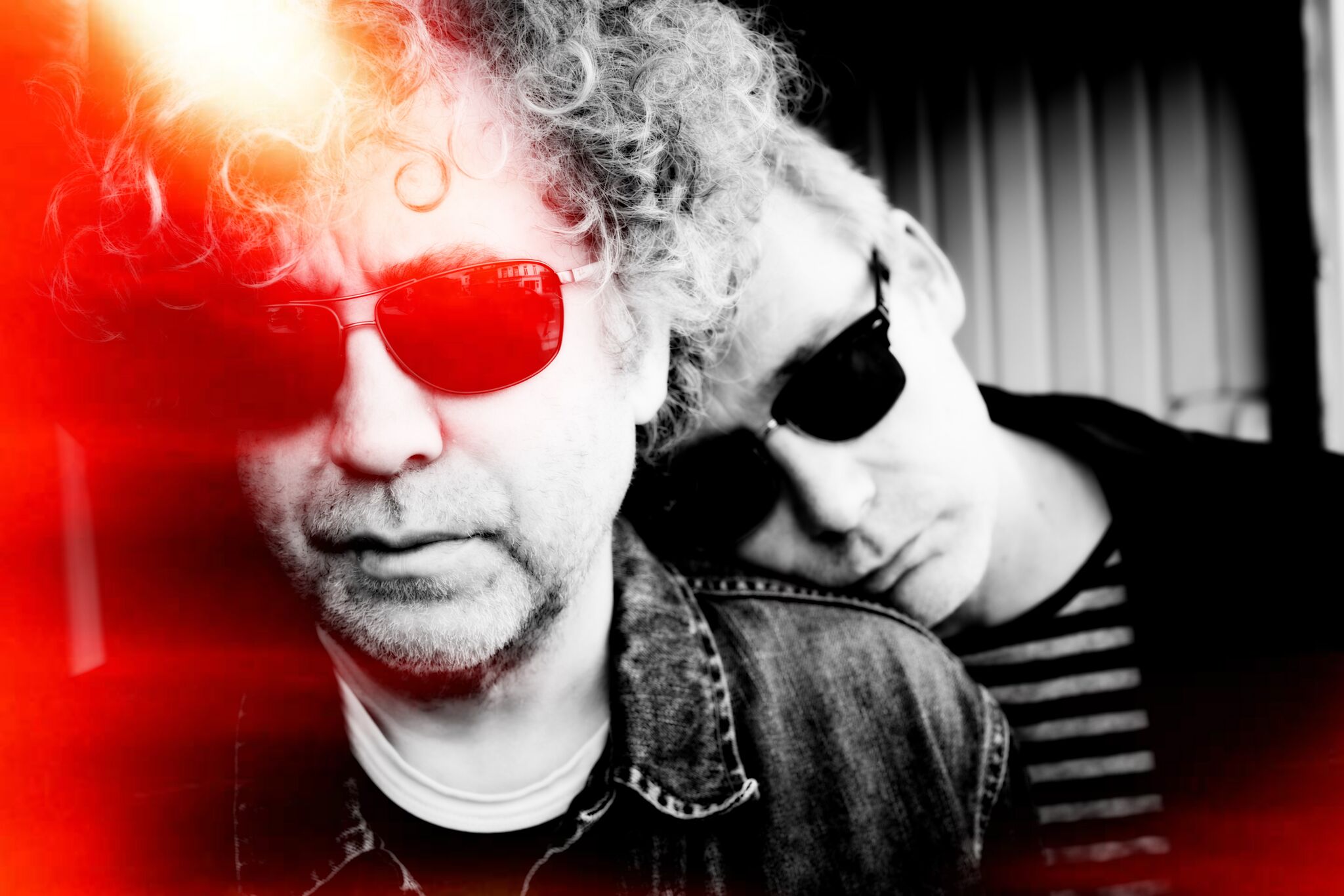 YOU'VE BEEN TOURING AVIDLY SINCE THE ALBUM CAME OUT, MOST RECENTLY WITH NINE INCH NAILS. HOW HAS THIS TOUR FELT DIFFERENTLY FROM WHEN YOU WERE TOURING IN THE BEGINNING?
Reid: In some ways, this feels like a bit of a cop out, but in some ways it's different and some ways the same. Back then I was, probably the reason why I got a drinking problem is because I'm painfully shy and to get on stage, to be a singer in a Rock 'n' Roll band, I couldn't do it. I couldn't do it sober. I couldn't even begin to think of getting on that stage as a singer without drinking and a little drugs. What's different now is I've come to terms with what it's all about. I don't feel comfortable on stage but I still kind of weirdly enjoy it. I kind of allow myself to enjoy it and not feel comfortable. Back then I used to feel like a fraud and that's why I drank. I was shy, I felt awkward, I felt as if I shouldn't be there, I felt as if I wasn't good enough. I wanted to be Iggy and after I was drunk enough I felt a bit like I was Iggy. But now, I don't actually try, I'm just being me, and I'd rather I just be shy and a little awkward.
HOW HAVE YOU LEARNED TO MANAGE BEING UNCOMFORTABLE IN THE SPOTLIGHT? DO YOU STILL GET NERVOUS BEFORE YOU GO ON STAGE?
Reid: Terrified. I'm always nervous. Nervous before I go on. Nervous on stage. But I calm down after a song or two.
I GUESS THE ADRENALINE KICKS IN.
Reid: Yeah. It's a scary thing to do. Especially during this tour because we're going on every night at huge venues and it's not our audience. It's kind of terrifying because you walk out there and it's just a big sea of people with "NIN" written across them and they've got this look on their face like, "Entertain me. We're waiting on Nine Inch Nails, show me what you can do." But, it's been working out okay and we're enjoying it. It's a bit different.
DO YOU FEEL LIKE THE NINE INCH NAILS CROWDS HAVE BEEN INTO YOUR MUSIC?
Reid: I think that they have been. There's a fair amount of people there and the house is pretty full when we go out, generally. They've reacted pretty positively.
YOU'VE SAID THAT YOU HAVE ENOUGH SONGS STORED AWAY FOR ANOTHER ALBUM. DO YOU THINK YOU'LL BE GOING IN THE STUDIO TO RECORD MORE?
Reid: We are thinking that we would. The plan is to have an album out by the end of next year. We were thinking of doing an EP first. And then an album. I don't know if the EP will materialize but I hope so. But it would be a stand alone EP. So, we'll either do an EP and an album, ideally, or an album next year.
— — — —
:: Stream The Jesus and Mary Chain ::