"Violence" reaffirms decisively that Grimes is one of the most talented producers active – male, female, or non-binary – and an artist with a clear aesthetic vision.
Listen: "Violence" – Grimes
---
The four years post Art Angels have been a strange time for Grimes fans, and seemingly for Grimes, now c, herself. "Violence," Grimes' new single, comes a neat 10 months after her last release and will, ideally, kick off the leadup to her next LP, Miss_Anthropocene.
Let's dispense with PR oddities right away. Anyone with a memory of previous Grimes releases will recall that buildups to Grimes albums are universally scattershot affairs at best, and nightmares at worst. This cycle seems to be no different, except for how effectively she seems to be alienating her core fan base. It seemed for a moment that her and insufferable tech brain genius Elon Musk's bizarre drama would seep into her music with "We Appreciate Power," a generic anthem to AI overlords that sounded somewhat like Muse with far better production, some cool screams, and libidinal vocals courtesy of HANA.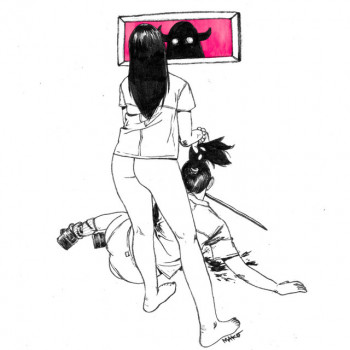 All of this is only to say that none of that matters one bit outside of comparatively niche Twitter drama and vulgar gossip columns. "Violence" reaffirms decisively that Grimes is one of the most talented producers active – male, female, or non-binary – and an artist with a clear aesthetic vision. From the beats to the music video, "Violence" is cohesive, startlingly gorgeous, and utterly addictive.
Sonically, "Violence" is a beautiful medium between the poppier sound of Art Angels and the sublime delicacy of previous Grimes albums like Visions. The intro is jarring, with Boucher's vocals rebounding across the whole mix and no clear beat to grasp on to. Then the beat hits and the song ramps up into a medium tempo production soundscape with Boucher's characteristic intangible vocals, punctuated by the addictive and almost cartoonishly girlish "and I like it like that, and I like it like that" – the best cadence in the entire song.
Sun Tzu's The Art of War inaugurates the music video for "Violence" and sets Boucher's intent. The set of "Violence" is also pure aesthetic anachronism, designed to invoke a generically ancient era: finger guns alongside neoclassical marble staircases, tattoos and surgical masks alongside swords and 13th-century military strategy, and what looks like Tekno the Robotic Puppy. If there's anything to be gleaned from the images outside of swimming in their dynamism, it's an idea Grimes posted about Miss_Anthropocene before anyone even knew the title of the song.
"a concept album about the anthropomorphic Goddess of climate Change: A psychedelic, space-dwelling demon/ beauty-Queen who relishes the end of the world."
"Violence" certainly frames Grimes as such. The beginning of the first shot frames her resplendently in flowing veils, centered on a marble staircase surrounded by women gazing out at a golden hour sunset, who in the next scene appears armed as faux-Amazonians who then strike Grimes down.
Coupled with the surgical masks, often used in cities with poor air quality, the video certainly does articulate an eerie feeling of mirth in the face of climate apocalypse. The line isn't exactly clear enough to "make climate change fun," as Boucher has said in interviews, but it certainly does make for a fun single – more than that. Resonant, even.
I'm tempted to characterize "Violence" as a stunning return to form for Grimes, especially after "We Appreciate Power," but that would be unfair. This isn't a return to form for Boucher, certainly because her capacities as a producer never dwindled, but more because "Violence" is, as she may wish for humanity and AI, a perfect synthesis of her previous work. I cannot wait to hear what comes next as Miss_Anthropocene, and potentially climate apocalypse, marches ever closer.
If nothing else, Grimes can help send humanity out in style.
Listen: "Violence" – Grimes
— —
? © Grimes
:: Today's Song(s) ::
:: Stream Grimes ::