Every other week, Anthony Kozlowski pens the Atwood Magazine column Tunes & Tumblers, pairing new and classic albums with cocktail recipes. He quickly found however that drinking alone is a sad business. So he invited his friends Pedro Isaac Chairez and Ryan James into a recording booth to aid in mixing delicious drinks and to discuss the music that they all love. Strap on your headphones and enjoy a cold one on us. 
 
The Tunes & Tumblers team battle heartbreak in this week's episode, but instead of wallowing in the same old love ballads, they bust out the disco ball and dance through the pain with Mark Ronson's latest album 'Late Night Feelings.' Featuring a murderer's row of female vocalists, it gives voice to each shattered shard of a broken heart. The gang also welcomes their first guest, former bartender and alcohol purveyor extraordinaire Liz Brownstein, to bottle their heartbreak with their most evocative recipe yet.
   
The door slams in your face, and just like that it's over. Two years of your life disappear in the rear view. Soon the shock gives way to despair. Everywhere you go, the backdrop reminds you of them. There's the ice cream shop where you shared a cone on your first date. And that's the song they would butcher at karaoke. They would find this meme hysterical. The omnipresence of their memory stifles you. What can you do put pull the blackout shades and let the tears fall on a vacant bedspread?
Of course that's only one way to soothe a broken heart. DJ super producer and EGOT-flirter Mark Ronson takes a different approach on his most recent album Late Night Feelings. Rather than wallow in the dark, the preeminent bellwether of "Uptown Funk" takes the anguish to the dance floor, encouraging you to groove through the sadness and find solace in the beat. Ever the collaborator, Ronson brings a who's-who of female talent to the mic that would put Ocean's 8 to shame.
The Tunes & Tumblers trio love to dance almost as much as we appreciate a glass to drown our sorrows in, so naturally we flocked to this album like flies to honey. Considering one of us lay in the throes of a recent break-up (we won't say who), this felt like an appropriate step in our mental health journey.
Did it help? Well, the cocktail certainly put a dent in the grief thanks to first-time guest Liz Brownstein. Like Ronson's outsourcing of emotional heavy-lifting to talented female vocalists, we enlisted Liz's help to distill the dance of break-ups and woe into a glass. A former bartender and current distributor of alcohol brands for a major company (we can't say which), there are few people more qualified to seize the reins from Pedro. She sets the bar so high in fact, we considered cancelling episode nine before stepping into the studio. But the show must go on, hearts intact or not.
THE ALBUM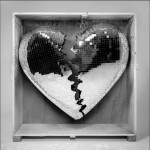 Late Night Feelings
an album by Mark Ronson
---
The album art isn't exactly subtle. A disco ball heart rent in two announces precisely what Late Night Feelings has to offer. It consists of a series of self-proclaimed "sad bangers," emotional tours de force set to his patented brand of neo-funk and soul. His roulette wheel of vocalists features a dream team of women running the stylistic gamut from Alicia Keys and Camila Cabello to Lykki Li, Angel Olsen, and plenty more between. They helm a mix of throwback jams with dabblings of 80's-infused gloss disco, funk and soul, dream ballads, and yacht pop, spinning lyrical webs of heartbreak, emotional confusion, and (gasp!) the importance of therapy.
To quote our sagacious guest, "This is one of the first albums in a while that really legitimizes the reactions, emotions, and pain that women are conditioned to feel ashamed of." Whether told to put on a happy face or that they don't need a man, the stages of grief still take a silent toll. They, and anyone for that matter caught in the muck of missing someone, are instructed to knuckle-up and overcome the pain. Women are defined by more than their relationships with others (despite what Judd Apatow movies insist), but that doesn't preclude them from experiencing pain and loss, and needing the space to mourn. After all the "you're too good for him's" and the "you deserve so much better's," all anyone wants when they get home is to call their ex and hear their voice one last time.
I ask myself a million questions in the dark
I lay in silence
But silence talks
"Late Night Feelings" – Lykke Li & Mark Ronson
Late Night Feelings validates all the longing, rational or not, and says it's okay to let yourself feel it. What it doesn't do is provide a bit of liquid comfort when the disco ball just won't cut it. That's where Tunes & Tumblers comes in. Please practice self care responsibly.
THE DRINK
A "More Than a Tease"
1 oz vodka
1 oz ginger liqueur
1 oz simple syrup
1 oz lemon juice
1/2 oz olive oil
1 egg white
cracked pepper for garnish
Instructions
Dry shake ingredients (no ice) for roughly 60 seconds.
Add ice and shake again for another 30 seconds.
Double strain into a champagne flute (or whatever's on hand). Let stand for a few moments to let egg foam separate properly.
Add black pepper on top to remember the "Pieces of Us" that remain now that we're over.
At Home Version
For when you're heartbroken and can only fix a drink with what's in the pantry.
3 oz vodka
1 1/2 oz lemon juice
1 1/2 oz lemon-ginger simple syrup
1/2 oz olive oil
4 drops vanilla extract
1 egg white
cracked pepper for garnish
Homemade Lemon-Ginger Syrup
1 part sugar
1 part water
lemon-ginger tea bags
Instructions
Make the Lemon-Ginger Syrup
Heat sugar and water on stove until the sugar is dissolved completely.
Steep lemon-ginger tea bags for 5 minutes
Make the Drink
Dry shake ingredients (no ice) for roughly 60 seconds.
Add ice and shake again for another 30 seconds.
Double strain into a champagne flute (or whatever's on hand). Let stand for a few moments to let egg foam separate properly.
Add black pepper on top to remember the "Pieces of Us"that remain now that we're over.
Cheers, Lovelies!
Pedro takes the night off this week, leaving bartending duties to the ever capable Liz. And what she mixes up is nothing short of extraordinary.
The "More Than a Tease" is a bit of a play on the idea that women are sugar, spice, and everything nice. There's a little sweet, a little of the herbaciousness, a little bit of a kick, and a lot of comfort. Listening to the album is a lot like imagining oneself with five of your girlfriends sitting in a lounge, telling Becky "He's a jerk! Forget him!" You slap an Amex on the bar and this cocktail finds its way into all of your hands.
At first glance, it's a little deceiving. The egg white foam that tops it gives the drink a shell or facade that mirrors when women puts on a happy face and say, "No, I'm fine." That's broken up a little with the cracked black pepper, the "Pieces of Us" that come from a choice King Princess collaboration. The pieces of us that haven't slipped yet into memory and are a part of you now. Though they hurt, without them you would honestly miss them.
Under the foam, the cocktail is very opaque. It is cloudy, it is convoluted, it is complicated. A melting pot of flavors include things like olive oil, egg, ginger, and vanilla. Though not what you would expect from a cocktail, these disparate tastes give it a comforting approach. It's a hug in a glass, but maintains a strong, boozy base. Its strength mimics that of the women who lend their talent to these songs. One sip and it will grant you a bit of strength to weather that heartbreak. It may just take a few more nights diving into your ex's Instagram feed between pints of ice cream.
THE SHOW
Not known for being sad sacks while on the mic, the team injects plenty of levity into today's episode to break up all the meditation on love and loss. Ryan notes Downtown LA"s Moroccan Lounge as the new hip place to take your Tinder date, I explain how 9/11 ruined Drowning Pool's career, and we all learn a valuable lesson about not touching Pedro's bubble.
With the addition of a guest, this week also sees the return of the Getting Carded segment, and Liz's IDs do not disappoint. Find out if much has changed for her since college and learn the insane lengths an eighteen-year-old will go to in order to make their fake ID work (which Atwood Magazine DOES NOT condone).
The search for a theme song continues in this episode too!
If you or your band think you have what it takes to soundtrack a podcast, submit a recording to tunesandtumblerspod@gmail.com with the subject line "[ARTIST_NAME] Tunes & Tumblers Jingle Submission." In addition to having their music featured and credited in future episodes, the winner will also be invited onto a special episode of Tunes & Tumblers to talk about what they would pair with their music. The winner will be chose early this Fall, so don't hesitate to throw your hat in the ring!
Hopefully by the time the theme song rolls, you'll be instilled with new tools to brave that latest heartache. Like birth, death, and the realization that Green Day's best albums are behind them, heartbreak is a human universal. It shades us all beneath an umbrella of mutual grief, but it doesn't strand us there. One way or another, we peek back into the sun for another try. The women of Late Night Feelings give multiple perspectives on the trials of grief, each one a tiny mirror that form a disco ball when pieced together. Sad bang your way through it. And remember Ryan's words of wisdom when you emerge on the other side:
There are plenty of fish in the sea,
even if they all have Mercury poison.
Tunes & Tumblers 008:
Mark Ronson and a "More Than a Tease" (feat. Liz Brownstein)
---
Catch up on Tunes & Tumblers wherever you listen to your podcasts!
If you want to add any of the music discussed to your library, check out the full episode playlist below:
Have your own idea for a Tunes & Tumblers pairing? Let us know in the comments, or hit us up on Twitter.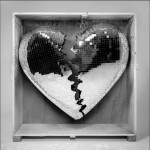 © Pedro Isaac Chairez