Filipino-Australian singer/songwriter grentperez sits down with Atwood Magazine to talk about his upcoming tour and rise to fame.
Stream: 'When We Were Younger' – grentperez
---
Hailing from Sydney, Australia, grentperez has taken the internet by storm in the last few years.
With songs blowing up on TikTok and his covers gaining hundreds of thousands of views, Grant Perez's musical project is gaining recognition quickly. He sat down with Atwood Magazine shortly after taking the stage at Head in the Clouds Music Festival in Los Angeles earlier this month. As a Filipino-Australian, grentperez was part of the glowing Asian line up.
His song "Cherry Wine" has garnered over 100 million streams on Spotify alone, and he is heading out on his own headlining tour this October in support of his recently-released EP, When We Were Younger. His singer/songwriter style, soft vocals, and guitar backing make him a staple in any easy listening playlist.
Through laughs and his charismatic personality, grentperez sat down with Atwood Magazine to talk about himself and his upcoming tour.
— —
A CONVERSATION WITH GRENTPEREZ
Atwood Magazine: Congratulations on all your success, it's been a whirlwind few years for you. Did blowing up so fast catch you off guard?
grentperez: To some degree, I didn't really expect it, but in my head it feels kind of the same to me as it did before. I'm taking it pretty chill right now.
You started with YouTube covers and transitioned to original work. Your song 'Cherry Wine' was the song that catapulted your uprising. After two years of that song being out do you still think that song is the best embodiment of you? Or are you looking to experiment in different genres and styles?
grentperez: I still consider that to be somewhat in my realm. I think the smoothness and the characteristics of the song are very timeless. Which I hope shows in my character as well, you know! I'd say it's still an accurate representation.
You just took the stage at Head in the Clouds Music Festival, how was that experience?
grentperez: It was fucking awesome. I had a really really good time. It was very hot but the audience was very active which I was super super thankful of. Such an honor to be playing on that stage.
Now you're about to head on the road for your own headlining tour. What do you think will be different about performing at your own show vs. the festival?
grentperez: I think it works in my favor cause I don't have to work as hard to win the audience over. I think it'll be a little bit more rowdy and a little bit more jokey and I guess more free.
Can you tease anything about your upcoming tour?
grentperez: Yeah! I'll be playing some of my new songs in there. Hopefully, I'll be having a really cool stage design. Hopefully! We'll see how it goes on that. But not too much to spoil.
If one of your fans wants to bring a friend to your show that doesn't know your music well, what are three songs you'd suggest they show them?
grentperez: Let's see… "Silver Lining," "Ego," and "Clementine." I feel those three are different songs in my catalog that showcase who I am.
Spelling your name with an E instead of an A started as a joke, but do you think it became like two versions of you? Who is Grant vs. Grent?
grentperez: Yeah, Grant is more of a baby. He's a mama's boy. He likes to be at home, he likes to be with his family and what not. Grent is out and about doing things. There's not too much difference because I try to be myself as much as I can, but Grant does like being at home.
You're the youngest child in a Filipino-Australian family. How do you think that affects your music taste and how your parents and siblings influence how you view music?
grentperez: I think it's great. I think growing up as the baby, I got to be the sponge almost. Like whether it be through music or life lessons. I just learn a bunch through them. Hearing what my parents like and what my siblings like, is a blessing in a way. Cause there's a generational difference in between the music so I got to learn about a lot. I say it works in my favor.
Do you guys listen to a lot of Filipino music at home?
grentperez: Yeah for sure! And I've been going on a dive of my own to see what types of music I like.
Who's an artist that inspires you? If you could ask any artist to help you create a song, who would it be?
grentperez: I would love to ask Rex [Orange County] for some help on that. 'Cause he's been one of my inspirations for a minute now.
Any last thing you want to say to Atwood readers?
grentperez: To anyone reading this, thank you! I hope you enjoy my music and if not my music what I have to offer as a person. That would be very lovely. If not, that okay! But have a nice day!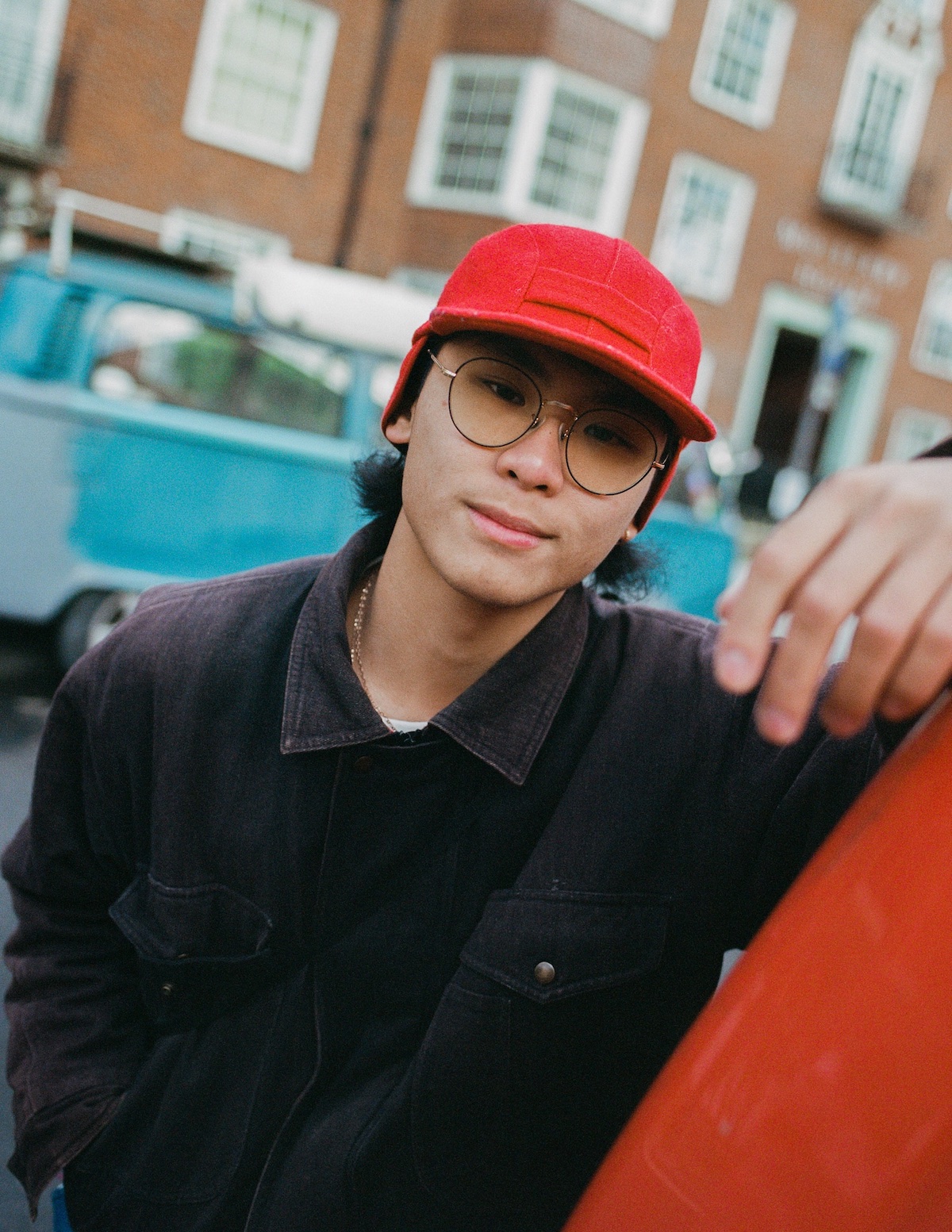 grentperez is heading out on the Growing Up? tour. He is hitting 24 cities in North America and tickets are available now. The tour is almost fully sold out, with only limited ticket availability left. Tickets can be purchased here.
— —
— — — —
 © Theo Batterham
:: Stream grentperez ::
---