After her Head in the Clouds performance, Stephanie Poetri sat down with Atwood Magazine to talk about her song "Invited," Indonesian food, and her creative process!
Indonesian artist Stephanie Poetri is taking the world by storm with her relatable lyrics and easy-listening tunes.
Part of the iconic 88rising label, she releases songs that encapsulates the emotions of what it means to be a twenty-something year old. Active since 2015, Poetri has amassed more than two million monthly listeners on Spotify alone.
Fresh off her performance at Head in the Clouds Music Festival back in August of this year, Poetri sat down with Atwood Magazine to speak about her single "Invited" and going home to Indonesia.
— —
Stream: "Invited" – Stephanie Poetri
A CONVERSATION WITH STEPHANIE POETRI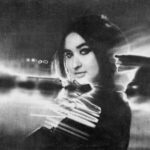 Atwood Magazine: How was performing at HITC? You mentioned that you put so much into the performance on your instagram, what did you do differently this time compared to previous performances?
Stephanie Poetri: I had a lot of fun at Head in the Clouds! I played the guitar and I had new bandmates. It was overall just a fun experience.
You're going to perform in Jakarta at the 88 degrees and rising festival. How does a homecoming performance feel and how are you preparing for it?
Poetri: It's similar but we're doing a few different songs. I also get to incorporate an Indonesian song. I have an Indonesian song from a long time ago, so we're doing that one.
Your single "Invited" came out a few weeks ago and talks about how you're essentially a homebody. Can you tell me more about the process of creating this song and what triggered you to write about wanting to stay home?
Poetri: That song is originally a song that I wanted to pitch out, but I think we all ended up liking. I think it's a really fun song. It's just something we all can relate to; I think we all felt that feeling of not wanting to go out but still wanting to be included in the conversation and stuff like that.
Being a performer requires you to be very social sometimes. Do you find it hard to balance that aspect of yourself while still being the girl who likes to be at home and making songs in her room?
Poetri:I think I'm very lucky because I did a lot of my music during the pandemic so I didnt always have to do [social] stuff. I think it's also important to have friends that I enjoy and are down to help me out. Like I have my boyfriend who does a lot of stuff with me.
You did a lot of your songwriting by yourself in your bedroom, but you also collaborated with some very big names in the industry. How do you find it different writing on your own and writing with other people? And do you have a preference?
Poetri: I think the preference depends on what the day entails, but I like writing alone because I get to take my own time and not be embarrassed by all the possibilities when it comes to the stuff I'm saying. But also a co-writer is really nice cause I am more of a topliner and into making melodies, so having a writer there is really nice so they can help me with the words.
Your sound has grown a lot since you broke the internet with "I LOVE YOU 3000," how do you think you have changed songwriting wise since then?
Poetri: I think I've grown in so many ways but I also think I take songwriting less seriously. I used to think that I needed to always put out songs that were so deep and meaningful but now I'm also putting out stuff that is more fun because I think that life is too short to take everything too seriously.
Are your songs heavily influenced by real life experiences or do you prefer to write based on imagination?
Poetri: Kind of more to imagination and based on conversations.
Is there a singer or songwriter that you look up to? What's a song that you wish you wrote?
Poetri: Good question! My favorite song is "Life is a Highway" from the Cars movie, so I mean…
Is there a bucket list item as an artist that you wish to accomplish?
Poetri: I just want to make people happy!
I'm also Indonesian and I live in America, so I have to ask, what food do you miss most while you're in the states?
Poetri: This is not traditional but salted chicken eggs. There's not really any you can get here and I tried to make it and it tasted so bad! I guess I just have to wait (until I go home).
Finally, what type of playlists do you think our Atwood readers should add your songs into? Like party, studying, or showers, etc. playlists. And do you have a name suggestion?
Poetri: I think it's not one of the easy listening playlist. Maybe getting ready to go, or shower or gym. Or maybe in the car when driving. Name suggestion is "Angry!"
— —
Since sitting down with Atwood, Stephanie Poetri has released a spellbinding new single titled "Never Really Easy." Her song is available on all streaming platforms. She is currently finishing up tour, as an opener for eaJ. Tickets for the last two shows in Atlanta and New York are available now.
— —
— — — —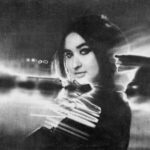 © John Liwag
:: Stream Stephanie Poetri ::
---