Brisbane's Golden Vessel shines with cool assurance on colt, an 11-track road trip record full of electric collaborations and thoughtful lyricism.
— —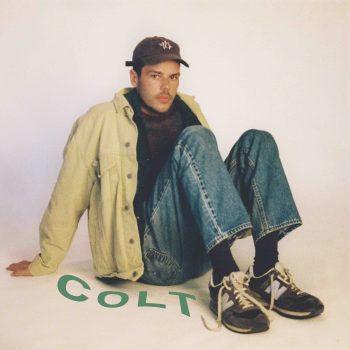 Brisbane-based artist Maxwell Byrne, the genius behind indie electro-pop project Golden Vessel, has always had a penchant for artistic collaboration. From having friends sing and play on every track of his early releases and first LP, SLOWSHINE, to co-founding a record label, Sumoclic, with his friend Akurei, Byrne excels when it comes to making art with others. However colt, Byrne's latest 11-song offering, finds Byrne using his own voice more than ever, with a sense of cool assurance.
Largely inspired by a borrowed bass guitar, Big Thief, and recent travels, colt is a cool and concise road trip record, showcasing Golden Vessel's token lo-fi electric sound, as well as his thoughtful lyricism. At just 34 minutes, colt juxtaposes the realities of traveling with concise clarity, ranging from quintessential road trip anthem, "midwest," to "stateside," a slow, synth-led song about staying.
I want to rent a car
And drive across the midwest
It was just a test
I still think you are the best
I don't want to let you down
I just want to pass this town
"midwest," Golden Vessel
colt, released October 15, 2020 via Sumoclic, Byrne's own label, is full of heart, moments on the road, and fun had with friends while bringing these songs to life. Byrne spoke to Atwood Magazine all about his inspirations, collaborations and more; read about it in our conversation below!
Listen: colt – Golden Vessel
A CONVERSATION WITH GOLDEN VESSEL
Atwood Magazine: Congrats on releasing colt! Making your second record is often a much more condensed process than making your first. How did "colt" first start coming together? Were there any major differences between making SLOWSHINE and making colt?
Golden Vessel: Thank you! I actually started colt well before SLOWSHINE even came out (labels tend to make releases backlog/slow a bit) so I actually worked on colt for about 18 months and didn't really feel the pressure or time restraints. A major difference was I wanted to simplify the songwriting and instrumentation! And also at the perfect timing my friend lent me his Hofner Bass Guitar and that became really integral to the sound that developed.
I know you've said it's kind of a road trip album. Are there any specific places you've traveled that inspired the record?
Golden Vessel: I've been lucky enough to drive across America a few times, and I think it has that mix of romanticism from movies/books, quirky people and places, and then it's actually scenically very beautiful. It gave me plenty to write about!
Similar to SLOWSHINE there are quite a few collaborations on colt, and they all flow so well together. What draws you towards collaboration as opposed to writing solo?
Golden Vessel: I think making music with friends is my favourite part of the process, more so than releasing music or playing shows, etc. On colt I definitely wrote a bit more solo than SLOWSHINE, it's a first for me to sing full songs and so a lot of the time it was me getting a song to 80% and then having some friends weigh in at the end with interesting sounds. And that breathes new life into the song for me.
At the moment, do you have a favorite song on the record, or one you enjoyed making the most?
Golden Vessel: I think at the moment it's "forever", maybe because it was the one I wrote last and it's also the most personal as well.
Where did the title colt come from?
Golden Vessel: It was a lyric from a line that didn't quite make it into the song 'midwest'. But the night I wrote midwest I knew that it would be the first single and the album would be called colt and then I went from there.
And on the subject of titles, what's the story behind calling your project Golden Vessel?
Golden Vessel: I think I chose the name when I was 16 and I used a band name generator or something. I was just so worried that I'd choose something I'd be embarrassed by later. I don't mind it. I could've done a lot worse *laughs.*
In addition to music, I know you're a visual artist as well- the music video for "midwest" is so fun! How did the idea for that video come to life?
Golden Vessel: Thank you! I was actually driving through America and the trip got cut short by Covid, and it was my plan to film the video for "midwest" on a camcorder on a tripod. When I went back home to Brisbane I showed my friend Matt the footage I did manage to get and we figured out a way to implement it (in a much better way than I would've been able to do myself.)
Watch: "midwest" – Golden Vessel
I saw that you and Akurei launched Sumoclic, an independent record label, this summer. How did launching that come about, and what has it been like to be able to release your own music?
Golden Vessel: Yeah! We'd been talking about it for almost 2 years and I got out of my record deals which meant that we could finally launch it. It's been so nice and easy and the most exciting part for me is the ability to do side projects and drop stuff quicker.
The pandemic has obviously put a damper on playing shows and "normal life." Has staying home challenged you as an artist? Have you been creating anything you're excited about?
Golden Vessel: Yeah it has been a very weird change, it's been alright though! I'd definitely love to be out there more working with people in person on new ideas. But I have been putting together a lot of new ideas for Golden Vessel!
Last question- are there any artists or albums you've been listening to lately you might recommend checking out?
Golden Vessel: The new Billy Lemos record is really exciting. I've also been repeatedly listening to the new Adrianne Lenker album, she's one of my favourite songwriters.
— —
? © Golden Vessel 2020
:: Stream Golden Vessel ::