Big Thief's Adrianne Lenker has become the beloved indie frontwoman that everyone longs to be, and her two new solo albums 'songs' & 'instrumentals' offer breathtaking folk music for 2020.
Stream: 'songs' – Adrianne Lenker
---
Adrianne Lenker has become the beloved indie frontwoman that everyone longs to be.
Her band, Big Thief, have released four albums since 2016's Masterpiece, garnering widespread critical praise and a fanbase that seemed to grow overnight after their 2017 breakthrough Capacity. Big Thief's music is full of raw, cathartic guitar and details as sharp and unforgiving as a fish hook. The band's chemistry is clear across their catalog, and despite Lenker doing the majority of the writing, the contributions of the four band members are vital to the group's sound as a whole. Lenker's solo music displays the softer, more atmospheric side of her writing; it's led by nothing but acoustic guitar and her soothing, wavery voice. Lenker's latest solo efforts, songs and its accompanying two-track but 37-minute long album instrumentals (out October 23 via 4AD), are folk music for 2020.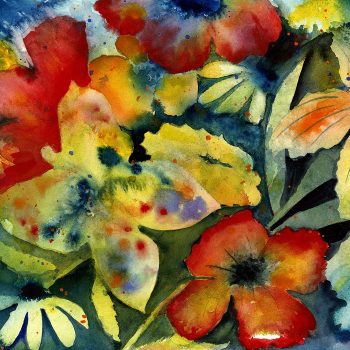 songs is an album of in-betweens. It teeters on the edge of old-fashioned influence and modern sensibility; a technicolor photograph ripped at the edges. Lenker's writing, though clear in its deference to its predecessors, has also led the charge in the indie folk and rock scene in recent years. The songs' speaker seems caught between desire and revulsion, between vitality and exhaustion. Titles like "half return," "forwards beckon rebound," and "two reverse" emphasize these juxtapositions. The songs move between stream-of-consciousness and concise detail (mostly because nine of the eleven songs were penned at the recording session itself). The album's midway mark, "half return," recalls the snow globe swirl of memory on "Mary," perhaps the most remarkable song on Big Thief's Capacity. 
Standing in the yard, dressed like a kid
The house is white and the lawn is dead
The lawn is dead, the lawn is dead
– "half return," Adrianne Lenker
There is so much darkness on this album, but Lenker's writing holds such a lightness in it. It's delicate and sweet as much as it is exacting. Lenker's guitar accompaniment mirrors the songs' cyclical nature, her mesmerizing picking and strumming patterns like the push and pull of waves. songs also makes incredible use of non-instrumental sounds, from birdsong to wind chimes and the indiscriminate creak of a chair or floorboard.
---
Pulling your face close, wanting the inmost
Show me
I'm not afraid of you now
I'm not afraid of you now
Villain and violent, infant and innocent
Baby, both arms cradle you now
Both arms cradle you now
– "forwards beckon rebound," Adrianne Lenker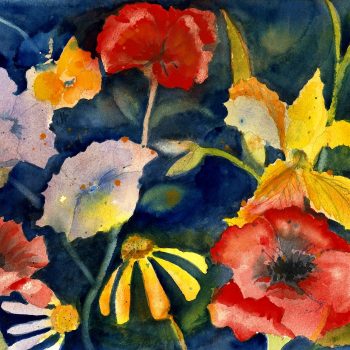 instrumentals is breathtaking. The two tracks, "music for indigo" and "mostly chimes," are focused around Lenker's acoustic guitar, letting her remarkable skill at the instrument shine. They are meditative and freeform with birdsong audible in the distance. "music for indigo" is a rambling guitar piece, making use of harmonics and empty space. In the background, there is a ceaseless shuffling noise that could be an open window, intentional instrumentation, or even someone puttering around in another room. Its ambiguity is moving and hypnotic.
"mostly chimes" is a concrete poem in song – it begins achingly slowly, without even so much as a real melody. Lenker's guitar repeats a pattern of bass notes and top chords, building to a delicate melody that floats along the top of her own accompaniment. The effect is something like bells ringing. Around the five minute mark, bells do begin to ring; wind chimes of various sizes and pitch are heard swaying in the wind as the sound of birds becomes louder. It's nearly impossible to not be transported to a sun-soaked, quiet glen in a vivid forest.
The rest of the track is nothing but chimes and birdsong. It is unclear whether Lenker has orchestrated the pattern of the chimes or has left them to do as they will – either way, the effect is stunning – it's the mark of Lenker's quiet genius and is a much-needed balm for this year.
songs and instrumentals are out now.
— — — —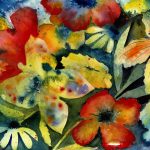 ? © Genesis Baez
:: Stream Adrianne Lenker ::
---