The exceptional story of a brilliant musician's journey through jazz and folk to find his voice as Grey Reverend.
Stream: "Fate" – Grey Reverend
---
L.D. Brown's musical path has been shaped by strange coincidences and uncontrollable changes. It is an arduous journey that criss-crosses through the wild rhythms of jazz and the spare melodies of folk. It's also an inspiring story that could make for a pretty good film script. But most of all, it is a living example of the resilient spirit of human expression.
There are three moments I have gathered from bios and interviews that help define the bittersweet tale of how this project came to be. A collection of circumstances that seem to align like stars pointing towards the same place, as if it was always in Brown's destiny –in his DNA even– to write and record three great albums under the name Grey Reverend.
You may or may not believe in fate, but there's a reason why such a concept exists since the early days of philosophy. Every now and then, when the history of a certain thing or being is so perfectly rounded, it feels like it is revealing something that is usually extremely well hidden by our perception of reality. A sort of glitch in the matrix that makes evident just how much things are interconnected and how the universe acts according to its own nature. In simpler terms: fate is a possibility because there are things that just look too much like it. The slow mysterious process in which music forms and evolves inside an artist can be one of them.
First moment: L.D. Brown walks into a record store in the early 90's. He's around nineteen or twenty. His only experience as a musician at this point is playing the saxophone, which he learned when he was nine years old, but probably has never considered more than a hobby. "River Man" by Nick Drake happens to be spinning in the store's turntable and something about the song strikes him. Some profound beauty calling from afar. He buys all three of Nick Drake's albums.
At that time L.D. was not thinking about composing music. He didn't even play the guitar and was definitely not out looking for cool obscure folk influences. Yet listen after listen a new part of those records stayed with him. Drake's haunting poetry. The complex harmonies and sweeping string arrangements. A sound of moist wood and empty rooms. He might not have been conscious of the seed that was being planted in whatever spiritual or biological soil creativity is made of, but it was there, waiting to take shape, ready to emerge and flourish.
Second moment: Brown is now twenty-two. He moves into a new apartment in Philadelphia and finds that someone (god bless him or her) left a guitar behind. He keeps it in his room, starts experimenting around with it and tunes it instinctively. There's an affinity with the instrument. His fingers feel at home moving along the strings and across the frets. Very soon rock and punk songs stop being a challenge and L.D. decides to dive deeper into the intricate world of jazz.
During his first jazz years in Philly, Brown studied under legendary guitar virtuoso Pat Martino. He began practicing twelve hours a day hoping to imitate some of the genre's greats like Wes Montgomery. One can imagine his tall slender figure standing out back in the corner of crowded small bar stages, improvising with the best in nights of hundreds of notes, tricky time signature changes and ephemeral grooves. On his way to the top.
Third moment: One day, L.D. notices that his left hand is having trouble performing simple warm up scales. His pinky and ring fingers move in funny involuntary ways. As the weeks pass and the symptoms worsen, playing the guitar the way Brown had mastered it becomes an impossible task. He is diagnosed with a neurological condition called focal dystonia, which causes certain muscles to contract without control, disconnected from the signals that the brain is trying to send. The worst possible news for a young jazz guitarist on the rise.
During the hard period of not knowing exactly how to deal with this new situation, L.D. Brown took a step back from the music he dreamed of playing and found comfort in the music he loved listening to. So among the piles of his record collection there were, of course, the three Nick Drake albums bought on that day so many years before. Hearing them now with the ears of a skilled musician, and particularly in the transitional stage he was at, must have been a different and significant experience.
A world of folk artists, singer/songwriters, and acoustic guitarists opened up. Brown explored the sounds of Joni Mitchell, Bert Jansch and especially John Fahey, whose fingerpicking style resonated strongly with him. Both Fahey and Drake were fond of using alternative tunings on their songs. Changing the tuning of a guitar can not only unlock a whole range of ethereal and melancholic tones, but also provide a blank page to think about the instrument differently, to approach and understand it in new ways.
With fresh inspiration, L.D. made the conscious decision to not let focal dystonia keep him from making music.
He started to sing and write lyrics. He learned some technical stuff like how to use his left thumb on the sixth string and faced some more abstract questions like how simple a song can be, while still remaining interesting. He began tugging at the strings that exist between jazz and folk, threaded something beautiful with what he found and so Grey Reverend was born.
As I said at the beginning, it's an exceptional story about resilience and creativity that we can all learn something from. But background aside, Grey Reverend's music is a wonderful experience in its own right. Take away the biographical origin of the songs and they are just as emotionally powerful without it. His smooth voice transmits the calm and honesty of an artist who found his voice decades ago. The lyrics are full of insightful ideas and poetic images, yet there's a feeling that Brown could be singing in any language and you'd still get it. It's all in the delivery: in how it comes out, rises and glides effortlessly. As easy as breathing. As loose as a single saxophone rehearsing before the crowd comes in.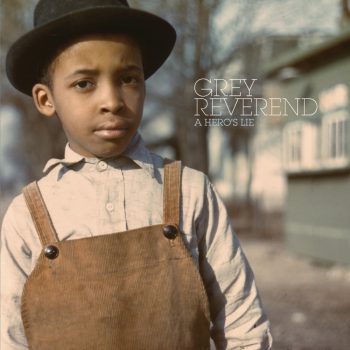 Grey Reverend has three albums. All of them recorded and released after he left Philadelphia and moved to New York.  Of The Days (Ninja Tune, 2011), A Hero's Lie (Ninja Tune 2013) and To Be Here (self released, 2017) are worth listening to as a trilogy, following how each builds from the last one, adding new textures and becoming more sonically layered.
There are also some recurring themes that tie everything together, like the instrumental guitar tracks –all titled similarly– halfway through each of them. These are perhaps a nod to the days in which L.D. wasn't yet singing or writing lyrics, to the many afternoons spent borrowing ideas from others and trying to figure out a new guitar style. In "Little Eli," the progressions are still quite minimal, almost more of an interlude than a song. "Little Jose" requires a much more developed technique, keeping our ears busy with sudden changes, poignant pull-offs and quick bass lines. Then "Little Madiba" comes around, with a single unique guitar riff carrying the weight of the whole song, while other instruments join in a weird fast paced mesmerizing crescendo. John Fahey would be proud.
---
L.D. Brown has stated that this is as far as he'll take the project, and whatever new music he creates will be something different and under another name.
So it looks like these three albums are all we are gonna get from Grey Reverend. That would be sad news in the case of most artists, but for Brown who knows? It might just be another twist of fate that throws him to the next sound he needs to hear. And on that note, I'll end with a song that contains one of the best definitions I've ever heard about fate.
After two minutes of some lovely slow burning verses, the song winds down to a complete silence and then a phrase comes in. It's a hushed melody, beautiful enough to break your heart, repeated over and over, like a mantra:
It's only fate
It's everything you bargained for…
— —
— — — —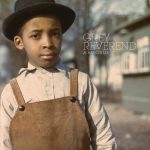 ? © Grey Reverend
:: Stream Grey Reverend ::
---