Laufey leaves us breathless and swooning with gentle yet sultry modern jazz in her magical debut album, 'Everything I Know About Love.'

Stream: 'Everything I Know About Love' – Laufey
---
One TikTok hit and a full-length album later, LA-based singer-songwriter Laufey has without a doubt made a name for herself as the Gen-Z jazz revivalist. Exploring the good, the bad, and the ugly sides of love, a cinematic, modern-day diary of orchestral melodies straight out of an old Hollywood romance film is unveiled. With silvery vocals accompanied by classical symphonies and bossa nova beats, she flaunts a contemporary pop twist on graceful and sophisticated genres.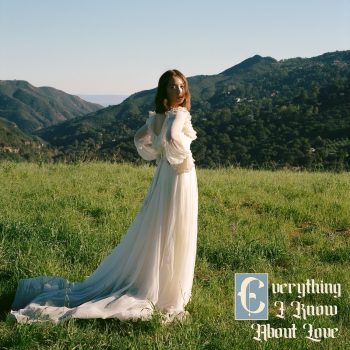 Released August 26th via AWAL Recordings, Everything I Know About Love is more than just any debut album– it's an ode to the hopeful and hopeless romantics, the young fools, and the old souls. Laufey notes on her personal TikTok account that this album represents "[her] deepest thoughts and experiences in the form of song."
Opening with "Fragile," a soft blend of symphonic strings and bossa nova, Laufey details her first experience encounters with love and fragility through cleverly written romantic metaphors and imagery. Crafting the image of a soft candle glow, music so slow, skin on skin, and a room spinning, she vividly details a lovely experience down to three of the five senses so that you can practically see and feel the song on top of just listening to it. It's very, very Taurean in nature, to say the least.
---
"Beautiful Stranger" serves as the perfect segue into the rest of the album, being a soft, downbeat, and piano-heavy song about a short-lived and casual crush. Wistfully longing after a fellow passenger she meets on the tube in London, Laufey curates a tale out of small, overromanticized interactions with her "stranger" and ponders the what-ifs and could-have-beens had she stayed longer. Track five, "Dear Soulmate," carries a similar air of melancholic yearning, with the lyrics doubling as a love letter to her soulmate and a dulcet harp that makes it all the more enchanting.
Throughout the album, she manages to find love in expected and unexpected places, proving to us that beauty can manifest itself in even the most mundane.
'Cause I think I've fallen
In love this time
I blinked and suddenly I had a Valentine
Over the past month or so, Laufey gained TikTok virality with her February 14th single, "Valentine," a more youthful and awkwardly endearing track on avoiding and embracing newfound love; it's no surprise that this was a hit among the app's predominant Gen-Z demographic. On the other hand, the titular, classical "Everything I Know About Love" and bossa nova "Falling Behind" showcase her difficulties with understanding love, but more specifically, her difficulties with finding love despite being a by-the-book hopeless romantic. Looking at love in all different directions, Laufey cleverly portrays what might seem so straightforward as much more complex and multidimensional than one might think.
---
But, it would be unrealistic to say that love is only sunshine and rainbows, and Laufey reluctantly acknowledges this; as hard as she falls in love, she falls out of it just as hard. "Just Like Chet" is a somber and heart-rending track that truly shows the extent of Laufey's musicianship and her esteem towards jazz legend, Chet Baker. With instrumentals stripped and sparse, she alludes to Baker's classic 'I Fall In Love Too Easily" and draws an analogy between him and herself– "just like Chet, [she] falls in love too easily."
In a perfect world, I wouldn't have met you at all
In a perfect world, I would've said "Hi" and moved on
Unfortunately, I don't know anything 'bout love
And its foolish tendencies
And just like Chet, I tend to fall in love too easily
In a perfect world, I'd live out my days by the sea
In a light blue cottage, just the sand, the ocean, and me
Unfortunately, I'm too romantic dramatic for that reality
I go ahead and just like Chet, I fall in love too easily
Why did you put me through
Eleven months of "You're so pretty's," "I miss you's"?
It's absurd what even occurred between autumn and spring
If you never loved me
---
Love is not an emotion exclusive to romantic relationships; incorporating a universally relatable coming-of-age element to her debut album, Laufey also writes about love found in places and memories throughout her life. Though "Above the Chinese Restaurant" is not entirely based on the artist's own life, it is a nostalgic, gentle reminder to appreciate the present before it's gone; in Laufey's case, the present consists of neon lights and dumplings with a lover in their tiny city apartment.
"Night Light," the album's final track, reflects on fond memories had in her childhood bedroom and, once again, shows her stylistically genius usage of imagery.
All of the laughter
All the sleepless nights
Waiting forever after
Snow falling outside
Keeping on the night light
---
Laufey makes it clear that she is an avid reader in her personal life; with lyrics laced with romantic, literature-like verbiage, she writes in a manner that strangely mends and breaks your heart at the same time. Hand in hand with classical and jazz instrumentation, she concocts a timelessly fresh collection of songs and proves that confining yourself to one single genre is merely a (boring) suggestion.
Just with her debut album, Laufey has shown her dynamism as an artist, and it is evident that she is here to stay.
Whether you're getting ready in the morning, studying in a cafe at noon, or winding down before bed, 'Everything I Know About Love' is the perfect soundtrack to get you through your days as autumn dawns upon us all. If Jane Austen was a singer-songwriter in the 21st Century, it would be our modern-day romance raconteur, Laufey. Each of the 13 songs in Everything I Know About Love tells a story that makes the listening experience feel all the more fairytale-like, and we can only hope that she has an equally magnificent sequel in store.
— —
— — — —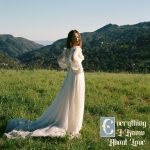 ? © Gemma Warren
:: Stream Laufey ::