This Black History Month, Atwood Magazine has invited artists to participate in a series of essays, interviews, reviews, poetry, playlists, and more features in recognition of, and out of respect for the symbolism and significance of this month.
---
Today, The FunkLabb's Ed Lawson and Wes Davis share their personal essay "How Black Music Has Influenced The FunkLabb" as a part of Atwood Magazine's Black History Month series. A brand new Brooklyn-based duo, The FunkLabb consists of producers and songwriters Ed Lawson and Wes Davis – whose extensive pedigree includes work with legends from The Notorious B.I.G. and Will Smith, to R&B artists like Sharissa and Allure (Mariah Carey's girl group), and beyond. The pair have stepped into their own spotlight in 2021 with a series of independently-released singles, beginning with their buoyant debut "Mama Said No" featuring Myah Marie, out February 23, 2021. A heated outpouring of smoldering emotion, "Mama Said No" is a pulsing first offering with an intoxicatingly catchy chorus and seductive, full-bodied instrumentation that includes Spanish guitar, orchestral strings, piano, and a thick Latin-inspired drum beat.
"Funk goes beyond music," Ed Lawson says. "It's the nastiness in a song – that dirt. We definitely try to embody that. At the same time, we're always in the Labb creating. We've been in the record business for quite some time, but we've finally decided to put ourselves out there now." Active since 1994, The Funklabb have been concocting wonders for others for nearly three decades; it's time the world got to know them, too. "Mama Said No" is a perfectly dirty introduction.
•• ••
How Black Music Has Influenced The FunkLabb
by The FunkLabb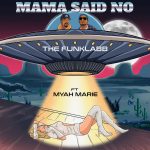 Growing up in the seventies and eighties, urban music was extremely popular in both of our households. We both were quickly drawn to black artists, writers and producers such as Gamble and Huff, McFadden & Whitehead, Chic, Jimmy Jam & Terry Lewis, Sylvia Rhone, and Quincy Jones just to name a few. Their songs among others remained in heavy rotation in our homes. These artists, producers and songwriters help influenced us into becoming the producers and songwriters we are today.
I (Ed) grew up in a household that was surrounded by music. My mother played her gospel music while my dad worked at an Urban radio station in New York City where he collected thousands of albums from the time I was a kid. I would always sneak and listen to them for hours when he was not around. When I got older, he eventually gave them all to me, which led to me DJing, sampling, and producing Hip Hop tracks. As a result, I bought my first drum sampler in the early 90's and the rest is history.
I (Wes) grew up watching my mother dance in front of her record player listening to artist like Stevie Wonder, Michael Jackson, and multiple Motown artists.  I would read and study the back of the album covers following musicians and produces such as Louis Johnson, Greg Phillinganes, Quincy Jones, Gamble and Huff, Nile Rodger, and many more. They all played a pivotal role in the sound we try to produce today. Black music was all around me, so I had no choice but to take a little from them all. From there I incorporated what I heard into my own music.
Today, Wes and I produce music together as The FunkLabb and our music production is versatile. We love producing all styles of music. We do not limit ourselves to a single genre of music. Today's music is mixed with so many different cultures and we continue to adapt as the culture changes. Whatever type of music we produce it will always include a little bit of that soul (Black music) that influenced us growing up. Without those influences The FunkLabb would not exist today.
– The FunkLabb
— —
Stream: 'Mama Said No' – The FunkLabb
— — — —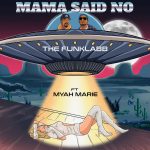 ?  © Paulo Cesar Salazar
:: Stream The FunkLabb ::