Tour 'Cracker Island' with Gorillaz, and you're sure to find plenty of hot collabs, poppin' production, and thoughtfully woven-in social commentary.
Stream: 'Cracker Island' – Gorillaz
---
After 20 years-plus in the game, Gorillaz still have plenty of places to go and people to see.
That includes places both real (just look at how many tour spots they were able to fit into the span of just five months last year) and virtual. The band's eighth album takes us on a tour of Cracker Island, which we learn from the opening track is "a made-up paradise where the truth was auto-tuned" and where the residents "taught themselves to be occult."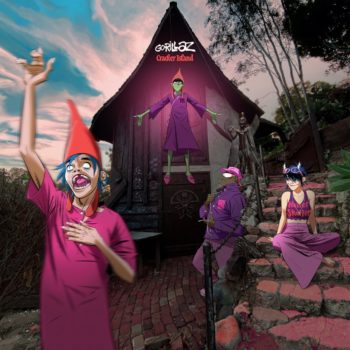 There is surely some social commentary at work here – if 2010's "Plastic Beach" was designed to take a shot at the artificiality of present-day society, 2023's "Cracker Island" couldn't have been cut from a radically different cloth, now could it? It might take some work to completely unpack what's going on in this song… but it takes no effort whatsoever to get mentally absorbed in the funky instrumental conjured up by guest bassist Thundercat, or his utterly infectious four syllable punchlines ("for-eh-ver-cult!" and "What-world-is-this?") sprinkled throughout.
Gorillaz have made the most of their debut duet with 'Cat; plus, in the corresponding music video, they take similarly strong advantage of their rare appearance in 3-D animation, after having long made a name for themselves in 2-D (that's even the name of their iconic blue-haired frontman, after all). 
---
As the tour of Cracker Island continues, Gorillaz consistently demonstrate that they know how to achieve an effective vocal collaboration with just about anybody,
all while bringing inventive and engaging instrumentals along with them. Some familiar friends wash up onto the island; Bootie Brown of the Pharcyde, who long ago delivered a frenetic guest verse on "Dirty Harry," resurfaces on "New Gold" to join in on the social critique, lambasting today's society as a place where there's "a whole lot of everything but nothin' to do" and "we all play a part in the devil's cheer."
Another past Gorillaz collaborator who makes a grand comeback here is Adeleye Omotayo, who has regularly performed onstage with the group as a member of the Humanz Choir. Cracker Island arguably hits its melodic peak on "Silent Running," as Omotayo joins 2-D in crooning about how "it feels like I've been silent runnin' through the infinite pages, I scroll out." It's another skewering of the vacuousness of our modern Internet-and-social-media-dominated existence, yet it does contain some feelings of optimism and positivity– perhaps the path to a better world is indeed "[waiting] on the sunrise." 
Those making their debut collaborations with Gorillaz on Cracker Island are quick to develop great chemistry with the guys, as well. The band has dabbled with Spanish-language singing before, going all the way back to a 2001 duet with Cuban singer Ibrahim Ferrer. But Bad Bunny helps elevate that tradition of theirs to never-before-attained heights on the magnificent "Tormenta," on which he indicates that he's inclined to do a little bit of running away himself ("mañana me voy y no sé cuándo vuelvo"). Also worthy of note is Stevie Nicks, who lets all of her enthusiasm over joining Gorillaz in the studio for the first time shine through on "Oil." "Now, I'm an honorary Gorilla," she has exclaimed. "I'm so happy."
Cracker Island is simply loaded with deft collaborations of this nature – although the group manages to hold their ground just fine when it's only them on songs like "Tarantula" and "The Tired Influencer." The island also benefits from high-quality beats all the way through, thanks to the efforts of their longtime drummer/producer Remi Kabaka, Jr. and skilled recruit Greg Kurstin, who's best-known for his work with Adele. Together, the two of them deliver guitar-and-drum combos as soaring as the energetic "Skinny Ape," as mellow as the acoustic-oriented "Possession Island," and plenty more in between.
Gorillas are known for maintaining a formidable presence on islands, and Cracker Island is no exception. Consider this a major late-career success for Damon Albarn and his now thoroughly adult brainchildren.
— —
Stream: "Silent Running" – Gorillaz
— — — —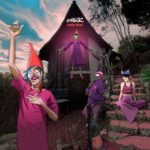 © Gorillaz
:: Stream Gorillaz ::
---