Versatility is merely a series of failures in various forms if each form lacks authenticity. Some may remember the wild side of American Idol alumni Haley Reinhart: the big curly hair, her signature growl, and her fearless attitude. Some may have come to know her more gentle side from her chart-topping rendition of "Can't Help Falling In Love" on the viral commercial love story for Extra Gum. Others may have been introduced to Haley as the classic jazz diva fronting Postmodern Jukebox, the YouTube viral music collective which performs vintage covers of popular songs. Versatility is Reinhart's strong suit, and as such, every genre that she has experimented with has been branded as authentically Haley. From the  bluesy rocker-chick during her Idol era to her more pop-driven Motown vibe in her first album Listen Up to her current jazz-funk fusion sound on her latest album Better, Reinhart has proven time and time again that she is no jack-of-all-trades, but the master and supreme innovator of each one.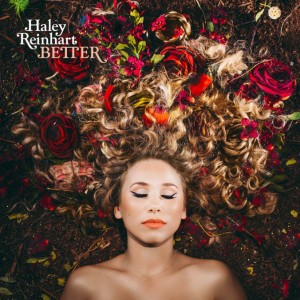 Titles like these don't get handed out to just anyone. American Idol alumni have seen some major success. It is undeniable that artists like Kelly Clarkson, Carrie Underwood, and Fantasia rose to fame from their sheer talent and dedication. However, the common denominator behind all of these successes is this: mainstream potential. All three of these artists found their niche in genres carved out for them by their successors. Pop, country, and R&B are three of the most lucrative music markets in the industry, saturated with fans of the genres themselves and the artists who can do them justice.
Add a hit song and a televised victory as the nation's "favorite" singer and there is the recipe to superstardom. Reinhart on the other hand didn't even make it to the season 10 finale before being voted off the show. Many would argue that she struggled to find her niche and that her song choices were all over the place. So begs the question: How has she seen such lasting post-Idol success? She has created her own niche. She challenges the mainstream and makes the obscure and atypical seem familiar and inviting. A lasting niche. A niche that is simply better. Thus, her sophomore album Better (released 4/29/2016 via ole) was created, celebrating Reinhart and all of her musical qualities that showcase her growth and artistic superiority to the conventional.
I had the pleasure of watching her command the stage on her third stop of her first headlining summer tour at the El Rey Theatre in Los Angeles. The room was draped in velvet, dimly lit by the collection of chandeliers scattered around the venue. Patiently waiting on stage for Reinhart's entrance are her guitarist, bassist, drummer, and newly-engaged keyboardist Jacob Lutrell, who successfully proposed to his girlfriend onstage during his opening act just moments before. The room was clearly filled with good intentions and positive energy, and out stepped Reinhart into the spotlight in a playful two-piece outfit, fur vest, and burgundy top hat.
Kicking off her set with a song off of her new album, Reinhart had the whole crowd dancing before the first chorus of "Talkin' About" even came around. Following with another strong performance of "Behave," she had the crowd's total attention. Taking fans back to her first album, she sang a mashup of "Keep Coming Back" and a flirty rendition of Rod Stewart's "Da Ya Think I'm Sexy?"
A personal moment ensued between Reinhart and her fans as she dedicated her next song, "Wasted Tears," to all of the ladies in her audience who had cried about someone who didn't deserve their tears. With a personal self-triumph in the emotional department complete, she continued her set appropriately with the title track of her Better album.
Watch: "Better" – Haley Reinhart
---
She invited Lutrell back to the spotlight to share some more of his talent, and after a vocally powerful rendition of Michael Jackson's "Rock With You," Reinhart continued the tribute to the King of Pop with a cover of "Never Can Say Goodbye." Emotions teeming, she grasped the heartstrings of her listeners for another intimate moment about fighting for what we believe in. Taking a seat at center stage on her stool, she sang "Love Is Worth Fighting For."
Captivating her audience even further, she continued to duet with Lutrell and sang a sultry version of Soundgarden's "Black Hole Sun." Continuing with songs off of her new album, she introduced her audience to "Bad Light," "Good or Bad," and "Check Please," complete with guitar solos and impressive jazz scatting. The most authentic moment of the set was "I Belong To You," the first song she wrote for Better at a point in her life when she was truly in love.
Closing off the concert on a lighter note, she introduced each member of her band, and commanded the energy in the room with her most upbeat song, "My Cake" before exiting the stage. It was no surprise hearing the crowd chant for one more song, and when she returned, she was not only accompanied by Postmodern Jukebox's Scott Bradlee, but also her fellow season 10 Idol alumni and partner-in-crime Casey Abram on the stand-up bass. "When you come and support Haley Reinhart, you are supporting real music and real talent," proclaimed Bradlee, a true testament to the respect that Reinhart has earned in the industry. They then proceeded to sing their Internet-viral arrangement of Radiohead's "Creep." Closing the show with a crowd-pleasing duet of Abrams's "Never Knew What Love Could Do" off of his latest  album Tales from the Gingerbread House, the duo delivered everything and more, as expected.
The major takeaway from the show was this: You can't peg Haley Reinhart as an artist who "fits in." She creates her own little corner of the music world and invites lovers of all music to take part in the joy that is true artistry. With the wild side of Janis Joplin, the class of Ella Fitzgerald, and the cutting-edge influence of Etta James, she proves that there is nothing she can't do.
Watch: "Creep" – Vintage Postmodern Jukebox Radiohead Cover ft. Haley Reinhart
A CONVERSATION WITH HALEY REINHART
Atwood Magazine: Hi Haley, my name is Ethan Germann. I've been one of your biggest supporters since your American Idol audition and I've followed your career every step of the way, including at your show at the Troubadour in West Hollywood where you opened up for The Riggs. Thank you so much for the opportunity to allow me to ask you some questions about where you're at and how you've made it this far. It's exciting to watch you develop as an artist, and I am ecstatic that I get to see you again at the El Rey Theatre in Los Angeles.
Haley Reinhart: Well thank you very much, hope you loved the El Rey show as much as we did!
As a woman in the traditionally male-dominated blues/funk/jazz industry, have you faced any challenges?
Haley Reinhart: You know.. I actually think this allots a space for me to stand out on my own. Even if it's taken a little bit longer for people to realize I'm not trying to be some cookie cutter pop act.. I'm happy to be speaking and singing my truth.
Why the name Better for your latest album? Is there an overarching takeaway theme that you really want your fans to get after listening to it?
Haley Reinhart: Indeed! The word better, means of a more excellent type of quality, or to a greater degree. I believe society should live life knowing they can continue to evolve and reach a higher version of themselves with time. The song itself talks about leaving a relationship, realizing my self worth, and in turn growing from it. We all have this power!
Was there ever any pushback to make your new album more mainstream? Were you afraid of the possibility of selling out or did you have clear intentions of what kind of music you wanted to make?
Haley Reinhart: I don't premeditate much of my music.. I let it come out freely. I would also never compromise my artistry for a quick buck.. Or easy fame. I'm not working this hard for selfish reasons alone.. I want longevity and to send out good rooted music with substance and positive messages.
If you could have any one person listen to your new album — dead or alive — who would it be?
Haley Reinhart: I'd like to know what Paul McCartney would think of it…!
If you had to choose one song on your new album for people to listen to, which one would it be and why?
Haley Reinhart: Mmm they're all so different, so that's tough! At this point in time.. I'd say, "Love Is Worth Fighting For." It's a passionate ballad with horns and strings present. We need to spread all the love we can right now.. Our future depends on it.
Which city are you most looking forward to on your headlining tour this summer?
Haley Reinhart: Tonight I'm playing my hometown of Chicago! Heard it's sold out.. And I'll know at least half of the crowd! Can't wait to squeeze my family and show everybody what hard work, dedication, and pure love of my craft looks like!
How did you get involved with Scott Bradlee's Postmodern Jukebox? Will you be accompanying them on their upcoming tour this year?
Haley Reinhart: I sat in one night at a club called, "Hyde," a residency they had going in LA. After I got up Scott said, we should really do some videos & touring together. The feeling was mutual! Our next video will be out this Thursday!!!
What has been the biggest factor in the mainstream success of your latest album? Do you think it's just been the momentum and the buzz from Idol and your last album, or did you do something differently this time around?
Haley Reinhart: I've taken some time to really define my brand as an artist and join projects that best represent me! Everything I've done has led me to this point & the momentum is so real right now, there's no stopping me.
Fans of Idol can attest to the magic created by you and Casey Abrams when you perform together. Aside from your awesome rendition of "Hit the Road Jack" and your song off his new EP Tales from the Gingerbread House, can fans expect more collaboration between the two of you in the future?
Haley Reinhart: There's no doubt in my mind that Casey and I will always continue to collaborate. We'd really like to release an album together in the near future.. Maybe a live one, we shall see!
It must be exciting being known as the only Idol alum to have performed at Lollapalooza. Tell me about how that opportunity came about for you and how your experience was performing in a festival setting.
Haley Reinhart: Lolla was incredible! I played on the BMI stage with not only my full band, but my mom and sis doing back up vocals and my dad shredding on guitar. There's nothing like playing out to a sea of people, especially in your hometown. I really hope to get into the fest scene more next year and play out!
Tell me about your non-musical venture as a voice actor in the Netflix animated comedy F is For Family. How did that opportunity come about? Do you see yourself continuing down these alternative paths in the entertainment industry?
Haley Reinhart: I did a cold read for the part as a young 'Bill (Burr) Murphy' and they thought I played the perfect little boy! It's been incredible working with this star studded cast. I feel so lucky to be in such great company. I definitely want to continue doing voice overs and get into acting as well. Look out for season two, we're recording it right now!
From the fan-voting process of Idol to your crowd-funded Indiegogo campaign for your Show Me Your Moves music video to your new role as a viral YouTube sensation via Postmodern Jukebox and the Extra Gum commercial, clearly your fans have played an enormously personal role in the blossoming of your career. If we could leave this interview on a final note to your fans, what would you want to say to them?
Haley Reinhart: I'm so grateful to have people who connect so deeply to my music. So many "Haliens" have been with me throughout my journey & it's amazing making new ones along the way. Thank you all for the incredible support, I got more where that came from!
Watch: "Can't Help Falling in Love" – Haley Reinhart (Extra Gum)
Haley Reinhart 2016 Tour
6/3 Petaluma, CA @ Mystic Theatre
6/4 San Francisco, CA @ Great American Music Hall
6/6 Los Angeles, CA @ El Rey Theatre
6/7 Solana Beach, CA @ Belly Up
6/9 Phoenix, AZ @ Crescent Ballroom
6/11 Denver, CO @ Bluebird Theatre
6/13 Minneapolis, MN @ Varsity Theatre
6/14 Chicago, IL @ Lincoln Hall
6/15 Columbus, OH @ A&R Music Bar
6/17 Detroit, MI @ St. Andrews
6/18 Pittsburgh, PA @ Stage AE
6/19 Philadelphia, PA @ World Café Live
6/21 Washington, DC @ The Hamilton
6/22 New York, NY @ Gramercy Theatre
6/23 Boston, MA @ Brighton Music Hall
6/25 Bay Shore, NY @ Boulton Center for the Performing Arts
6/26 Asbury Park, NJ @ House of Independents
Better
An album by Haley Reinhart