Sleek and soulful, feverish and finessed, The Shadowboxers' debut album 'The Slow March of Time Flies By' is a majestic musical masterpiece: A truly unparalleled listening experience in 2020.
for fans of Parcels, Otis Redding, Milky Chance, The Temptations
•• ••
The Shadowboxers' debut album was worth the wait.
Arriving ten years into the pop-soul trio's career, their first full-length is a majestic, transportive musical masterpiece. Sleek and soulful, feverish and finessed, The Slow March of Time Flies By is a truly unparalleled listening experience in 2020.
I can't quite recall the man I was
It seems I blinked and now he's me
When did all these just the other days
Turn in to distant memories
While you're searching for a rhyme
The slow march of time flies by
Independently released May 29, 2020, The Slow March of Time Flies By arrives as The Shadowboxers' long-awaited and perfectly-timed debut album. Formed in Atlanta (Emory University in 2008) and now based in Los Angeles, the band of Scott Tyler, Matt Lipkins, and Adam Hoffman sound cool, confident, and polished throughout an immersive twelve-song journey that bends and blends genre, marrying classic and newer R&B sounds with funk, neo soul, and pop elements. Timeless, achingly emotive, and utterly nuanced, The Slow March of Time Flies By is the debut every band wishes they could have: The Shadowboxers introduce themselves with a strong assertion of style, sound, and energy, setting the highest bar with gorgeous music that transcends the moment.
"As a band that's spent ten years touring with and being influenced by everyone from The Indigo Girls to Justin Timberlake, we struggled at times to know what our musical identity really was," the band tell Atwood Magazine. " o we locked ourselves in the studio, us and no one else, and didn't come out until we felt we'd figured that out. The result is The Slow March of Time Flies By. This album is the distillation of our writing styles, sonic influences, and musicality that we've been experimenting with for years. And fittingly, the album is also an expression of how simultaneously fast and slow that journey has felt."
Organic and unadulterated by the outer world, The Slow March of Time Flies By is the truest expression of the band and so full of little homages to music's past – whether intentional or not. How can we listen to "Honeymoon" and not think about those classic Temptations songs, or hear "Float on By" without harkening back to George Clinton? What makes The Shadowboxers' music work so well is that they translate all these influences into their own musical language. They know they're three white boys making R&B music; there's no beating around that bush – but damn, if they don't sound like pure gold.
---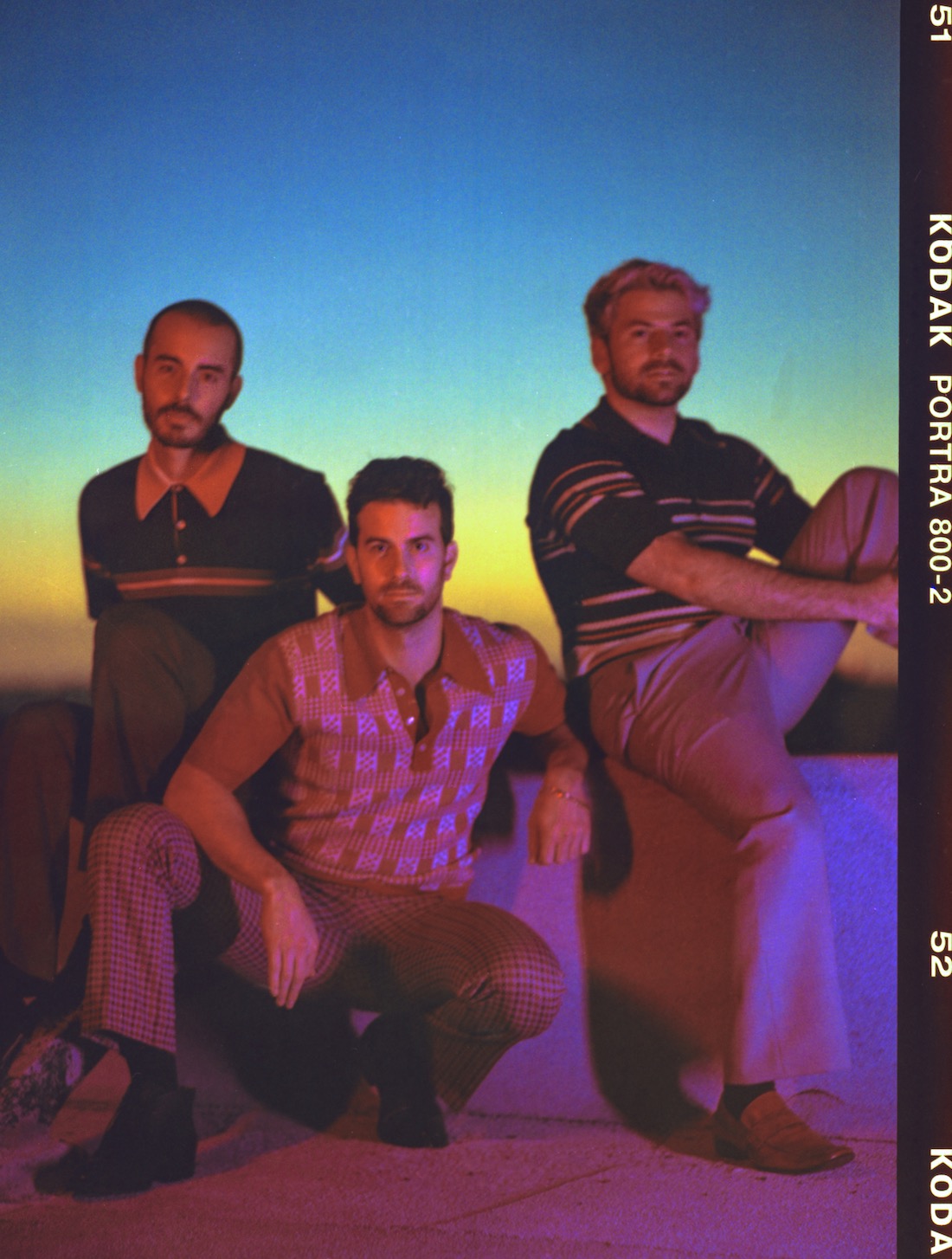 Further, what's truly remarkable and quite beautiful about this record is how it grows and develops over time. Not only do The Shadowboxers never make the same song twice, but also they take their audience on a journey that starts off in a pop-funk space, and ends in deep pools of suave, buoyant neo-soul. The adventure from "Outro" and "Highway Roses" to title track "The Slow March of Time Flies By" and closer "Won't Ever Say Goodbye" is breathtaking: An incredibly diverse tour complete with intense grooves ("Float on By," "Nothing Ever Does"), exhilarating highs ("Ego," "In the Dark"), slow jamz ("How Many Ways," "Animals"), and poignant, moving ballads ("I Can't Stop Thinking About You," "Honeymoon").
While The Slow March of Time Flies By is compelling through and through, there is no denying the inimitable triumph of its title track – an inevitable and jaw-dropping climax to the album. "'The Slow March of Time Flies By' is both the most personal and the most universal song we've ever written," Scott Tyler says of the showstopper. "Its simplicity feels like a return to square one for us, while its delivery feels like a giant leap forward. Our career has meandered its way through a decade, and it has felt slow and methodical until it hasn't. While there are many elements of our journey that are completely unique to us, there is no one who can't relate to the feeling of wondering where the time has gone."
---
It's hard to give out a 10-star rating, but The Slow March of Time Flies By deserves it. A decade in the making, the album is perfect for what it is – a sonic indulgence; an emotional outpouring; a transformation and an introduction. The Shadowboxers have achieved greatness here; there is no denying that, nor can we begin to express how excited we are to follow this band into the future.
Experience the full record via the below stream, and peek inside The Shadowboxers' The Slow March of Time Flies By with Atwood Magazine as the band go track-by-track through the music and lyrics of their debut album!
— —
'The Slow March of Time Flies By' – The Shadowboxers
:: Inside The Slow March of Time Flies By ::
— —
"Outro"
"Outro" is actually the outro of our song "Last Summer," which was the track that really re-routed us towards a warmer, more dusty sound, which became the sonic palette for "The Slow March Of Time Flies By" LP. Listen to them together…it's the perfect way to set the table for the album. Also, just the idea of starting the album with a song called "Outro" gave us a warm, fuzzy feeling. Had to do it.
"Highway Roses"
This song was the result of an incredibly fun and experimental day working with Jamie Lidell in Nashville. The main pieces fell together so quickly, most of this is played live and this song is all about staying in the groove. The bass line was actually played on a guitar while Jamie was turning knobs on all of his amazing vintage gear. The best days in the studio are the ones where time disappears – where you get out of your own way – where you're not editing as you're creating. Highway Roses was one of those days.  And the image of highway roses felt very potent to us – these last-minute, fruitless attempts to keep things afloat – when you're so comfortable in a relationship that you fail to see there's not much holding it together.
"In The Dark"
"In The Dark" is the bridge we were hoping to build at the outset of this album – something that combines our love of all the great funk and disco records from the 70's and 80's but doesn't feel anachronistic. This track takes those influences and combines it with the vocal blend we've been aiming to nail for a decade and really defines our new sonic direction as much as one song can.
"How Many Ways"
How Many Ways let's us showcase the r&b/soul side of our sound more so than any other track on the album. The bass and drum groove came first, and we used our falsetto three-part harmony stack to tackle the chorus. All of that came very quickly and naturally to us, and felt amazing as just bass, drums, and vocals, which was a good sign. From then on it was about finding subtle ways to embellish without getting in the way of that sparse bass/drum/vocal combination. We can't wait to play this one live.
"I Can't Stop Thinking About You" 
"I Can't Stop Thinking About You" is a song about finding real love. It was an effortless song for us to write and record. So effortless that we actually questioned its simplicity. We'd written and tracked the whole song in about a day, with the lyrics and music just flowing out of us, and as a band that usually takes it's time with the writing and recording process, this song felt eerily easy. But as we finished up the recording process and looked back at the body of work, we knew we got it right with this one. It just feels good, and sometimes that's all that matters.
"Float on By"
Float On By is a rumination on the unavoidable paradoxes of life and the anxiety of worrying about these things we can't control. It's the idea that ambition is ego. The moment you stop trying, you finally get what you need. On the production side, we've always loved the idea of a song starting on 10 and just riding it all the way through – the Talking Heads philosophy – in the digital age, that's harder and harder to do, because editing anything is so easy. This was an exercise in NOT editing – letting the train just go and enjoying the ride.
"Ego"
Ego is about that side of ourselves that we're not always proud of, that side that doesn't want to "quit", even if letting go is the better option. The chorus melody is triumphant even though the lyric isn't, which reflects the conflicting emotions that live inside us. On the one hand, our egos want to convince us that we're the hero who can fix anything, but on the other we may have to accept a reality which doesn't have us as it's leading man.
"Nothing Ever Does"
This is another one Matt started with Jamie Lidell, that quickly built from a flurry of modular synth grooves and randomized sequences into the hard stomp that it is now.
It's an anthemic reminder that nothing stays the same. It's a battle cry to embrace change, and a reminder that we can't move forward if we're still looking backward. Given the state of the world, this song feels about as relevant as possible.
"Honeymoon"
"Honeymoon" lives among the butterflies and fireworks that is new love… and the fear of that love fading. It's the most honest and vulnerable song we've ever released. These are lyrics that admit imperfections and melodies that sound modern and classic at the same time…it's who we are right now and it's not trying to be anything else.
"Animals"
Animals is about acting on our instincts. It's about celebrating the freedom of getting out of our own way and letting that natural thing come through. No overthinking, no second guessing…just feeling something and going with it. We've always been really inspired by easy grooves. From Michael McDonald to Benny Sings and Gabriel Garzon-Montano. When we finally nailed this chorus, we just left it on loop in the studio for like 5 hours and never once got sick of it. That outro could go on forever.
"The Slow March of Time Flies By"
"The Slow March of Time Flies By" title track is a really special one for us. The lyrics to this song lived in our heads, re-forming constantly for a few years. Everywhere we traveled, we were testing these lyrics to make sure they held true. This song feels so personal to our journey, yet the capriciousness of time – it flies by while it slugs on – that volatility is part of the human condition. Nostalgia is one of those strange feelings that is both happy and sad at the same time. This was the dichotomy we wanted to mine on this album and this song is the thesis of this entire body of work.
"Won't Ever Say Goodbye"
Years ago, Matt brought in this chorus, with it's odd sort of hurry-up phrasing and we were all immediately hooked. We demo'd it sometime in 2017 and lived with it on our dropbox during the whole JT tour. About halfway through recording this album, we realized we wanted to give this one a shot. After some re-writes and about 100 different versions of the verse vocal, we finally nailed it. This song is really about devotion (loyalty with a little bit of love). It's that feeling of knowing you'd actually do anything for someone. Anything. It's taking the unconditionality of love literally. Cause when you know, you know.
— —
— — — —
 © Amanda Adam
The Slow March of Time Flies By
an album by The Shadowboxers
---