Nashville singer-songwriter Heather Batchelor radiates a freewheeling spirit with a dash of hope for the future on "Roll With Me," a pretty piece of acoustic balladry.
— —
In the music video for her new song "Roll with Me," Heather Batchelor is posted at various places in the gorgeous state of Tennessee (White Creek, Germantown, East Nashville, and Hillsboro Village to be exact). The entire backdrop is a pristine setting for the soul/pop singer to simultaneously depict her allegiance with the area while contributing a slice of her own personal plight for eternal happiness.
Batchelor is a Nashville-based singer-songwriter who grew up in Little Rock, Arkansas for most of her childhood. Since then, she's bounced around from a couple of different places, eventually landing in Los Angeles in pursuit of a stable music career. Throughout this constant moving, Batchelor has honed in on her craft and found writing as a channel for blunt therapy.
The light guitar plucks and even-tempered drums on "Roll With Me" remind me a lot of a Mac Demarco production; a style that's firmly juxtaposed by Batchelor's brutally honest lyrics and straightforward realism with regards to loyalty and optimism for the future. The track is essentially the remedy for a pair of life-changing events-a fight she had with a girl she was dating at the time, as well as a best friend who was suddenly outside the periphery of her livelihood. Human connection will naturally always lead to some kind of tribulation, and this is her organic response to it all.
Despite the anguish, Batchelor is an open-minded artist at heart, working with some of Nashville's finest local soul songwriters (Ernie Halter being one of them), performing at the legendary Hotel Cafe in Los Angeles and partnering with local and national LBGTQ charities. These opportunities are important components to the full breadth of her artistry.
Her genuine personality and conscientious messaging gained notoriety from various local radio stations and mixer events. It's not a surprise considering much of what she says in her music is openly relatable and instinctive. She has an innate ability to capture a moment in time while creating an overarching theme that many can get behind.
Atwood Magazine spoke with Batchelor about the concept behind "Roll with Me," how she approaches each song, and what her plans are for the future during these uncertain times.
Listen: "Roll With Me" – Heather Batchelor
A CONVERSATION WITH HEATHER BATCHELOR
Atwood Magazine: What was the thought process and intention behind writing "Roll With Me?" Was the course of action different compared to other songs, or do you go about writing each track with a similar mindset?
Heather Batchelor: The intention behind "Roll With Me," was to process and heal from a fight with a girl I was dating at the time, as well as a best friend who was suddenly not in my life anymore. Songwriting, in general, is entirely therapeutic to me. So while my mindset on life and current circumstances is different each time, the writing process for every song is the same.
Production-wise, how do you normally develop ideas for the instrumentals and
melodies? Does melody come first for you usually, or can you write lyrics without that
backbone?
Heather Batchelor: Melody is always my beginning and my backbone. I'll get these one-liner lyrics in my head (usually chorus) along with the melody, and then pick up my guitar to find the chords. The production is the same. I work with a fantastic producer, Evan Redwine. We go into the studio with an open mind of where the song could go. I'll sing out guitar parts, slap my jeans with drum beats, and we'll find it all with the right instruments. And it took a village to create all the magic of "Roll With Me," Emmanuel Echem created a beautiful chorus of flugelhorn, and Lucas Morton took the song to a whole other level with synth and drum programming.
I know making music has been an important part of your entire life. When did you first start taking songwriting seriously? Do you play any instruments?
Heather Batchelor: 18. I started playing guitar my freshman year of college and became obsessed. I wrote songs every day. After one semester, I decided to transfer from Arkansas to Austin, TX to pursue music as a career.
How important are Nashville and Little Rock to your development as a person and
artist?
Heather Batchelor: Little Rock will always be the beating heart of my music. It's where I sang in school choirs and musicals. It's where my dad taught me how to play guitar. It's where I got on stage for the first time. Now, I'm lucky enough to have a second home in Nashville. This city has had the most overwhelming effect on me as an artist. I look back and think, "what did I consider good writing before?" And the community here is unlike anywhere I've ever experienced. Every artist, writer, producer, and player I work with are friends of mine. We all share this obsessive love for creating music, so naturally, we gravitate towards each other and genuinely enjoy collaborating. It's such a beautiful gift that I never take for granted.
Watch: "Roll With Me" – Heather Batchelor
It seems like a lot of people like to compare your vocal performances to Sara Bareilles or
John Mayer. What are some of your musical influences? What type of music did you
grow up on?
Heather Batchelor: Thank you, that's very kind. Those two certainly influence me. I've listened to Continuum more times than I can count. And I saw Sarah Bareilles for the first time at a tiny club in Austin back in 2011 – total goosebumps. I'm also really inspired by Maggie Rogers. I was there when she came to The Ryman, just dancing my heart out and simultaneously crying from the emotional release, haha. Leon Bridges and PJ Morton are two other artists I've had on repeat in my car this past year. As for what I was raised on, it was a soundtrack of the 70s – Carole King, The Beatles, The Beach Boys, Natalie Cole, etc. "This Will Be (An Everlasting Love)" is one of my all-time favorite songs.
What was it like being able to perform at the famous Hotel Café in California? What was the experience of being on the west coast like compared to Tennessee and Arkansas?
Heather Batchelor: So cool. It was my first time in California. I opened for a friend's band, Honey County. Being on a stage where so many legends have stood was really special and I think it showed. I felt a lot of love from that crowd. And summers on a lake were my childhood in Arkansas, so it feels really calming being near any body of water. That's pretty much the only similarity between Little Rock and LA. Nashville is a lot more like where I grew up, but with a serious upgrade in food. Being vegan has never tasted so good.
What specific LGBTQ charities are you planning on partnering with in the North and Southeast?
Heather Batchelor: I'm really excited to be partnering with the Tennessee Equality Project. Advocating for the laws that impact our daily life and the life of the next generation is so important to me.
How important is it for you to maintain a genuine personality amongst a lot of fabrication in the music industry?
Heather Batchelor: If I wouldn't say it in person, there's no way I'm writing it online. The kind of artists I admire seem to have a different view – music first and industry second. Always. So I truly hope my love for the creation of music is always seen as first.
Your One Page specifies the fact that you'll be touring in the Northeast and South to spread your music? What types of methods will you use to increase your audience, and has anything changed considering our current circumstances with the virus?
Heather Batchelor: I know we're living in uncertain times. Hopefully, by this summer/fall, shows and festivals will resume. In the meantime, I'm working to create a live experience online and a way to connect with my fans while we can't be together in person.
The song
"Roll With Me" captures a freewheeling spirit, but your first verse also suggests a lot of perseverance in my opinion. Will this be a common theme in your upcoming EP?
Heather Batchelor: Aww wow, thank you. For me, the song is about acceptance. I started writing it when I was in a dark place and it ended up being the light I needed to move on. So, I'm really glad the "freewheeling spirit," actually came across! And I wouldn't say perseverance is a theme throughout all the songs. The EP is much more about brutal honesty – with others and with myself.
What was the concept behind the video? Where did you end up shooting it?
Heather Batchelor: The night shots in the field were done in Whites Creek, Tennessee. The rest was a combination of Nashville neighborhoods – Germantown, East Nashville, and Hillsboro Village. The concept was a fight between me and my girlfriend in the morning, having a day to myself to process, and then coming home to find her on my porch. The message is simple: fights happen but if you're in it for the long haul, you work through it and roll with them through anything.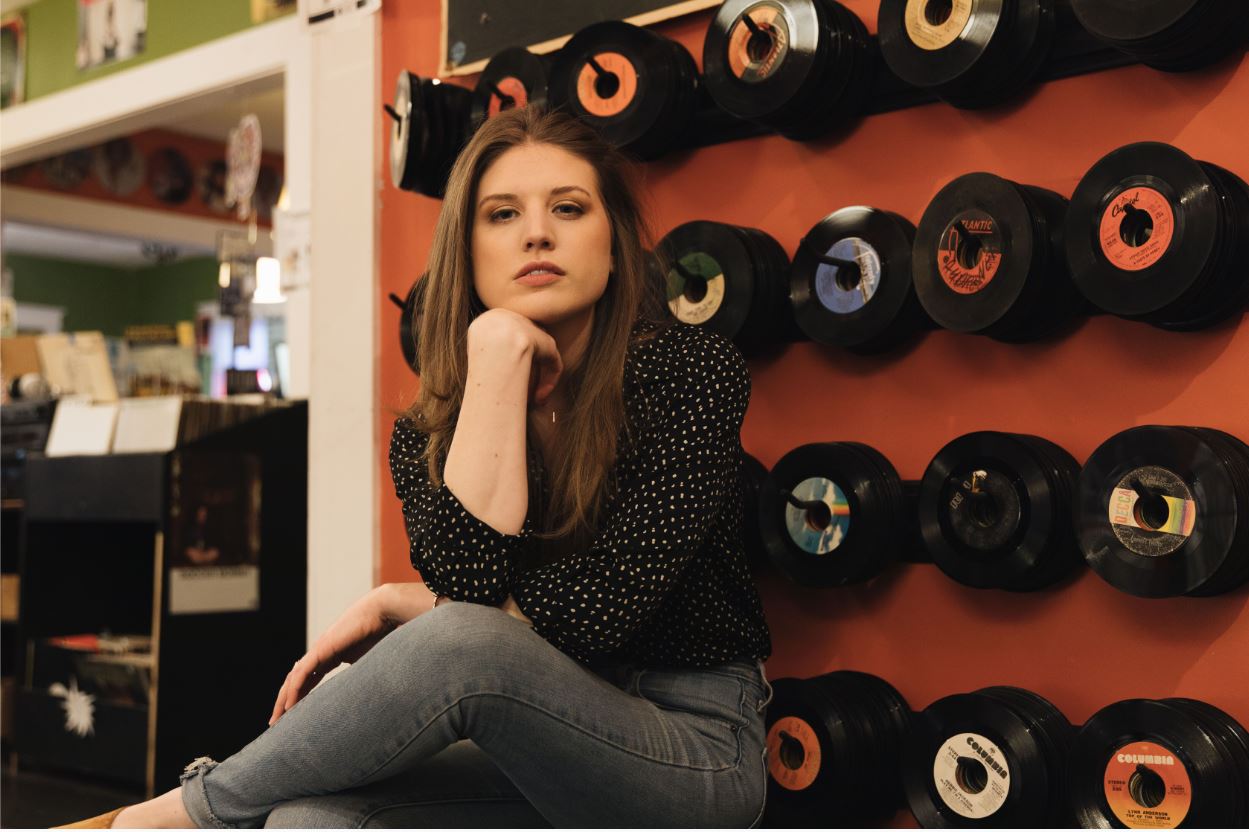 What's it's been like working with other local Nashville artists such as Ernie Halter? Do you both have similar visions when it comes to songwriting?
Heather Batchelor: It was really cool working with Ernie. He's ridiculously talented and just so kind. A real family man. We have similar approaches to writing with letting the melody direct the mood and idea for a song. But he went above and beyond my typical setup – recording a loop of piano, a beat track, AND bass before we even dove into lyrics. Speaking of, our write was actually a trio. An incredible artist and good friend of Ernie's, Melissa Polinar, happened to be in town that week. So, I count myself lucky that I got to collaborate with not just one but two great writers.
If you could work with any other artist, who would it be? It could be someone local or someone in the industry currently?
Heather Batchelor: Maggie Rogers.
Where would you like to be five years from now as a person and artist?
Heather Batchelor: Well… I never plan anything past a year cause honestly, life happens. So past that, all I can hope for is having the time of my life connecting with fans, working with artists I admire, and continuing to create the music that gives so much joy to my life.
What your plans like after releasing the EP? Is there any title or concept yet for the project?
Heather Batchelor: Still deciding between a few titles. After the release, my plans are to keep everyone up to date on touring while continuing to connect online. An Instagram live EP release is not a far off bet to be honest. We'll see.
— —
? © Mackenzie Maroney
:: Stream Heather Batchelor ::
---