Once a bandsman and now a solo producer, Luttrell propels his career in EDM production to even further lengths with his sophomore album 'Lucky Ones.'
— —
Eric Luttrell, who uses his last name as his onstage pseudonym, grew up in San Francisco and consumed heavy amounts of dance and rock music in his youth– The Smashing Pumpkins, Nirvana and The Prodigy being among his go-to acts. Later on, as a college student, several pivotal experiences caused him to shift towards electronica. While studying abroad in Berlin, he consumed the city's expansive EDM offerings like mad, and he encountered several classmates back in the States– Ben Swardlick and Andy Coenen — with whom he formed an indie trio called The M Machine.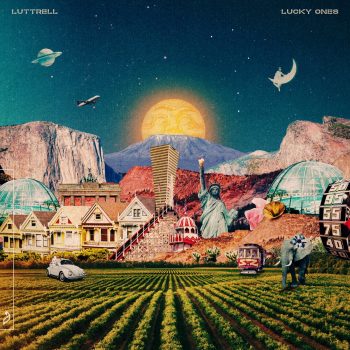 This group was active for a solid seven years, all the way through the release of their 2017 album, Glare. Although The M Machine appears to have been on an indefinite hiatus ever since then, Luttrell himself has kept his creative juices flowing as an electronica producer. He signed to the independent British label Anjunadeep, where he has gone on to release his first solo EP, Need You (2016), as well as his first full-length album, Into Clouds (2019).
The latest addition to his resume is Lucky Ones, released March 13th. It's a mostly vocal-free 11-track set on which Luttrell works his magic as an experienced craftsman of electronica. He is supporting his new album by means of the lead single, "My Friend The Sun," and– should fortune play to his advantage– a national tour later this year.
In a candid interview, Luttrell reflects on a decade-plus of electronica-making and how all he has learned along the way has helped him to construct the pulsating soundscape of Lucky Ones.
— —
Listen: Lucky Ones – Luttrell
A CONVERSATION WITH LUTTRELL
Atwood Magazine: Lucky Ones represents quite a broad and pulsating soundscape. What types of music were you especially keen on incorporating into this album and how did you manage to structure the record accordingly?
Luttrell: During the time I was writing this album, I listened to mostly older stuff from the 70s-90s. Lots of David Bowie, Neil Young, New Order and Smashing Pumpkins. Of course, I listened to dance music, too, but when I was just hanging out around my apartment or listening to music in the park, it was mostly older stuff. I think a lot of those sounds made it into some of the album tracks, particularly with the title track, "Lucky Ones," and also "Find Me."
You say this album is "anchored in themes of gratitude." On a record that features very few lyrics, how does the music communicate this much?
Luttrell: The title track, "Lucky Ones," is the centerpiece of the album to me, and that track is about recognizing the positive things in your life and beauty in the world, even though sometimes, for many reasons, it can be difficult. That's really why I named the album after the song — I just feel like it's a good message — one that I feel is relevant to my life the past couple of years.
Lucky Ones draws on many of your life experiences: studying in Berlin, climbing Mt. Kilimanjaro, winning a game show, and so on. Describe the process of taking experiences like those and figuring out a way to embody them through electronic music.
Luttrell: I think it's kinda hard to say exactly how those things impacted these songs in particular. But one example I can think of is Albanian Summer. The beach sounds with the seagulls, and the sort of throwback 80s vibe of the whole track, makes me feel like I'm back on the beach in Albania. There were lots of little bars and huts along the beach playing sort of 80s throwback electro stuff, so the song reminds me of that.
What made you go with "My Friend The Sun" as a lead single? How do you feel it serves as a fitting introduction to the rest of the record?
Luttrell: To be honest, it was the label's idea to use "My Friend The Sun" as the lead single. I liked the idea 'cause it was a different sound production-wise from me, but it still had some of my trademark sounds, so it wasn't too out of left field. But to be fair, I really never thought about any of the singles as being "lead" singles. I would have been happy releasing pretty much any song from the album as a single.
What's life on the independent label Anjunadeep been like? How has the label been able to support and influence your music?
Luttrell: It's awesome. I love working with the team at Anjuna. The last 3-1/2 years has been a privilege. They work hard and they have a great vision for what they want the label to be. I feel lucky to work with them.
Growing up, what drew you to electronic music? What are some key events that made you decide that this was the direction you wanted to take your music career in?
Luttrell: I was always drawn to the chord progressions, melodies, harmonies and the absolute energy that electronic music delivered. Of course, I listened to all sorts of music growing up. I've always had a thing for 80s music, and more modern electronic and dance music clearly have roots in that era.
How did growing up in San Francisco govern your tastes in music? As you've gotten to travel to other places as a performer, what are some musical influences you've picked up along the way?
Luttrell: I grew up listening to all sorts of stuff. My mom taught me to play guitar when I was 13 or so. That set me on a path towards making more folk, singer-songwriter stuff. But when I traveled to Berlin in 2007, I was introduced to a bunch of really awesome electronic music. That was about the time I had a computer powerful enough to produce some dance music on, so I started to experiment a lot and fell in love with dance music and electronic music production.
What are your hopes for your upcoming tour this spring? Are there any cities or venues you've played in previously and are excited to be coming back to? Any new ones you're looking forward to seeing for the first time?
Luttrell: The tour is now pushed back to later this summer, but we were able to reschedule the whole thing, so I feel super lucky in that respect. I'm looking forward to all the dates (lame response I know) but it's true. Every time I play somewhere. Even if it's the same venue, it will be a totally different experience. I will say I'm extra pumped to play my hometown show in SF at a venue I used to frequent a lot, 1015 Folsom. I've never been able to play my own show there until now, and my hometown crowd always shows up. Very stoked for that one!
— —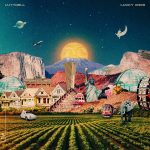 ? © Demian Becerra
:: Stream Luttrell ::