The Hippo Campus boys trade their indie rock crowns for cowboy hats in their latest 5-track EP, 'Wasteland.'

Stream: 'Wasteland' EP – Hippo Campus
---
It's hard to predict what Hippo Campus will do next.
The weapon of choice this time around is an unexpected dip into country music. The boys trade their indie-rock crowns for cowboy hats, in their latest 5-track EP, Wasteland, out April 14 via Grand Jury Music. The work is an exploration of life when the dust doesn't settle. The band navigates a life of solitude, uncertain yet determined.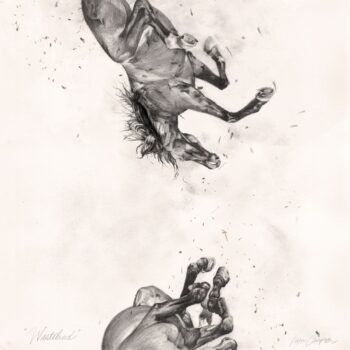 Whether it be a trip to the lake or cold beers at a backyard barbecue, opening track "Moonshine" is a set off for a summer day. Frontman Jake Luppen's voice skips around the glittering guitars, making for an irresistible melody. An instrumental flurry sparks the bridge, the piano arpeggiates into the sky and the trumpet thrums in reply. The boys sing us out with, "Loving you is all I want to do." The track is both a touchstone for longtime fans and a playful introduction to the band for new listeners.
wasting my days burning my pockets like a dying star
smile and wave, pressing on with
lessons in the shape of scars
so unexpected, someone like
you'd like someone like me
making love in a hearse, man, can you keep up?
can you hold the truth as tight as me?
one night stand in a flatbed pickup,
shot of moonshine making you shine too
burn baby burn as the world turns to disco,
loving you is all i wanna do
long shot looking for your heart after all this
time spent trading mine for something brand new
my southern belle springtime dewdrop sweetheart,
loving you is all i wanna do
---
"Yippie Ki Yay" is the keystone of the entire work. The band recalls, "We initially started writing this song 6 years ago. It's a story within a story… It deals with "giddying up" in the sense that we gotta keep on keeping on despite not knowing what the f**k we're doing a lot of the time."
The track is packed with an adrenaline-charged drumbeat, manic guitar line, and electric production. Luppen sings with a chip on his shoulder: "Bullseye on the back of my head, back home they're thinking I'm dead. I'm wishing that I was instead, well, still not as bad as it gets." The bridge approaches as a storm in the distance with Luppen insisting, "I don't need a f**king guilt trip." The outro is a bloodbath. The instruments are thrown into the void, rocking out at full force.
---
"Honeysuckle" fits the bill of the band. Reminiscent of early 2000s underground indie, power chords set the track into motion. The track poses a challenge at the end – it's "time to pony up." Lovelorn ballad "Probably" is a simple dance of acoustic guitar and piano. Luppen's twang is sweet and innocent, yearning for what once was, whatever it was. Airtight instrumentals and sincere lyricism allow the band to weave between genres and landscapes while staying true to themselves.
Hippo Campus will never take a step back.
The wasteland is dark and desolate, there is no one around for miles. The band manages to squeeze an entire lifetime into five tracks, traveling the wasteland one step at a time.
— —
— — — —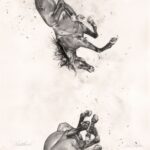 © Shervin Lainez

:: Stream Hippo Campus ::