If you haven't heard of the Melbourne duo SYDE, we're willing to bet it's only a matter of time. The pair has two singles under their belt so far, most recently the bright and lush groove "Above the Clouds" with New York City vocalist Olivia Reid. Specializing in breezy, tropical beats set under glossy vocals, their tunes are an ideal soundtrack to a summer's day spent with friends. And, as freshly minted high school graduates, Will and Mitch seem to have the entire world at their fingertips, musically and otherwise.
Atwood Magazine linked up with the Melbourne-based initiates to bring you their curated suggestions on places to see, things to do and food to eat in their hometown. So, if you're heading to the land down under anytime soon, take note before you take flight.
Go-To Spots for Food
Will: I am a devout Nando's fan. It's local to my place and there's never a bad time to head down to the local Nando's with mates for some MAD chicken. It's definitely a SYDE go-to meal of choice after days in the studio. If you're from the states, it's a must try considering the U.S. hasn't jumped onto the Nando's bandwagon just yet.
Mitch: If you are a sucker for anything Italian you want to head to Lygon Street in Carlton. Here you'll find ALL the Italian restaurants you'll ever need. If you're looking for the classic hearty Italian cuisine, Donini's is my pick of the bunch.
Sun and Sand
Will: St. Kilda Beach is a cool beach that I'd definitely recommend seeing if you come over here for travels or visits. It's a busy spot but close to the city and filled with vibe. There's lots to do round the area as well, with Luna Park and Acland Street being big attractions. Definitely a good spot to visit to get sun and well fed at the same time.
Mitch: If you're looking for an easily accessible beach, head down to St. Kilda foreshore. It's a perfectly centered hub for beach, city, restaurants and bars. And, one of the only places in Melbourne where you can have a cheeky drink on the beach! There's always a crowd of travellers and Melbourne's young people, and it's one of the most scenic places to watch a sunset.
Wine and Dine
Mitch: If you're visiting Melbourne and a bit of a foodie, Flinders Lane in the CBD (Central Business District) is a must visit. You'll find some of the highest quality food and drink in the city. Chin Chin is one of the most talked about Thai/Modern Asian-fusion restaurants in Australia. Just make sure you allow time for lining up, it's not uncommon for a two-hour table wait.
Will: I love going out to dinner at Southbank. Along the river in the evening, it has the most incredible city views. There's lots of different restaurants there and it's a nice spot if you're looking for something a little fancier than St. Kilda. Bistro Guillaume is one of my favourite French restaurants.
Weekend Warriors
Will: I spend quite a bit of time in Flinders on the Mornington Peninsula. It's an hour drive from Melbourne and has incredible surf beaches, hikes and great food. If you're up for a bit of a drive, it's worth it for a good spot to relax away from the city and down to the less populated areas. With Sorrento and Portsea a short drive away, you're not far from some of the best beaches in Victoria.
Mitch: My go to place on the weekend would have to be Chapel Street. It's definitely Melbourne's mecca for food, nightlife and cool people. Endless bars and restaurants to hang out at and it gets pretty bustling at nighttime. There's always a good story to share from something that's happened on Chapel Street.
— — — —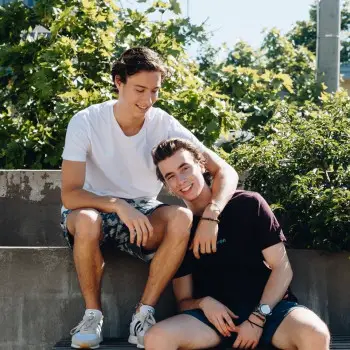 :: Listen to SYDE ::