Magic is in the air throughout Henry Jamison's heartfelt "Gloria," a warm, hopeful exploration of boyhood, social constructs, and overcoming prejudice.
— —
A quiver of strings. A quiet, calming voice. A stroll down memory lane. Magic is in the air throughout Henry Jamison's heartfelt new song "Gloria," a warm, hopeful exploration of boyhood, social constructs, and overcoming prejudice.
Released last month, "Gloria" is the lead single off Henry Jamison's upcoming sophomore album Gloria Duplex (out February 8, 2019 via Akira Records). An acclaimed singer/songwriter best known for the hit single "Real Peach," Henry Jamison is one of America's modern folk masters. He weaves moving messages and important life lessons through relatable tales of existence and experience, inviting his listeners on illustrious journeys through an often flawed, but promising world.
"Gloria" is Jamison's first piece of original music since his debut album The Wilds released exactly a year ago in October 2017. Departing from the "traditional" folk canon, this latest song finds an invigorated Jamison refreshed and ready to take risks. He explores new sounds, styles, and structures while still embracing his past ("Gloria" is something of an homage to or reinvention of the Irish folk song "Arthur McBride").
"Gloria" is also indicative of the artist's natural growth: Inviting friends to join him in the studio, Jamison crafts a fuller aural narrative than in years past, harnessing deep textures and emotive nuances to elevate his composition. "Gloria" ebbs and flows like an ocean tide, realizing itself in dramatic, sweeping choruses injected with earnest feeling.
Put simply, Henry Jamison is so much more than a man and his guitar.
With its dreamy radiance and self-aware poetry, "Gloria" resonates with unbridled passion. In the artist's words, the song is an attempt to explore "the ways in which boys in our culture are recruited into a toxic fraternity, by each other, by their fathers." Without overwhelming his audience with politics or social commentary, Henry Jamison tackles some of the most important issues facing society today. Listen to "Gloria" now, and dive deeper into this special song in our exclusive interview!
Stream: "Gloria" – Henry Jamison
DIVING INTO "GLORIA"
Atwood Magazine: There's a special weight to the word Gloria: Latin for glory, it's found in countless songs, school mottos, and writings throughout generations. What does this word symbolize to you, and what inspired its central role in this song?
Henry Jamison: The song came relatively late in the writing of the record, which I had already named Gloria Duplex, a Latin term for "seeing both sides" or "seeing complexity." I liked that the word "gloria" had these very transcendent connotations, while "duplex" had very mundane or pedestrian connotations. I wanted a song that would emphasize both ideas, but especially the transcending of everyday prejudice, so I wrote "Gloria" to more explicitly state my themes.
What inspired you to look back on your own past in this record?
Jamison: I'm not totally sure, but I think that emerging from my mid-20's and realizing that I hadn't done much biographical work was a big part of it. Not that I was in a complete haze up 'til I was 28, but a relative haze. I felt an urge to not only tell myself a literal story of how I ended up where I was, but also to place it in the larger context of our cultural mythos, as best I could. And I guess for that reason a fair portion of the songs are quasi-fictional.
"Gloria" recalls two memories in particular, both of which involve your cousin. What was it about these two stories that brought them together for you? Why were they the right ones for this piece?
Jamison: Well the first thing to say about it is that the verses are based on an Irish folk song called "Arthur McBride," which also starts "me and my cousin…" That song is about military recruiters trying to get two boys to join. I ended up modernizing the story and putting it in a more psychological space. Both of the stories in the verses are about the confusions of contemporary boyhood being seen through, miraculously.
"If you're looking for your innocence, it's already there." I'm still getting my head around these words, that close your second verse. What do they mean to you?
Jamison: It just seems to me that most of our lives are spent in unnecessary grasping for something to fill what we believe is some essential lack in ourselves. By not believing in the lack, we're not making, at first, any kind of assertion about how things really are, but just making a therapeutic move. Basically, it's not really working for us to feel so fractured, so let's try starting from a different assumption, if we can.
I meet a lot of artists who took a minute to grow, develop, and expand their "artistry" after releasing their debut albums. How would you say you've done this in the year since releasing The Wilds?
Jamison: To me it feels like many years went by between them, both because a lot of The Wilds was written long ago now and was recorded very slowly, and also because every tour tends to feel like a year and I did a bunch of them. By the time I was in the studio with Thomas (Bartlett, who produced), I was on to these very different themes, very different desires for the work, Thomas' dreamy sounds and a slew of other musicians putting their stamp on things. It was a completely different process and I think you can hear that.
I really love the sonic overlays in "Gloria." You blend light guitar and piano particularly well, adding additional (what I'll call "celestial") textures in the chorus. How did this instrumental mix come about for you?
Jamison: The acoustic is capo'd very high and I play the opening and choruses with a kind of hammer-on effect. Thomas played a bunch of piano, both structural chord stuff and more textural layers, and he also doubled the hammer-on guitar parts. Then my friend Ben Davis played the apreggios on a Moog that he runs through a midi controller to manipulate the speed of the arp, which gives it that accelerating feeling into the choruses. There's a lot of other stuff going on, but those are the big ones.
There's something deeply satisfying about penning a song with a heartwarming, uplifting message - or so one would think. How do you feel about having brought this song to life? Do you think about that kind of stuff?
Jamison: I do think about it, yes. I don't want to make anything saccharine or unnuanced, but I also feel like there's this kind of gap in our thinking about how pop music works. There's a lot of despair on the radio and I remember thinking back when The Weeknd had a bunch of hits that there was some inverted message in his expression of despair. But an inverted message is too unclear, so I just wanted to say something that seems helpful to me. But there's also plenty of sadness on the record, just to be clear.
What excites you most about having "Gloria" out in the world?
Jamison: Mostly just starting a new chapter and starting to shift my live show over to this more mature and coherent idea. I'm excited to play "Gloria" and all of the new songs with a band and just to see what this record does, since it'll have a life of its own now.
Have you ever felt pressure to write another "Real Peach?" Or to model another (new) song after that one?
Jamison: Not especially, though I feel a bit that I'd like to revisit that kind of especially pop side of things and do it better next time. I like strummy/hooky songs and am working on one right now. I would just allow for more organic textures next time.
— —
— — — —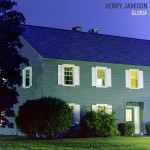 ? © Patrick McCormack
:: Stream Henry Jamison ::