Vancouver's IAMTHELIVING and Teon Gibbs come to life in their collaborative debut EP 'JNGL', a dynamic and impassioned R&B/hip-hop fusion ready to enchant, inspire, and deliver endless eclectic summer vibes.
Stream: "Puppa" – IAMTHELIVING & Teon Gibbs
---
Stunningly soulful and intimately impassioned, IAMTHELIVING and Teon Gibbs' new EP is a sunny, stirring collection of feel-good and hard-hitting songs. The Vancouver duo come to life in their collaborative debut EP JNGL, a dynamic and impassioned R&B/hip-hop fusion ready to enchant, inspire, and deliver endless eclectic summer vibes.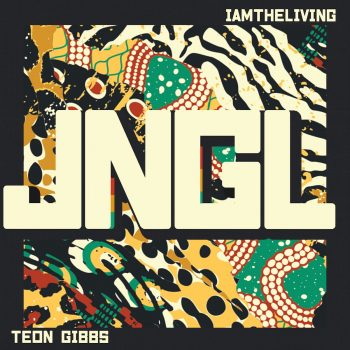 I can see you crystal clear
I just want you over here
I can feel it you're on the fence
Let's get on the dance floor give us a chance
I can tell this ain't your first time
Can't get off of your high yeah
Would you take me all night
Cause I can see you locked in that vibe girl
Yeah Yeah Yeah Yeah
Tell me can you feel it?
– "Puppa," IAMTHELIVING & Teon Gibbs
Sun-soaked and sweaty, effortless and effervescent, JNGL strikes a lasting cord in the ears and heart alike. Released June 1, 2021 via Tiny Kingdom Music, IAMTHELIVING and Teon Gibbs' first multi-track effort combines the very best of the two British Columbia-based artists, who for years have been charting their own paths in the independent music world. South East London vocalist Rian Peters (IAMTHELIVING) and Motswana rapper-come-producer Teon Gibbs first collaborated on the evocative, pulsing "Between the Groove" in July of 2020. For the past eight months or so, they have been slowly teasing JNGL – a sleek, multi-genre, provocative affair. The EP's six tracks compel us to dance, feel, and consider ourselves and our surrounding world., all while dancing the days and nights away.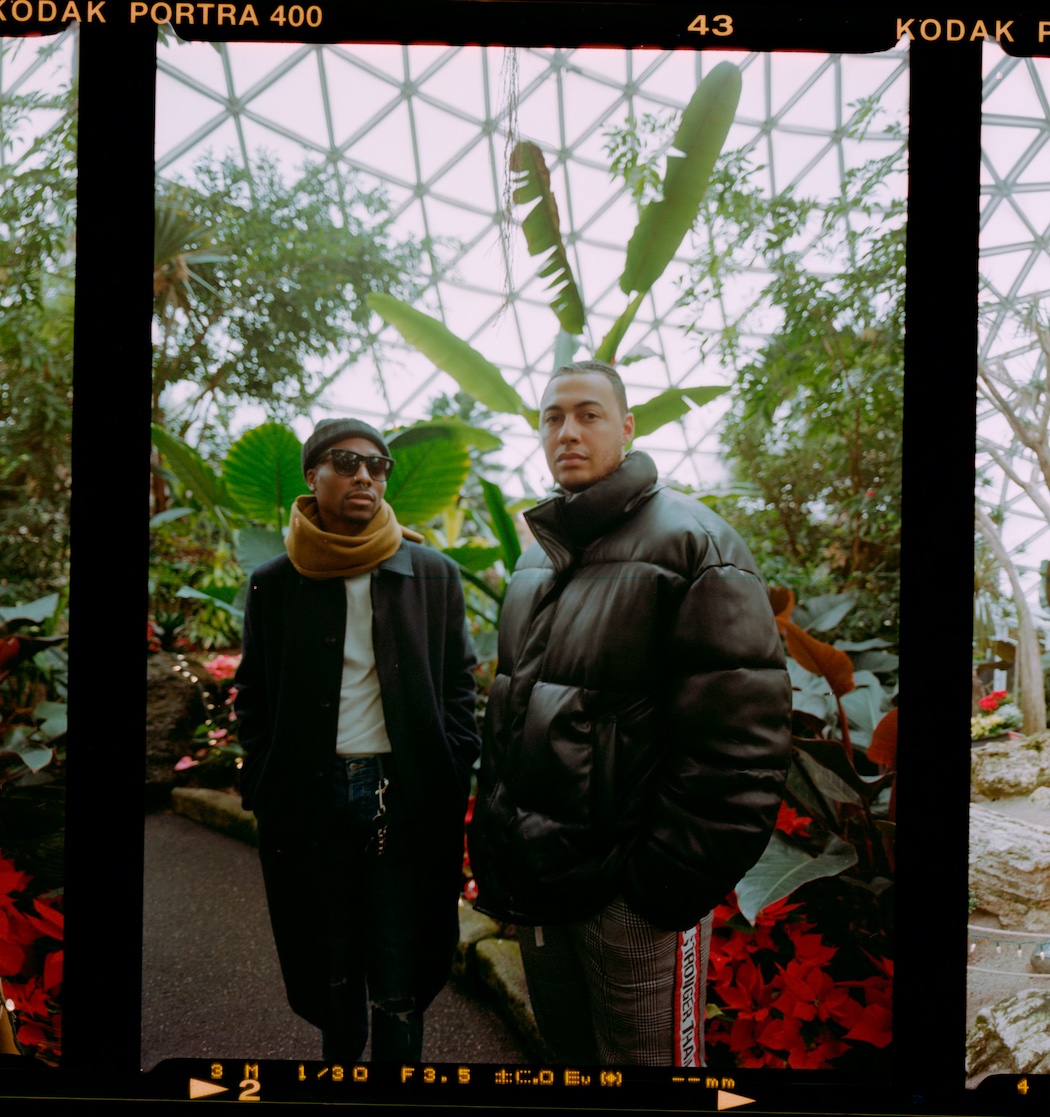 "We wanted to create a project that embodies who we are, where we're from, and shows what we can do," Teon Gibbs tells Atwood Magazine. "The word "JNGL" just seemed to capture it all. Being from Botswana, the word 'jungle' has followed me around my entire life, and IAMTHELIVING is originally from South London, which is the concrete jungle – this project is those worlds meeting… our worlds meeting. Our whole project is genre bending – hip hop meets soul, R&B meets garage, house meets pop. In the same way, our backgrounds and life experiences are meeting here. Everything from living in Botswana and London to what it feels like to go through heartbreak or find new love, just all brought to life through the social lens of two black artists living in Vancouver."
"The way we came together to make this project was just so honest," Gibbs adds. "We kept it simple. It's about loving the songs. The sounds on this project are big and diverse but at the same time we really took a grass roots approach to making it, I think that's why even though the sound fills the room it can still resonate with the listener's core. We really feel like we've created our own little lane and we can really shed light on how dope the Vancouver music scene is!"
As is the case with so many things in life, JNGL almost didn't happen – but chance encounters, online or in person, can make all the difference.
"Teon reached out to me on Instagram back in early Feb of 2020 as he was putting an event together for Black History Month," IAMTHELIVING recalls. "He asked if I could be one of the performers for it and I said yes. That night of the show we just got to talking and said that we should work together some time in the near future. A few weeks after that he sent me over a few beats that he had sitting on his laptop, and one of them was the beat for 'Between the Groove' which I instantly fell in love with. That then went on to being our first collaboration single together. That's basically how it all began."
---
One dynamic track led to another, which led to another – and as people around the world hunkered down in the early locked-down months of the COVID-19 pandemic, Gibbs and IAMTHELIVING found and fostered a connection through music.
"This project came together at the start of the worldwide lockdowns in April of 2020," IAMTHELIVING says. "Teon and I decided to come together to collaborate on tracks that lifted us up, made us feel vibrant and got us bubbling around the studio during a time that felt very uncertain. Because of these songs that we were creating, we felt that it was only right that we shared this music with the universe."
"We decided to join forces to create music that would make people want to dance – get lost in the groove and bring people together," Gibbs adds. "We feel that this EP is going to do exactly that. There needs to be more cross-genre collaborations in Vancouver; more Black voices uniting and creating music together. To be real. We just need more positive energy to get us through these tough times."
From start to finish, JNGL lights a fire within. Opening track "Puppa" delivers a fresh, feel-good seductive reverie full of slick beats, soaring melodies, and alluring intimacy; but ecstasy is only one of JNGL's many sides. The heated "Translation" speaks to a deeper connection between souls, while "Distance" dwells in the uncompromisingly smoldering depths of love. One of the EP's most meaningful and important songs, the soul-stirring "Where Do We Go From Here" finds the two artists addressing racism, police brutality, addiction, the climate crisis, and more. "So focused on my journey I'm just looking for a deeper purpose," Gibbs spills in an introspective first verse. "Damn, and they tell me I should take the verdict, 'cause we pray a lot for change but never see it working." Together with IAMTHELIVING's radiant, hot-on-the-mic vocals, the pair deliver an entrancing, poignant moment of truth and heartfelt emotion.
We been walking down a long road
I been losing my sight
We been standing at a crossroad
I been losing my mind
Where do we go from here, here, here, here?
Yeah, And is it really worth it
So focused on my journey I'm just looking for a deeper purpose
Damn, and they tell me I should take the verdict
Cause we pray a lot for change but never see it working
And according to this pigment, they just shooting churches
Have a nigga up in boxes cop'll do you dirty
Got they foot upon the neck face up in the dirt and
Feel like Motown on shuffle I call it soul searching
I know my soul hurting
Did I find myself, Or am I a different person
The devil still alive know he try to hurt me
And I feel it deep inside that I'm really burdened
Had to take a little time to see the world was burning
Damn it feel different, when the tides are turning
Why my pops still drinking he prolly leaving early
And the thought that I might make it really make me nervous
Cause I gotta deal with the demons that live beneath the surface
– "Where Do We Go from Here," IAMTHELIVING & Teon Gibbs
---
Alongside their EP, IAMTHELIVING & Teon Gibbs also released a short film and music video to accompany "Where Do We Go From Here." Directed by filmmaker and writer Darion Trotman, the 13-minute film evokes the song's issues while leaving us with reasons to hope and maybe (just maybe) look up.
"This music film is a compelling visual that touches on a few deep issues, from alcohol addiction, racism and police brutality, to environmental issues," the pair explain. "We live in a world where there are so many different problems that we face and we are all looking for positive change. This video encourages unity, strength, hope and togetherness from people from all walks of life."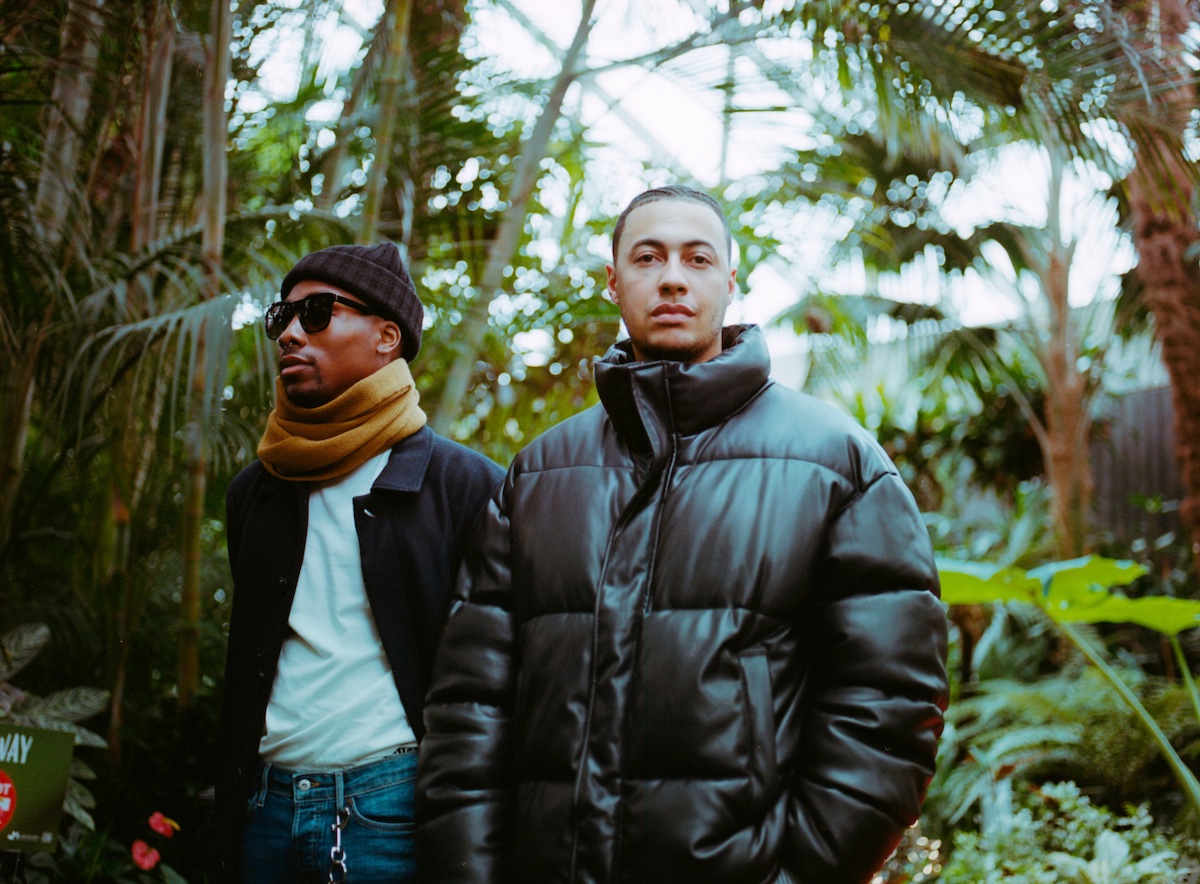 Whether you're drawn to JNGL's deeper societal reckonings like "Where Do We Go From Here," immersed by the passionate throes of "Puppa" and "Boxes," or drawn in by the moody closer "Fall," this EP is as fresh and thrilling as it is utterly cathartic – leaving listeners breathless, fulfilled, and ready for more. Experience the full record via our below stream, and peek inside JNGL with Atwood Magazine as IAMTHELIVING & Teon Gibbs go track-by-track through the music and lyrics of their new collaboration!
There needs to be more cross-genre collaborations in Vancouver; more Black voices uniting and creating music together. To be real. We just need more positive energy to get us through these tough times.
— —
Stream: 'JNGL' – IAMTHELIVING & Teon Gibbs
:: Inside JNGL ::
— —
PUPPA

IATL: For us, Puppa felt like a continuation from our first release 'Between The Groove', with its up tempo, energetic and dance feel that it has. Puppa is a song about being at a party with your friends and then seeing someone attractive that you want to get to know, get close to and exchange energy with, using the language of dance. I remember being at home and receiving an email from Teon and attached were a few more beats from Cheap Limousine. I went through a couple, and the beat for Puppa was the 3rd one on the list. As soon as I heard the first few seconds of the opening side chained synth, it stood out above the rest, my ears instantly pricked up and it sounded dreamy to me. The drums kicked in and then I couldn't control my head, it just started rocking back and forth, from that point I knew I was in the zone!!! "Between the Groove" pretty much set the blueprint for this track. I felt like this song could also use one of those 90's House/Pop music chants which first inspired me when working on "Between The Groove", so I wanted to approach this beat with the same energy and feel, and this time keep the words really minimal and memorable to make it easier for people to catch and sing along to. From then, the melodies for the verse and pre chorus just poured out of me, I recorded them into my voice note app on my phone and sent them straight over to Teon. His response was really energetic and positive, so we set a day to get together to finish off the writing for it. Once we linked up, our approach was very much the same, we wanted to keep it light, fun vibes, a track that would allow you to lose yourself in the beat and melodies, and it felt like we were on our way to achieving that, so the process of figuring out the right lyrics and how we wanted to structure the song came pretty easy for us.
TRANSLATION
Teon: Translation is all about finding a connection with someone that may not be able to be explained with words. Maybe the situation is hard to explain, maybe there's a language barrier, maybe the passion is so deep and wild, that you have no real way of explaining the energy to someone. A lot can get lost in translation, but at this point of intimacy and infatuation it doesn't matter! We really wanted to switch the song structure on this one, so many of our songs IAMTHELIVING starts off so it was a cool idea to have to have me be the first vocal you hear on the track. It was a lot of fun writing these verses! IATL did a lot of riff variations of the "oh na na" section which really inspired me, I knew right away starting the song off with "wanna do a little freakin, come over for the weekend" would be a memorable moment. From there it was fun exploring this feeling. It was like meeting someone on a night out and for some reason everything was just clicking.
Because I am from Botswana and the song is called Translation we thought it would be really cool to introduce some Setswana (the native language in Botswana) in to the mix somehow. I'm really proud of my heritage and I feel there's not enough Southern African representation in the world. So, we decided to add the "Ke tla go bona" section which means "I see you". It felt perfect in this context and suited the mood of the song.
DISTANCE
It feels like being in love is no longer cool in culture. To us building with someone authenticity is doper than just a hookup. Distance is a song about doing whatever you can do to make a relationship work, even when the odds are stacked against you.
We wanted to create a song and a feel that was reminiscent of the early 2000's. IAMTHELIVING being from London and Teon Gibbs spending his early teenage years there, we were both privileged to experience the sound of UK Garage on pirate and mainstream radio in its height of popularity across the nation. The energy and the feel of those tracks made you want to move, sing along and get lost in the beat and melodies, and we believe that Distance transports you back to that time but at the same time brings a fresh new sound that many, especially in North America may not be familiar with.
We can go the distance.
WHERE DO WE GO FROM HERE
IATL: "Where Do We Go From Here" is a song that touches on a few deep issues, from alcohol addiction, racism; police brutality, to environmental issues. We live in a world where there are so many different problems that we face and we all want change but then we always seem to find ourselves at a crossroad not knowing where to go to achieve true peace, love and joy that we all want from this life experience. This song came about one day when we were down at Teon's apartment. We had arranged to get together to continue writing for the EP so we were excited to start creating more new ideas. Teon knew of this other producer that he had worked with once or twice before called J808 and he stumbled across one of his beats which he showed me. As soon as I heard it I immediately fell in love with it, it was a completely different vibe to what we had already been working on with Cheap Limousine but it still fell in line with what we already had. The beat was mellow, it felt deep, it felt dark and we loved that, it added a new type of energy and feeling that we felt like the project was missing and needed, to give it some depth.
When I hear a beat, I wait for it to communicate with me, I wait for it to tell me where I should go, sometimes that could take 10 or 15 minutes or sometimes it could take 10 or 15 seconds, it all really depends if the feeling is there, because the feeling is the most important thing. The melody for the song literally came to mind instantly, so I told Teon to pass the headphones, put the mic on and just let me record whatever comes out. I really enjoy that process of creating because there's no thought behind it, you're just going with the feeling in that moment and you find magic in those moments. When we listened back we both knew that we had some magic within it. In the melody recording I kept on saying a simple but powerful line asking the question, where do we go from here? I feel like that line was subconsciously in the back of my mind because during the time of us creating this project we were in the middle of a "pandemic" and at the same time, the video of George Floyd surfaced online, all of the racial tensions, protests, and conversations were popping up all over the world, and with all of these traumatic events that we were witnessing and still continue to witness, that question of where do we go from here always continues to linger. As that melody stuck with us, we decided to just go ahead and finish the chorus, we wanted to continue creating while we had that energy and excitement in us so I continued recording and the words just came out 'we been walking down a long road, I been losing my sight, we been standing at a crossroad, I been losing my mind, where do we go from here'. So simple but at the same time so profound. After we had that recorded we knew from then moving forward that we wanted to have something on the project that had more of a deeper meaning and with a message, something that would make people really dig deeper into not just the lyrics but also the melody and the music. Teon sat with it for a few days to give himself time to figure out exactly where he wanted to go with it. I remember being at home and him sending me over the idea that he came up with. His cadence, his words and his melody worked perfectly for what it is that we wanted to achieve with this track.
BOXES
IATL: Boxes was actually the second song that we had worked on together. The song is about being single for a long period of time, not having to commit to anyone and just being out there having fun and playing the field, but then at the same time in the midst of all of that, hoping to find someone to settle down with and then out of nowhere finding that someone who ticks every single box of what it is that you have been truly looking for. Teon and I were down at Gabe Millers studio and we were working on the last few adjustments on the "Between The Groove" mix. At this point, we had both decided to commit to working on a joint collaboration EP together so we were now in the process of finding and collecting more music for the project. As we were sitting together on the studio couch listening through some of Cheap Limousines tracks between breaks of mixing, we stumbled across the beat for "Boxes". As soon as we heard the opening sound of the drink bottle being poured into a glass and the rhythm of the clicks behind it, it immediately captured our attention. The sound of the percussion followed by the build up of the keys felt really good to us and then as soon as the kick and snare came in I just started singing melodies that were complimenting the chord progressions. Teon and Gabe looked over and were like, "Yo that's fire" and we were all bobbing our heads to it.
I then did what I always do and reached for my voice recorder and started recording the melodies along with a bunch of gibberish and boxes was a word that just came to mind at that moment. We left it at that and then decided to revisit the idea again at a later date. While at home I was listening to the voice note and then started putting words to the melody. Our creative process has organically grown into something that works for us and one element of that is, once I have come up with a few ideas I usually record a rough guide down on my voice recorder and send it over to Teon, he gives me his thoughts on it and then when the time comes for me to record my vocals we're both on the same page and we can either add or take out what it may or may not need. Teon usually records his vocals in his own time, he usually has a few different ideas that we both listen to and analyze and then we choose which idea we both feel works well with the song, that was basically how we created this song. It's all about the feeling and if it feels right then we go with it.
FALL
Teon: Fall is an introspective reflection on a real situation in a real relationship. It's a vulnerable piece of writing about how I would cope with my own insecurities and shortcomings and how my own lack of self-esteem hurt my partner. Seeking validation from other girls, places, people and things, instead of the one person who truly had my back. As I continued my journey into self-realization of who I am, I began to heal and be free of those inhibitions, but the damage had been done. This song is an ode to that pain. IAMTHELIVING's perspective on this song is similar to that of a Corus in old Shakespearian plays, something like an objective observer trying to articulate the sentiment. We actually wrote the hook together first, and got Vancouver based artist Trs to come in and help us with background vocals. California based producer Jay808 created this hypnotizing guitar led beat.
The hope with this song is that people can connect with the sentiment of learning to appreciate your partner, maturing and having the awareness that it may be too late to fix things.
— —
— — — —
? © Sterling L. Rose
:: Stream JNGL ::
---