Grammy-nominated artist Cody Fry speaks to Atwood Magazine about his TikTok fame before downloading the app, his blend of pop orchestration, the release of 'The Symphony Sessions', and the premiere of his live performance of "I Hear a Symphony."
Stream: "I Hear a Symphony" – Cody Fry
---
When Cody Fry's now viral song "I Hear a Symphony" first started circulating on TikTok, Fry didn't even have the app downloaded.
What was once a (in this writer's opinion) cringey lip-syncing Vine ripoff has now become one of the most popular apps in the world, with over a billion active users. It also now serves as a platform for musicians to gain notoriety and widespread acclaim: artists like Doja Cat or Lil Nas X have found success through their seemingly unavoidable tracks woven throughout everyone's For You page, accompanying dance crazes and viral trends. Yet for an artist like Fry, success was a bit more subliminal, with songs that suit a variety of trends.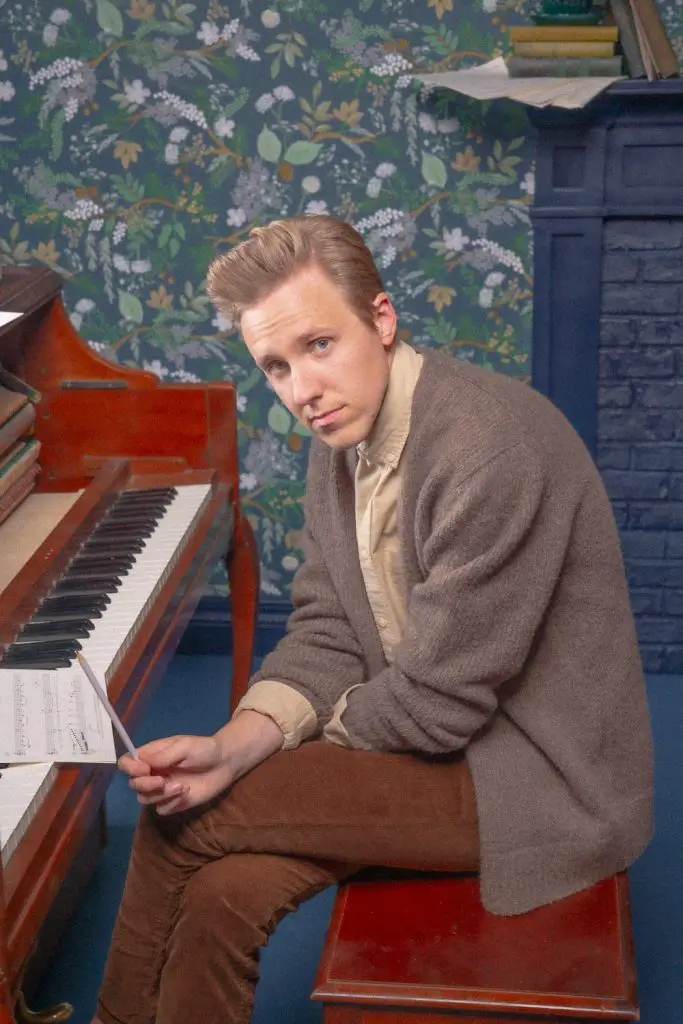 But TikTok was not Fry's first stint with catchy song-bites that get stuck to a person's brain. "My father is a composer, orchestrator and arranger," Fry reveals. "When I was a kid, he was doing jingles for all sorts of different brands. And back in that time, this was like in the mid 90s, it was very popular to have kids sing on the kids commercials. And so my dad was like, well, I've got kids, so why don't they sing on these commercials." At a ripe age, Fry went on to work as a studio vocalist, solidifying his love of singing and music, noting "there was never really any question in my mind where I was gonna end up."
He then went on to study voice at Belmont University, a school known for its diverse access to musical studies. "They encourage you to figure out who you are as a musician," Fry raves. "They're not trying to make you into Charlie Parker or something. You know, it's like, we want to help you find your voice and it's like the uniqueness of everyone's contributions are really celebrated." Having never expected to attend college in preference of just jumping into the music business, he credited the Nashville school for his access to networking and connections.
---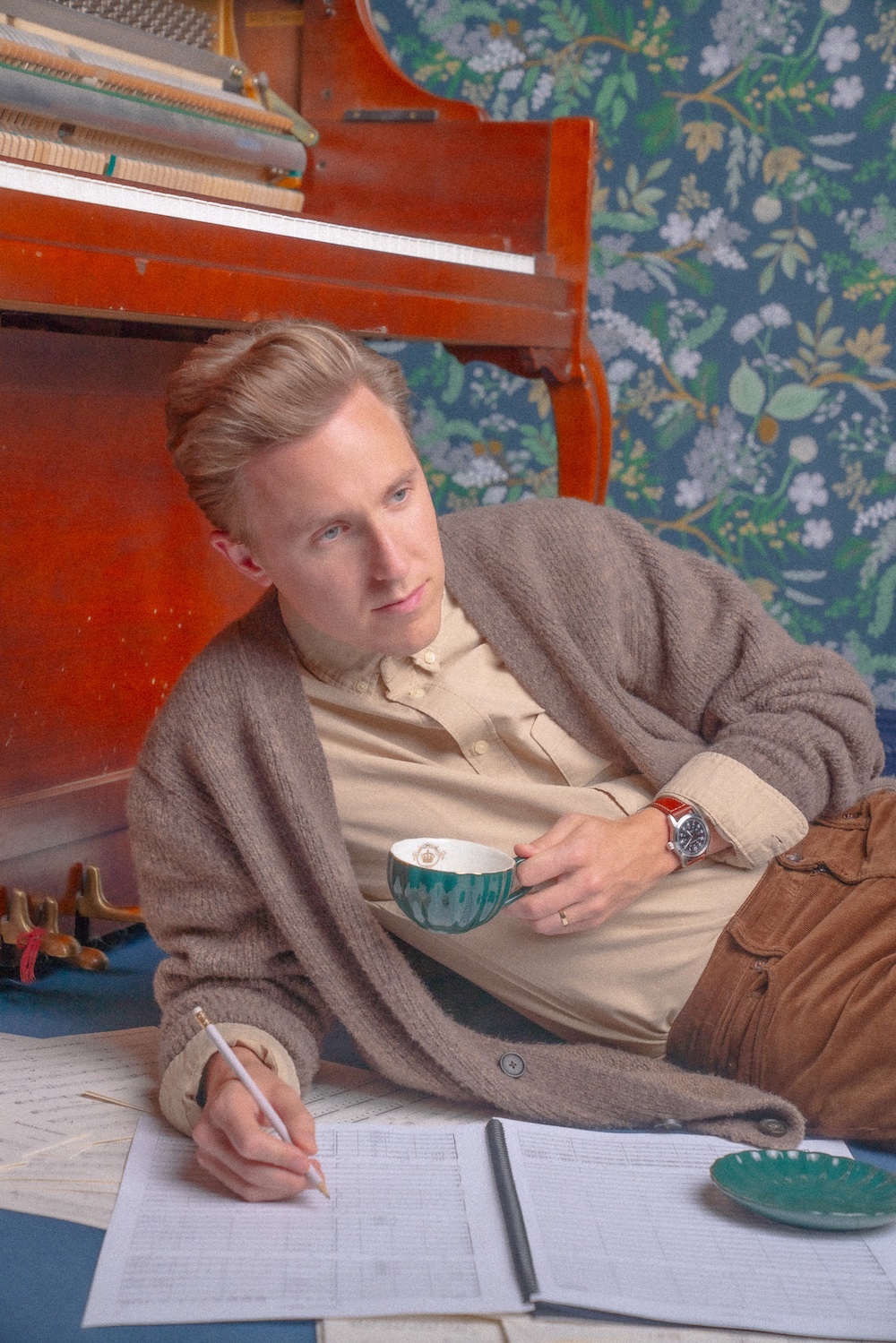 Fry's initial two projects, audio:cinema and Keswick, follow a more traditional singer-songwriter style, largely featuring acoustic or instrumentally simple tracks that prominently showcased Fry's vocal and writing talent. "Both were kind of like, acoustic guitar singer songwriter songs, some good songs, a lot of bad songs, but, you know, good to first efforts" Fry mentioned. Yet even in these first two endeavors, Fry's skills as an orchestrator bleed through.
In a track like "Open the Gates," the opening song off his first album audio:cinema, there's a diverse display of different instrumental styles. The beginning of the song features the sounds of a tuning orchestra and an excited crowd, akin to the opening of The Beatles' Sgt. Pepper's Lonely Hearts Club Band. Before you realize it, the conglomeration of noise begins aligning itself, making this once chaotic scramble into a melody before Fry's vocals fly in. Then, everything simplifies, with vocals, acoustic guitar, and light percussion taking over completely. As the song progresses, more intense percussion and electric guitar are woven through, but not so simply as just adding it halfway through. It weaves in and out, allowing for moments of power as well as moments of breath. The song is dynamic and really shows Fry's orchestral potential, even early on in his career.
---
Though audio:cinema and Keswick were Fry's introductions to the music scene, it was his 2017 release, Flying, that Fry really flexed the lengths of his talent, combining his initial songwriting style with his love of symphonic orchestration.
"At some point," Fry reveals, "after I did Keswick I had this realization, cause I was doing a lot of media scoring and film scoring on the side because I love doing that orchestration stuff. And then I was doing singer songwriter stuff as an artist. And one day it hit me I was just like, why am I keeping these worlds separate? Why can't I try to create something that involves all of those skills?" And thus, Fry invested in adding more instrumentation, be it a simple string quartet or a full-blown orchestra to each track of Flying. "I was kind of like, let's see how many different ways can I use the orchestra and that was kind of what made the album a fun challenge for me, kind of gave me something musically to really sink my teeth into that I really enjoy, which is like the musical puzzle of orchestration. And as soon as I made that decision to put orchestra on everything, the whole world of creativity opened up."
Though passion drove Fry's experimental choices, there was still the fear of being misunderstood or worse- just simply unliked. "There is a weird thing when you're an artist where you kind of get caught between the like, what do people want? What do people want from me? What's popular right? Now? How do I fit into that, and it kind of becomes this weird equation where it's easy to lose yourself."
Yet with "I Hear A Symphony" sitting now with nearly 65 million streams on Spotify, as well as every other song off of Flying ranging from 220,000-8,000,000 respectively, Fry's decision to sty true to himself has clearly paid off.
"I've always had this belief that if you're going to find success, it's going to be because you found the thing that you can do that no one else can do," Fry states. "I started to think about it more, I just thought how many guys can like, or how many people can really orchestrate their own music, produce it, then do all the parts, write them all out, direct, and conduct the session, and then compile everything into this, there's not that many people that can probably do that. And have, you know, a pop sensibility of songwriting, you know. And so, the more I thought about it, and this seems like, it's kind of the sweet spot for me, in terms of finding a unique voice. And so I just thought it's worth it, it's worth the risk."
---
As mentioned before, Fry's song "I Hear A Symphony," the final track off Flying, became a viral hit on the popular video app, TikTok, just a few months ago. For those who may not be hip to the Gen-Z wasteland (and I mean that affectionately), the app is supported by a myriad of "sounds" which users can make videos to. Sometimes these "sounds" are songs, sometimes they're instructions for how to participate in a trend, sometimes they're affirmations, or sometimes they're just the audio that accompanies a video of a person talking. The original sound for "I Hear A Symphony" has over 45.2 thousand videos, as well numerous others that use the song without crediting the original sound. "I've never experienced anything like it in my whole life," says Fry when asked about his feelings on going viral.
"It was like being struck by lightning or something. Yes. Like, I tell people TikTok is the social media equivalent of a nuclear weapon. When it's about to blow, you got to get the heck out of the way. Because it's just like, there's nothing I could have done. There's nothing I could have done to stop it or increase it. It's just like, this is happening."
I tell people TikTok is the social media equivalent of a nuclear weapon. When it's about to blow, you got to get the heck out of the way.
TikTok is known for elevating the most random corners of the internet and the music scene out of virtually nowhere and bringing those artists and creators to the forefront of the culture. Just a few weeks ago, Sam Fender's "Seventeen Going Under" went viral as a way for people to share their stories of trauma, survival, and resilience, simultaneously raising the song to one of the top trending tracks on Spotify.
What's interesting about "I Hear A Symphony," though, is its universal appeal. Rather than suiting a trend, a dance, or a behavior, as other viral songs have, it's used in a more general capacity. When looking at the videos tagged under the sound, there's no one way users interpret the song. And though TikTok is known for its trend cycles that come in and out of style faster than a Forever 21 fall collection, the artist only benefits from interaction with the sound, regardless of its staying power.
"It [TikTok interaction] translates directly into streaming numbers," Fry notes. "And those streaming numbers, they stick around, they are not a flash in the pan. 'I Hear A Symphony' was doing a couple thousand a day back in January, which for me was great. It peaked at over 400,000 a day during the peak of the TikTok trend. But even now, it still does over 200,000 a day, which compared to what it was before is still crazy. And so, TikTok might go through trends, you know, a dime a dozen every day. But for me, it's like the fans that I can build through the TikTok scene, for now at least to be lasting, which is really cool."
---
"I Hear A Symphony" is not Cody Fry's only viral song.
Fry composed a rendition of The Beatles' "Eleanor Rigby," released in September of this year, for an entire orchestra and choir. His initial note was that he never intended to try and out-do The Beatles which, fair enough, they are The Beatles. "I wanted to create something that was inspired by, but really took it to a different place. There's so much going on in the song lyrically, that I love, themes of religion and themes of like, towns that are dying, And then like the loneliness aspect that we've all been dealing with. In the pandemic, so much that felt so relevant to me right now. And I love the juxtaposition of the song being about loneliness, and it involving just so many people."
With the project involving nearly 500 people, be they engineers, musicians, singers, etc, the song evokes the idea of loneliness while standing in a crowded room. Perhaps that's why this song also suited TikTok so well – a community of a billion people, connected only by their screens.
In addition to earning a 2022 Grammy nomination for Arrangement, Instruments and Vocals, Fry's "Eleanor Rigby" has accrued over 264.2 thousand videos with the original sound, a true showcase of "all the lonely people." Again, there's no one trend that this song suits. Often, it's the bold drop towards the beginning of the song, moving from a light string motif into a powerful full-choir belt of "ah, look at all the lonely people," that's used to make TikToks.
Some people use the song to illustrate moments of shock or understanding, and recently there's a narrative about a snail who brings about the apocalypse? Not sure exactly what that's about but anyways, this song also suits a versatile range of video styles. Yet when ruminating on "all the lonely people," Fry recognizes his longing for live performance again.
"It's strange, I miss being able to perform things live for people, because there's something kind of hollow about the internet where my song is exploding but like, I can't feel it."
Now, with the release of The Symphony Sessions, there's a cross between the live and the online, bringing Fry's performance style to audiences, just not as directly as in person.
Still, viewers get a sense of Fry's performance style, and an insight into the talent and energy he brings to his live shows, just this time supported by the power of a symphony. This track was a labor of love for Fry, not coming totally easily.
"It's a really hard song to play. Like, I can sing it well, and I can play it well, but doing it together, it's like operating both things at the limit of my capacity. So that was difficult, but like, to hear that song. I mean, it was, it was electrifying."
But with his dad there to support him (as can be seen in the video), the song is a passionate endeavor into the immense talent that Fry portrays. Here with Atwood Magazine is the premiere of The Symphony Sessions' "I Hear a Symphony," the live symphonic performance of Fry's hit song. There's something so special about this track. It can be heard as a lullaby, the climax of an epic romance film, an inward reflection of a quiet, powerful moment. The Symphony Sessions only illustrates this song's versatility more.
— —
Stream: "I Hear a Symphony" – Cody Fry
— — — —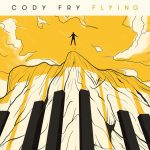 ? © Samuel Cowden / IV Studio
:: Stream Cody Fry ::
---