A dynamic, dazzling experience, Loviet's irresistibly catchy debut album '777' is packed with indie pop catharsis, coming-of-age reflections, and exhilarating moments of truth.
Stream: "Dullshine" – Loviet
---
I use the analogy that "this record is more like the theme park" often: It still feels similar to the first rollercoaster of a release, but this time we get to try some other rides and see which ones we have the most fun on.
A dynamic and dazzling experience, Loviet's long-awaited debut album is packed with catharsis, coming-of-age reflections, and exhilarating moments of truth. It's an irresistibly catchy record of intimacy and honesty – one in which the Toronto-based artist finds herself, while spreading her musical wings and soaring high and true. Radiant, inspired, and achingly energetic, 777 is an effervescent introduction to one of indie pop's most exciting newcomers: An artist who has proven her worth time and again these past three years.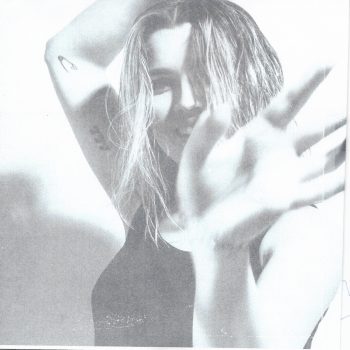 I forget the names from all of the signs
On the roads we take on the longest drives
Looking out like I opened my eyes for the first time
You burned me out I never realized
I was under your cloud thickest smoke with no fire
Just hanging around everything had a dull shine
I've got a lot of practice keeping it all inside
Maybe that's why everybody thinks I'm blind
I've already lived too many lives
Maybe I struggle to keep inside the lines
Independently released November 18, 2021, 777 is an emphatic sonic statement from Loviet. The moniker for Nova Scotia-born, Toronto-based artist Natalie Lynn, Loviet (pronounced like 'Soviet'), first formally introduced her project with the songs "Symbol of Love" and "One" in 2019. Heavily influenced by '80s dance pop and citing everyone from HAIM and The 1975 to The Killers, Pale Waves, and Paramore as influences, Loviet's music shines with limitless warmth and authenticity. Self-describing her work as "polished but chipped pop/rock," her sound fits seamlessly into the worlds of fellow Canadian Carly Rae Jepsen and pop superstar Taylor Swift: Feverish and immersive, Loviet uplifts and inspires with effortless grace.
Following 2020's acclaimed debut EP Everyone Knows The Thrill When It's Over (which premiered right here on Atwood Magazine), the artist's first full-length effort cements her place on the indie radar for good, showcasing her high-energy pop power, her expressive lyricism, and her jaw-dropping vocal prowess.
"Writing is usually a big therapy session with myself, but sometimes I reserve those songs for only me," Loviet tells Atwood Magazine. "Once it's out of my system I can go on and do co-writing sessions covering up those parts, only writing from the perspective that I want people to see I felt like the last few years I've just had to feel out the room and figure out what part of me can fit into the situation, sacrificing some of myself along the way."
777 represents Loviet's full-fledged come-up; it's unapologetically her, fears, flaws and all.
"This record was a big step up towards not giving a f*** about the room, loosening up to bring all of me and my baggage to the table, and see what happens. It's felt more and more freeing to lean into my own instincts, having a small but supportive team backing my decisions. So much has happened on my way here that I had to reverse engineer where I started out in music years ago, playing my guitar alone in my room writing songs for the love of it. So these songs are just like that, back at the beginning and more of me. Each song is like its own ride, but it's all from the same theme park. I'm really excited about where they will go, and what's next from here."
As she hints at, 777 is quite a while in the making: A dream come true, a vision tenuously and painstakingly brought to life. Lynn traces her album's roots back to her own musical beginnings: "I've been working on recordings from the time I was 14, in and out of studios as a teenager, writing songs in my bedroom, making cassettes or CDs," she recalls. "I invested in many dead ends on the recording front, so it's been a long time coming. The growing and shifting was necessary and I'm still thankful for those opportunities, but I can truly say that having this one under my belt feels like such a big step and milestone towards the future. I'm so excited to share and connect with everyone through these songs. I'm always happiest performing and writing, despite the obstacles that came with the lockdown right in the middle of me releasing my last EP and writing this record."
On 777's creation, she elaborates: "We set out to do as much writing as possible in 2020 and ended up doing a summer's worth of Zoom co-writes in the States and internationally, making tons of new friends along the way. It was quite an experience – overall, it really forced me to learn more of the recording process on my own as well as flex my writing muscles. As much as I did co-writes, I found I was also just writing the way I used to, back when I first started making music, in my bedroom solo. I think because I didn't have as many of those outside influences or things on the go during that period. It was a very cathartic process, along with hitting the studio in March 2021 with (producer) Anton DeLost, still waiting for the world to open up and making something in the dark while nothing else was going on around us."
That free time and wellspring of creative drive enabled Loviet to embrace a variety of sounds, styles, and sentiments in her music. Her songs are anything but "one note," with searing guitar licks giving some songs a rock edge, and buoyant The 1975-esque riffs giving others a cinematic pop quality. Together with driving bass work, hard-hitting drums, and in-and-out shimmering synths, 777's song can't help but shine bright.
"This album has 7 tracks, and each song kind of feels different from the next in terms of style or sound. They don't necessarily fit together like a puzzle; they're more of a family of songs, with personalities of their own," Loviet explains. "We definitely let most of the songs breathe and avoided putting a box around this project until it was finished so that we could see where it would go in the studio. Some tracks we did our pre-production for, but the energy day to day while we were tracking was to pick up a guitar here or there, or change something on the fly if we felt it in the moment."
Working with writers Dominic Florio, Ben Antelis, Nathan Ferraro and Sara Davis, with Anton DeLost producing and Kris Crummett mastering, Loviet created a seamless set of songs that feel intense, yet effortless; grandiose, yet intimate; personal, yet universal. Always thinking of her own output and the identity she's portraying to the world, Loviet notes the difference (from her perspective) between last year's EP and this year's LP.
"My 2020 EP Everyone Knows The Thrill When It's Over was like one quick and cohesive ride," she says, "so when it came to writing and working on 777, I just wanted to showcase more than one side of a similar world. I feel like I get so excited about so many different types of music, and I often don't feel like I identify as just one style, but these tracks really highlight some of those different sides versus some of the things I've worked on in the past, and no matter what way I cut them, I'm really proud of their messages and the path it's helped me pave finding my footing as an artist. I use the analogy that "this record is more like the theme park" often: It still feels similar to the first rollercoaster of a release, but this time we get to try some other rides and see which ones we have the most fun on."
So what if I get lost
And waste away in a big house on the water
Kind of looks like crowds
Won't be alone here after all
All the states and the stars
Another Rome
Watch it fall
Why does grounding feel way more like grounded
Pushing daisies up
She's a blond but ain't got blue eyes
Such a shame a stereotype
Getting messed up
On her own time
Blowing money
Shopping online
Plan a big party
With no invites
Flipping back through 2009
Have a good time, have a good time
Take a picture of my face
Oh god I don't want it to be replaced
They don't care if I really say anything
I don't think I should really think into it
Take a picture of my face
Oh god I don't want it to be replaced
They don't care if I really say anything
I don't think I should really think into it
---
The numbers 777 hold special meaning to Loviet, who makes sure to show off her fresh "777" arm tattoo on the album's front artwork.
"The number 7 became a symbol for this record. I'm 27 years old, it features 7 songs, and from the time of getting the masters in my hand, to the release date, it was a 7 month campaign," she says. "When we were shooting photos for the record with Stephanie Montani, the photo we kept gravitating towards for the album cover was one where my '777' tattoo was in plain sight (I had just gotten it on my 27th birthday)."
"The meaning behind the tattoo and the 'angel number' is that your path has guided you here where you're meant to be. Things are aligned with good luck and dreams coming true, which just seems so fitting after the years I've been stoked to make a record."
Highlights abound from start to finish: 777's album campaign began with last December's release of lead single and album opener "Dullshine," an unrelenting anthem that Atwood Magazine quickly made an Editor's Pick: "A hungry upheaval of uncompromising drums and glistening guitars, 'Dullshine' continues the promise of Loviet's previous EP, packing a dynamic pop punch into four irresistible minutes of glory," we wrote. "At the heart of this song is intimate, impassioned upheaval: Loviet's voice is an expressive vessel of emotion as she sings hot on the mic. Soaring and surging with intimate feeling, she pours herself out in this achingly intense song of connection and transience, love and loss, embracing the moment and imploding all at the same time."
Dramatic unveilings like "Jawbreaker" and the up-close and personal "Chemical" add depth and refreshing color as 777 continues its onslaught of earworm confessionals. The pop power-ballad "Picture" and sweeping anthem "Pull Up," while seemingly coming from opposite ends of the sonic spectrum, seamlessly fit next to one another – each making its own lasting impact as some of the album's most memorable songs.
I miss that first week, miss being lonely
Doing anything to get to know me
Driving me home with your broken A/C
I miss those long breaks, things that you showed me
Bad tv shows and Arizona Iced tea
Walking me home past the old Save Easy
I said keep going, baby, faster
I wish I never had said "see you later"
Now that was last year, still haven't seen you yet
I bet you're still looking for a ride
And if I pull up you'll be there waiting outside
I was hiding under your bed sheets
You don't think that I'm worth the mention
I'll be gone after the obsession
Worn out like your T-shirt I'm wearing
Can't get used to you not being there
Whenever I need it
---
"I truly feel these tracks are all so special to me, but 'Pull Up' and 'Make Me Wanna Die' were really important moments that made me feel like I could do more of this on my own and trust my gut for the first time," Loviet says on the topic of favorite tracks. The latter song also houses some of her favorite lyrics from this release: "You talk to me so concerned, but I know this will never work. Maybe I should eat something. The acid is burning right through my stomach but it's not why I'm hurting….cause you, make me wanna die." "I just felt that line was not something I'd normally use but it was so genuine and I figured, 'F*** it!'" Loviet smirks, laughing. "I like it, and it's true, so why not…and I genuinely need to eat something more often!"
Through her seven songs, Loviet wrestles with dwelling in the past and embracing the present. Memory for her is a tool of understanding and self-expression, and as she reckons with the person she is and the one she's becoming, she often dips into past experiences to compare, contrast, and analyze herself. 777 is nostalgic, yet forward-looking; poignant, yet hopeful. By the time closer "Feelbad4it" comes around, Loviet sings candidly with a resounding air of celebration.
We snuck onto the golf course
Like two runaways
When you dared me to kiss you
The cheap champagne made me do it
We still don't talk about it
But there's… nothing like how it feels
When we're stumbling home
3 AM, hold your hand cause I'll trip
If I don't and you knew it's
Only cause my jeans would get ruined
Let's just keep it simple
Stuck here in the middle
I hope that you don't pull me closer
In the morning we'll forget it
Swear we never meant it
I hope that you don't say it sober
Say it sober
If you wanna get closer
Put your head on my shoulder
Don't say it sober
---
"I just want people to enjoy these tracks," Loviet shares. "I hope they inspire people to write or create themselves. Every part of this has been a wild ride for me; from writing, recording to creating the visuals and I'm just so thankful I get to contribute my part into this world and hope it connects on a real level."
Bookended by breathtaking indie pop anthems and with a world of high and low wonder in-between, 777 is an outstanding introduction. Experience the full record via our below stream, and peek inside Loviet's 777 with Atwood Magazine as the artist goes track-by-track through the music and lyrics of her debut album!
— —
Stream: '777' – Loviet
:: Inside 777 ::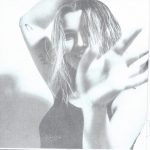 — —
Dullshine
"Dullshine" was heavily influenced by the state of the world in 2020 and the self reflection taken from it. I was driving in the car listening to this rough instrumental demo and wrote down a bunch of things in a phone note. It just created a cloud hanging over everything. Those words turned into the lyrics for the song. It all felt like a new chapter for me, sort of coming to terms with a lot of things for the better, and taking back some power into my own hands by getting it off my chest in this track.
Jawbreaker
"Jawbreaker" was co-written with two greats from New York City, Dominic Florio and Ben Antelis over zoom. I had so much fun creating this with them and finding a voice in this song that was true to all three of us. I think most people are driven by something that once they get, they end up craving the next thing. My own experiences of pushing myself to the limit or taking things for granted rings true in this track despite the upbeat production keeping it light. We took a lot of inspiration from No Doubt and even some disco references on this one.
Chemical
"Chemical" feels like a time machine that takes me right back to 2008. The god complex I was probably feeling at 14 to have gotten away with the things I did. I wrote the song with Nathan Ferraro in 2019. It's the only non-2020 track that made it on the record. This song was nothing like I'd ever written before I think because it's kind of emotional without trying too hard unlike a lot of my songs already. Anton DeLost, who produced the final track (and the whole record) did a great job at helping me deliver that element while keeping my own attitude in this track. Stripped back with just live drums and guitar, the song almost sounds like a classic rock tune and I love that those are the bones of it.
Picture
"Picture" means so much to me and I'm stoked that this track has been connecting with people the way that it has. It felt like it was going to be a song that I'd bottle up and keep for myself, written alone at my kitchen table experimenting on Ableton Live. I really feel like I got to pour so much of myself into this one right down to the original stems that carried over into the studio with Anton on the final track. The bongo beat off the top instantly pulled me along while I was writing and overall feels almost spiritual to listen to, sort of a Midsommar vibe. The music kind of tells the same story as the song, being taken over by the synthetic world that we're adapting too, despite how unnatural it feels and knowing we're at its mercy. I get so passionate about it, almost "Into The Wild" level but overall, I'm so happy with how this track turned out and that I got to communicate this big feeling I was having with so many people that can relate.
Pull Up
Right when I started writing for this record, still in the middle of releasing my last EP this song sort of kick started that process. I was cutting up demos experimenting on Ableton for the first time (during lockdown #1) and the sounds that I was using kind of made me picture the beach and the sparkling water, parking lots at night with the sun going down. All those visuals helped build this song. I was feeling so much nostalgia being back in these places that I'd grown up. It took me months before I committed to the final lyrics which Ryan Perry helped me with. Everyone from the East Coast loves my "Save Easy" line that I guarantee I wouldn't have put in this song if it weren't for Ryan, who also knows the same hometown roots. The final version of "Pull Up" features stems from the original demo as well which is really special to me in translating those exact feelings I had when I was writing it.
Make Me Wanna Die
"Make Me Wanna Die" was written with "Pull Up" kind of like its sister. However, the original demo versus the track on the album are like night and day they're so different. I truly love the final track and am so thankful for Anton who really put me to work on this one, rearranging the entire tune. It went from my demo that was almost an 80's Belinda Carlise inspired ballad to something that feels much more raw and honest allowing the words to be the focus of this song. It still feels so personal and I low-key can't believe I put it on the record haha but it's a fave and I'm glad I did.
Feelbad4it
I wrote this song with Sara Davis, based in Nashville over zoom in 2020. She's a great songwriter that I'm so thankful my friend Shaugnessy hooked me up to write with. Two incredible gals in the industry. Zoom sessions can be so weird, but with Sara it was like I was instantly hanging with a bestfriend who knew everything about me based on our mutual experiences. I was also really excited to bring this production idea I had with me into this session, that sounded like a K-mart version of a Killer's song or something. We got talking about the most iconic love stories like the ones with your closest friends and it basically wrote itself after telling story after story. I think it's a really fun track that we got to harness more of a rock element with which I'm mega excited about taking on tour because that space is where most of my songs end up living on stage.
— —
Stream: '777' – Loviet
— — — —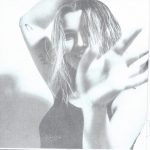 ? © Steph Montani
:: Stream Loviet ::
---