Get to know refreshing LA pop artist Dominique and her debut single "Convince You," a vulnerable, inspiring electro-synth outpouring of affection and longing.
— —
Los Angeles-based Dominique is a refreshing voice in the pop music world – an exciting newcomer we cannot wait to hear more of in the months and years to come! A singer/songwriter with an impressive list of cowrites (including Nina Nesbitt, Madi Wolf, and Justin Jesso), Dominique formally introduces her own artistry today through official debut single "Convince You," a vulnerable and inspiring electro-synth outpouring of affection and longing.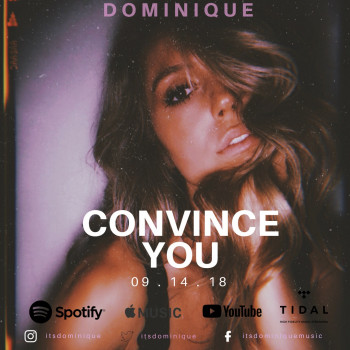 put my cards on the table
no more games; here's may hand
now you know where I stand
What do I gotta do
see you watching my stories
you ain't snapping me back
No, I'd do it all for you
I'd do it all for you…
"I'm inspired by ambition and happiness," Dominique recently told Atwood Magazine. "I look at "Convince You" as the start of my story, really…  I want people to want to grow with me as an artist and see the music develop." Officially out this Friday, September 14, 2018, "Convince You" comes hot off the buzz of Dominique's feature in James Maslow's latest single "All Day," a sexy, indulgent, and collaborative affair between both artists that has, to date, already eclipsed 250,000 Spotify streams.
"Convince You" finds Dominique taking the reins of a relationship, asserting herself through her strong desire to take things to the next level. It's a surrender of the self – a raw and moving exposure full of bright, dynamic melodies and shiver-inducing production techniques.
Atwood Magazine is proud to be introducing Dominique and premiering her assertive debut single "Convince You," an electrifying spark of intimacy and sincerity. Get to know Dominique through our exclusive interview and stay tuned for more to come from this promising  up-and-comer!
Stream: "Convince You" – Dominique
MEET DOMINIQUE
Atwood Magazine: First off, how did you get started with music? Who and what inspired you creatively?
I grew up in a music household! My parents both listen to a wide variety of legendary music, so for as long as I can remember, I've had a special relationship with music. I was very into finding new artists, but also loved listening to The Beatles and Fleetwood Mac. I think I drove my family crazy singing all the time. I find inspiration in many things, right now, I'm inspired by ambition and happiness. I've never been happier writing songs with incredibly talented people and now I'm just excited for everyone to hear them! 
What is it about music that's kept you pushing yourself all these years?
I think music is a beautiful way to connect with others as well as those complicated emotions we sometimes can't describe. My favorite moments are writing a song I fall in love with or sharing a song I love am in love with. It's magic. Truly. So I hope to keep finding the magic. 
"Convince You" is your debut single, but as we know well it's far from your first song. Why introduce yourself with this song? What is it that captures who you are, in your opinion?
You'd get such a kick out of the first song I wrote ages ago, it's adorable. I grew up writing by myself and penning songs on my baby Taylor. But when I started co-writing, just seemed like most of the songs were to pitch to other artists. None of them truly felt like me. Then the day we wrote "Convince You" I called Justin, one of the co-writers, and told him I loved this song and didn't want to let it go. Justin and David were both so supportive and the rest is history. 
I think it's a great representation of my fun, flirty, lighthearted side! I am such a kid at heart and a bit of a hopeless romantic when it comes to love. This song sums up that moment in my love life to a tee. 
Before we go deeper into your own identity, I'd love to hear about your experience working with James Maslow! How did that opportunity come about?
James is really amazing. It's been great working with him on "All Day!" He is very professional and confident, but also very down to earth and kind hearted. I feel so fortunate to be able to work with him! He's so talented, can sing anything and it sounds good!
What was your relationship with "All Day"? Where on that track do we hear your artistic touch?
I co-wrote the song with Justin Jesso and Knightstarr and when James' team heard it, they thought it could be a great fit for him. Justin and I sing the original demo, so I think they felt it was very organic to keep me on the song. Michele Iorfida jumped on to finish producing it with James and I to get it to what you hear today! It was a really fun process and now we have remixes and the acoustic version.. and then the music video! It's all very exciting. 
What attracted you to working on "All Day"? Do you think it's an appropriate reflection of your artistry as well, or should listeners distinguish between Dominique the voice and Dominique the artist?
I have many sides to me, not in a crazy way (I hope)..but I think "All Day" is a song that showcases a sexier side to my writing and artistry. I look at "Convince You" as the start of my story, really, and each song I release will unveil a layer to my writing/artistry. I want people to want to grow with me as an artist and see the music develop.
Diving back into "Convince You" now, how long did you spend figuring out your debut? Was this always the one?
It's always been the one! The process has been longer than I thought it would be but I'm really glad I didn't rush into releasing it. Everything happens for a reason and at the time it's supposed to.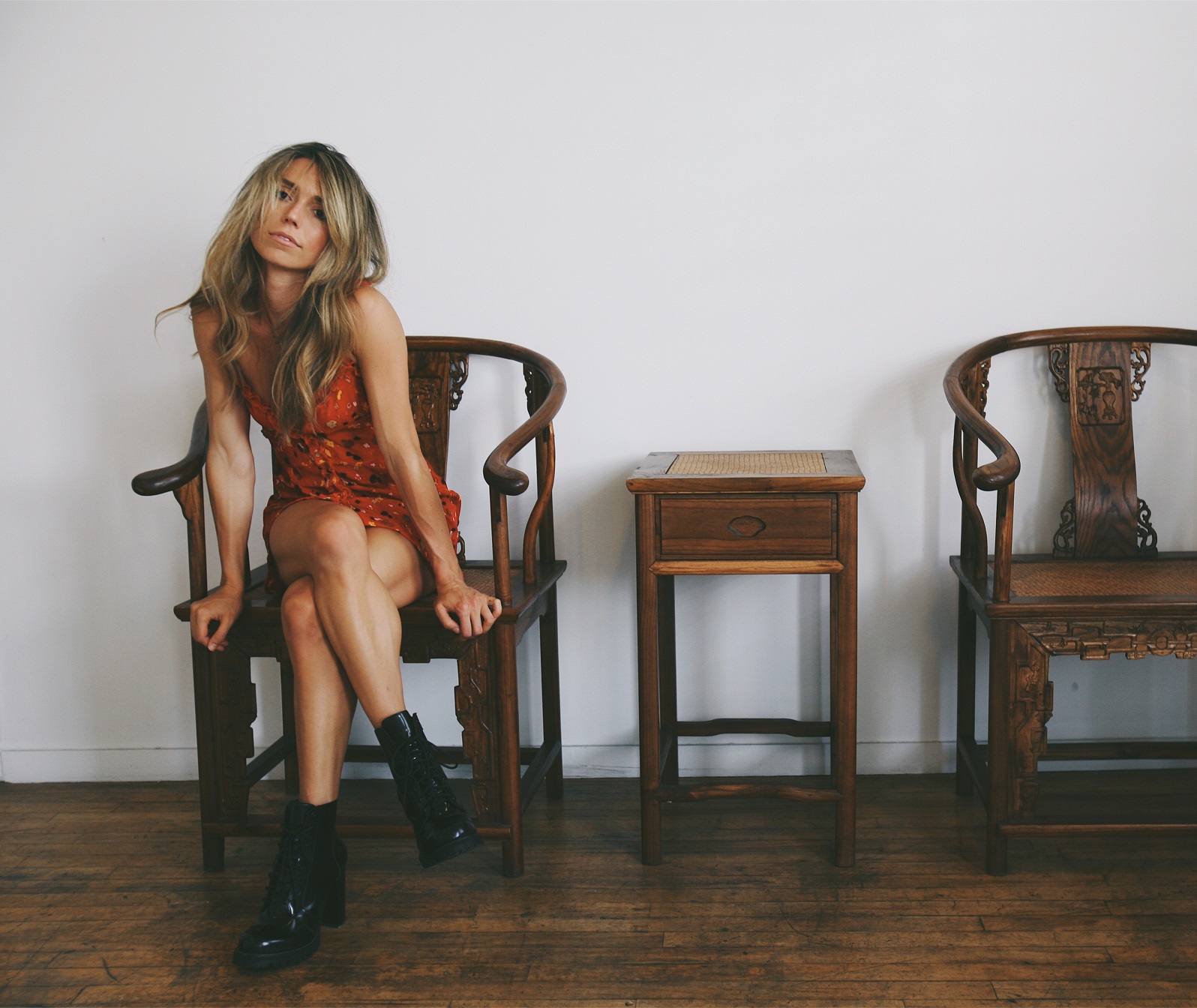 There's an empowered element to "Convince You," in that you're taking the reins and really putting yourself out there. Can you speak to this vulnerability?
Yes! That's exactly it. I love to be swept off my feet, you can all me a hopeless romantic! At the same time, I've had to be the one to make the first move or at least give them the biggest hint imaginable. It's scary to be vulnerable, especially when you're in the grey period and still unsure if your feelings will be reciprocated. But it's also empowering when you overcome your own fear and go for it! 
How much import does true recounting or storytelling play in your music? Like, did this will-he/won't-he relationship actually happen in your life? Would you consider this song reactionary, or independently assertive?
It's a bit of both if that's possible. I definitely write based off true experiences I've had. I find the song feels more authentic to me when it comes from my life. So yes, "Convince You" is based off a true story – the will-he won't-he was driving me crazy and it felt great to write about it!
I'd love for you to discuss your "electro-synth" sonic description! How exactly do you describe your music to, for example, your grandparents?
I typically start with the melody and lyrics. Then we add on the elements of production after. Not all the time, sometimes producers will have amazing compositions built out that inspires a great topline. So I would say my music is very story driven, the kind of songs you can listen to anywhere, at all times of the day, sing to in the shower or car, work out to, study to, etc. It's music that makes you feel good. 
I love the vocal manipulation in the chorus. How did that idea come about and what do you think this effect gives to the song?
I'm pretty sure that was David's idea. He's such a genius and always makes the music sound fresh and new!
Certainly the most emphatic lyric in the song is "let me convince you." It's a total final push, the move-in for the kiss if you will. What inspired that lyric?
Yeh it's just that. It's that feeling that I've done all I can, given all the hints I could think of, now if this doesn't work, then I'm outtttt.
Similarly, what's your favorite line in the song?
Actually the entire second verse just gets me. It's describing that tension of "almost" that really did happen so every time I hear it – I just shake my head and laugh.
For me, "Convince You" wins because of its message to others that it's okay make yourself vulnerable - that there is power in being your truest self, and that we should embrace and emphasize those aspects of individual identity. I like your unabashed bravery and confidence; there's a sense that it's more than okay to take a leap of faith - it's necessary. Detaching yourself as best you can from your own song, what attracts you to this track? In other words, why do you think people ought to hear it?
Because it's awesome and you won't regret it!
Is "Convince You" the quintessential Dominique song? What can we expect to hear from you soon?
I think its a part of me as an artist, one layer to many more! I have some other fun lighthearted songs and then a few more emotional songs!
Lastly, what's inspiring you right now from a musical standpoint? Have you heard any songs recently that you wish you had written? What track(s) would you love to cover?
Recently been into Lewis Capaldi's song "Rush" with Jessie Reyez. That song is incredible, wish I penned that one. Labrinth's "Same Team" with Stefflon Don. Just all vibes… I'm thinking about some good songs to cover, but up for suggestions! Feel free to send over ideas!
— — — —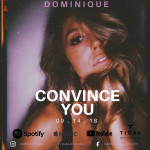 ? © Joshua Shultz
:: Stream Dominique ::