Puma Blue has released his debut album "In Praise of Shadows", and Atwood Magazine talked with him about darkness, arts, and love.
Stream: "Opiate" – Puma Blue
---
Sometimes it's amazing how an artist can have immense success without even having published their debut album. That's the case for Puma Blue, pseudonym of Jacob Allen, whose record In Praise of Shadows out on February 5th, 2021 on Blue Flowers.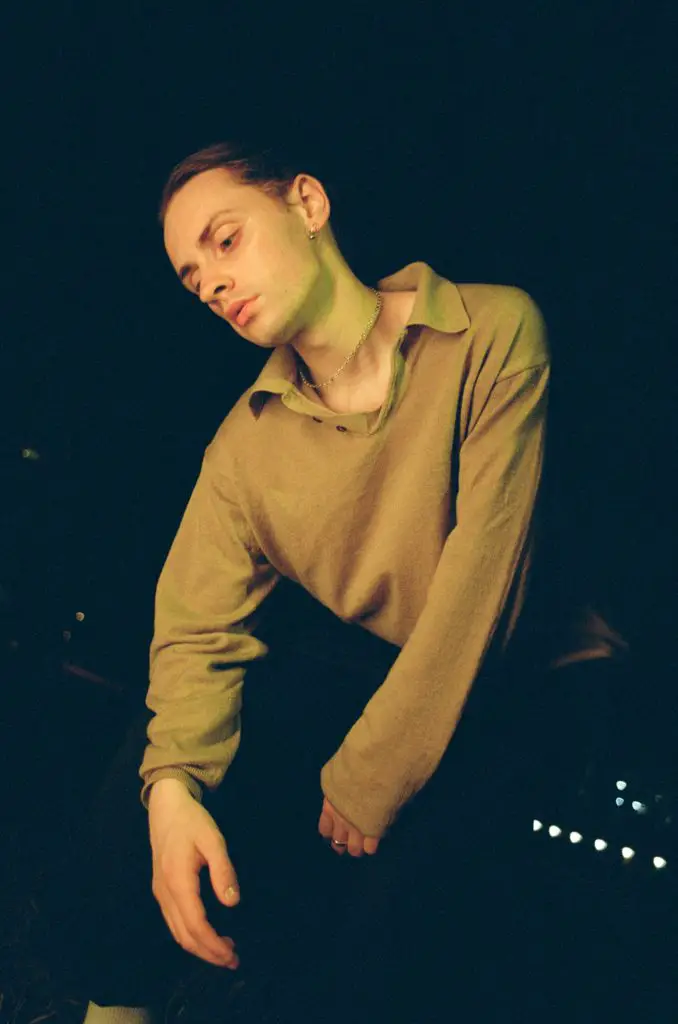 It's an album born out of pain, a period of insomnia and despondency on the part of the singer. It delves into the most significant moments of his life and surfaces in the present, and brings with it the memories of a lifetime, especially the worst but always balanced by the best. As if to remind us that there is always hope, despite everything. And that, after all, being saved by love is one of the most beautiful things that can happen in this world.
I don't know what it was. But I'd often turn to music on those sleepless nights, quietly writing songs to pass the time. It turned out to be pretty useful. There are pretty big revelations to discover about yourself at four in the morning.
In Praise of Shadows, though, as the title states, is certainly not a total condemnation of the dark moments we sometimes find ourselves in.
Each one of us has this delicate balance between light and dark in our life. Absurd as it may sound, though, the latter is crucial to remind us that we're still alive after all. And that, one way or another, things will work out. 
It's an intimate record, one that brings back the nocturnal, magical atmosphere in which it was born; it tastes of rebirth and despair, of secret moments in everyday life. Of knowing how to forgive ourselves, of how sometimes we look someone in the eye and secretly beg them never to let us go. 
It is no coincidence that one of the tracks on the album, 'Sheets', takes its sample from the score of Michel Gondry's "Eternal Sunshine of the Spotless Mind". A mix of bitterness, love and poetry that is definitely perfect for In Praise of Shadows.
Stream: 'In Praise of Shadows' – Puma Blue
A CONVERSATION WITH PUMA BLUE
Atwood Magazine: LET'S START WITH A QUESTION THAT CAME TO ME FROM LYRICS OF ''BATH HOUSE''; ''EVERY COLOR IS A PART OF A SPECTRUM.'' I WAS WONDERING, HOW WOULD YOU DESCRIBE THE COLORS OF YOUR MUSIC? HOW'S YOUR MUSIC SPECTRUM?
I guess I used to see it as much darker colors, you know, like, painting and sort of dark blues and burn oranges. With this album, I feel like there's been this kind of positive shift into a sort of more pastel color Pinky, and wild of almost like a sunrise or something. And so for me, it's a nice coral. I feel like different people have different colors when they listen to music. So I'm actually quite intrigued by how other people would answer that question for me, you know. I hope that answers your question.
Atwood Magazine: SO, IN PRAISE OF SHADOWS. THE TITLE COMES FROM THE BOOK BY JUN'ICHIRŌ TANIZAKI; WOULD YOU MIND TALKING ABOUT IT?
I first read the book, maybe four or five years ago. It's by this Japanese author called Tanizaki, I just found that a very comforting read and very, very sort of sleepy. Yeah, it used to bring me a lot of comfort. He's really looking at the differences between the East and the West aesthetically. He talks a lot about how much darkness is important in Japanese aesthetics, in artistic culture and their architecture. It's really interesting, but the thing that really inspired me to use it as a title all these years later was, I guess, imagining that maybe there could have been a metaphor there too.
I like this idea of not just darkness being important, aesthetically, but you know, what if that were to mean the darkness in your life bearing importance, so I started to feel like, maybe the album is actually informed by that, you know because there's a really delicate balance between these joyful songs and these quite dark songs. But even the dark songs have a sort of understanding and acceptance as if they have a place and I thought, yeah, it's not coming from a place of despair. It's more of a celebration of those things. And realizing that actually, those dark times that we go through are quite important, if that makes sense.
Atwood Magazine: YOU SAID YOU'RE FEELING HAPPIER AND HEALTHIER THAN BEFORE. IF YOU COULD MEET YOUR PAST SELF AND DEDICATE HIM A SONG TO MAKE HIM UNDERSTAND IT WOULD ALL BE ALRIGHT, WHICH ONE WOULD YOU CHOOSE?
I think I'd probably choose "Sheets" from the album, because I had such a bad time with insomnia, since the age of about 10, so it's like, years and years of not sleeping. And then not only that; when I went through my last breakup, I remember thinking, "I can't really imagine being in a relationship, again". It sounds dramatic, but I think that's just how you feel in the moment. Unable to shrink too far into the future. But if I could dedicate "Sheets" to my younger self, it would mean "it's going to be okay, you know. You're going to find a way of sleeping, and you're gonna find someone that makes you feel safe and happy". And I think that would make me very optimistic.
Atwood Magazine: SINCE WE'RE TALKING ABOUT IT, I SAW THAT YOU WEREN'T TOO SURE ABOUT PUTTING ''SHEETS'' IN THE ALBUM, SINCE IT'S VERY PERSONAL. WHAT MADE YOU CHANGE YOUR MIND?
I think I just love it too much (laughs). I felt like one of the main things was, I wasn't sure if it was a good enough song. You know, it's got this great sample from a film, but I didn't know if the part that I added was really adding anything. And I sort of didn't know if it was strong enough to go on an album. And then I just wondered if it was more of just a love note to my partner rather than a song intended for hundreds of people.
It took me a while to realize "No, this is exactly the kind of thing I should be sharing". You know, people need to hear a joyful love song for me, I think rather than these sad, sad, jazzy songs. It's actually one of my favorites on the record now. I'm really glad I kept it on In Praise of Shadows. I think it's a good reflection of where I am.
Atwood Magazine: WOULD YOU DEFINE IT ALSO THE TRACK YOU'RE MOST PROUD OF? OR IT ISN'T IT?
I think it's the track I'm most proud of in the lyrics. But there are other songs I'm more proud of because I really crafted them. Whereas with "Sheets", like I said, it's really just vocal on top of a sample which I didn't do myself, so there are definitely other songs that I'm happier with.
Atwood Magazine: FOR EXAMPLE?
Like "Bath House", I'm really proud of how that one came together. I feel like it's a quite good reflection of me as a musician and I liked it. It kind of takes you on a journey. And it's also another song about my partner, it's about that moment where you're almost ready to say that you love them – and you both know that there's a mutual love – but, for some reason, you're almost holding back because you're scared to say "I love you", it feels like a big move. The song is just about that moment of "Why not? Why not say it? Let's just do it!" I'm just really happy with it as a piece of music as well.
Atwood Magazine: HOW WAS THE WRITING OF IN PRAISE OF SHADOWS? DID IT COME OUT NATURALLY/EASILY OR WAS IT A PROCESS OF TRIAL AND ERROR?
Both, I think. Some songs came just like that (snaps fingers). And most of it was trial and error for years, as three years of writing terrible music until I finally wrote something good. Then I'd have one song, I'd be like, "Okay, back to the drawing board for song two". So, it took a long time. It truly made me think "I wonder if, anyone could probably make good music if they did this much work". So yeah, lots of trial and error. But I think that's just how I work. I'm not very prolific these days. I think it takes a lot to write a good song.
Atwood Magazine: SPEAKING OF WRITING, YOU SAID THAT YOU BASICALLY STARTED WRITING MORE AT NIGHT. ALSO, THE ALBUM HAS THIS SORT OF LATE NIGHT VIBES, LET'S SAY THIS LATE NIGHT, COMFY VIBES. SO IN GENERAL, DO YOU FEEL MORE INSPIRED CREATIVE, LET'S SAY MORE COMFORTABLE WRITING AND NIGHT? OR IT ALSO HAPPENS IN THE DAY?
I think I definitely used to, and I think, you know, maybe like three years ago, when my insomnia was at its worst, I was writing everything at night. But these days, I just write whenever it feels right. Sometimes I even write music quite early in the morning for this album, which was new for me. I've never really done that before. But yeah, it was really exciting to feel like I wasn't just restricted by being nocturnal.
Atwood Magazine: YOU ALSO SAID THAT YOU DISCOVERED LOTS OF THINGS ABOUT YOURSELF AT 4 AM. SO WHAT DO YOU THINK IS THE MOST SURPRISING THING YOU DISCOVERED ABOUT YOURSELF AT 4 AM?
Well, I don't know about surprising. I mean, the weird thing about that quote is I feel like I'm more meant just realizing things that should be obvious, or turning things over, over and over again, for no reason. But, um, I don't know, there are definitely some times where you'd think about something that you said years ago and you're sort of plagued by it, which is terrible. In other instances, though, sometimes it's quite nice.
When I was an insomniac, I definitely found peace sometimes just being truly by myself at that moment, almost feeling like I was the only one awake in the world. You have to get quite good at being in your own company. To a certain degree, I just discovered that being completely alone is okay. You don't always have to be around people to feel happy, you can definitely find solace just in yourself.
Atwood Magazine: IN THIS ALBUM, YOU TALK A LOT ABOUT ACCEPTING AND LOVING YOURSELF. DO YOU THINK MUSIC - BOTH LISTENING TO IT AND MAKING IT - CAN HELP?
I think so. I think music allows us to express that which is buried deep. So, if you're practicing the language of music, sometimes you'll surprise yourself by what is underneath, just by playing music or singing. I've definitely realized in the past, "Oh, that's what I'm feeling", "Oh, that's what I'm trying to say". And it's something not even premeditated. It can definitely be cathartic in a similar way to counseling. You're just speaking so freely that you end up coming upon revelations, almost by accident. I feel like that's what music is good for, sometimes. It can bring about a certain sense of a healing process. But also for me, personally, music just brings me so much joy that even engaging with it, in general, is bound to make me feel happier and an emotional release of some kind.
Atwood Magazine: SPEAKING OF FEELING HAPPY, WHAT'S THE HAPPIEST MEMORY YOU RELATE TO THE ALBUM?
Definitely one of the things was doing the string arrangements with my friend Harvey. And hearing strings on my own music was amazing, this is like a dream come true. And we did it all in our own basement. It wasn't like an orchestra, but it was still a surprise and a shock to hear the effect it had. It was just a really amazing moment. I've always dreamed of having string arrangements on my music, so it was quite touching.
But also, being at my partner's place in Atlanta, when we were still long distance. It was really amazing. Whenever I wrote something for the album, and she'd get home from work, I'd be like, "Oh, come listen to what I did!". It was really cool to be able to be together when I was writing because up until that point, you know, we were long distance and that kind of thing would rarely happen. That was really special.
Atwood Magazine: WHAT'S THE THING YOU'RE MOST EXCITED ABOUT THE RELEASE? HOW DO YOU THINK THE FANS WILL REACT?
I'd love to tour but we can't, that's the sad thing. I'm really looking forward to people hearing the deep cuts, the songs that aren't the singles, because those are the ones that I'm most excited about, in most cases. So yeah, I can't wait for people to hear songs like "Bath House", "Super Soft" and "Sheets". I'm just excited for everyone to listen to them because I put just as much love into those.
Atwood Magazine: THIS QUESTION MAY SEEM A LITTLE BIT OFF TOPIC, BUT I WAS KIND OF CURIOUS ABOUT IT. IT SEEMS THAT YOU GET LOTS OF INSPIRATION FROM OTHER FORMS OF ART (LIKE COCTEAU'S MOVIE ABOUT ORPHEUS AND EURYDICE, OR THAT PICTURE OF ANNA MAY WONG BY CECIL BEATON). HAVE YOU EVER THOUGHT OF A CAREER THAT DOES NOT INVOLVE MUSIC, LIKE LITERATURE? I GOT LOTS OF POET VIBES FROM YOUR LYRICS.
Thank you, that's really flattering. But yes, definitely. I think it'd be hard for me to follow a career that doesn't involve music in some way, even if it was just on my mind, but yeah. Since I was a child, I used to dream about being a writer on some level, talking about music or just writing fiction. In the last ten years, I've definitely been fascinated by movies and really, really wanted to work on a film in some way, whether that's as a writer or behind the camera – as a director or something.
I love film; it's a bit of a mystery to me, I wouldn't really know what I was doing. But maybe one day, I would love to pursue that properly, treat it really seriously and make something out of that. It would also be cool to just help people on some level, like do something less artistic, or less focused on myself. But I don't know in what form that would take, so I can't really clarify.
Atwood Magazine: SO WE'VE FINALLY COME TO OUR LAST QUESTION. WHAT'S THE THING THAT MUSIC GAVE YOU AND YOU'RE MOST GRATEFUL FOR?
Passion. Even as young as like seven years old, I would say that I was passionate about music. Just listening to it, not even playing it or whatever. I just used to lie in bed with an mp3 player, I absolutely adored music even that young, so I think it's given me something to be passionate about. At school, in English, I really struggled to stay focused and the biggest thing I would look forward to was being around friends or just music being in my day in some way, often after school – sadly.
I'm really grateful that music is a part of this world, and I get to not just be a completely unfocused person but instead have this incredible entity in my life that I can't even explain, that I'm just drawn to and get to enjoy both with other people and alone. Yeah, I think it's just like an endless joy in music.
— —
Stream: "Velvet Leaves" – Puma Blue 
–  –  –  –
 © Netti Hurley
:: Stream Puma Blue ::
---