In "Siu Hinama," taken from IRAH's beautiful new album 'Diamond Grid,' the duo craft an unforgettable and uplifting piece of music that communicates what no living language can.
Stream: "Siu Hinama" – IRAH
[soundcloud url="https://api.soundcloud.com/tracks/523384809″ params="color=ff5500&auto_play=true&visual=true&hide_related=false&show_comments=true&show_user=true&show_reposts=false" width="100%" height="300″ iframe="true" /]
---
For Danish and Bosnian duo Stine Grøn and Adi Zukanović, IRAH is a place of sanctuary, meditation, and reflection. Named after an entity Grøn encountered during meditation, the collaboration is a sacred space free from the trappings of modern society where they channel the electricity of their overactive consciousnesses. Zukanovićdi fled to Denmark from war torn Bosnia when he was four and after a chance encounter with a keyboard at a refugee centre, his life changed forever. Now he is one of Denmark's most celebrated pianists and through the shamanistic methods of Grøn, he has found a means to express ideas and energy that goes beyond the limits of his classical training.
For them, their latest album Diamond Grid (out now via Tambourhinoceros) deals with the building pressure and conflict arising in society as a whole and on the individual level. It's a work of improvisation, a poignant, spiritual and atmospheric soundscape laced with dreams of a future, fears of the present and lessons of the past.
There are times when no language is fit enough to express certain moods and feelings, and in "Siu Hinama" Grøn draws from a mystical lexicon of her own making. Zukanović sets a scene of substance and gravitas with an epic backdrop of synth textures guided by the deep pulse of drums from renowned UK percussionist Seb Rochford.
It takes a certain level of confidence to release a serious song in a made-up language without sounding raising eyebrows but "Siu Hinama" is not a tongue-in-cheek gag or gimmick, but an organic reaction to the music. Her language sounds almost like a real one. The primal expressions are chants of emotion in its rawest and most personal form and a welcome release from the rigid constraints of the established vernacular. In it she allows her tongue to flow freely in patterns that come natural to her, forming an almost mantra sounding series of syllables that you can't help but be intrigued and moved by.
"Siu Hinama" is an uplifting piece of musical drama that oozes soul. It is a frank reminder that emotion is a common language that everyone can understand and relate to regardless of their mother tongue. Some things are simply universal to the human condition.
IRAH's new album Diamond Grid is out now on Tambourhinoceros!
Stream: "Siu Hinama" – IRAH
— — — —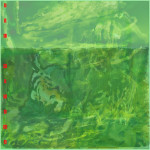 ? © Jakob Steen
:: Today's Song(s) ::
:: Stream IRAH ::