Copenhagen punks Iceage refine their unrestrained energy into an arena-worthy tour de force on newest album 'Seek Shelter.'
Stream: 'Seek Shelter' – Iceage
---
Thrown into the indie spotlight in their adolescences over a decade ago, Danish rockers Iceage have grown up right before our eyes. They initially dazzled the DIY world with their rugged edges on their 2011 debut New Brigade, which only compelled them to push their own boundaries further. Known to chisel away at each iteration of themselves in pursuit of something newer and grander, they never sound quite like the same band twice. Now on their fifth LP, Iceage have come a long way since their teenage post-punk inclinations.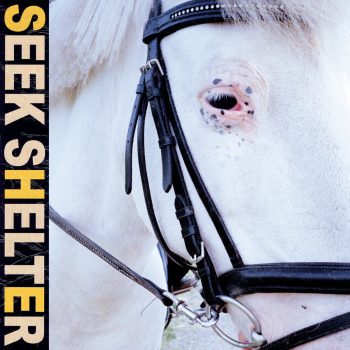 Following up 2018's Beyondless, Seek Shelter is both literal and figurative. A product of its environment, as most Iceage records tend to be, it was born out of a 12-day session (the longest time they've spent making an album) in the historic Namouche studio in Lisbon, where the band worked around puddles and incoming rain leaking through the dilapidated high ceilings. After poring through journals from the past few years for lyrical inspiration, frontman Elias Bender Rønnenfelt crafted an epic for our times, a desperate search for salvation and truth in an ever-tumultuous world, in nine songs. Iceage's most ambitious and accessible release to date, Seek Shelter is the dynamic and confident declaration of a seasoned rock band ready for global renown and sold-out stadiums, for better or for worse.
Watch: "Shelter Song" – Iceage
A significant sonic pivot, it's a testament to their versatility and rock literacy. They lean graciously into 70s rock grandiosity, blues twang, and Oasis-adjacent Britpop audacity, evoking arena rock fortitude on anthemic opener "Shelter Song" and ballad "Gold City," on which the snarling Rønnenfelt sounds closer to Mick Jagger at his most soulful. With wailing horns and support from the Lisboa Gospel Collective, they're welcome follow-ups to the brassy, reckless abandon of Beyondless's Sky Ferreira collaboration "Pain Killer." Elsewhere, they flirt with gothic, string-laden theatricality, elevating Rønnefelt's brooding lyricism to larger-than-life status. Well-aware of their sullen-faced reputation, the group gives us a taste of their wry sense of humor on "Drink Rain," which is perhaps the most surprising departure on the album; featuring cheery snaps and jaunty guitar and keys, it would fit perfectly in a Tim Burton adaptation of Singin' in the Rain.
However varied this record may be, it's nonetheless a fitting distillation of Iceage's essence. Like many of the stories they weave, they're caught in a whirlwind between debauchery and salvation, often finding one within the other, warping perceptions of the light at the end of the tunnel— is it a new dawn or just a refraction off some shiny shrapnel? This time around, they see both as equally viable. Seek Shelter exudes hopefulness and leaves more room for joy than their past releases, a reflection of the self-awareness the band has accrued in recent, tempestuous years. Between an increase of hate crimes in Western countries and the early accusations of racism once targeted at Iceage, they've come to understand their responsibilities as artists in a new light; on "Dear Saint Cecilia," they evoke the patron of music as a savior for the masses and for themselves, subverting their darker religious themes in a deceptively cheerful cry to the void in search of healing. Their once all-encompassing cynicism has dissipated into a more well-rounded worldview that comes with years of living and listening.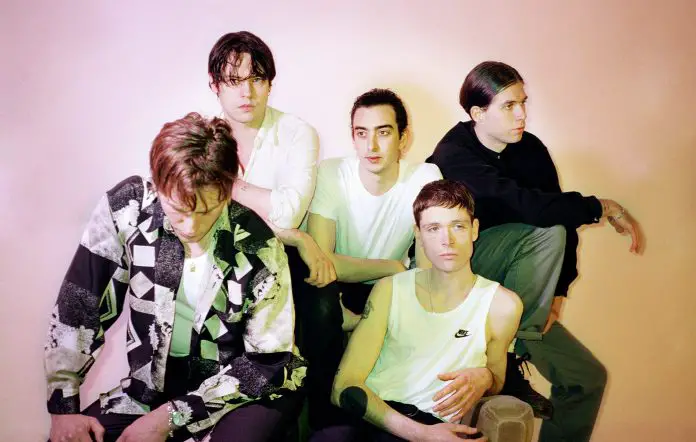 More than anything, all these years together have morphed Iceage from a band into a fully-fledged organism. With producer Pete Kember's (Sonic Boom) magic touch, they crafted their cleanest, most impressive arrangements thus far, showcasing the mastery and showmanship they've spent so much time honing at full volume. Rønnenfelt's instantly recognizable voice, all ragged breath and drunken belting, dripping with melodrama, is more commanding than ever. He invokes tortured, Draculean poet as much as he does writhing cult leader, wielding his vocal prowess as his most powerful storytelling device. His control over his emotional range turns listeners into putty in his hands—even through the speakers at home, we can feel him traipsing and prowling about, puppeteering the narrative into brave new emotional depths. The group responds and reacts to each other's energy in visceral symbiosis, their passion infectious to all who dare listen.
Generally, Seek Shelter feels like a well-deserved and triumphant coming-of-age, but it's also a double-edged sword. In their attempts to push boundaries, Iceage flexes muscles and explores sounds that are new to them, but that doesn't mean that they're necessarily doing something new overall. Arena rock pastiche is a tempting trap to many a young rock band, and it can result in a product a little too polished—in their case, this detracts from their signature rawness. Tracks like "Vendetta" evoke a Muse-like virtuosity, too precisely controlled and sonically predictable for their own good; it feels like a watered-down, "alt-radio" idea of what being a rock band today should sound like. There are so many big moments throughout that feel too showy for a record largely focused around collective suffering, world-weariness, and class disparities (the thematics are lofty and vague at times, one can't be completely sure of what they're getting at). Iceage is ready for bigger and better things, but they still seem somewhat attached to their DIY, underdog beginnings; they may not be the same band that fans fell in love with ten years ago, but after so much time, it only makes sense that they aren't the same kids they once were.
Watch: "Vendetta" – Iceage
Even as their legacy evolves and takes its course, Iceage never fails to electrify. Their distinctly magnetic attitude has only grown stronger with the solidification of their sonic and lyrical identities, inviting us to explore their multidimensionality with them. From softer moments of bittersweet sincerity to defeated noise dirges, they stretch deft nuance and purposeful flamboyance to new heights. It's abundantly clear that they can craft pop perfection, but that doesn't mean they're done with off-kilter turns into structural subversion and emotional complexity. This need to take risks is what made us fall in love with them in the first place.
— —
— — — —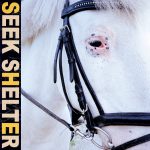 ? © 2021
Seek Shelter
an album by Iceage
---