The Lumineers co-founder Jeremiah Fraites' solo debut album, 'Piano Piano', is a synesthetic time capsule of beautiful piano-centric soundscapes blended with the precious sounds of life.
Stream: "Arrival" – Jeremiah Fraites
---
The journey of Piano Piano, Jeremiah Fraites' solo debut album, started about ten years ago.
Released on January 22, 2021 via Dualtone Records, Piano Piano represents many real aspects of Fraites' life. From days spent on tour or songwriting for his band, The Lumineers, to our most recent worldwide cocoon-esque days in lockdown, Fraites never stopped collecting inspiration, motivation or influence by voice recording his ideas for melodies and harmonies as they percolated in his creative mind.
When the chicanes of life grew treacherous last year as a result of the coronavirus pandemic, Fraites found himself stalled and searching for the racing line.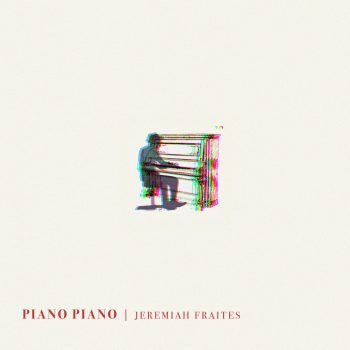 Joining the ranks of parents working from home, Fraites seized the opportunity to complete the composition and recording of his heart songs, creating Piano Piano. Bobbing and weaving through home's obvious obstacles, Fraites successfully balanced his work with his son's nap time, playtime and all the other important times that go along with being a full time, all hands on deck husband and father. The result of all this shuffling was an added, precious, layer to this already very meaningful album.
See, the reason most artists record in a studio is because, for one, it's sound proof. However, during the pandemic going to the studio wasn't safe, so Fraites set himself up at home. While it may have been difficult at times, the resulting extra sounds do not distract from the music at all. If you listen very closely, you may be able to hear the pitter patter of a toddler playing upstairs, quiet voices from an adjoining room or even an airplane crossing the sky overhead. These unplanned sounds turned Piano Piano from a snapshot of Fraites' thoughts and feelings overtime to a real synesthetic time capsule of life as it was during this intense and historic time. It never could have been scripted this way. Piano Piano is the product of living life and art together. Including your loved ones in your dreams and the rich results. It's absolutely precious.
While you could file Piano Piano under "soundscape of a dream sequence," each piece has its own unique story to tell.
Adding to these stories further are accompanying visualizers (available on YouTube) starring a surprisingly accurate emojification of Fraites himself as he stretches his long legs across varying terrains in different situations. Complete with suspenders and Borsalino, each visualizer gives us yet another way to enjoy and interpret these tracks.
Piano Piano is a very unique sort of album. Like a good friend, it can either take the helm and guide you through the stories it has to tell, or, sit sidecar and enhance the mood you're already in. Take a listen to Jeremiah Fraites' Piano Piano; it's a delight.
Atwood Magazine was lucky enough to spend some time with Jeremiah Fraites. We discussed the unique circumstances that were involved in capturing Piano Piano, and appreciated together how the twists and turns of life have the ability to give rise to opportunities, about which we could never have dreamed.
— —
Stream: 'Piano Piano' – Jeremiah Fraites
A CONVERSATION WITH JEREMIAH FRAITES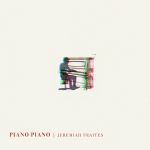 Atwood Magazine: Hi Jeremiah! How are you?
Jeremiah Fraites: I'm good, how are you?
Good, all snowed in here!
Jeremiah Fraites: Ha. Me too.
Well, I wanna talk to you about your new album, Piano Piano, which I'm sure comes as no surprise to you but, before we talk about that, I want to say thank you. Years back, I was in a very quiet, dark place in my life, and The Lumineers' eponymous debut album really pulled me out, and got me listening to music again. The whole album lifted me up and renewed my love of music and artistry again and I need to take this unique opportunity to say a heartfelt, thank you.
Jeremiah Fraites: Oh wow, that means a lot Ilana! That's one of the best parts for me about music… it's like medicine. Obviously vaccines and medication will heal our bodies, but music will really heal our souls.
And it really did! I remember sitting outside, listening to the album and letting it melt the ice from around my heart. Words don't suffice but, thank you.
Jeremiah Fraites: Thank you very much for sharing that with me. That means a lot!
Means a lot to me too… Ok, back on track with our goal. Being that Piano Piano is an instrumental album, the most important breadcrumbs you've dropped to lead us to your message, are the album/song titles. What stories do they tell? Is it one cohesive story or 11 separate ones?
Jeremiah Fraites: Coming up with song titles for music that does not have any lyrics is difficult but very important. For example, there's a song on the album called, "Pyromaniac." Based on the song structure, it's sort of all over the place. There are moments of joy and of terror. The imagery of a pyromaniac and what they may be thinking and what they're drawn to, made sense with the erratic structure of the song. That's a vague example of what I mean… There's another song on the album, one of my favorite songs actually, called "Tokyo." Touring with The Lumineers, we've been able to visit so many different parts of the world. And one of my favorite parts was visiting Japan. We were in Tokyo, Kyoto, and Osaka. Besides Italy, Japan is probably one of my favorite countries in the whole world. The song "Tokyo" was actually originally called something else. Something like, "A-Classical" which was just a name to help me remember what the song was.
There was just something about the culture shock I experienced in the beauty and the art of Tokyo … all the moving parts of everything … the lights, the whole city itself. This song reminded me of all of these attributes. So, I called it, "Tokyo."
Another good example of this is this song called "Maggie." It started off with a different song title too, but the day we were mixing it with David Baron, my wife texted me that her parents dog, Maggie, had just passed away. So it felt right to label the song in honor of Maggie. It felt right to pay tribute to this beloved dog that even I knew for the past seven or eight years.
I also tried to book-end the album when I entitled the first song "Departure" and the last song, "Arrival." I love the idea of sitting down to really listen to an album from beginning to end. The first piece will take you out of where you are… off your bed, off of your couch, and out of your head. The last song marks the arrival at a destination, wherever or whatever that might be. The album title has a cool story that relates to this idea too.
Ooh! Tell me!
Jeremiah Fraites: Originally, I was just going to call it by my name, something like Jeremiah Fraites piano compositions volume one. And then my wife, who is from Italy originally, came up with the title Piano Piano. It was a really cool idea because, in English, piano piano just means the instrument twice, but in Italian piano piano means step-by-step… take your time. And this album title resonated a lot for me, because I was aware of how long it took to write. Some of the songs are 13 or 14 years old. It really was a step-by-step process. I really loved the double entendre of Piano Piano.
It definitely implies that there is a journey involved in this album. And we go step-by-step, slowly slowly and eventually you'll arrive at your destination.
Jeremiah Fraites: Good. That was the hope!
There is such a dichotomy between the solo, solitudinal sound and feel of Piano Piano and the 7 piece hollerin' hootenanny that is The Lumineers.
Except for an instrumental track from The Lumineers most recent album, III called "April." Did writing for III influence Piano Piano?
Jeremiah Fraites: There is a pretty clear distinction in my head about what a song for The Lumineers sounds like, versus a song that could be made into a different kind of album. It's kind of hard to verbalize what that distinction is but it was kind of cool to be able to put out instrumentals like "April" in The Lumineers catalog and then as a steppingstone to this project and take all those songs that I really didn't see ever becoming Lumineers songs and make them into a special album on their own.
For me it's all hands on deck to write Lumineers songs. Part of the reason why it's taken me so long to finish this album is because I write a lot of music with Wes for The Lumineers which is our main project. Every-time I write something that's instrumental or feels sort of classical or avant-garde I put it into a dropbox folder. Every now and again I go back to it and clean it up thinking, maybe I'll score a movie with it one day. Then when the pandemic hit, I realized I was gonna have a lot of time on my hands. Wanting to make the best out of a hard situation, I spent a lot of time every day for a couple of weeks looking through these voice memos. I listened to a lot of crude, raw ideas. When I heard something that I liked, I put it into a special folder. I spent another couple of weeks mixing and matching the ideas that went well together. So, if I had something that I considered a chorus, then I would look through the files to find something that sounded like a verse or bridge. And that took a lot of painstaking, meticulous work that required a lot of patience.
It's great that you were able to use the lockdown to complete Piano Piano. How did it affect the recording process?
Jeremiah Fraites: It was greatly affected. Having a toddler in the house and a dog… and trying to record super quiet piano music… well, it presented challenges.
I can imagine.
I mean, I love dogs and kids… But they are cute noisemakers for sure.
Jeremiah Fraites: Yes… And then the house next-door was being built the whole time I was making the album. When my son would take his nap, I knew I had between 1-2 hours to do some takes. And then sometimes, I'd do a great take and then when I listened back to it, there would be hammering in the background or the dog would bark at something… it was pretty crazy. There were long days. And I would do as much as I could. If I knew I wouldn't be able to record, I would try to do some editing ideas on the computer or I'd try to compose electronic string parts that would be translated into actual string parts. In the end it was interesting. I think it made me a better musician because I had to do so much on my own and be very decisive.
When my son fell asleep, I knew I had a finite amount of time to record. When you're in the studio you can record whenever you want. You're in a real studio and you're spending all this money and you're in this ideal situation to record. In my situation, I knew that sometimes it would be a two-hour nap and sometimes it would be a 45 minute nap… And the first couple of times I had to do that I felt an immense amount of pressure to get pieces recorded in the first take. It wasn't easy. If I had a choice, I don't know if I'd ever do it again like this. I mean if you listen closely you can hear some things in the background. In the very beginning if you listen closely with headphones you can hear a plane flying overhead. There's a section on the second chorus of "Arrival" where you could hear my son playing upstairs. It's really special to have that.
For sure, it's a time capsule.
Jeremiah Fraites: Exactly. A moment in time that I can keep for eternity.
I love that.
What I was so curious about, were the visualizers that animate the album on YouTube… Did you create those?
Jeremiah Fraites: I helped get the ball rolling with that. Nick Bell, who's a friend of ours and has been a great creative consultant, worked with me on the visualizers. Bren Isbell and Michael Oshins helped Nick with the actual animation. They really spearheaded that part of the project. It was awesome working with them. A really cool way to bring out the stories from this abstract wordless music. And I was really blown away by how they turned out.
The visualizers definitely added to the experience of the album.
Jeremiah Fraites: The original idea was to have actual photographs of me strolling. A long time go, Nick made this cartoon character of me so, I thought, what if we brought that guy back? And make this a little bit more cartoonish… not an actual photograph of me.
Cartoon Jeremiah added a lot of whimsy to an otherwise serious sounding album. I mean our world is insane right now, the more sweetness the better! So, when the world settles again, will you be going on tour with this album?
Jeremiah Fraites: I think it would be really exciting to tour Piano Piano. I mean, we have big hopes that The Lumineers can get back out there and finish our tour when it's safe for the world to open up. I would also absolutely love to tour with Piano Piano. It would be really cool to do a few shows in the United States, it would be amazing to play a few shows in Italy … maybe a few shows in London. I would be over the moon to do that.
I was imagining what kind of venue would work well with this album. And I immediately thought of a venue in Madison, Wisconsin called The Catacombs. It's a really intimate venue, perfect for this album.
Jeremiah Fraites: Yeah, a venue that is quieter that would lend itself to chamber music would be perfect.
Good luck with everything, Jeremiah. I really appreciate your time and your music so much.
Jeremiah Fraites: Likewise! And thank you so much for the kind words you mentioned before. It means a lot to me.
Of course!
Jeremiah Fraites: Thank you so much Ilana.
— —
— — — —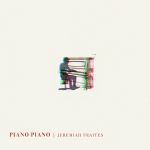 Connect to Jeremiah Fraites on
Twitter, Instagram
? © Roberto Graziano Moro
:: Stream Jeremiah Fraites ::
---