Actor, filmmaker, and now singer/songwriter, Josh Radnor explores a new avenue of self-expression with his debut solo EP, 'One More Then I'll Let You Go.'
'One More Then I'll Let You Go' – Josh Radnor
---
When you hear the name Josh Radnor, you're most likely to think to assimilate him with Ted Mosby from the hit sitcom How I Met Your Mother.
Yet, Radnor has proven over the years that he's far more than just an actor. From writing, filmmaking, and producing, Radnor has proven himself to be a jack of all trades. So it came as no surprise when Radnor pursued his next endeavor, music, debuting his first solo EP One More Then I'll Let You Go on April 16 (released via Flower Moon Records).
"I feel like I have this nice kind of entrée into the music world, just collaborating with [Ben] Lee for a couple of years and then starting to learn that I could write my own songs," Radnor tells Atwood Magazine. "I still hope to make music with him and collaborate with other people, but this is the first one that's just got my name on it, so that comes with a lot of excitement."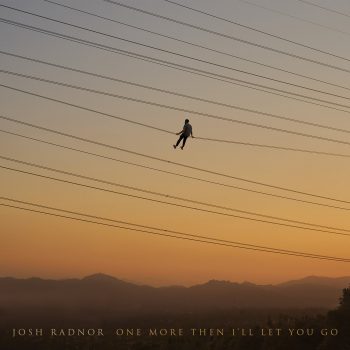 Over the last few years, Radnor – along with fellow actor and close friend, Ben Lee – collaborated in an indie folk group aptly named Radnor & Lee. Even though he's been in the music industry for a while, Radnor hopes to differentiate the actor people know and love from the solo artist he's striving to be. "For the music stuff, I actually toyed with coming up with a name for my project that wasn't Josh Radnor, kind of like Iron & Wine or The Tallest Man on Earth where it's the one person, but you have a moniker or a name that's not yours," he explains.
After careful contemplation, he chose to place his music career under his name.
"Some people don't have, for whatever reason, have the bandwidth to accept that someone can be an actor, they can be a writer, they can be a film director, and a songwriter. That they can do all these things, But I think creative people have an impulse to try new genres and forms of expression. So I just decided to kind of collect it all under my name. and then if people want to follow what I'm doing, fantastic. If they're like, no, that guy was on a sitcom and refused to accept me doing anything else, that's fine too. I can't lose any sleep worrying about that."
Radnor announced his EP earlier in March along with his first single "The High Road," giving listeners a taste of what he had in store. In his own words, "The High Road" is about this notion of forgiveness and how hard that can be. Every chorus is a step to acceptance, the final lyrics being,
I know it's the high road
That will set me free
It's the road that'll  get me
Where I want to be
So if you take the high road
I say don't ever leave
You don't wanna take the  low road
Take it from me
---
The singer likens "The High Road" to another EP track, "Hey Ma," believing they fall under a similar connotation. The lyric, "Hey ma / It's unfair now / Cause both of us are too old for blame," is one that strikes a chord, but also best depicts Radnor's worldview. "As I've gotten older, the world has become much less black and white and much less of a good guy versus bad guy kind of thing. And I'm very suspicious of any worldview that says, 'We're the good guys up against pure evil.' I find that worldview to be so reductive, simplistic, and frankly, quite childlike," he says.
"I know that if I'm really honest with myself, that I have not behaved completely virtuously and you have not behaved completely abysmally, and that we both contributed to whatever state or stuck feeling we have."
---
It was becoming abundantly clear that Radnor had a talent for songwriting, but he admits writing on his own presented a new set of challenges. "The upshot of writing with one other person is that every line and moment melody kind of gets embedded by two people," he says.
However, writing alone was a whole other story.
"When you're writing on your own, you really have to trust your own internal radar," he begins. "So I have a very strong sense of what grabs my ear and what I like, and I really trust my taste in music. That's not to say that everything I touch turns to gold as a songwriter cause it doesn't, but I do know the kind of world that I love being in sonically as a listener," he laughs.
While Radnor was good at trusting his gut, he didn't shy away from getting the opinions of others.
"There are certain songs that you kind of have a really good feeling about, and then the response bear that out, whether it's just people in your life you play it for," Radnor says.
He wasn't only going to close friends for opinions, but his fans, too. Radnor created a YouTube channel in February 2020 that he would actively post his own songs on. "Before I was releasing things that were more produced, I started a YouTube channel and I was just playing in front of a camera and posting them," he says. " That really gave me some competence as a solo artist, just because people really, really, really responded positively to the music and I thought, 'Oh, I'm writing something that's getting through to people.'"
His videos would get anywhere between 5,000 to over 500,000 views. One of his most popular uploads was a video titled "Apocalyptic Love Song," a song that would find its way onto Radnor's EP. While the video was posted back in 2020, Radnor admits he wrote the song a few years ago, surprised that it stood the test of time. "Even though I had written it a couple of years before, it certainly felt like really, really, really relevant. It almost felt like it met its moment in a weird way," he shares.
The song describes the state of our world and how it feels like it's ending, but at its core, it is still an endearing love song. "You know, it doesn't feel like the climate crisis is going away, it doesn't feel like a sense of dread about the future is going to go away. I just started thinking about all these converging crises and then, the sweet part of like, if we're going down and this thing is all over, it felt like such a sweet thing to say, 'If the world is ending, I prefer to be with you, you know?'"
The idea was rather sweet indeed, with lyrics like,
I will find you where you are
Hitch a ride or steal a car
I will bike or jog or jump or break myself in two
When the streets run red with blood
Or turn to rivers due to flood
There is no dystopia that I wouldn't walk on through
Cause if the world is ending
I'd prefer to be with you
I would prefer to be with you
---
Radnor's EP had been a work in progress for a few years. "The bulk of it, I think was recorded in 2018. And then I think we did do some stuff on it in 2019," he said. Radnor explains that he'd been in New York for some acting gigs, trying to find time to work on the EP with former Radnor & Lee producer Ryan Dilmore. "It wasn't like we'd go into the studio for a couple of weeks and really get it done. It was more like we were grabbing time whenever we could, to the point where neither of us could really reconstruct the timeline," he adds.
Like "Apocalyptic Love Song," Radnor found it exciting that even though his EP took a few years to pull together, every track continued to be relevant not only to how he felt, but also how listeners felt, making it easier for them to resonate with the project. For Radnor, writing as a musician is much different than writing as a screenwriter.
"I know this as a writer, especially with writing films, sometimes something will feel really, really, really urgent and relevant while I'm writing it. And by the time it comes to searching for financing or actually making it,  there might have been some time passing. And I don't think that I feel the urgency to tell this story that I did when I was writing it."
The way he speaks of "Apocalyptic Love Song," you'd think it was his favorite track, but Radnor has no favorites – rather, loving them all differently. "I don't know that I could choose," he exhales. "I mean, I love what Ryan did with the three kind of bigger tracks like 'The High Road,' 'You Feel New,' and 'Hey Ma.' I just feel like he opened them up in such an exciting way."
With so many titles under his belt, one can only wonder what's next for his career, but Radnor already has an answer. "I'd like to do a full-length album," he exclaims. "I certainly have enough songs, maybe more than enough songs. We picked five songs, and these were the five songs we wanted to release, but maybe there can be an album – with 18 to 20 songs."
And though these five songs mean so much to Radnor now, he knows time will make him feel differently. "Hopefully I have a body of work that really shows an evolution. I doubt in five to ten years, I'm going to listen to these five songs and think they were a perfect masterpiece. I won't think that at all, but I will admire the energy behind them and the courage it took to put them out there and start on this new path," he says with optimism.
You can listen to Radnor's debut EP One More Then I'll Let You Go now on all streaming platforms.
— —
— — — —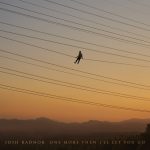 ? © Ella Hovsepianc
:: Stream Josh Radnor ::
---