After a decade in Nashville, singer/songwriter Jillian Jacqueline finally tells her truth on her debut album 'Honestly.'
Stream: 'Honestly' – Jillian Jacqueline
---
Jillian Jacqueline has been in Nashville for 14 years, writing and releasing critically acclaimed songs such as "Sad Girls," "Reasons," and "Hate Me," as well as collaborating with country artists Keith Urban and Vince Gill. Nashville is often known as a "ten-year town" as it can take artists a decade to see a return on their work, whether that be a record or publishing deal or a headlining tour. Jacqueline has done the time, and in February announced she had signed with Universal Music Group's Virgin Music and would be releasing her full-length album Honestly on June 10th, produced by Jacqueline, Tofer, and Bryan Brown.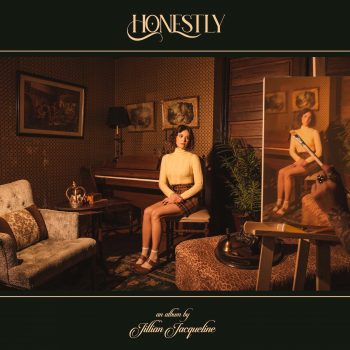 "Honestly runs the gamut of me as a person," Jacqueline says of the record she started making in 2019. Thoughtful and sensitive in her writing, and with a voice that is just as comfortable behind an acoustic guitar as it is amongst a fully produced song. Hers is a voice that can go from world weary to one filled with a longing that could fill an empty room with the ghosts of your past. There is no pretense when you listen to a Jillian Jacqueline song.
Honestly feels like a deep exhale from Jacqueline, which is no surprise given how long she has waited to put her story on a full-length album.
It is a record that is deeply honest and one where nothing is off the table. The album takes its name from the opening lines of the song, "Compliment." These lyrics are key to understanding the record, and ourselves. We sit there combing through our memories and depending on how we feel in that moment, we decide which of those memories are important, which ones we keep and the ones we choose to discard.
 Honestly, some things should be left alone
but it's hard for me to sit here alone
and stop romanticising things
To pick and choose the memories that I want to keep
Honestly opens with "The Ocean," a collaboration with the country artist Charlie Worsham. The song is a deep dive into all the messy, tragic, wonderful, one-night stands and forever loves we've all had.
Some loves are easy, coming and going
Some loves are restful, feels just like home
Some loves are dead ends
Some flow right into the great white open
Some loves are rivers, some are the ocean
The song speaks to making sense of love not making sense until you meet the one who puts all the mess in order.
---
Jacqueline often finds herself looking back on Honestly.
On "When It Rains," a song that conjures a longing that you only get when the rain is sliding down the glass, Jacqueline sings about missing a love that was less than good. Meanwhile, "Iconic" is a song Jacqueline wrote looking back at her parents' marriage and divorce. She asks her partner, despite knowing how it could all end, "What if we both go what we wanted? What if we bet our whole lives on it? What if we never broke our promise? We could be iconic."  The past is not something to be forgotten but also not a place to set up camp in either.
We don't talk about the loves that we held on to for far too long, the person we could have been had we been brave enough or the fear of wanting something so badly even though the odds are definitely against you. Those thoughts are usually confined to our diaries, the room where we see our therapist or the late-night phone calls we make to our mum, but on Honestly, Jacqueline releases them to the wind.
"Can you lose it if you never really had it? Was it real or was it magic?" sings Jacqueline on "Magic," the first single from the album. "Magic" is the runaway train that we all get on from time-to-time that can only lead us to nowhere. It is the unstoppable force of wanting answers to questions you never asked. Did he love me? Was she just pretending? Did he mean all the things he said? Can it really be a love story if it ended? Jacqueline takes all of this and puts it through the lens of a magic show, because isn't that what love is, magic? 
Was I the girl in the crimson dress
Smiling while I held my breath?
Did you cut me in half while the audience laughed?
Was every moment just an act? 
---
Maybe "Magic" isn't only about a love that ended, but also about Jacqueline's relationship with an industry that could very easily be compared to a magic show, and whether Jacqueline often felt like the girl in the crimson dress, holding her breath, waiting for the curtain to come up?
Honestly is Jacqueline's long deserved moment in the spotlight. It is an album that may have taken over a decade to make but it feels effortless, and above all, honest.
A sunset goes good with a blanket on the hood and someone to red wine kiss
A mornin' was made for pullin' down the shades and let's spend all day just like this
And saying goodbye is always best in the dark
But nothin' goes together when it all falls apart
Like neon burned out with a few whiskeys down
And a sad song in a smoky bar
A long drive alone without anywhere to go
And the rain on the roof of this car
Some things just go better with a broken heart
Don't need to go out with my friends on the town
Or fall into a stranger's bed
That might work for most but for me, it don't come close
I'd rather be alone instead
No, my misery don't need company
— —
— — — —
? © 2022
:: Stream Jillian Jacqueline ::
---