Jaguar Jonze opens up about the trauma and empowerment behind her stadium-sized debut album 'BUNNY MODE,' a cinematic and triumphant record roaring with raw passion, unfiltered honesty, and unabating confidence.
Stream: "LITTLE FIRES" – Jaguar Jonze
---
I've given myself permission to feel the emotions that I've been holding back on for so long, to find my voice and use it in this world, because I know my worth now. And I do have something to say.
"Don't wanna be the queen of a broken crown; didn't think I'd be the only sound," Jaguar Jonze sings at the start of her debut album. "Don't wanna stand in front of a silent crowd with no weapon." It's quite marvelous, how a whisper can evolve into a shout; how one voice can become a catalyst for change – but in order to help others, we must first help ourselves, and that's exactly what Jonze sets out to accomplish on her first full-length LP. An outspoken embrace of self-empowerment and vulnerability, BUNNY MODE is an inspiring and anthemic record speaking up and speaking out: A confident and charged collection that sees Jaguar Jonze rising into the spotlight to tell her story with unapologetic passion, unfiltered honesty, and cool, unrelenting conviction.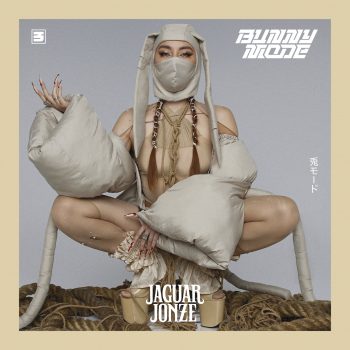 Keeping quiet in the dark
Always was the hardest part
Felt like nobody believed
Thinking I was all alone
In this battle on my own
'Cause I couldn't see little fires all around
Still alive but underground
We can fan these flames to make a change
And burn this whole thing down
One little spark that started a flame
One little story carried the blaze
You're gonna try, but you'll never tame these little fires
We had to stand up and carry the pain
Over and over and over again
I'm gonna make you remember my name
These little fires, little fires
– "LITTLE FIRES," Jaguar Jonze
Released June 3, 2022 via Nettwerk Music Group, BUNNY MODE is a radiant and raw experience – not to mention a jaw-dropping introduction to Brisbane's Jaguar Jonze. The musical moniker for Taiwanese-Australian singer, songwriter, and multi-instrumentalist Deena Lynch, Jonze has been actively releasing music (and therefore, enchanting audiences) since early 2019; her 2020 debut EP Diamonds & Liquid Gold set a high bar with its cinematic scope, inescapably intimate lyricism, and seamless blend of alternative rock and indie pop influences. 2021's smoldering follow-up ANTIHERO EP revealed the darker side of Jonze's artistry, with heavier electronic influences and haunting lyrics ("I've never seen wrong be done right… It's a bit of a twist for me to be a masochist, giving in to be blind") dwelling in a space of turmoil and upheaval.
Those themes are still present throughout BUNNY MODE, yet there's a reclamative aspect to Jaguar Jonze's debut album that goes beyond the reckoning and into a space of healing, empowerment, ownership, and renewal.
"It's been a long and turbulent journey behind this record, from being a sexual assault survivor to then being thrown into the spotlight as a figurehead of the #MeToo movement within the Australian music industry," Jonze tells Atwood Magazine. "The trauma, obstacles, and pressure I've had to overcome have been overwhelming. I'm so grateful to have music as a cathartic outlet for what has been one of the most testing chapters of my life. I'm also so proud of how that journey translated through each song; I have found my voice, found my confidence, sought my own justice, and I've grown so much as a person and as an artist."
"My vision going into this record was to create a safe space for all survivors to seek refuge, but it changed over the course of recording BUNNY MODE. It's also about giving yourself permission to feel anger, not be silenced, speak up, fight, and show what incredible things are achieved when we work together to heal and be at peace," she adds.
"I'm proud of what I've created. Every decision on this album and the visual world around it has had so much purpose and intention. I care so much about everything because I need it to have meaning."
I hope 'BUNNY MODE' introduces me as a passionate person who wants to build worlds for us all to escape into and connect with.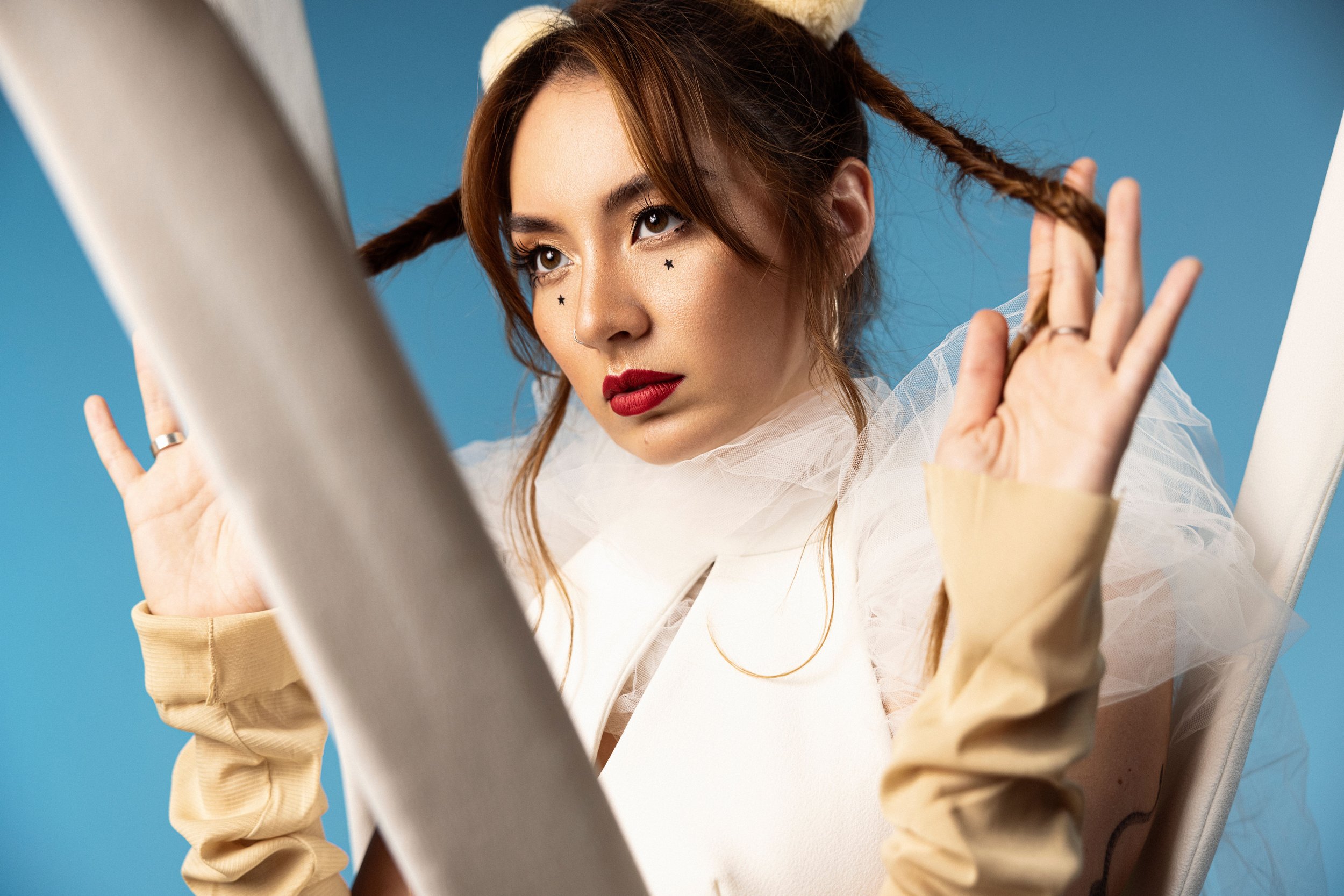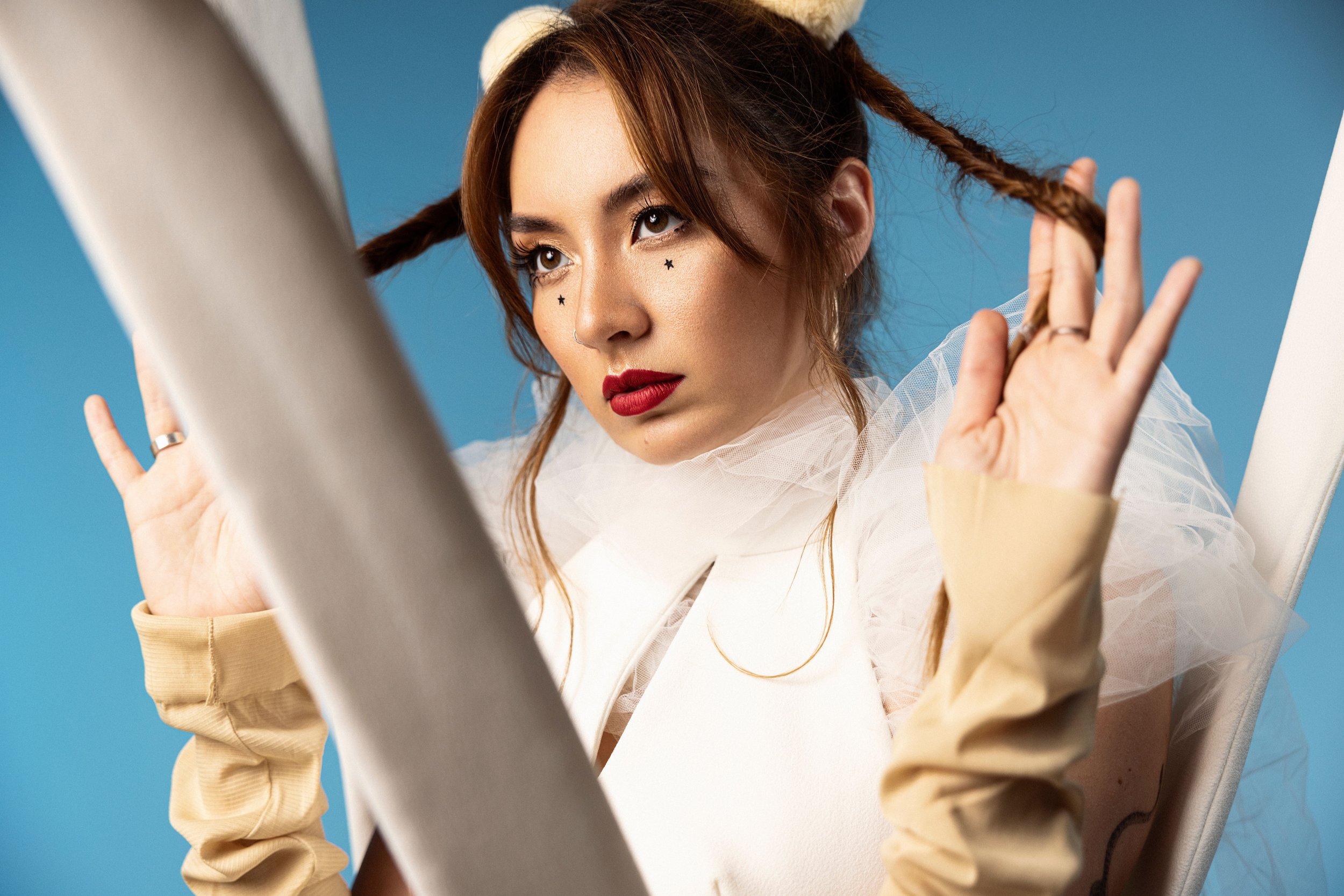 Once a person who would become "still and quiet instead of crying out," BUNNY MODE sees Jonze actively refusing to remain silent; in fact, the album is emphatically, undeniably loud in the best of ways as the artist wields wit, charm, stadium-sized pop, and searing punk energy to unveil her world and tell her stories. "This is a message to cut out the talk you do," she feverishly sings in the assertive, explosive "Swallow." "This is a message to dogs who said, 'What?'… Go back home and swallow your own comedown."
"BUNNY MODE was the name I gave to my symptoms of suffering from Complex PTSD, a condition I've been working through from a lifetime of trauma," Jonze explains. "At the time, I didn't know how to talk about it, and 'bunny mode' explained that it is when my survival mechanism kicks into freeze (rather than fight or flight). Like a bunny in the wild, I would act like prey, play dead and freeze when threats jeopardized my safety. This album is about thanking that survival mechanism for allowing me to survive until this point into adulthood, but also a farewell as I don't need it anymore.
This album is a journey of saying goodbye to that 'BUNNY MODE.' Making this album has been this process of saying – thank you for saving me and allowing me to survive up until this point, but I don't need you anymore.
I can't swallow your pride
I can't swallow your lies
I can't swallow your ego
You don't turn me on
You don't turn me on with your paradise
Go back home and swallow your own comedown
---
From start to finish, BUNNY MODE sees Jaguar Jonze finding strength in her vulnerability as she assumes full control over the narrative.
Her music is catchy, captivating, clever, and cathartic all at once. From the high-energy charge in songs like "SWALLOW," "WHO DIED AND MADE YOU KING?, "PUNCHLINE" and "CUT," to the more tender nuance in songs like "DRAWING LINES," the stunning eruption "LOUD," and her breathtakingly beautiful Eurovision 2022 entry, "LITTLE FIRES," Jonze leaves a lasting, lingering mark through each of these eleven emotionally potent, deeply expressive songs.
Keep your head up, dry your eyes
I know the world can feel unkind
Think about what we've survived
We shouldn't have to compromise
I'm not gonna sleep below the glass ceiling
I don't need to hear another bad reason
History won't get a chance to repeat
You can't take this from me
So I'm gonna be noisy and I'm gonna be proud
You could've destroyed me but then
Then I got loud, loud, loud
– "LOUD," Jaguar Jonze
While she's a proven expert at employing colorful metaphors and larger-than-life imagery to get her point across, several of these songs find Jonze shedding all pretense in order to be as explicit, blatant, and uncompromisingly direct as possible. "This body's mine and not for you to touch," she sings in the self-assured "NOT YOURS," with lines like "What made you think that it would be okay?" and "What life and stories did you live to make my choices dissipate?" driving her message home with calm conviction and blistering bluntness.
"I didn't think this song would ever be released, but it was the first song I wrote after my sexual assault by two producers three months before writing it," Jonze says of that track. "It was a cry to claim back my body."
---
BUNNY MODE is full of heart-wrenching, soul-stirring highlights just like "NOT YOURS."
"'DRAWING LINES' is one of my personal favourites," Jonze says. "I wrote it during my recovery from the worst heartbreak I've gone through after my sexual assault incident, but it sings of hope and drawing boundaries to those who take from you and aren't there for you. It's this delicate balance of pain and acknowledgment of it but knowing that we need to go through that pain to move onto a better place."
As a lyricist, she cites a line from BUNNY MODE's finale, "MAN MADE MONSTER," as her personal favorite lyric on the record:  "All that power led to all that pain, but in the pain there is a power."
---
Come for the punchy songwriting and stay for the raw, pure passion:
Beyond being an engaging, thrilling listen, BUNNY MODE is an inspiring vessel of healing, triumph, and perseverance. It's a testament to the true strength of the human spirit – in particular, Deena Lynch's spirit – that she not only overcame these obstacles, but found a fresh voice to express herself vulnerably, honestly, and confidently in her art.
We love culture but make sure it's to our very liking
Make it milky, make it plain and not too spicy
Dial it down like you're almost in a bunker hiding
Sign your name next to the ex
And fingers crossed, wish you the best
Ooh banana-na, sayonara-ra
This is my, this is my, this is my punchline
Where I go resign from playing your games
This is my, this is my, this is my punchline
Where I say goodbye to playing your games
– "PUNCHLINE," Jaguar Jonze
For Jonze, BUNNY MODE will forever be a testament to this important chapter of reckoning, personal growth, and self-discovery.
"It feels impossible, and the journey isn't easy, but we can triumph over our trauma," Jonze shares. "We can redefine our trauma and claim our power back, and go on to accomplish some incredible things. I'm ready to move on from the burden of being responsible for an entire music industry and its systemic issues and create art from my new place of power and platform. And my newfound audacity and tenacity to use my voice and take the space I always deserved in this world."
Shattered promises and broken glass
Left behind after the storm
Had some peace again but it won't last
Left to face it all alone
There's an answer
To ending this unnatural disaster
After all it's always been a man made monster
Only a woman can destroy
Tried to keep us quiet, so ashamed
But now we're only getting louder
All that power lead to all that pain
But in the pain there is a power
There's an answer
To ending this unnatural disaster
After all it's always been a man madе monster
Only a woman can…
– "MAN MADE MONSTER," Jaguar Jonze
Experience the full record via our below stream, and peek inside Jaguar Jonze's BUNNY MODE with Atwood Magazine as she goes track-by-track through the music and lyrics of her debut album!
— —
Stream: 'BUNNY MODE' – Jaguar Jonze
:: Inside Bunny Mode ::
— —
KNOW MY NAME
"KNOW MY NAME" is my entrance. Those who have known me before, those who know me now, know that I am no longer here for others. I am here for me.
WHO DIED AND MADE YOU KING?
This song is my anger towards those in positions of power, those who assumed those positions without taking responsibility for their power and use of it.
SWALLOW
This song is my middle finger to the patriarchy and the male gaze but served on a platter of irony.
DRAWING LINES
I want this song to remind myself and others of the importance of defining boundaries, even in those painful moments where you want to default to old familiar cycles.
TRIGGER HAPPY
I've finally learned that love bombing is a tactic by narcissists to get their grips over you. Love bombing is not real love, and I'm no longer here for it.
LOUD
After being chipped away by the public, media, and industry, it's my defiant roar that I won't be blackmailed; I won't be carved out of narratives, I won't be erased, and I refuse to be oppressed. I'm going to be noisy, and I'm going to be loud.
LITTLE FIRES
It is a reminder for everyone who has had to fight for something bigger than themselves that they are not alone, and we can create a blaze of reckoning together.
PUNCHLINE
This song is about the tokenism women of colour have to deal with in the music industry and that those token spots come with rules and pressures.
CUT
A fun little number about cutting people off. Cut them out of your life when they're feeding off you. Cutttt ittt outttt!!!
NOT YOURS
This song was my first song on the album, and I wrote it three years ago. I didn't think this song would ever be released, but it was the first song I wrote after my sexual assault by two producers three months before writing it. It was a cry to claim back my body.
MAN-MADE MONSTER
Man-made monster is about a lot of the systemic and societal pain I've had to endure so brutally, especially in the last few years, has strangely been man-made. It's an unnatural disaster.
— —
— — — —
? © she is aphrodite
:: Stream Jaguar Jonze ::
---