An exploration of perceived reality and featuring 14 Houston artists, Dinolion's Rashomon tells the story of a single night in an abandoned, half-constructed house through conflicting perspectives.
— —
It goes without saying that two people can experience the same event in completely different ways; between personal bias and memory's fallibility, we are each subject to our own perceived realities. So why not up the ante and heighten the stakes? Featuring 14 Houston artists, Dinolion's film Rashomon tells the story of a single night in an abandoned, half-constructed house through multiple unique and conflicting perspectives.

Conceived and created by Houston video-production company Dinolion, the hour-long multi-part music video film Rashomon takes its inspiration from Akira Kurosawa's 1951 Japanese film of the same name. Over the course of the film, we come intimately close with the medium, the child, the landlord, the mother, the contractor, the father, and more through fourteen intersecting chapters. Supporting each chapter is an original song, many of which were inspired by that segment of the film and written specifically for Rashomon. The Houston artists span a wide array of styles and sounds, a quality that further emphasizes each character's distinct story and point-of-view. Featured musicians include Black Kite, Merel & Tony, Miears, Whit, Two Star Symphony, The Wheel Workers, Football, Etc., Pitter Patter, King Finn, Guilla, Danna, LIMB, Traci Lavois Thiebaud and The Mustn'ts.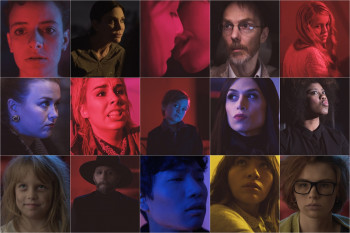 "It has been a truly humbling experience to be a part of something so unique and community oriented," Pitter Patter's Jonathan Perez shares. "This project gives a great glimpse into what the Houston music community has to offer in terms of diversity and artistic prowess. Anyone who watches this film is in for a real treat."
Each song on Rashomon sets a distinct mood for the scene. The Mustn'ts "Yellow Dog" is an intimate, soothing acoustic ballad whose warmth contrasts powerfully against The Child's story in Chapter 2. In Chapter 4, The Mother's bittersweet story is propelled to further emotional heights with Miears' fragile and touching tearjerker "Cycle." These feelings dissipate, however, as alternative rockers The Wheel Workers take the reigns in Chapter 5: The Contractor; their song "Desire" surges with an energetic urgency and angst.
One could go on to highlight every artist's unique contribution, but the best way to appreciate Rashomon is simply by experiencing it for yourself.
---
"Rashomon gave me insight into the depths of Houston's music and arts scene that reached beyond what I knew at the surface," Michelle Miears (of Miears) explains. "Although I have been actively pursuing my music in Houston for 6 years, I had never been a part of such a multi-faceted project that involved so many talented Houston-based contributors, from visual artists to musicians to actors and beyond. I feel really lucky to have been a part of such an ambitious, boundary-pushing project. There was such a strong sense of collaboration and passion amongst the various bands and actors, and of course, the talented Dinolion team. Spending time and filming at the set location with so many passionate, driven individuals was extremely inspiring to say the least. My hope was to contribute to the creation of a grander vision and story than I could ever imagine or create on my own, and I can absolutely say that this dream was realized with Rashomon."
Of course, the talent and greatness of Rashomon extends well beyond its music. Two Star Symphony's Debra Brown applauds how "the actors, camera crew, makeup artists, and musicians all came together to create something bigger than what any of us could do individually."
Rashomon is a beautifully profound snapshot of Houston's music scene in 2019, in addition to being an intriguing filmic experience in its own right. Stream Dinolion's Rashomon now via Atwood Magazine's exclusive stream, and dive deeper into the film's featured artists below!
Stream: "RASHOMON" – Dinolion
:: ARTISTS ::
Black Kite
Black Kite is a musical journey into the psyche of Houston-based singer/songwriter, Vicki Tippit. Tippit's captivating vocals interlace melodic harmonies with dark electronica to embody both delicacy and menace. Song: Wanting
DANNA
DANNA is a singer-songwriter  born and raised in Houston, TX. Her genre lies at the intersection of electronic, alternative, and pop music. Song: Lemon Stand
Football, Etc.
Football, Etc. was formed in 2009 by partners in music and life, Lindsay Minton (vocals/guitar) and Mercy Harper (Bass VI). Lindsay and Mercy teamed up with Daniel Hawkins (drums) in 2013. In May 2017, football, etc. released their third LP, Corner, on Community Records (USA), Barely Regal Records (UK) and Stiffslack Records (JPN). Corner was well-received by outlets such as NPR, BUST, Noisey, and Free Press Houston and is now on its second vinyl pressing. Song: Try Out
Guilotine
Rap artist, Producer, and Songwriter Timothy Russell AKA Guilotine is an artist known for his esoteric, often sagacious and juxtaposing style and extreme emphasis on percussion. His travels at a young age reflect a style influenced by an array of sounds and genres. Song: Sorry
King Finn
King Finn's Houston-bred indie space rock combines cavernous dynamics, driving rhythms and anthemic melodies to deliver a sound both compelling and exuberant. Together, they express strength in vulnerability, and invite the listener to revel in the splendor of life. Song: Elaborate Rouse
LIMB
LIMB is the musical alias of James Templeton, a Houston based experimental musician and maker. Song: Daphne
Merel & Tony
Merel & Tony met in 2013 while working on an art installation in a small Dutch village. Since then, they have released four EPs, written music for THIS AMERICAN LIFE and other podcasts, been commissioned to compose a musical for the Houston-based Catastrophic Theater, recorded an album of protest songs funded by a grant from the Houston Arts Alliance, and toured Texas with their band, THE WOE WOE WOES. Merel & Tony divide their time between Rome and Houston. Song: Bones and Feathers
MIEARS
As the producer, singer, songwriter, and performer of her work, MIEARS crafts melancholy electropop, complete with ethereal melodies, pulsating synthesizers, and vocals of otherworldly beauty to devastate you on the dance floor. Song: Cycle
The Mustn'ts
The Mustn'ts are an irresponsible folk band, maybe. I dunno. They have 4, sometimes 5, cool people playing together to irreverently present songs that are mostly sad. There is a playful recklessness and loose interpretations of songs written by former lovers, Jeromy Barber and Vicki Lynn Tippit. There are lots of harmonies, because the only thing the entire band agrees upon is "There are never enough harmonies."  Song: Yellow Dog
Pitter Patter
Pitter Patter is the sound of swift exploration in all directions. It is an odyssey to find the right sounds or the right moods and then destroying them to create something entirely different and unexpected. Jonathan Perez, A.K.A Pitter Patter, has been developing his sound to induce kaleidoscopic euphoria with swelling synths accompanied by high energy drums. Song: Graveyard
Traci Lavois Thiebaud
Traci Lavois Thiebaud is a self-titled, solo, noise poetry act rooted in experimental instrumentation and the spoken word. Sometimes comedy, sometimes satire, always weird and wild. Song: Funny Girl
Two Star Symphony
Two Star Symphony is a Houston-based instrumental music ensemble composing and performing all original music. Two Star's dark distinctive sound is a result of a unique writing style that differs from most classical ensembles, in that members collaborate to create compositions where sheet music is never written. This unique style has been key in Two Star's collaborations with other artists and mediums. Two Star has created original works with or under commission for: American Ballet Theatre Studio Company, Dominic Walsh Dance Theatre, Bobbindoctrin Puppet Theatre, Rice University, The Museum of Fine Arts Houston, Houston Public Media and Discovery Green. In addition to producing six albums of original material, Two Star has also created five original silent film scores and multiple soundtracks for independent film. Two Star Symphony most often performs in quartet or octet formations. Song: Greed
The Wheel Workers
The Wheel Workers is an indie rock band from Houston, TX led by singer-songwriter Steven Higginbotham.  Their most recent single, "White Lies" recently debuted on the A.V. Club and featured songs from their upcoming album "Post-Truth" which will be released in 2018. Song: Desire
Whit
Born in 2014, Whit is a spiraling force that will punch you in the face with love. Their music is often described as Sparkle-Shred and sounds like a "Disney Princess on acid". Songs are filled with movement, jangly but shiny guitar tones, syncopations and polyrhythms iced with soaring vocal melodies. Whit is inspired by bands like The Dirty Projectors, Yes, The Beatles, Grizzly Bear, Ava Luna and Deerhoof. Song: My Bee
---
:: RASHOMON CAST ::
Peter Zama as The Medium
Oliver Lyders as The Projection
Noa Smith as The Child
Sara Royer as The Landlord
Pam Green as The Mother
Lou Stainbeck as The Contractor
Richard Lyders as The Father
Ashley Cid as The Lover
Shu Kinouchi as The Good Friend
Candice D'Meza as The Security Guard
Marcus Pontello as The Assistant
Hannah Hank Jove as The Squatter
Jennifer Free as The Daughter
Alice Belen as The Nanny
Abilene Smith as The Dead Girl
---
:: Direction & Editing ::
Jeromy Barber
James Templeton
Traci Lavois Thiebaud
— — — —

? © Dinolion