Laeticia Acra takes us track-by-track through Japan, Man's debut album 'Metropolis,' a bold, funk-fueled, and soul-stirring coming-of-age record aching with raw passion and a breathtaking, beautiful energy.
Stream: "Wormhole" – Japan, Man
---
All the songs that follow are about me, a little girl from Lebanon, exploring the streets and characters of London, and growing out of my girlhood, into womanhood.
Coming of age is, by definition, a turbulent experience.
Coming of age in a brand new big city, on the other hand, can be downright traumatic.
17-year-old Laeticia Acra knew she was in for a change when she left her native home in Beirut, Lebanon to pursue a music career in London, but nothing could have prepared the teenaged artist for her new life in the British capital.
"Moving was a huge change, especially at such a crucial time of social development," the voice behind alt-pop band Japan, Man reflects. "The Lebanese way of life had been all I knew for as long as I could remember, in all its beauty and chaos. But suddenly, I found myself standing like a deer in headlights, suddenly in this cosmopolitan world, where people were loud and bold, and I quickly started feeling more and more comfortable with myself, and who I really was."
"I was learning how to survive in a setting where everyone so desperately wanted to be 'someone', and to survive in that environment I realized I needed to claim all my imperfections as a part of me, and puff my chest out, and enjoy myself, unapologetically. And that's exactly what I did."
Japan, Man's debut album is the product of Acra's experiences two years in London: A time of tremendous internal and external growth, change, tension, and excitement. Aching with raw passion and intense energy, Metropolis is a bold, funk-fueled, and soul-stirring coming-of-age record. Reckoning with changes within and all around, Acra and musical partner Julian Cassia bring listeners on a truly exhilarating journey that leaves us breathless, stunned, and eager for more.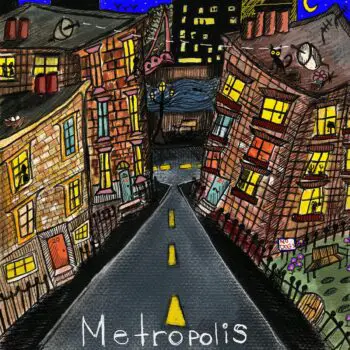 I will run away from this
before I even settle in
tell me that you need me, I might go
can I be too vulnerable?
trying to be honorable
tell me that you're waiting for the show
no need to reinforce it
feel like you overdid it
then again… we are both to be blamed
feel like you overdid it
I wanted to suppress it
yeah, yeah… we are both to blame
– "Overdid It," Japan, Man
Released October 18, 2023 via Honeymoon / + 1 Records, Metropolis is a breathtaking debut album for Japan, Man. Comprised of Laeticia Acra and Julian Cassia, the partnership debuted in 2019, when Acra was just 14 years old. 2020's six-track debut EP The Bad Days received considerable praise upon its release, and remains a worthwhile listen, both for its dreamy musical qualities as well as its thoughtful, introspective lyrics.
Three years later, Japan, Man has emerged like a butterfly from the cocoon: The music of Metropolis is a beautiful evolution of Japan, Man's artistry in all aspects of the word, with throughlines between past and present that highlight Acra's growth as a human being over these three very impactful years. The record is funkier, more intimate and brooding, more dynamic and emotionally charged, and more nuanced: The highs are higher, the lows, lower, the reflections and observations deeper. Time seems to have proved a gift for both Acra and her project, both of which appear to have grown in leaps and spades.
"This record was recorded over the span of two years – the first two years of my life in London, after moving there from Lebanon," Laeticia Acra tells Atwood Magazine. "I think that during those two years I had learnt so much that I couldn't resist pouring myself out into the songs, through the lyrics, and the moody tones of the music. I experienced a metamorphosis over those years and I fell in love with London, and I think that is what led to the creation of a lot of these songs. Another thing was that Julian and I used very 'DIY' methods of recording for some of the songs, that meant I was put in a closet with a microphone and Julian was on the outside intersecting me. However for the other half of the album we recorded most of it in Julian's lovely home studio in Turin."
"Julian and I really wanted to create an album filled with influence from our favorite artists," she continues. "Mine will always be The Cardigans, Radiohead, Sir Chloe, and The Flaming Lips, and also King Krule. I think we really stuck with those influences and incorporated those sorts of sounds with the 'Japan, Man' one. My vision lyrically, was to create a story with each song. Each song strongly owns a different narrative whether it was based on a lesson I learnt, a person I had met, or a feeling I experienced. Looking back it was executed exactly how I wanted it to be, which fills me with bliss."
"WeI sat down together for most of these tracks and looked at the music we were currently listening to, to inspire the tracks, so the album is also a depiction of my evolution of music taste, as well as the way Julian and I work together to create songs based off the medley of artists we listen to. Lyrically, and even tonally, each song captures a lesson, or a person that I had the pleasure, or in some cases displeasure, of meeting. Julian and I doubled down on the melodies trying to get that perfect mood, to convey the messages of each track. With Julian's experience, and my storytelling mindset, I think we did a great job."
---
For Acra, Metropolis is and will always be a deeply autobiographical and therapeutic experience.
"The songs are really all about my life after moving to London and fighting for my place in such a large, urban place, filled with all these new and colorful people, a place where no one was afraid to actually be themselves," she explains. "I grew up in Beirut, Lebanon, and I love it, but it is a far more conservative place, and I grew up constantly concealing parts of myself that so desperately wanted to just explode outwards. The first song [released] off the album, 'Air Conditioner,' is actually solely about that theme, and I think it's a perfect opener for the themes of the following songs. That song is all about leaving a place behind but loving it, and also hating it, but generally just being thankful for everything that it was. And all the songs that follow are about me, a little girl from Lebanon, exploring the streets and characters of London, and growing out of my girlhood, into womanhood."
"I think this album captures my transition from girlhood into adolescence, in all its raging emotion and enlightenment. The songs vary in mood and tone, but they all end the same way, with myself standing in the mirror and reflecting upon my behavior, and the behavior of all the characters in the story of my life, and I began to realize who I am thankful for, even if they aren't characters in my story anymore. More metaphorically, Metropolis is about a little girl running through the dark streets of the city, guided only by the streetlights, and blaring noise, and trying to make sense of it all, and meeting friends and finding new homes along the way."
'Metropolis' is my love letter to London. I will listen to 'Metropolis' when I am 58 years old and will be reborn as a 17-year-old girl.
Acra describes Metropolis as moody, therapeutic, and reflective.
Beyond the songwriting and stories, she also designed the artwork for the album and its singles – making this a multi-disciplinary project over which she owns a majority of the creative process.
"I think it captures the way I love to write vulnerably and create worlds within my songs that listeners can interpret absolutely however they would like to. I also created all the cover art and I love that I get to tie together my artistry in all its forms, as I love to draw and paint. Creating the album cover was a wonderful process and it's meant to be an interpretation of the street I live on, in London. I think it just adds a curious and intriguing visual touch to the stories being unfolded throughout the songs. In regards to an introduction, I think it welcomes this new side of Japan, Man, being a side that is mature with a touch of grunge, and somehow balancing out that maturity with a childlike quality throughout the songs, and throughout the tones."
Highlights abound throughout these singular eight tracks – a seamless half-hour of music ready to be listened to on repeat. From the smoldering, scene-setting opener "Overdid It" and the blood-boiler "Nowhere to Hide" to the achingly visceral, emotionally charged "Wormhole," the beautifully sincere "The People We Became," and the vulnerable, spellbinding finale "Shit Scared," Metropolis is an all-hits, no misses affair through and through.
---
"I love all of them," Acra smiles, "but 'The People We Became' and 'Shit Scared' are my top two, and then I'd say 'Air Conditioner' comes after two." Lyrically, she has plenty of favorites as well: "'I won't uproot my cedar' from 'Air Conditioner.' I love this line so much because it is a direct reference to Lebanon, which this song is mostly about. To be honest, I actually love all the writing in this song so much, especially from the first verse. But yeah, that line references a cedar which is Lebanon's national emblem."
"I also love the line from 'Nowhere to Hide,' which goes, 'and in my wallet there a picture of you and me, and as I look at your face as your dress flows in the breeze, and now I sit with, and now I sit with, insanity,' and 'wish I had you with me to obsessed constantly as I'm distracted, as I'm distracted, from insanity.' I think those lines perfectly capture the feeling of being trapped with the memories of a person who is no longer in your life. Personally I am very bad at dealing with loss so I really hope people can relate to those lines."
"Another one I love is from my personal favorite track, 'The People We Became.' My favorite line is, 'Oh no were just strangers again and I just can't see through your face, Oh no were just lost in the game and I just can't see through your face.' I just love the way I yell that line in the song and I love the sense of desperation and upset it carries with it, it feels very real and genuine."
---
Metropolis is a captivating, cathartic album – and a phenomenal (re)introduction to London by-way-of Lebanon's Japan, Man.
"I hope listeners hear these songs and create their own interpretations of the songs, or I hope they relate to the messages being conveyed and feel less alone with any issues they may be dealing with," Acra shares. "I hope that my songs make people want to dance, laugh, cry, think, just all of it. I hope listeners see that you can turn sadness, loss, confusion, fear, and frustration into something beautiful, and that you can always express yourself."
As for her own takeaways?
"I am just really proud of it," she smiles. "And I'm really proud of myself. Sometimes I forget that I am capable of doing things, and I can be so hard on myself. I'm so happy this is finally out in the world for people to hear because we've been working on this for years. I'm grateful for so much that has come out of this, and I'm grateful that I get to do it with Julian, who is my uncle! I value the experiences I gain from this project and I take it all to heart. I'm so excited for people to listen to these songs, and make them their own."
Experience the full record via our below stream, and peek inside Japan, Man's Metropolis with Atwood Magazine as Laeticia Acra and Julian Cassia take us track-by-track through the music and lyrics of their debut album!
— —
Stream: 'Metropolis' – Japan, Man
:: Inside Metropolis ::
— —
Overdid It
Laeticia: The song attempts to capture the embarrassment of overdoing it in a relationship, or situation-ship, especially with a rather complicated label. I think we all try to remove ourselves from the category of being an 'emotional' or 'sensitive' person these days. I think we all internalize this and try to be as unbothered and as nonchalant as possible, but we all end up forgetting how significant our tendencies to over-love, over-care, overcomplicate, and over feel really are when intimacy and romantic passion enters the picture, and that's completely normal and definitely what I was feeling while writing the song.
The song definitely carries sass and arrogance which was very fun for me to write, and sing, as most of my songs are more serious in tone when it comes to lyrics, but I was feeling particularly playful while writing this, and wanted to take a more ironic approach.
Nowhere to Hide
Julian: On a very simple level, we love to write music together. It's an incredibly special thing to be able to write music with your family … We also share a lot of the same loves in music. In our family, we often share music across all the generations that are involved. What more, we are multicultural in that we grew up with Arabic, French, English and American influences. All this can be traced back in our songs.
Laeticia: Yes, I agree with Julain. When I wrote Nowhere To Hide, I think the sentiment I felt the most was this intense feeling of being completely cornered and trapped by my own emotions and intellectualization processes. The lyrics carry a sense of desperation and urgency to escape and 'hide' from whatever it is that ails and feeds on mental stability.
In the midst of big and frightening emotions I think people, including myself, get tied up in the illusion that they are alone in the process of feeling these things, and that no one in the world could ever understand. Through the song I also want to emphasize the panic of being unable to escape negative emotions, and being trapped inside a feeling, routine, or bad habit. The thing I want people to take from the song is that feelings are big, and can feel like a tsunami of overstimulation, and all in all that is a human experience, and really, the human experience.
Why Do People Change
Laeticia: "Why people change" discusses the way people change as they grow, and the struggles that may come with such transitions. There is a constant question being asked in the chorus, portraying the desperation of trying to understand how you will never meet the same person twice, even in the same person. Changing is what is meant to happen to people; we are built to change, and so are our bodies and minds, but it can be daunting and terrifying sometimes. The lessons we have to learn to get to the point of acceptance can be brutal, but at the end of the day it's the pressure that makes the diamond, and I'm a firm believer in that. This song mainly captures the part in my life where I was attempting to smooth over the transition of moving from Lebanon to London, and I actually wrote the first half of the song while I was still living in Lebanon. The first verse and pre-chorus are actually very special to me, I think it was the first time I was being so vulnerable with my writing, and I never actually thought I'd put it out into the world, but alas here we are. After moving, I got to a point when writing the latter half of the song, where I was in greater acceptance of this natural course of metamorphosis, and I think it's very evident within the lyrics of the bridge, there is actually a choir section just after that where I got literally everyone I knew to sing along, I get chills whenever I listen to it. I guess this song is meant to bring people together, as we constantly fight, love, and evolve together.
Wormhole
Laeticia: I started writing this song a while ago, I was 15 maybe? I guess the main feeling I felt while writing this song was the feeling of rejection and even abandonment, and more accurately the fear of those things. I grew up with a hesitation to socialize, and I felt like whenever I did manage to keep a friend around, the fear of them leaving was always apparent, it was like a bomb waiting to go off. The song also kind of discusses trying to make a 'bad' person, seem like a 'good' person, through multiple alterations of memories, trying to convince yourself that this person actually did treat you well because you loved them so much, be it a friend, romantic partner, or acquaintance. At the end of the day you find yourself in a wormhole, of a figurative nature of course, trying to pull completely irrelevant information together, to make sense of certain actions your counterpart had committed. I feel like social survival is also discussed throughout the lyrics, and learning to carry on, and adapt to certain situations, personalities, and scenarios. That is something I did very much growing up, and I feel like not many people talk about it enough. The way you can jump through a wormhole, figuratively, to alter your personality to survive socially is exhausting, but sometimes so necessary to get by, and I want people to know that. I just hope that when people hear the song they understand that these seemingly irrational fears, and performing intricate social acrobatics is so real.
The People We Became
Laeticia: This is my personal favorite track on the album. This song discusses the feeling of being around certain people, and watching various sides of yourself come out, and watching yourself from an outside perspective,and seeing how you can become a person you just don't recognize anymore. This can happen with friends, colleagues, but I feel it happens the most dramatically in relationships. It is terrifying because even though it is a genuine version of you, you just can't connect A and B, and figure out how on earth you ended up this way, in this position. We are all guilty of doing this, no matter how hard we try not to, we can't help but morph into our partners. Sometimes it's for the better, sometimes this change is exactly what you needed, but unfortunately, sometimes you just lose touch with yourself. It's hard letting go of people we love, especially when that love wasn't exactly positive. Sometimes you just have to excuse your brain for building a part of itself around another person, but feeling that way makes the idea of being apart from them feel like a literal lobotomy. Extracting a key part of who you are. I think a big inspiration for this song was the movie, "Eternal Sunshine Of The Spotless Mind," one of my favorite films ever. I think I must've watched that film just before writing this song. I'm a very big fan of Charlie Kaufman!
Air Conditioner
Laeticia: Most of the time when I'm writing a song I'm not really sure what it's about until I'm halfway done with it, or if I look back on the lyrics. I'll just kind of write extensively about something I think or feel without necessarily understanding what it is I think or feel. That was definitely the case with Air Conditioner, I realized what I was writing about once I hit the second verse, specifically where I go 'I should be staying a little longer, I won't uproot my Cedar'. The song is basically written about my relationship with Lebanon, which is where I'm from and where I grew up. It also explores my relationship with being mixed, as I am British/Lebanese and don't really feel like I belong or truly am anywhere, there's just always a sensation of dissociation. That's why that second verse clarified the emotion behind the song for me since a Cedar tree is the national symbol of Lebanon, representative of resilience and strength. I guess the song is also about growing up and maturing and accepting the flaws of sentimental people or places, and moving past emotional obstacles that once may have stopped you from fully experiencing a person or place.
Fool
Laeticia: Have you ever felt like the most disliked person in the group? Like there was a social hierarchy, and you were at the bottom? Then, this song is for you. "Fool" discusses feeling like you're crazy for feeling targeted by certain words or actions. It's a song about that gut feeling you have that the people in your life secretly hate you. Delusional, I know, but very real. It hurts to even admit sometimes, but these feelings are real. As an extreme overthinker, myself, I struggled with this a ton. I'm free of these types of thoughts more usually these days, but every now and then, everyone has that voice in their heads driving them insane. If you feel targeted by a person it is so tempting to think they are deliberately trying to make you feel that way, and sometimes that is the case, but sometimes it is not. "Fool" is a song for the over-thinkers, and over-analyzers.
Shit Scared
Laeticia: Julian and I wrote this song very closely. It started with the line 'And I'm Shit Scared again', which kicked off the songwriting process. The song was written about the crippling fear of being alone, and ending up with nobody. We all struggle with this, and ironically, are not alone in the process. I think living inside yourself is hard for everyone, at any age. But what I do know is that there is an upside to experiencing things on your own. Sometimes you don't want to share a memory or experience with someone, sometimes you want to keep it all to yourself, with no one to compromise it with, you get the whole thing to hide away in your brain, and sometimes that is what satiates you. Regardless of the upside, this song is pretty pessimistic. When the fear is there it can be so real, and so mortifying. We are social creatures, and crave interaction, our allergy to loneliness is in our DNA, or mine at least. But I think I've come to terms with it more, and more, as I've gotten older. I used to be so obsessed with seeming like I had friends, even though they didn't make me feel very good about myself, just out of the fear of being alone.
— —
— — — —
 © 2023
:: Stream Japan, Man ::
---