Larkins are the Mancunian band emerging onto the UK music scene in a flood of '80s synths, melodic riffs, and vulnerable vocals – once again proving their worth in the 'Hit and Run' EP!
Stream: 'Hit and Run' – Larkins
---
As a whole, the 'Hit and Run' EP screams vulnerability, which in today's musical landscape is a sure-fire way to forge a connection between band and audience.
There must be something in Manchester's water, because it looks as though the city is about to deliver another musical juggernaut — Larkins. Despite hailing from the Manchester area, this talented four-piece are not carbon copies of the legends who walked before them. Instead, the guitar-pop band combine futuristic pop and electronic elements with rock and guitar-based music to create an anthemic sound that encompasses both innovative and classic qualities. Already, Larkins are tipped to be Manchester's next arena act, have been included in NME's 100 Essential New Artists for 2020 line-up and have received attention from leading music tastemakers including BBC Radio 1: but that's just the beginning for this savvy band.
In April 2020, Larkins will embark on a UK tour including a performance at the iconic London venue, Heaven, which is set to be a complete sell-out. If the band achieves this, not only will they perform in front of a full-capacity crowd, but they will make history as the first band to do so without releasing a debut album. Having already been touted as fast-rising, anthem-creating and potentially history-making so early on in their career, it is evident that there is no limit to what Larkins can do.
Hit and Run is the band's latest EP, released February 14th. The EP, comprising of the tracks 'Hit and Run', 'Flood', 'Make You Better', and 'Pieces', touches on topics of love, feeling lost and the political climate. As a whole, the Hit and Run EP screams vulnerability, which in today's musical landscape is a sure-fire way to forge a connection between band and audience. Today, music fans yearn for candid songs that steer clear of sugar-coating but are still wrapped up in joyous, musically clever parcels, which are both thought-provoking and uplifting — Larkins deliver just that. Individually, the tracks on the EP are sonically diverse enough to stand alone as strong pieces but maintain a level of similarity that defines Larkins' signature sound.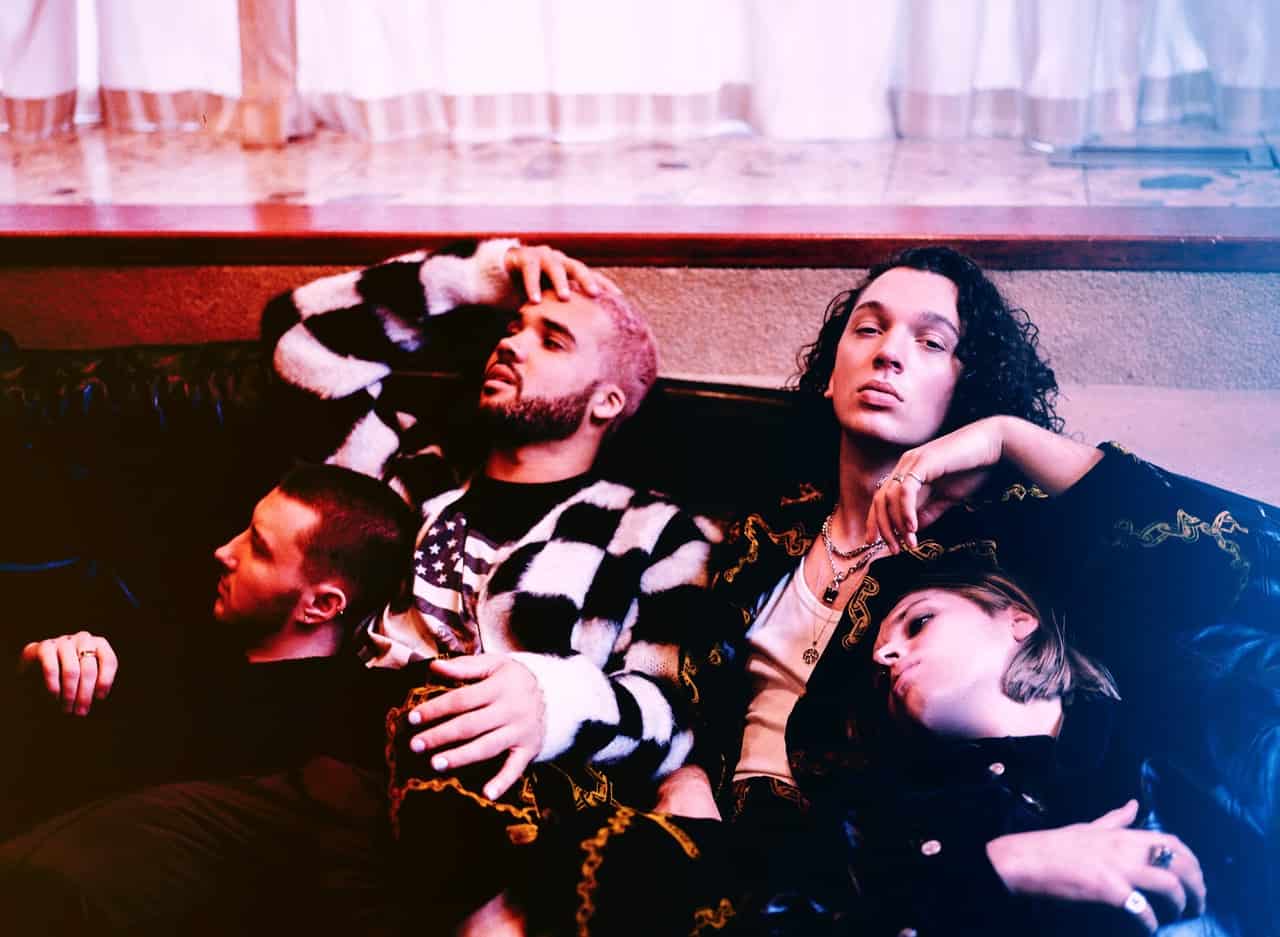 The first of the tracks, 'Hit and Run', was originally released at the very beginning of the band's career in 2015. With strong percussion, a catchy bass riff and a sense of infectious confidence this track hits the ground running, spreading good vibes and good vibes only. Upon listening to 'Hit and Run' it is clear to see where the band's reputation for anthemic songs started. As well as a fuller sound, frontman Josh Noble's vocal delivery on the updated version is dramatically more self-assured and alluring, which makes for a much more enticing listen.
Is it all in the way you're walking?
Or is it all in the way you move?
Cause I don't know if its the way you're talking
God knows I'm into you.
'Flood' tackles the issues within human relationships caused by politically unstable governments and toys with the concept that salvaging these relationships could be the antidote to much of the anxiety and frustration people experience during turbulent times. Despite retaining the strong emphasis on percussion demonstrated on 'Hit and Run', the band's 80s influence prevails far more in 'Flood' as soft synths and a Chaka Khan esque beat run throughout the track. However, the uptempo 80s beat should not distract from its dystopian theme and poignant message.
From the first to the last time i called
We've broken every picture on the wall
We made a fight out of every moment
We need to save a little love
The third track of the EP is named 'Make You Better'. This more stripped back and personal song is laden with robotic, chatty vocals and slow, subtle synths that never overpower the emotional vocal delivery. 'Make You Better' may be a minimalistic song musically, but lyrically its depth is undeniable. The track reflects on the loss of a loved one, in Josh's case his grandparents. The loss of a grandparent can be harder than expected as many underestimate the role their grandparents have played until they are no longer there — Larkins depict these emotions beautifully.
You always said, "it hurts like hell"
Safe to say that I knew you well
Now I won't let you slip away
You always said that we'd be okay
'Pieces', a track about figuring out who you are and what you are doing in life, is the final song on this mighty EP. The track takes us back to the uptempo, anthemic space that Larkins know so well. Filled with strong percussion, funky synths and an electrifying riff that plays the song out until it slowly fades, 'Pieces' is the perfect song to round off the EP.
Are you lonely
Or are you free?
Were you searching
For something on TV?
Are you lonely
Or are you free?
"Hit and Run" is an EP brimming with equal doses of authentic vulnerability and undeniable vibrancy. Larkins really know how to bring the party and strip it back for a moment of emotional tenderness. If this is anything to go by, rest assured that there is a lot more to come from this fast-rising band. Experience the full record via our below stream, and peek inside Larkins' Hit and Run EP with Atwood Magazine as the band go track-by-track through the music and lyrics of their latest record!
Stream: 'Hit and Run' – Larkins
:: Inside Hit and Run ::
— —
Hit and Run
Dom: A track that we're approaching as the band we are now rather than when we wrote it. This was originally the first single we ever released. It's always been a favourite from the live shows but we knew that when we recorded it years ago we didn't do it justice. We took it back to basics in the studio with Mark Crew. Feel like we've been searching for that Foals vibe for years, hopefully we got it right this time around.
Flood
Henry: This was a track that Josh wrote and produced with the crazy talented Dan Nigro, we also flew out to LA to get it recorded with him. It's a high energy track that captures us doing what we do best. Big synths, big bass lines and a huge vocal. Super Duran Duran.
Make You Better
Josh: The most personal track we've ever released. Another track that we recorded out in LA with Dan Nigro. All about searching for time and attempting to delay the inevitable. I love that we were brave enough to drop this. Loved delving into production for the first time with Dan.
Pieces
Joe: This is a track that's been a constant in our live set for a long time. It was recorded and produced by Chris Zane at his studio in Brixton where we usually work from. It was cool for us to release a song now that we remember being written in the front room of Josh's parents house years ago and see people take to it in such a strong way. I get to go hard on this track, loads of 60s/70s rock influences.
— —
? © 2020
:: Stream Larkins ::
---