A record of soothing existential dread, Draag's debut album 'Dark Fire Heresy' is a cathartic fever dream born out in billowing shoegaze eruptions and hazy, visceral slowcore upheavals.
Stream: "Good Era Doom" – Draag
---
The album is dark and brooding at its essence, but hope and beauty is the end result.
When Draag's bassist Nick Kelley describes his band's debut album as "soothing existential dread," he means every word.
The Los Angeles-based shoegazers make music that is both sonically and emotionally heavy, yet nonetheless comforting. Thick waves of reverb-laden overdrive, thunderous drums, colorful synths, and warm, washed-out vocals rain down and all around the ears as Draag pour their souls into unfiltered, unrelenting songs that hold nothing back. They dive deep into the psyche, picking apart past and present experiences and emotions, visible scars and invisible bruises through music that hits hard and leaves its mark.
As intimate as it is intense, Draag's Dark Fire Heresy is a cathartic fever dream born out in billowing shoegaze eruptions and hazy, slowcore upheavals.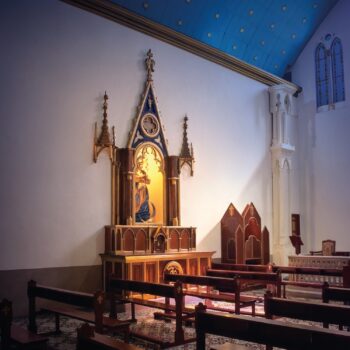 The blisters in my hand don't tell the whole story
I wasted night in my car till morning
An empty ride home, I live to see the day
An empty bed full of memory decay
Precious mistake to greet my whisper wrath
A polite kiss to meet my withered path
In case you forgot who i am
I won't bounce back, not back, not back
I get now why you left me there
Pounce back, I'm back, I'm back, I'm dead
I'll just sit still, the wind blows a pretty breeze
of thorns and sharp objects
– "Good Era Doom," Draag
Released April 28, 2023, Dark Fire Heresy is, to put it bluntly, beautifully visceral. Arriving off the heels of two critically acclaimed EPs (2018's Nontoxic Process and 2020's Clara Luz), Draag's debut studio album introduces the West Coast five-piece as a band that leans all in to life's weightier moments, channeling inner angst and turmoil out through immersive, intoxicating, and utterly enchanting sound. For Adrian Acosta, Jessica Huang, Ray Montes, Nick Kelley, and Shane Graham, music is most definitely a therapeutic release.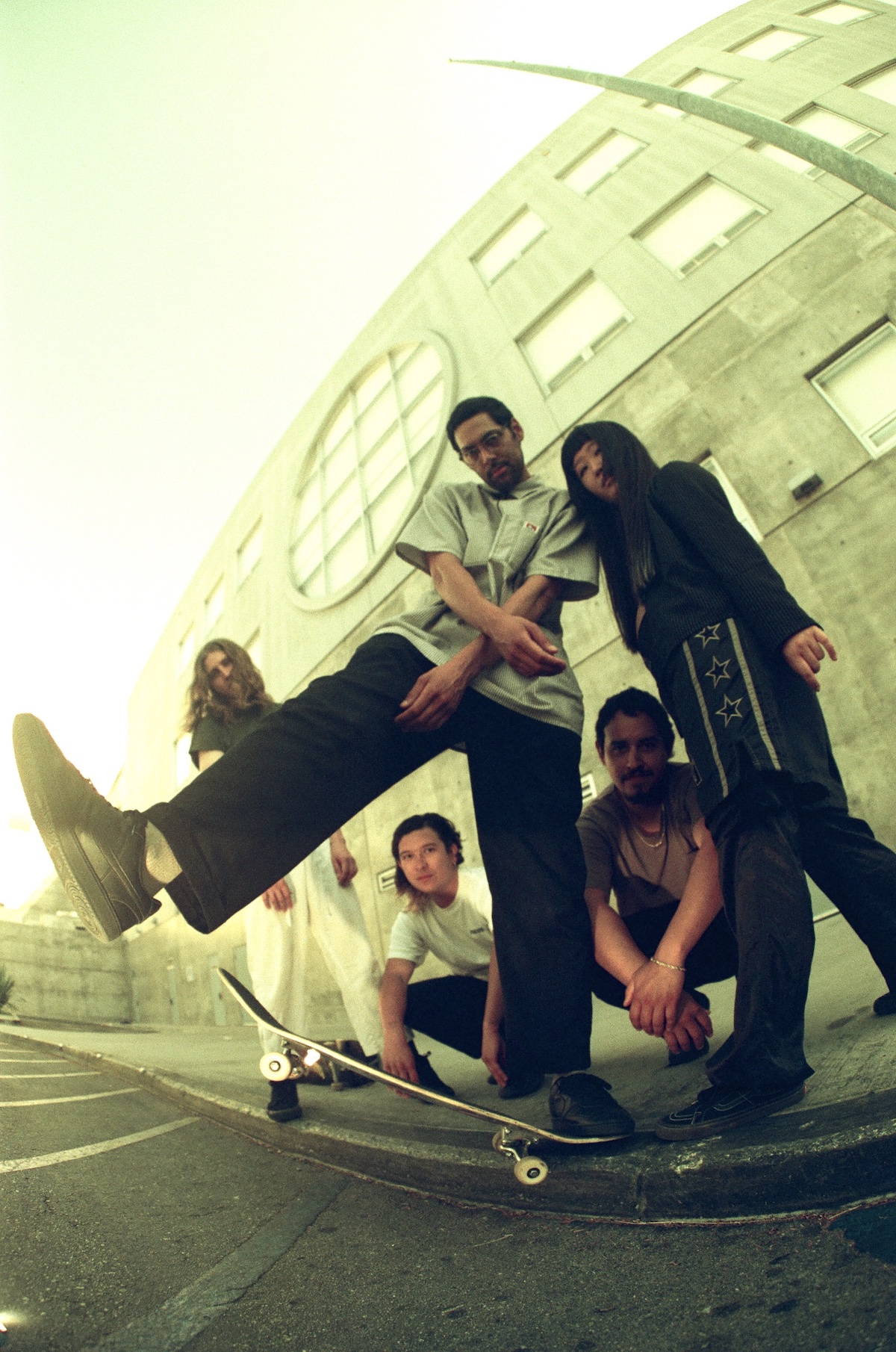 In fact, it was through frontwoman and multi-instrumentalist Jessica Huang's own therapy that these songs came into the world.
"I started therapy for the first time during the pandemic," she tells Atwood Magazine. "Through therapy, I realized I had been deeply involved in a religious cult for most of my life, since I was born until about a few years ago. The songs document the process of unraveling what happened to me. In them, I imagined myself in past scenarios, yelling at myself, trying to save this previous version of me, sort of like when you're trying to wake yourself up from a bad dream, telling myself what I should've said or done, while also giving myself forgiveness and understanding in what was a highly manipulative and emotionally abusive environment. Other songs became a revenge fantasy of sorts, conducting myself in a way that would piss off the church the most. As much as it can be spiteful, I feel that the songs still pay tribute to the beauty in spirituality that I experienced, starting from a young age."
"Although it may not seem like it, the writing process is very stream of consciousness," she adds. "The symbols and meaning start to reveal themselves during it. I didn't know I was going to write anything related to my spiritual trauma, (and for Adrian, substance abuse) but it seemed to manifest itself in such a cohesive way without preconceiving it."
There was a lot of heavy handed, absolutist, and extreme language and rules I grew up with in my church. The title reflects that.
Huang is one of Draag's two primary songwriters, together with Adrian Acosta, who founded the band back in 2017. He says he wasn't driven by a particular vision or singular idea while making the album. "I just started writing songs like I always do," he shrugs. "I don't put a lot of thought into it before a writing session; [it] depends on my mood that day."
Whether or not these songs were planned prior or completely spur-of-the-moment, there's no denying the raw, exposed humanity at the core of this music. Dark Fire Heresy comes into its own as an uninhibited, sludgy seduction of the ears and the heart.
"I have so much religious knowledge that inspired the visual storytelling of the album, as well as my own overall creative vision," Huang says; for her, these themes define not only who she is, but what Draag, as a band, has become. "Gustav Doré's woodblock prints of Dante's Inferno, Hieronymous Bosch's Garden of Earthly Delights, and medieval depictions of hell and intense religious imagery (see @WeirdMedieval Twitter account), informed much of Dark Fire Heresy's visual identity. There was so much fear mongering around the concept of hell and the dark desires of the soul in the cult that I grew up in – I find it funny how attracted I am to these types of medieval religious art that were designed to scare people into submission to the church/scare the shit out of you; instead it draws me in even more."
"Some of these artists unintentionally created amazing surrealist work ahead of their time. Through the making of the record, I have a lot of insight into Buddhist and Taoist ancestral altars and rituals, traditional and modern versions of them. Used this knowledge to create the altar in the 'Mitsuwa' music video."
Grab a hold of yourself you are not losing control
My momma told me so
Count to 10 and press your sweaty palms across my face
My momma told me so
Fizzle view of my shadow
Frizzle mood of my shadow
I'm gutted, I know that you like it
I doubted, deny you're behind it
I shouted, don't be mad about it
I counted, I know that you fake it
Tickets to the live show is postponed
I'm near, don't fear the end
Idle trains that never run late
I'm near don't fear the end
---
Highlights abound on Dark Fire Heresy as Draag slow down time, inviting us in with their album's spirited, hopeful opener "Learning to Live With It" and leaving us on a high note with the record's closer (and only love song), "Endless Buffet of Love." Hypnotic anxiety-fueled exhales like "Mitsuwa" and "Animal Specialty," and traumatic reckonings like the propulsive, fast-paced "Demonbird" and the catchy ethereal shoegaze anthem "Good Era Doom" keep listeners hooked, if not altogether submerged in their heavy alternative sound.
Huang cites "Animal Specialty" as a personal favorite. "The lyrics are simple and short," she says. "It reminds me of my sweet and innocent child self who wants to do nothing but the right thing, which was taken advantage of in my religious upbringing. I'm realizing that much of the album is dedicated to my younger self, who I can give power and reassurance."
In class I see the face of a god
In time I know I don't belong
They all seem so nice
They are as cold as ice
They screamed fire, see fire
Keep on telling me you're doing fine
---
In retrospect, "soothing existential dread" is the perfect way to describe Draag's debut album.
One of the lessons of this record, if there are any to be had, is that we should feel comfortable dwelling in life's dark spaces, but not let them overwhelm us. The only way we can better understand ourselves and how we navigate this rocky world is through acknowledging, confronting, and ultimately accepting our traumas. Dark Fire Heresy does all three of those things, and it does them well. Whether you're a hardcore shoegaze and slowcore fan, or more inclined toward noughties indie rock and dream pop, Draag's music is sure to light a long and lasting fire inside. Their raw, unfiltered lyrical vulnerability, combined with their spellbinding experimental and alternative sonics, makes their first full-length offering an endlessly enjoyable and spiritually transformative listen.
"While making the record, I found online support groups and many resources for ex-members of my religious group," Jessica Huang shares. "I'll never forget the feeling of being released from the shame that's crept into so much of my life. I've also found humor in it and a way to connect with so many others that have been through oppressive religious upbringings. Shoutout to the instagram account @ineedgodineverymomentofmylife, that was incredibly healing for me. With the appropriate supports in my life, I've found so much personal growth and love putting myself in a vulnerable position, and hopefully can help someone make that next step as well."
Experience the full record via our below stream, and peek inside Draag's Dark Fire Heresy with Atwood Magazine as the band goes track-by-track through the music and lyrics of their debut album!
— —
Stream: 'Dark Fire Heresy' – Draag
:: Inside Dark Fire Heresy ::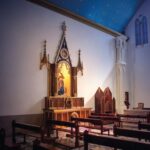 — —
Learning To Live With It
Jessica and Adrian: We surprised ourselves starting the album with a song that captures the glimmer of hope in the midst of long term suffering. The album is dark and brooding at its essence but hope and beauty is the end result of the difficult personal challenges (with spiritual trauma and substance abuse) we delve into.
Mitsuwa 
Jessica: Mitsuwa was written right before quarantine orders, when I had just taken my grandparents to the Mitsuwa market in Torrance and they were already feeling apprehensive about COVID as I tried to reassure them they've been watching too much TV. Around that same time, I began therapy for the first time and was finally able to deeply reflect on the lengthy spiritual abuse that took place in my past. The process of making the music video was a way for me to indulge in what used to be forbidden, but that I inherently loved and was fascinated by as a child – such as the many versions of the goth aesthetic, Buddhist altars and traditions (to name a few) that the video touches on.
Demonbird
Jessica: Demonbird was a major breakthrough in my personal journey unpacking spiritual abuse in my past. Becoming the Demonbird character in the music video was a way for me to find some sort of justice for the women who were silenced and discarded in the purity culture of my particular religious upbringing. In the video, I allowed myself to embody what it might feel like to be a powerful man in the inner circle of a patriarchal religious group. It's a relief that the commands in the lyrics (that are the usual fear mongering propaganda from that church) don't have the same power over me anymore.
Midnight Paradise 
Jessica: Inspired by the Mondo Grosso one-take music video for "Labyrinth" I would watch every night before sleeping for a few months. It might be the most unexpected release from us on the album.
Good Era Doom
Adrian: The song and visualizer is through the lens of myself as an odd child who would obsess over liminal spaces, shadows on the walls and windows, imagining things coming to life that adults don't register. There was a bizarre silhouette of a hand on the window that would appear across different bedrooms of mine over the span of a few years when I was 10. I would call my parents over to see it, but it would disappear as soon as they came, and reappear when they left. Haven't seen it since then; now that I'm older I consider them harmless neutral visitors.
Animal Specialty 
Jessica: It took me a long time to realize I didn't belong in the religious cult I grew up in. It was in a nightmare years later (around the time I began therapy to process this) I saw myself in a typical church meeting and tried to scream that everyone was lying to me, but no sound came out of my mouth.
Agastopia
Adrian: Obsession with not being able to control who and what comes in and out of your life. My experience with sobriety has dealt me a harsh lesson with this, but have learned a lot about myself I wouldn't have otherwise.
In The Space Of Time
Adrian: This one is the oldest song on the record. From what I remember about writing it, it's about when I used to have sleep paralysis on a weekly basis during my alcoholism, which I no longer have since quitting almost a decade ago.
Sin Eating
Jessica: Therapy unveiled many of the far- reaching and unexpected ways my spiritual trauma continues to affect me. In my moments of bitterness and resentment, I can't help but also remember my authentic spiritual experiences I was able to tap into easily. I realized I am a very spiritual person that can continue to exist separate from that church.
Endless Buffet Of Love
Jessica and Adrian: We ended the album with a love song, since we supported each other to speak our truths on this album. Our mutual emotional support got us through the writing process together. Both of us have made huge strides in our recovery over the years and we felt ready to make it public, also in the hopes to help someone else.
— —
— — — —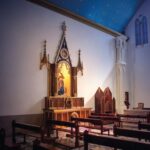 © Devonte Johnson
:: Stream Draag ::
---