NYC's Lawrence take us track-by-track through their radiant, irresistible third album 'Hotel TV,' a larger-than-life soundtrack to the everyday doused in sweet, seductive and stunning soul.
Stream: "Don't Lose Sight" – Lawrence
---
I guess it's really an album about what it's like to be a person on the days that feel life-changing and on the days that feel completely insignificant, because there's a lot to be said about those days too.
Charismatic and colorful, epic and (of course) doused in sweet, seductive soul, Lawrence's radiant third album is a larger-than-life soundtrack to our daily highs, lows, and everything in-between. Intimate and impassioned, Hotel TV is a record of unfiltered self-discovery and uninhibited honesty, finding the sibling duo soaking up the throes of young adulthood and wringing themselves out in twelve achingly evocative, irresistible songs.
Are you kidding me?
I'm getting sick of the industry
I've had enough of the make believe
Oh please, oh please
Am I lost or found?
I'm getting sick of the ups and downs
No need to give me the run around
I'm out, I'm out
This shit's going to kill me, but I won't let it
And I try to give them hell, but they don't get it
So I tell myself when I sleep at night
Don't lose sight, baby, don't lose sight
And they try to get me up, but I won't give in
And this life will get you down, but I keep living
So I tell myself when I sleep at night
Don't lose sight, baby, don't lose sight
Released in July 2021 via Beautiful Mind, Hotel TV is a cathartic, catchy, and emotionally charged collection of songs shining a fresh light on our everyday experience. Following their 2017 debut LP Breakfast and 2018's follow-up Living Room, Lawrence's third studio album arrived last summer on the heels of a two-part set of live albums that captured the sibling duo's talents and undeniable stage presence.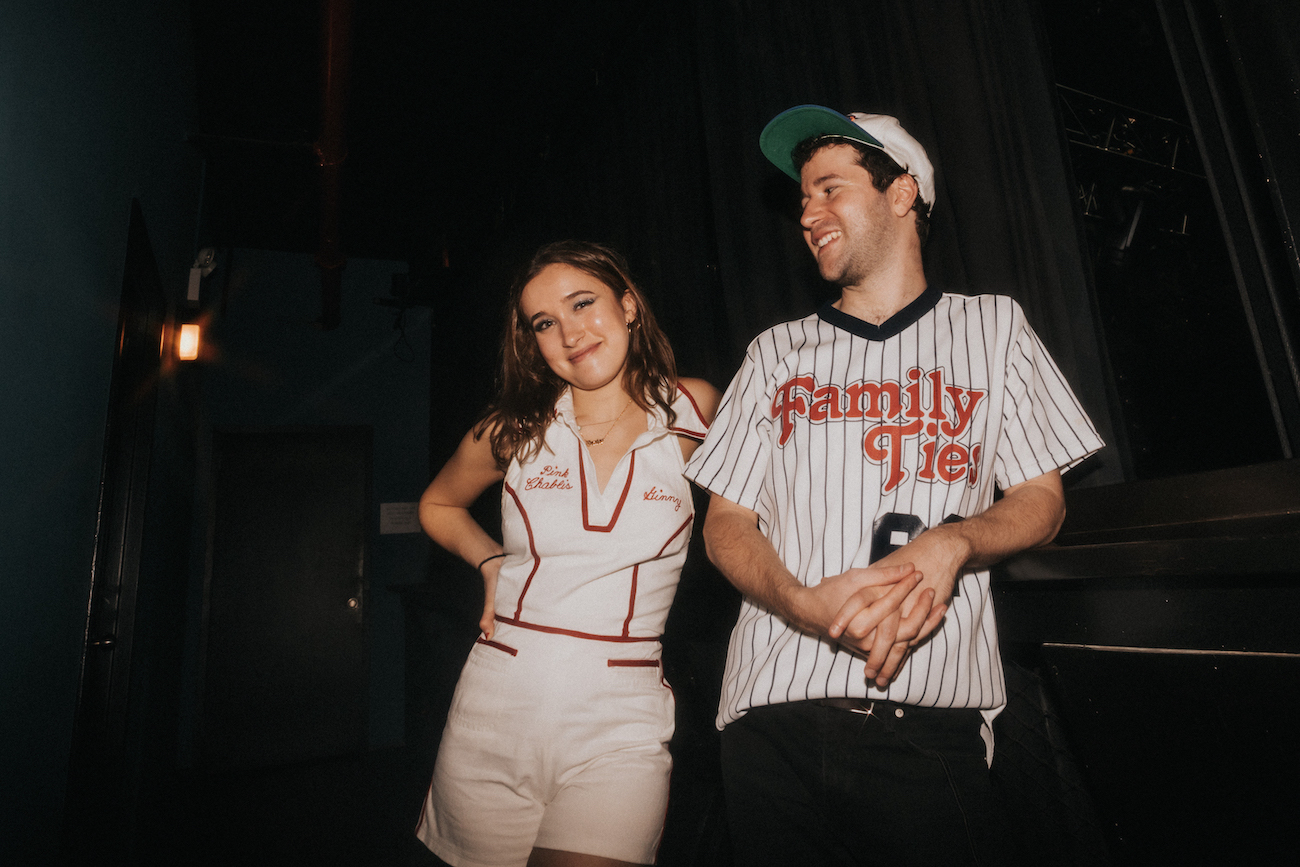 "I'm not sure we ever have a specific vision, but rather we're just trying to tell the stories of the songs in a fun, heartfelt, and dynamic way," Clyde Lawrence tells Atwood Magazine. "We sometimes talk about our albums as if they're seasons of a TV show (very on-brand for this album), so it's the same characters and broadly a similar tone, but you're picking up where you've left off so the stories may develop into new places, or some of the presentation or style may change and evolve."
"We're always just honest about where we are in our lives, as people, as siblings, as sort-of-adults," Gracie Lawrence adds. "All of our albums tend to just reflect how we feel about that particular chapter, or season as Clyde says, of our life."
"Like we did with our other albums, we really wanted Hotel TV to accurately capture our personalities so that if you never met Clyde or me in person, you'd still walk away from the album feeling like you knew us. So, in order to do that we like to write songs that are very story-driven, very dynamic and that capture a variety of moods and scenarios that are pretty much always directly taken from one of our lives. All of the songs I'd say pretty firmly fit into the soul-pop genre, but we really run the gamut of topics, from ones that seem extremely important – for example, in "Thoughts from the ER (Silver Lining)" we sing about the moment your life changes when you realize you could lose someone close to you – to things that seem insignificant, funny or ridiculous, like in "It's Not All About You," we sing about the thoughts running through your head when you have to listen to someone who can't stop talking about themselves. I think Clyde and I equally love and value art that feels colloquial and very day-to-day as much as we love art that feels heavy or important with a capital 'I.'"
'Hotel TV' is our attempt to somehow make a cohesive soul-pop album that still had its various doses of happy, sad, funny and serious, sometimes all at the same time – because that's the only accurate way to depict this chapter in our lives, as siblings in our 20s.
I think my face in the morning's rough
Did I wear braces for long enough? It sucks
I'm overly critical, so sick of typical me
My TV said, "Make your eyebrows thin"
I pulled them all out, now thick's back in, I can't win
I'm overly critical, so sick of typical me
I hide the freckles above my knee
I'll be whatever they wanna see
But then I tell myself
You, you're kinda looking like a stranger
Why would you ever wanna change your…
Your freckles (You know you're beautiful!), you
Why would you listen to the loser
Why would you evеr wanna lose your…
Your freckles (You know you'rе beautiful!)
---
Introduced to the world nearly a decade ago, New York City's Lawrence are a unique group in the realm of sibling duos, in that both Clyde and Gracie are singers and songwriters. Sometimes they share the mic, but more often than not one sibling will take center stage while the other supports instrumentally and on backing vocals. Now performing as an eight-piece band together with musicians Sam Askin, Sumner Becker, Jordan Cohen, Michael Karsh, Jonny Koh, and Marc Langer, Lawrence is a true force to be reckoned with. "A bright and buoyant pocketful of pop-soul sunshine, Lawrence promise to put a spring in your step and a smile on your face," Atwood Magazine wrote last May, going on to call Hotel TV's lead single a "radiant outpouring of soulshine."
"It's a little bit of Lake Street Dive, HONNE, and Chance the Rapper all wrapped up in an emotional upheaval as the band confront the strains of a music industry that will chew you up and spit you out."
"Don't Lose Sight" marked the start of a new chapter as Hotel TV's first teaser track, finding Lawrence refreshed, inspired, and ready to bring their twist on rejuvenating blue-eyed soul to listeners' minds, bodies, and spirits. A dazzling, high-flying explosion of a song, it now serves as the album's uplifting and energizing opener, faithfully reintroducing all to Lawrence with a sonic blast over the head. Yet even this invigorating song only scratches the surface of the vast emotional and musical journey that is Hotel TV.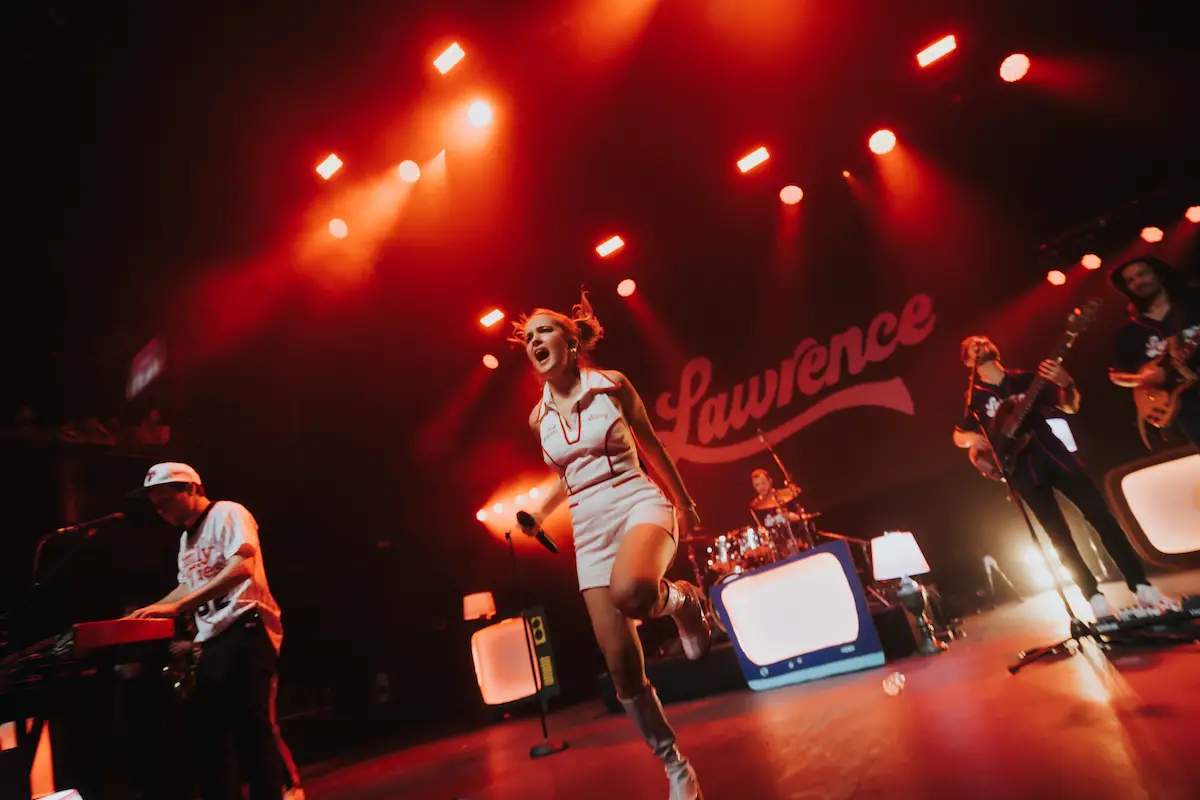 Clyde explains how the album's name serves as a connector between the Lawrence siblings' present and their past, just as its music finds them reflecting on who they were, who they are, and who they're becoming.
"For our first two albums we chose titles that reminded us of our childhood home – our first album is called Breakfast and our second album is called Living Room," he says. "As our career continues to grow and as we continue to grow up as people, we find ourselves spending less time at home, and more time away from our family and the people we love. We do our best to find things on the road to make us feel at home, and it feels like the idea of a hotel room tv set is a microcosm of that, so we called the album Hotel TV. Ironically of course, we spent most of our time recording the album while quarantining in our homes. We're also both obsessed with, or perhaps addicted to, watching TV, so it felt right."
Whereas Clyde thinks of their new record as one of "epic, quirky soul," Gracie refers to it as "thoughts on things"; together, their descriptions touch upon the spirit and sounds of this stunning LP, where highlights abound and a surprise can be found around every corner. From the heartache of "Jet Lag" and the self-empowerment (and enchanting groove) of "Freckles," to the warm comfort of the title track and the gut-wrenching upheaval of "Thoughts from the ER (Silver Lining)" – a song that forces us to stop and contemplate not only our mortality, but also the pain of a loved one's loss – Hotel TV is a truly thrilling roller-coaster of music and emotion.
"Not to be a raging narcissist, but I feel connected to all the songs on Hotel TV in different ways – if I had to pick one song that I think is such a banger, and that I still secretly will listen to from time to time, it'd probably be "Don't Lose Sight" – I think it captures who we are in such a big way," Gracie says. "I [also] love the lyric, "to the gods I don't believe in, if you could see me grieving, please could you show me a sign" from our song, 'Thoughts from the ER (Silver Lining)'. And on a lighter note, I like the lyric, "my TV said make your eyebrows thin, I pulled them all out, now thick's back in… I can't win," from our song, 'Freckles'. Clearly, we run the gamut from high brow, to low brow (literally)."
"I'm a wordplay junky so I'm always excited about opportunities to throw double-meanings in, even if they're things that pertain to my personal life so no one outside of my inner circle would even necessarily understand them," Clyde adds. "There's some cool stuff like that in "Don't Move" during the verses. I also think the lyrics in "Freckles" are really great."
The elephant that is our roomie
Reminds me that there's something gloomy
I try to not let it get to me
But you're an X-ray and you see right through me
So don't move
And I know it's not because the weather
And I know it's not for someone better
And I know it's maybe not forever
But you're my ex, Rae, if we're not together
So don't move
And California's far away
It's colder hеre but if you stay
I can promise you
I'll keep you warmer than L.A
Right now you'rе still because you're sleeping
I'm happy but I know it's fleeting
So I'll savour what's left of the evening
Til' the next day when you might be leaving
---
While it may have been released last summer, Hotel TV continues to resonate with the same freshness, passion, urgency, and charm. From its themes to its soul-soaked sounds, Lawrence's third LP is a timeless encapsulation of young adulthood's bumpy road to whatever true "maturity" means. It's funny, tearjerking, breathtaking, and inspiring all at once, and it's coming to a city near you: Lawrence's "Hotel TV Pt. 2" tour restarts on February 23 in Burlington Vermont, and will see them traveling from coast to coast as they bring the warmth and verve of Hotel TV to audiences throughout the United States.
"I hope people feel like Hotel TV was relatable in some way," Gracie shares. "We write so specifically about our lives and thoughts, but hopefully people find glimpses of themselves in the minutia of the stories.  I love that we get the opportunity to write funny songs and epic songs and sad songs and songs about the seemingly mundane.  I hope, because of that, that people walk away from the album feeling like it reminded them of something real about relationships or feelings or goals or failures. I guess it's really an album about what it's like to be a person on the days that feel life-changing and on the days that feel completely insignificant, because there's a lot to be said about those days too."
Experience the full record via our below stream, and peek inside Lawrence's Hotel TV with Atwood Magazine as Clyde and Gracie Lawrence take us track-by-track through the music and lyrics of their band's third LP! Get tickets for Lawrence on tour here.
— —
Stream: 'Hotel TV' – Lawrence
:: Inside Hotel TV ::
— —
DON'T LOSE SIGHT
G: "Don't Lose Sight" is a song about not giving up on yourself or your ambitions despite opposition.  The verses tell the story of a person who's on the precipice of giving up, and the chrosues come in as a reminder that, despite obstacles, there's always a path forward.  We wanted to write a song that ultimately felt uplifting and empowering but represented the genuine highs and lows of reaching for a goal.  I think the song feels like a conversation between the devil and the angel on your shoulder; on the one hand, disappointed and depleted, and on the other, eternally optimistic and driven.
HOTEL TV
"Hotel TV," our title track, is about the experience of being away from someone you miss back home.  So often as a band on tour the biggest constant we have in our lives is a Hotel TV.  It felt like the right thing to name our album too, because our last album was called Living Room, and a Hotel TV is like the closest thing you have to a real living room when you're far from home.  We love writing about something that seems insignificant, like a Hotel TV, and finding a story behind it or unraveling its personal meaning to us.
JET LAG
C: In a lot of ways, "Jet Lag" is sort of a sequel to "Don't Move," a song that appears later on the album (we originally planned on placing "Don't Move" earlier in the album order, but we just felt that "Jet Lag" felt great in this third spot). Long-distance relationships are such a big part of life, yet it feels like there are so few songs that focus on them! One thing that I like about "Jet Lag" is that each verse tells a different chapter of the story of a long-distance relationship over a period of time, which feels appropriate since time itself is such a constant theme throughout the song. The first verse describes a partner leaving town, the second verse describes the difficulty of trying to stay connected while on opposite sides of the world, and the third verse describes finally taking the long journey to visit a loved one. I actually wrote the third and final verse while stranded in the Brussels airport after having missed a connecting flight on the way to see my long-distance girlfriend, just as the song describes!
CASUALTY
C: I was watching a Seinfeld episode (a regular source of inspiration) about how a very easy way to break up with someone is to tell them "it isn't you it's me." Ironically, I had recently ended things with someone and had essentially told her, "it isn't you it's me," which I truly did believe to be true, but it didn't seem to land because that idea has become such a cliche. So it occurred to me – how do you tell someone that you genuinely are just dealing with some things in your own life and that they're getting caught in the crossfire? How do you genuinely tell someone "it isn't you it's me" without it seeming like something you drafted up with the help of Jerry, George, Elaine and Kramer? That was sort of the inspiration for the song, and it will always have a really special place in my heart because it is the first one we worked on with Jon Bellion, who co-wrote and co-produced the whole album with us.
FRECKLES
G: "Freckles" is a song about pushing past insecurities to remember what's beautiful about you. Self-empowerment and defying beauty standards are really popular topics to discuss right now in music (for good reason!), but we wanted to make sure that the way we executed this song didn't feel redundant. I think as a culture, we often approach the topic of self-love with an abundance of seriousness, which is super important, but I felt like the best way I could contribute to the conversation was by finding the humor in it  That's why all the verses in "Freckles" enumerate my own personal insecurities, down to the very minutia – including but not limited to, eyebrows being too thick and then suddenly not thick enough, late onset acne in your early 20s, whether or not I wore braces for long enough as a kid, and the weird freckles right above my knee.  Making a joke about the way that I see myself, or how hard I can be on myself, was the quickest and most satisfying way for me personally to get over my own insecurities, and hopefully that comes through in the song.
THOUGHTS FROM THE ER (SILVER LINING)
C: This song is about that specific instant when something happens in life and you realize that everything you had been focused on is not so important at all, and the real important things, namely the health of your loved ones, make themselves clear. We take the health of our loved ones (and ourselves for that matter) for granted and treat them as the status quo, but it's so easy for our priorities to change and for our worlds to get turned upside-down in a moment's notice. We actually wrote this song back in 2019 during a family health crisis in our own lives, but the events of 2020 have certainly brought a focus on the health of loved ones into the minds of people across the world.
IT'S NOT ALL ABOUT YOU
G: "It's Not All About You" is the inner monologue that goes through your head when you're listening to someone who won't stop talking about themselves.  We try to write about everyday scenarios that we find funny, and this felt like a relatable one.
DON'T MOVE
C: A girl told me on our first date that she'd be moving to LA full-time in a couple months. On one hand, I was bummed because the date was going really well, but on the other hand, I think it allowed both of us to just have fun getting to know each other without being overly focused on defining where it was going. As we started spending more time together, I began to really like her, and I secretly wished she wouldn't move, but we weren't nearly serious enough yet for our relationship to affect her life plans, so I wrote this song in secret as a sort of therapeutic exercise in which I fantasized about begging her not to move, even though I knew it would be silly and embarrassing to make a pronouncement like that in real life. Turns out, she didn't move (her plans coincidentally changed, allegedly), and I finally worked up the courage to play her the song months later as we were celebrating our first anniversary (we just celebrated our fourth).
IT'S GONNA BE ME (ft. BRASSTRACKS)
C: Covers have always been a big part of our live show, but we've never put a studio version of one on any of our albums. It felt like we were missing one fun banger for the album, and although we had some originals that felt like solid contenders, the idea of a cover (and especially one from this late 90's/early 00's Max Martin prime era that we often draw from) just felt right. From there it just became a question of how epic and funky we could make it, and with the help of our friends in Brasstracks, the answer turned out to be very epic and very funky.
THE WEATHER
G: I think a lot of people have that relationship in their life that looms large even after you've broken up.  "The Weather" was written during a time when I was struggling with how hard it was to talk to someone I had dated and deeply cared for after the relationship had ended.  The conversations you have after a breakup with someone are reduced to things that don't really matter, or are incredibly stilted and impersonal, like conversations about the weather –  so as to avoid getting too deep or real. So the main hook of the song is "I won't talk about The Weather/not with you, we're not together." By the end of the song, the conversation gets a little more real…I sing about the unasked question of  "whether" we should get back together.  So I think "The Weather" is also about that other "whether" – which is something I know a lot of people grapple with after a meaningful relationship ends.
FALSE ALARMS (WITH JON BELLION)
C: Similar to "Don't Lose Sight," this song is about the ups and downs of the entertainment industry, particularly as an artist that is trying to forge our own path while retaining a high degree of creative independence. Although the song is in some ways a cry of desperation and frustration, it morphed into a celebration of our partnership with Jon Bellion, who we see so eye-to-eye with on so many levels both creatively and strategically, and who we feel so lucky to have met. It felt so organic that he would contribute a rap verse in which he talks about his relationship with us as his first signings to Beautiful Mind Records, and relates what we're going through to some of the frustrations he's had and the lessons he's learned during his incredible rise to success.
FIGURE IT OUT (A SONG BETWEEN SIBLINGS)
G: This is the first song Clyde and I ever wrote directly to each other, reflecting on a fight we had just gotten in.  It's a sort of delicate, acoustic, and then eventually, orchestral song. I wrote the first verse and texted a voice note of it to Clyde and then he wrote the second verse and sent it back to me.  We don't get in fights often, but each of us writing a verse on our own perspective was really therapeutic and a really cool way to hear the other person's thoughts. The idea behind the song is basically just that no matter what's going on, we have to just "Figure It Out," and we know we will.  We were probably overdue on writing something about our own relationship – it's SUCH a massive part of our lives, being people who not only work together constantly, but who are also siblings.  The song also has a massive outro where we sing the words "Figure It Out," repeatedly, and on top of it is a reprise of every song on the album. Ultimately, we're all about family and having a big reflective piece at the end of the album about our own relationship, interspersed with this musical collage of all of the other songs on the album felt like the exact right conclusion for Hotel TV.
— —
— — — —
? © Deanie Chen
:: Stream Lawrence ::
---