This Black History Month, Atwood Magazine has invited artists to participate in a series of essays, interviews, reviews, poetry, playlists, and more features in recognition of, and out of respect for the symbolism and significance of this month.
---
Today, STNFXCE (pronounced Stoneface) – the musical moniker for Chicago's Kurt Shelby – shares a special playlist as a part of Atwood Magazine's Black History Month series. A multi-instrumentalist artist and producer with a jazz bass degree from University of Illinois Urbana-Champaign, STNFXCE introduced his solo project with 2019's debut single "What If." He released the three-track EP STX//stns in May 2020, asserting his striking blend of R&B, hip-hop, and jazz. The EP's visceral opening track "Solow" is a particularly vulnerable upheaval of inner turmoil and self-reflection; with over 160,000 global streams on Spotify to date, the song puts STNFXCE's lyrical and instrumental talents on full display as he paints a raw, spellbinding portrait of isolation and loneliness, longing and need.
"As an artist myself, I view Black creativity to be the epitome of the music industry. I see a lot of artists trying to emulate the sound Black artists have created and in my eyes, Black people will always be trendsetters in this industry." – STNFXCE
•• ••
BLACK HISTORY MONTH
by STNFXCE
In celebration of Black history, I wanted to highlight the future of Black artistry and give a glimpse into the talent that is sure to be at the forefront of the music industry.
---
STNFXCE's
Black History Month Playlist

1. "Wednesday Love"
by Marquis Hill
Marquis has always been one of my favorite trumpet players in the Chicago music scene. Not only can he play his horn like a master, he has also put out some very impressive genre blending albums. Meditation Tape and its follow up, Love Tape are full of well crafted tracks that are easy to listen to, while complex enough to appease deep listeners.
2. "L.O.V.E."
by Devin Morrison
If '90s R&B and modern R&B had a baby, it would have grown up to be Devin Morrison, a very talented producer and singer with a criminally underrated discography. I have not heard a Devin Morrison record that I did not enjoy and I have heard basically everything he has ever made.
3. "SOS"
by McClenney
Maryland bred singer/songwriter and producer McClenney hasn't gotten the shine he rightly deserves. He has rubbed shoulders with well known artists such as Wale and has even done an album with Soulection but he really stands out on his solo work. If you like a creative take on indie sounds, check McClenney out.
4. "Baby Powder"
by Jenevieve
When my friend showed me this record a while back, I immediately fell in love with Jenevieve's sound. She has a very unique voice and the production on this record has a very vintage yet modern sound to it. She does not have too many records out, but what she does have out is well worth your time.
5. "Strawberry Moon"
by J Warner
I am always surprised by the amount of people who have not heard of J Warner before. Despite only having a small following, all his records are so well put together; from writing to production and everything in between. The tone of his singing voice to me is very recognizable and his songwriting and production skills are very impressive as well. J Warner is definitely someone to watch out for – I expect more people will be paying attention to him soon.
6. "Let You Know"
by Jason Yeboah
"Let You Know" has some of the most innovative production I have heard in a long time. I love the subtlety and minimalism in this record – it uses vocal samples instead of traditional hi-hats, which blends particularly well with the vocal production. Jason Yeboah himself has a great singing voice and shows a knack for singing interesting harmonies. It is a shame that this is his only record at the time of writing, and I hope to hear more from him this year.
7. "Sunday Morning Cleaning"
by Ausar
Not only is Ausar an incredible rapper, he is also a great friend of mine and I am lucky to know him. He has a sizable discography and is a talented writer—I always hear something new in his records every time I listen. "Sunday Morning Cleaning" is one of the best entry points to get you into his music, and if you like what you hear, you won't be disappointed because he always has new stuff coming.
8. "The Loneliest Number"
by Down to Mars
This Kentucky-based music duo is a force to be reckoned with. They have a small discography but every song is extremely well produced, well written, and well performed. You don't hear a lot of music these days that uses a talkbox so heavily, but these guys use it a lot and it works really well with their sound. This is my favorite record of theirs because the talkbox sounds so good, almost makes me wish the song was longer.
9. "Bittersweet"
by Lianne La Havas
Lianne La Havas is one of the more well-known artists on this list, but I had to put this record on here because it really shows how talented she is as a singer and a songwriter. She is one of those artists who wears their heart on their sleeves, pulls you in with their storytelling, and has you hanging on every word. I am sure you will find something you like in Lianne's expansive and diverse discography.
10. "In the Morning"
by Jay Prince
When I first heard Jay Prince it was probably about four years ago and I was truly impressed. I had a feeling his sound would catch on, so I was really happy to see he is finding some success in this industry but I still think that he deserves even more recognition. His melodic flow and writing style allows him to effortlessly weave between catchy melodies and well written bars. I cannot wait to see him grow even more in the future.
11. "Sunday Night"
by Hurricane, AirBorn Gav
London based producer Hurricane is really good at making infectious productions that make you want to dance, and this record is no exception. "Sunday Night" is one of his best records because it combines his unique production style with a really catchy melody by AirBorn Gav. I haven't heard too much from either of them but this record has me on the lookout for more.
12. "Catch Me If You Can"
by Aaron Deux
Another good friend of mine, Aaron Deux, is easily one of the most talented producers/artists I know. I have been fortunate enough to work with him regularly and he really deserves more attention. This record, produced by Sheriff, really gives him the space to showcase his writing skills and, trust me, this is just the tip of the iceberg—he's got way more on the way.
13. "All Your Secrets"
by Gwen Bunn
One of my favorite records from the past few years, "All Your Secrets," perfectly showcases Gwen's beautiful voice and writing skills, all on top of some simple yet very well done production. I have been listening to Gwen for a long time and it has always bothered me that she does not have more attention. Go through her discography; I guarantee you will find a handful of records you like.
14. "Sinking Sand"
by Eric Penn
New York based singer/songwriter Eric Penn first came up on my Spotify discover weekly playlist last year and his voice has quickly become one of my favorites to listen to. His writing style is very vulnerable and his melodic sense is up there with some of the best. If you like R&B, chances are you will like Eric Penn.
15. "Good Company"
by Mahalia, Terrace Martin
Mahalia is another fairly well known artist but I just really think more people should know who she is. Not to mention I am a huge Terrace Martin fan and am a firm believer that anything the man touches is literal gold. This collaboration showcases how versatile Terrace is and how talented of a singer/songwriter Mahalia is. Do yourself a favor and listen to both of their discographies.
— — — —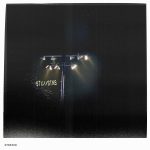 ? © 2021
Black History Month
---
:: STNFXCE ::
---