A member of Atlanta music collective Spillage Village, Benji. talks to Atwood Magazine about his dynamic approach to music and his upcoming solo project 'Smile, You're Alive.'
Listen: 'Spilligion' – Spillage Village 
---
As artists, we have special powers to connect and unify people. There's a chance to get out of this if everyone comes together. That's the whole message of the album.
Despite different and difficult circumstances, the studio sessions for Spillage Village's new album Spilligion operated in a somewhat similar vein to the Dreamville sessions from 2019.
A bunch of artists with likeminded ideas coming together to create a body of work that feels formlessly inspired and inherently synergetic. Unlike Dreamville's situation though (which involved pre-planned hype and discreet invitations), Spill Vill's congregation was more based on in-the-moment revelations.
The supergroup of Earthgang, J.I.D, Mereba, Jurdan Bryant, Hollywood JB, and Benji utilized Atlanta studio sessions for the ever-evolving purpose of putting music out that was spiritually representative of their current mindsets. These sessions were originally supposed to span a few days (thanks to J.I.D, who originally rented house in the city to record his third studio album) but with quarantine regulations put into place, the posse was forced into the same rented house for an elongated period of time.
Amidst the many Monopoly games and intermittent bonfires, there was a natural camaraderie built through organic nurturing and collaborative music-making. The result was an album that finds comfort in peace and spirituality, while also acknowledging the social injustices that riddle our world today.
Benji, a multi-faceted Pittsburgh artist, made a name for himself on Spilligion, playing bass on "PsalmSing," "Mecca," "Oshun," "Shiva," "Hapi" and "Jupiter." He also added worthwhile sing-rap verses on "Hapi" and "Shiva."
While not originally a member of Spillage Village, Benji did find the opportunity to go on tour with EarthGang for their Mirrorland project. And since all three artists shared the same manager, the Pittsburgh native was able to keep in touch. Right after the pandemic started picking up steam, Benji got a message from his brother Christo (who's worked extensively with J.I.D. and others from Dreamville) advising him to come down to Atlanta for Spill Vill studio sessions. The country's shutdown allowed Benji to develop this camaraderie with the rest of the artists, and provide ample production and vocal help for the entire album.
Stream: Hapi – Spillage Village
Outside of bass, Benji also plays guitar, drums, keys, organs and flute. He "draws inspiration from soul and hip-hop and psych-rock and funk, molding those eclectic influences into a hyper-inventive but timeless sound," according to his press release. While in high school, he was a part of a musical group, an experience that helped him gain that collaborative mindset. He also fell in love with performing shortly thereafter, which is one of the reasons why this pandemic has been so tough on him musically. The future looks bright for him though, especially since he was included in NPR's "Artists to Watch in 2019" list.
Having once opened up for Kid Cudi and Snoop Dogg, Benji is now prepared to release his debut solo album, Smile,Your Alive, a project that captures a particularly difficult time in his career when heartbreak and depression took over. The album does juxtapose this rumination with a "soul-soothing and shimmering sound" that offers a refreshing warmth. According to Benji, this coincides with his mindset about giving your all even amidst the worst days. Despite all of the obstacles (which also includes a storage break-in and a heartbreaking death of a friend), Benji is excited to finally release a solo project that he's proud of. It is set to come out sometime in the near future.
In the meantime, Atwood Magazine had the grand pleasure of speaking to Benji about growing up in Pittsburgh, working with Spillage Village, and his artistic direction, among other things. (Full disclosure, the interview is intermittently condensed for length purposes).
— —
Listen: 'Spilligion' – Spillage Village 
A CONVERSATION WITH BENJI.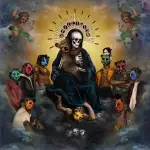 Atwood Magazine: What was it like growing up in Pittsburgh?
Benji.: It was fun. I love Pittsburgh. I will always hold Pittsburgh in a very special place because it really shaped who I am today for sure. It wasn't anything too crazy or lavish, like I was always able to do what I wanted to do. It doesn't take much for me to be happy. I'm pretty much a nerd, so small things get me going. My parents allowed me to play sports that I wanted to play. I played baseball and soccer, and went to a few basketball games. I got to try every instrument that I've ever wanted to touch. Pittsburgh's always been an outlet for me. It's been a very safe place for me to figure things out. I went to school in Pittsburgh my entire schooling career. I dropped out of college there, and started making decisions on my own. My parents did a very good job allowing me to grow in the way that I should.
What was the music scene like in Pittsburgh?
Benji.: Pittsburgh has so much talent. One of the issues with Pittsburgh in general is we get to watch the big markets really thrive. To understand the energy in Pittsburgh, the small scale things, is really what makes it dope. When I was starting out in the music scene, I was doing basement shows in town houses and college houses. We were performing at events that weren't real shows. We were finding any way we can to get in front of crowds and people. Back in 2009, we would have marquee places that we would go to see shows, like the Shadow Lounge. We've only had like one or two people go and do something. Wiz (Khalifa) was first, and then Mac (Miller). There was always that open space and, for me, I saw that. We were very individualistic for a long time, to the point where we almost hated the fact that there were more rappers out there.
Over the past five years though, we've really started loving each other and coming together. Artists now are putting themselves out there and allowing themselves to grow, because we don't have a pipeline. I'm just happy that there's more artists trying something.
What type of music were you listening too growing up?
Benji.: A lot of funk, oldies, R&B, pop and jazz. My parents were always blasting 80s funk, R&B, The Brother's Johnson, Marvin Gaye, Larry Graham, Earth, Wind & Fire, there were all types of music. My palette was very vast. And it helped me, because I'm getting fed all these types of music, and at four years old, that's when I first started playing instruments. I was playing the drums, and my dad had music on the stereo going, and I'm just playing along to some of the songs. It widened my music tastes, to the point of when I was in middle school, I was listening to rock and indie stuff. I didn't get into rap music until I was 17. I was listening to a whole bunch of other stuff, because I was curious of what else was out there.
What's your favorite instrument to play?
Benji.: Honestly, bass right now is my favorite instrument but I think I've had the most fun playing the drums. I played the drums for 20 years straight, until I picked up the bass when I was 22. I had so much fun playing the drums, because I could just make noise. It's so much of a free expression, and playing along to a great musician just adds so much emphasis to my playing, so I will have to say the drums. But, a very close second, because I play it now, is the bass.
Are there any specific bass players that inspire you?
Benji.: Thundercat for sure. Thundercat is probably my favorite bass player now. MonoNeon is a good one, also Stanley Clark, Marcus Miller, Victor Wooten, Larry Graham, Bootsy Collins. There's a lot. Jacko (Pastori), Daric Bennett; I'm taking one of his classes now. There's even a 9-year-old kid on Instagram named Aron. Like, he's disgustingly good. I'm finding more inspiration from a lot more players, but Thundercat is definitely top dog.
Did you learn anything from your high school group experience that you could take into the Spill Vill sessions?
Benji.: When I was in high school, we had performed at this Battle of the Bands at my high school, like the first one ever. At the time, I was playing drums for this rapper and my brother and there was this other band called Ground Zero. They liked how I played and they were looking for another drummer, so I joined. We played in this other Battle of the Bands and I was like, 'holy shit, this is like my first experience being in a group' They were just like, 'I mean your brother can rap, so I'm assuming you could rap.' And I was like, 'what does that even mean?' But I tried it, and I've always wanted too because I've been watching my brother rap for years, so I wanted to try it out, and here was my opportunity. And honestly, I was so trash for years. And the funny thing is, we opened up for Kid Cudi my freshman year of college.
Those guys are still my friends because they got me into rapping and producing. Just being able to work in a group setting, and seeing if your ideas can hold weight and really come to life, that was fun for me then. When I got to the Spill Vill house, I was nervous as shit. I've watched J.I.D. and Earthgang for so long because of my brother. When I got there, I was like, 'this is such a great opportunity,' so I just dived right in. When we started writing songs, and everyone's just having good vibes, it reminded me of high school. All you have to do is relax and find ways to contribute. Everyone's so goddamn talented.
What did you learn from guys like Earthgang and J.I.D. while working on the Spill Vill project?
Benji.: Just being yourself and being comfortable with who you are as an artist. My ultimate goal is to always contribute to a larger whole, whether it's my work, or somebody else's work. I just want to do a good job. I remember one day sitting at the table eating breakfast, sitting across from J.I.D, and I asked him 'how do you navigate this stuff.' And he kept it real. He put in a lot time, and I watched him put in a lot of time just by watching him work my brother. J.I.D. is a really great guy.
I toured with Earthgang, so I got to pick their brains (during that time). Olu is really crazy and very talented individual. Doc (Doctor Dot) is disgusting and funny as hell. Just being yourself in your most natural state is one of the craziest things I've learned from that experience.
Was it great working with your brother (Christo) for a consistent amount of time?
Benji.: Hell yeah! What he's been able to accomplish is absurd and he's got so much more to go. Him and J.I.D. toured a lot over the last four years, so whenever he would come home, he would pop in at my house back in Pittsburgh, mostly just to catch up, but we worked in spotty settings too. This time, being able to sit in and really be there for an extended period of time was really dope, because I got to see his process with the artists he's been working with for years. The cool part too is I got to see him make beats from scratch.
You damn near want to quit music when you hear him work, because he's so good. And on some mushy little brother shit, it was just nice to be with the guy, and really have that bond.
Did the spiritual energy of the album come out naturally, or was that energy planned?
Benji.: I think it was natural. I was really more of a fly on the wall during the writing sessions, because I mostly wanted to see how everyone worked. The songs we really worked together on were so natural. I really think that was just the natural energy. It was just something different for everybody. Me and my brother being preacher's kids, and everyone having their own ideologies, I think it was something that was needed (something real), especially during a pandemic. People need something to hold onto.
There's spiritual and religious energy into it, but we're just talking and being straight up. If you remove religion from the album, you'll still get the same exact songs, the same exact message.
How important was it to balance shining a light on social issues while also staying optimistic about the future?
Benji.: Because we have too. We have to be optimistic, if we're ever going to move forward. For us as Black artists and human beings, it was harder to not say something about it than to say something. There was a time when we weren't making a music for a few days, because there was a killing one after another. It was just so draining, and we were like, 'is it even worth it to make music right now?' We just considered relaxing. On top of social injustice is a pandemic. So we're getting hit from all angles
But as artists, we have special powers to connect and unify people. There's a chance to get out of this if everyone comes together. That's the whole message of the album. Togetherness and family, we cannot do this alone. We have to be realistic in that optimism, that it only happens when we all come together.
How do you find peace as a human being?
Benji.: It doesn't take much for me to get going, but what I've found lately is that collaboration has done more for my internal peace than something that I'm working on by myself. I took a trip to LA with my friend Sierra from Pittsburgh, as well as My Favorite Color, who just put a record on Rostrum Records. That's my guy. We essentially became a group and put a whole bunch of music together. And I was like, 'this is the peace I was trying to find, and it is through working with great like-minded people.' You have to be around intelligent people so you can talk about hard issues and work on music at a very high rate.
What was your favorite song to work on off the Spill Vill album?
Benji.: At first, "PsalmSing" was probably my favorite because I love that bass-line. "Mecca's" such a fire song. I did that one last, that was one of the later ones. "Oshun" was a really fun one. It changes literally every time (laughs).
Stylistically, what direction are you going in for your upcoming solo album, Smile, Your'e Alive
Benji.: This project is more cohesive, and has a lot of music elements to it. When you listen to this album, you'll understand everything I did on the Spill Vill album. You'll actually get more, not just my bass playing. You'll get more of my actual production style. I've produced about 90% of it myself. It's very cohesive, and there's not too many left field things. You get a healthy dose of my rapping ability, my singing ability, my playing ability, and there's great stories on this album, especially about myself. That's the only story I can properly tell. It'll make a lot of sense. I do have a rock-style song on the album, which is probably my favorite.
What did you mean by the dichotomy, ''I can see the ripple, I can see the changes, I can feel the reaper, I can hear the angels,'' on the Spill Vill album?
Benji.: I really love the Avatar Last Airbender cartoon, so I consider myself a water bender because I'm a Pisces. I was kind of alluding to that when I mention the ripples. That dichotomy comes from the idea that you can't appreciate one without the other. You don't know what good is without the bad. When you look at the album cover, it almost looks like a very angelic, Sistine Chapel painting. I kind of looked at that, and I thought it was important to reflect it. You don't know what death is if you haven't experienced being alive. And that's also the stethoscope of my solo album, Smile, You're Alive. But it was important for me to represent that.
— —
Stream: Hapi – Spillage Village
— — — —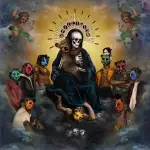 ? © Alex 'Grizz' Loucas
:: Stream Spillage Village ::