Andreas Wijk's stunningly bittersweet electropop song "Liar" finds the Swedish influencer dwelling in intimacy, connection, and heartbreak.
? ?
Forget the fact that at age 24, Andreas Wijk has the distinction of calling himself a social media influencer and has established himself as Sweden's number one male fashion influencer. Unless you're specifically plugged into his world, you're unlikely to have heard of him – despite his impressive online following, and the work he's done with Lana Del Rey, Lorde or Sabrina Carpenter.
That's all about to change.
We, were high up on the highline
Wide open like a live wire
We, said this could be our anthem
You and I we'll never change
Listen: "Liar " – Andreas Wijk
---
Atwood Magazine is proud to be premiering Andreas Wijk's sophomore single "Liar," a stunningly bittersweet pop song dwelling in intimacy, connection, and heartbreak. Still young but wise beyond his years, Wijk began making ripples nearly ten years ago through sharing cover videos on YouTube; his talents earned the Swede numerous awards and media performances, and eventually attention from American record labels. However, a nasty label dispute temporarily halted his music career. Wijk subsequently made a name for himself in media, working as a model on huge campaigns for brands like Tommy Hillfiger, Dolce&Gabanna and YSL.
2018 marks Andreas Wijk's official return to his first love: Sharing music with the world. Completely independent, the Stockholm-based released his debut single "Blue Ribbon" late last year, but it's his brand new single "Liar" that brings out his true, heartbreaking ways. A painful confessional about not being in love with someone who shares those feelings for him, "Liar" captures the other side of unrequited love.
When you say my name
So sweet let it roll off your tongue
Like it's honey
But I'm
Oversentimental, gotta let go
Let's be honest
I can't be a liar
If I can't fall for you I can't fall in love
If I can't fall for you I can't fall in love
"The song is about a girl I'm not in love with," Wijk explains.  "She's perfect to me in every way and the day she told me she was in love with me, I couldn't lie. Instead I was stuck with the thought, If I can't fall for you, I can't fall in love." Because how can you break the heart of someone who cares about you so much, and find those feelings in someone else? It feels treacherous, almost deceitful – and indeed, we do see Wijk struggling with himself in painful verses of uncertainty and hopelessness:
I'm, stuck between my thought's now
On your mattress lying face down
I, know we're about to fade out
Even if we'd be so right
Out officially on 2/16/2018, "Liar" finds Andreas Wijk transforming from an influencer into an artist. Stream his single exclusively on Atwood Magazine, and stay up-to-date with his new music via the socials below.
— —
— — — —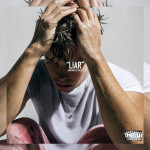 ? © Andreas Wijk
:: Stream Andreas Wijk ::