Norwegian singer/songwriter Louien stuns with her debut album 'None of My Words,' a gorgeous, immersive orchestral folk experience full of beauty & emotion.
Stream: 'None of My Words' – Louien
---
Louien's rich orchestral folk heats the body like a roaring campfire on a cool autumn evening: Her debut album None of My Words is a gorgeous, immersive experience full of beautifully melodic instrumentals, heartfelt and emotional vocals, and fresh, uninhibited passion.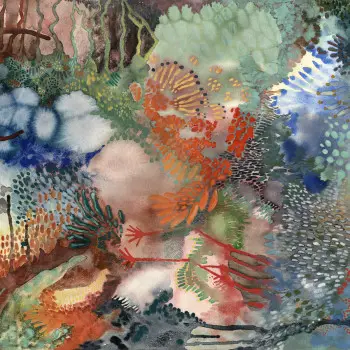 Atwood Magazine is proud to be premiering None of My Words, out September 20, 2019 via Norway's Jansen Records (Malin Pettersen, Signe Marie Rustad). The musical moniker for Oslo-based Live Miranda Solberg (also a member of Americana band Silver Lining), Louien introduced herself earlier this year with singles like "Be Forgiven" and "The Fool," each of which highlights her knack for crafting vivid personal lyrics alongside lush, engaging folk instrumentals. Acoustic guitars play a prominent role in maintaining her music's direction, but joining every six-string are an assortment of violins and cellos, the occasional electric guitar (watch out or an incredible solo in title track "None of My Words"), and a seemingly endless array of moving vocal harmonies.
A deeply significant record for the artist, None of My Words comes in the light of Solberg's farther's passing four years ago; much of its music explores introspection and mourning, grief, and our personal evolution through these powerful experiences. "Grief allows for beautiful things as well," Solberg shares via press release. "Love and hope, for instance, and you really get in touch with your own feelings. But this album is probably more about the first phase of a grieving process – hopelessness, isolation, anxiety and depression."
Through vulnerable and intimate songwriting, Louien has turned grief's darkest chambers of into an cathartic, wondrous and transformative journey.
It's musical nourishment for turbulent weather; an emotional lifeguard here to see any and all who need it through their pain and hurt, to whatever conclusion may await them. We don't "recover" from the passing of a dear loved one; instead, we learn to cope with their loss and adjust to a new life with their memory, but without their presence. None of My Words is a solemn acknowledgement of death's attendance in our lives – an acceptance of sorts, that life is inherently imperfect, unbalanced, and often unfair – but equally sweet, deliciously exciting, and utterly and forever amazing, even if we don't get to be here for all of it.
What a truly stunning tribute to the world we know. Whether it's the up-close and personal introduction in "I Follow You," the spine-tingling fragility of "Endless Love" ("loneliness brought me to my knees and wrapped its longing arms around me"), or truthfully any of the tracks leading up to the bittersweet album closer "Demo No. 1," None of My Words brings us face to face with raw human emotion. Louien hides nothing as she unleashes the wear and tear her soul has taken through the years, and we the listener are all the better for it. Anyone who has lost a loved one may seek a small, yet meaningful form of healing through Louien's music whether they wish to or not – but no matter who you are or what you've gone through in life, there is no denying this album's emotional force and sheer folk majesty.
This is the kind of debut album any artist should strive to release: A moving musical statement with long-lasting impact.
Experience the full record via our exclusive stream, and peek inside Louien's None of My Words with Atwood Magazine as she goes track-by-track through the music and lyrics of her debut album. None of My Words is out September 20, 2019!
Stream: 'None of My Words' – Louien
:: Inside None of My Words ::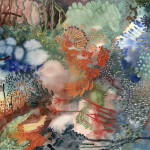 — —
I Follow You
This is one of the first songs I wrote with a solo project in mind. At the time I didn't really know what it was about, but in retrospect I think it's describing the feeling of getting lost in emotion, and following someone else's heartbeat instead of your own.
Help Us
I still can't really figure out what this song is about. I just like the way the words and melody came together. Perhaps it's about trying to starting over when everything is broken, when the stakes are high, when you only have a small window of time to do it.
Be Forgiven
Letting go of the past in order to find your way back to someone you love is easier said than done. This song expresses the relief I felt after reconciling with someone I'd been estranged from for a long time.
Broken Heart Love
The comfort of staying where you are even though you know leaving would make things better can be devastating. Sometimes you have to leave that broken heart behind and take a risk at life.
The Fool
I wrote this song after yet another failed attempt at a relationship. I felt like I was losing sight myself more and more each time I tried to make someone else like me. Like most women I was raised by society to please men, to be a good girl, to not ask for too much. This became the baseline of every relationship I had with men and it made me miserable. So I finally decided to fuck that and this song was part of that process.
Heart and Mind Alike
This song is to my father. Even though he's no longer here I'll always love him and think of him, and he's still an inspiration in my work as a songwriter and artist. It's a reminder that grief is not something you get over or move away from, it's something that stays with you and you learn to live with. I think there's beauty in that.
None Of My Words
Sometimes you just feel like no matter what you say or do you can't get through. Hopelessness is never a good thing in a relationship, and I wrote this song when I realised it was just as much my responsibility to leave as it was the other person's responsibility to leave me alone.
Endless Love
For the longest time writing a love song seemed like an impossible task. I'd always just cringe and nothing would come of it. It's funny how meeting the right person can change things within you – suddenly i wanted to write a love song – and it felt like the most natural thing in the world.
Demo No. 1
This song opened a whole new world for me! I knew when I wrote it that I'd struck a chord within myself, that I'd finally written something completely honest. I shared it with my community online through Soundcloud and it became the start of this entire project. Demo No. 1 was the name I gave it back then, and it is the same recording that's on the record. It's more of an abstract, this one. I'll leave it up to the listeners to take what they will from it.
— — — —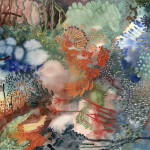 ? © Julia Marie Naglestad
:: Stream Louien ::
---