A culmination of his journey as an artist thus far, Corey Harper's long-awaited debut 'Future Tense' solidifies his comfort within the home of genre-bending musicalities, speaking to heartbreak, moving on and hope.
Stream: 'Future Tense' – Corey Harper
---
i don't think we could get closer
from being further than we've ever seemed
the only spark left is the light coming out of our screens
i tried to tell you but you never heard me
and maybe it's all just a dream
and i'm way too scared to find out so i won't try to scream
now that you're gone
i'm not sure who i'm supposed to be
i guess losing you also means
losing a part of me
– "future tense," Corey Harper
I stumbled upon Corey Harper on a Spotify shuffle years ago.
His honey vocals struck me immediately, closely followed by his stellar songwriting and slow blues riffs. Some EPs, tours and several notable collaborations later – the Washington-born, L.A. based artist has consistently demonstrated an ease within the catharsis of musical experimentation, shifting seamlessly between genres. Now comes Future Tense, Harper's long-awaited debut album. Chronicling the decline of a long-term relationship, the record, released September 23 via Virgin/Range Music, represents new chapters, moving on and hope for the future.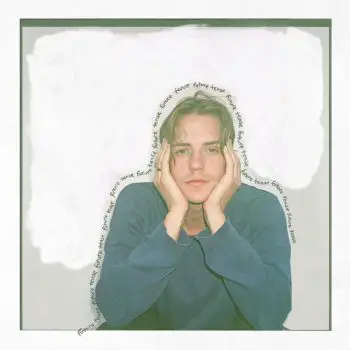 No stranger to the music scene, Future Tense is a culmination of Harper's journey as an artist thus far. The record, lyrically as well as sonically, is an ode to new beginnings. Without shying away from vulnerability and new ways of talking about it, Future Tense is an apt response to the current musical climate of our time. From the Kurt Cobain-esque rock ballad 'Villain of Your Story' to classic folk-indie 'Not That Great of A Lover', fan-favourite 'Still Need to Love You,' and everything in between – Future Tense is is a testament to his ability in going wide while also going deep. A collection of 11 diverse and thoughtfully crafted songs, this record tells us that Harper is only just getting started.
Corey Harper ringed in on a Thursday morning from a farm in California – the one where he currently resides. His warmth and humility was disarming from the get-go as he shared candidly about his journey of self-discovery through creating this record. We chatted embracing change and letting go, from Allen Stone to the London music scene. As a fan of Harper's music since his early days on the indie-folk scene, getting to chat with him about his debut was nothing short of a treat.
Harper's debut album Future Tense is out now.
This album is me coming out and saying, "This is me, this is who I am." This is the kind of music I want people to think of when they think of me as an artist.
— —
A CONVERSATION WITH COREY HARPER
[Interview has been edited for length and clarity]
Atwood Magazine: Congratulations on Future Tense! I loved it, it was great. A debut album is a huge landmark in any artist's career. How are you feeling about the release, what was the creative process like?
Corey Harper: Thank you! I'm anxious but also ready for it to be out. The shorter the time to the release also feels like a longer time it's taking to come out. But I'm very excited, I have a lot of anxious feelings especially, because you can't release your first record ever again. I'm just trying to keep my mind at ease about it.
The creative process started with me not really knowing where to pivot after Covid. I had just previously released a project that I wasn't able to tour or take around the world at all. I started writing and recording these songs with Alex Salibian, who got in touch over the summer. He was like, "Hey I've been listening to your music. I really want to work with you, I feel like I wanna develop something here with you." Alex had just come off two albums he had done with big artists. And saying he wanted to work on this music [with me] for an extended period of time – I was really excited to get started on this project. We each handpicked people to be a part of it, from songwriters to musicians. The producer he was mentoring at the time took the project into his hands – we did it together with Alex guiding us through the process.
The process looked different depending on the day. I was driving back and forth from L.A. to Portland pretty much the entire cycle of recording the record. And I was flying back and forth. A lot of miles were travelled, a lot of tears were shed, thoughts provoked – but it nonetheless made for a good album and a good recording process.
How has this project helped you to grow as an artist, writer, musician?
Corey Harper: It's been two years since we started the record and I've grown in so many different ways. I was out of a relationship that I was in for almost four years – so that was the incubation process for the songs to start coming, even though a lot of them had been written while I was in the relationship. But from the start of that album, I guess you could say… I moved from L.A., Gearhart and Portland to London. I lived in London for three months and worked on music. Moved back to Portland and now I'm back in California – living on a farm out here in the mountains of Malibu. I've adapted a new personality in being able to have all these different living arrangements. And with who I wanted to become in my music, it's really helped make this project diverse. It's really how I feel about things. It crosses me going through something and being able to have a conclusion about it, and being able to look at it in hindsight.. Like coming full circle.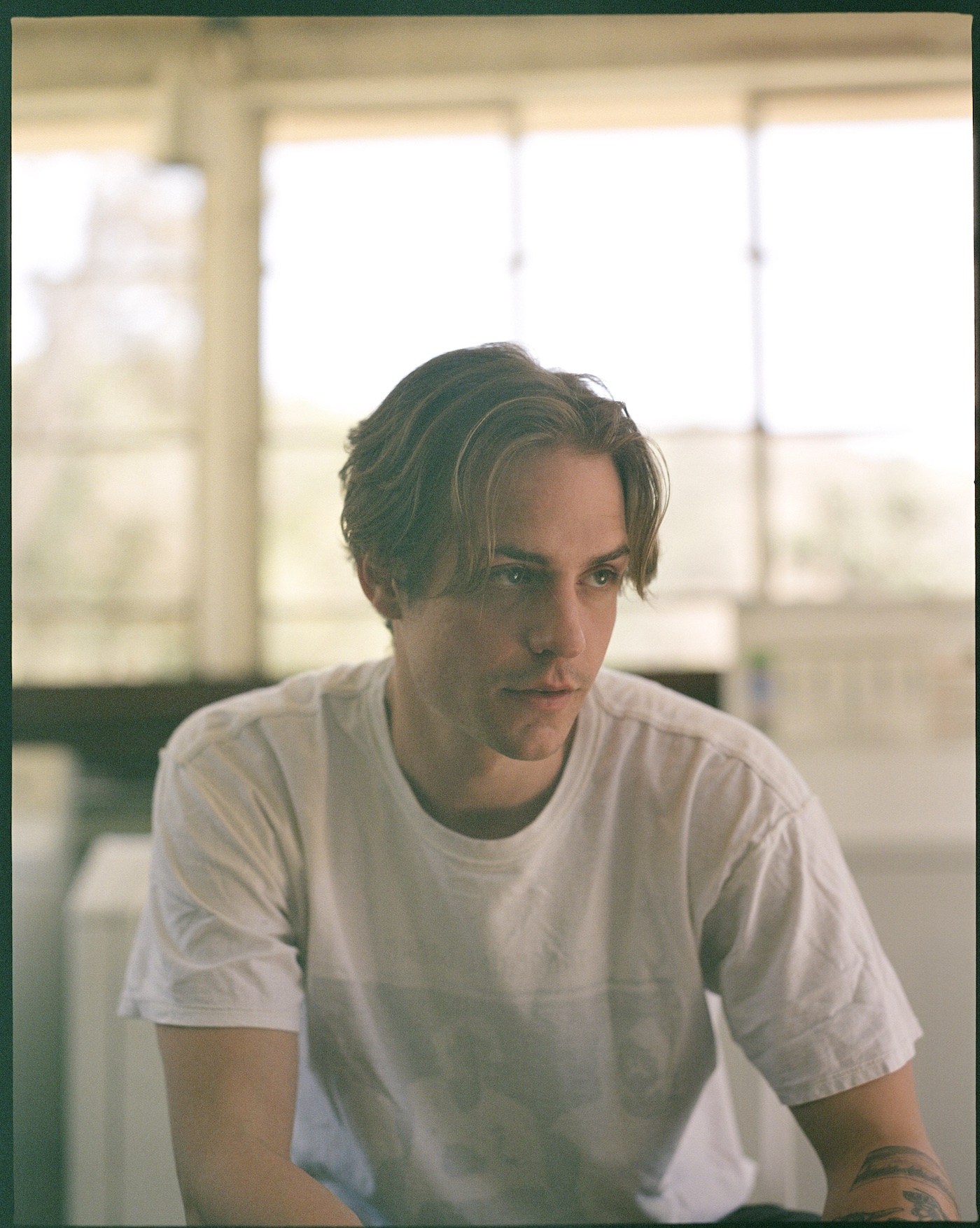 When you move around a lot you're always getting a clear head by stepping away from whatever it is you're going through.
Corey Harper: Yeah! It is a big part of my personality to not want to be in the same place for long periods of time. I bounce around a lot, I really enjoy having to immediately change my environment. I enjoy people and different surroundings so much that it's nice to have a plethora of lifestyles and arrangements. My mind is never really settled on who I want to be or what I want to do.
Yeah, like testing yourself constantly.
Corey Harper: Yeah! I feel like I'm a sponge for the energy around me, so when I change my environment I'm soaking up all these new nutrients of a different system – a whole different organism of life experiences.
And that'll affect how you see life, which will then affect the music that you write as well… You mentioned you lived in London, there's a really cool music scene out there.
Corey Harper: Yeah! It's actually really interesting right now too. There's so many big artists coming, and the indie-rock scene in London is amazing. The Holly Humberstones and the Sam Fenders –
Oh, I love her! I love them both.
Corey Harper: Yeah! Absolutely! Like that music is just so big right now. There's a whole lane that's opened up for singer-songwriter and folk-acoustic artists – I just wanted to be out there. I've also grown up supporting England football since I was a kid, I'm a big soccer player. I always followed England, so ever since I was a kid I've just been obsessed with British culture and English football. I have a lot of friends and collaborators there too.
You must have loved it there! All the culture, the music, the football, the beer!
Corey Harper: I'll be back there soon, I'm really excited. There's less of a pressure to be somebody out there. No one gives a fuck, if you're good and you can sing and you can play, people love it. There's so much talent and undiscovered musicians out there, it's just great. And London is also just – it's just the best city in the world.
Yeah it is great! So, when I get sent these albums I always sit with my notebook and I'll write whatever comes through my mind as I'm listening -
Corey Harper: Oh wow, I'm really interested to hear about what you wrote.
Oh yeah! We can get into that. I wrote down lyrics I liked and other artists I was reminded of. I've got acoustic Kurt Cobain, Goo Goo Dolls, Dominic Fike, and Allen Stone. That's pretty across the board -
That's a massive compliment. Two Seattle artists in there too, I grew up in Washington so yeah, pretty cool. I mean Kurt and Allen – both Washington artists.
Have you ever seen Allen live?
Corey Harper: We both were playing at a friend of ours'. He organised these shows at this apartment at the Smith Tower in Seattle. Long story short the family that owns this apartment had asked me and a couple artists to play, Allen being the headline to the show – but it was his birthday, so he's like, "I have to do this then go back to my birthday party cause it's happening down the street." So Allen played before me, which I was really scared about. It was the most terrifying thing I ever had to go through. Obviously I idolised Allen from the fruition of my career – and this gig was super intimate, it was like a hundred people in this beautiful apartment – you could really hear everything. His voice was just… like butter, you know. And his guitar playing was amazing as well. He played these amazing songs, like the song he had just written, and completely melted the crowd. Then I had to go up there and play my shit and I just was like, I don't really know how I can go on after this. He just absolutely was in another realm when he was singing, and then I had to go. It was terrible.
Going up there after Allen Stone is pretty terrifying!
Corey Harper: Oh I have nightmares about it, still!
Who were your other influences for the album? Who were you listening to when you were making the album?
Corey Harper: A lot of Nirvana at the beginning. The 1975, they're one of my favourite bands. Dominic Fike, Phoebe Bridgers, Holly Humberstone. Me and Alex were also sending Clean Cut Kid back and forth. Harry Styles as well – just cause Alex had just come off working Harry's first record. I listened to that record a lot – that music was very much a part of what we wanted to achieve sonically, like the junos and the synths mixed in with acoustic and electric guitar. My good friend Dylan Day also played Jenny Lewis a lot, we really enjoyed her music. A couple of her songs were mixed by Shawn Everett. I was listening to a lot of that, his music sounds like a whole other genre because of the way that he touches it. Alabama Shakes, I listened to Sam Fender. Tom Petty really inspired a couple of the songs as well. And Fleetwood Mac, especially the Rumours album – it really affected this album just because they were the first band I ever fell in love with as a kid, and what inspired me to be a musician.
Fleetwood Mac is an all time favourite.
Corey Harper: They're everyone's, you know. People think it's taboo but it's a matter of fact, they are one of the best bands of all time. Their music is really important just because of the way it was crafted, their story, how unique and diverse their band is. As far as musicianship, sonically and personality… Sorry I was just waving to my friend, I live on a farm so there's a lot of people walking around.
Haha, I can't believe you live on a farm. It must be so nice!
Corey Harper: It's really really cool and it's beautiful.
Sounds so chill.
Corey Harper: Yeah, lots of animals!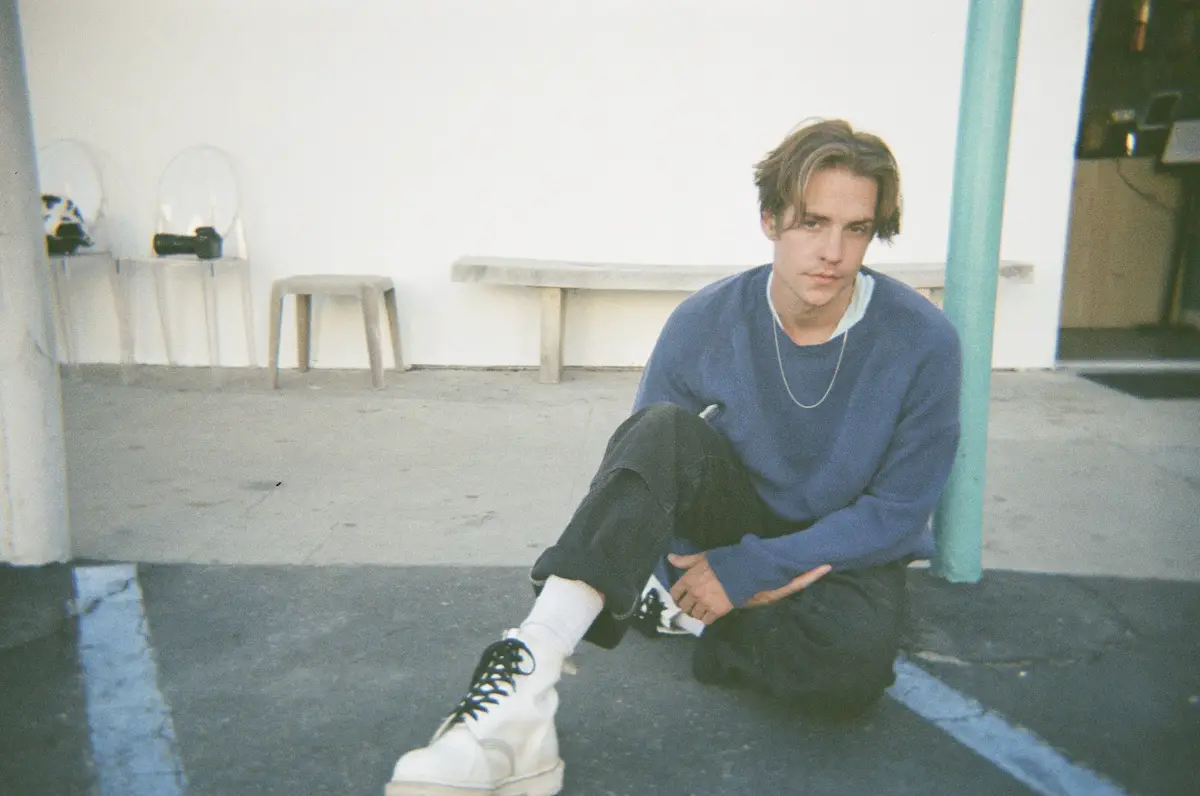 That's adorable. Well this album really felt like I was listening to how you listen to music, because of how sonically diverse it was. I guess the album really mirrors the way you were consuming music when you were making it.
Corey Harper: Yeah! Absolutely. It's hard for me to listen to music during an album cycle because I'll get distracted by like, one sound or something in a song –
You wanna be like, "I can do something like this too!"
Corey Harper: Yeah exactly! Ethan – the producer that I worked with – we're always like, "What synth is that? Can we go get it?" This really sporadic mentality of listening to music. I can't just listen and enjoy it, my ears are picking up these different things and wanting to put them in my own music.
The inspiration is everywhere.
Corey Harper: Yeah it really is. It's everywhere.
Let's talk about the name 'Future Tense.' The lyrics mention you writing songs 'in future tense.' This was also the last track on the album, so it really feels like you're opening a new chapter. What's the significance of future tense - as a concept - for you?
Corey Harper: Yeah! Well, like you said it wraps up that whole thing about how the songs are written. And also the word 'future' I love. It sounds great sonically, and rolls off the tongue. And also just foreshadowing hope into, for lack of a better word, the future. The whole album is a gap to bridge to another part of myself that I can claim back another day soon. I lost a lot of myself during this album cycle, and gained a lot of myself too through these songs.
How did you lose and gain yourself?
Corey Harper: I let myself experiment with a lot of different things, even outside of music. I was really comfortable living a certain way for a long time. Bouncing around I was able to just give it all up and experiment with all these things that I maybe shouldn't be doing or wasn't really able to do being in a relationship. So it was sort of this commitment I made to myself to really live out these songs and really commit to –
Living.
Corey Harper: Living – yeah. It takes a lot to admit all these things to the world. And then as soon as all of my stories are out I have to go make more – and go reclaim all these different things that I'll write about in the future.
That's a lovely way to think about it. That leads on to my next question. You said that your last project Overcast was 'recorded in a creative rush' that highlighted your musical instinct, whereas Future Tense was an intentional project.
Corey Harper: Yeah! Overcast was more like a mixtape, it was done in like a month.
I really loved that project as well! Was this intentional creativity an important aspect in creating Future Tense?
Corey Harper: Thanks! And yeah absolutely, I wanted the record to have a personality. Giving it a personality, sonically, was very important to me.
I also understand you went on hiatus for 2 years -
Corey Harper: It was more like creative mode. I think everyone was on hiatus for that year and a half. I would've been doing a lot of other things if it wouldn't have been for Covid so it felt like I had to restart everything.
Yeah, I feel like a lot changed in the music industry, with live shows etc. Do you feel like putting out music was different for you, after all that?
Corey Harper: You're gonna be a different person after 2 years of not releasing anything. I'll be a different person a month from now. Especially being in my late 20s, an area where you're doing the most growing and reflecting. So yeah it was a really pivotal moment and pivotal time. This album is me coming out and saying, this is me, this is who I am – this is the kind of music I want people to think of when they think of me as an artist.
I also have to ask about 'Still Need to Love You' - I know this song has been around for a while. What made you decide to put it on the album?
Corey Harper: After multiple times of trying to make that song work I kinda just cracked the code on it. It was a song that I played live a lot. A lot of fans that know me, they know that song. So I thought I was doing a disservice to the song by not having it out. There are a couple live versions of it floating around the internet but I wanted to give it a proper, this is what the song sounds like to me in my head – I finally got it out and it sounds exactly how I imagined it from the beginning.
''Hussain Freestyle'' is a really powerful piece too. Can you tell us about the story behind it?
Corey Harper: My friend Hussain Manawer, he's an amazing guy. I got to know him through a couple of my friends in London and he's just an absolute powerhouse of a lyricist. He's a spoken-word poet and an author. He's very talented in so many different ways. He's just a guy that I go to for anything, he's a really really close friend and very dear. That recording – I literally walked into the studio and pressed record, got down on the piano and started playing these chords. And he just started rapping. That's all freestyle. We just had a conversation about everything under the sun that was happening with me and my life. And he encapsulated that whole conversation in this 12 bar freestyle and it's just like, geez man, I can't believe that can come out of a human being. Like that's just unbelievable.
So it was just the one take and that was it?
Corey Harper: Yeah! That was it!
Oh my god!
Corey Harper: Yeah! It was a voice memo that I did on my phone.
Wow that's amazing, I'm glad that's on the album.
Corey Harper: Me too, me too. It was a really special moment. It was ethereal, it just all came together, it was magic. Well, a magician never reveals his secrets. But I can hear him saying to me, "Bro it's not magic, it's real, man."
Haha I love that.
Corey Harper: I just spoke to him actually. He's really excited to have the song out. He's got a lot of really cool things that he's working on too. He's got a book out right now if anyone wants to go check it out, it's called Life is Sad and Beautiful. It's an amazing memoir and poetry book about his experience losing his mom, reflecting on the world, his battles with what he deals with. It's amazing. Plugging that for you, H.
Do you have a favourite song on the album?
Corey Harper: That's so hard.
I just asked you to pick between your children!
Corey Harper: Yeah you did! Hmm, I love 'One Day'. I think it's one of my favourite songs on the album, maybe 'One Day' and 'Vulnerable in the Sky.'
I love 'Vulnerable in the Sky'! It reminded me of the early Goo Goo Dolls stuff. And it's so interesting lyrically, I don't think I've really heard anything like it - just the perspective of it as a story.
Corey Harper: The story behind that song… Whenever I'm on an airplane I have this emotional, overwhelming amount of emotions when I see something really sad or happy. Because you just have no distractions from the real world. That song's literally just about wondering why you get so sad on an airplane.
Yeah I found this track super relatable! I'd never really registered this feeling but it kind of hit the nail on the head.
Corey Harper: Yeah! It's something I've never really heard anyone talk about, but everyone goes through it. I'm glad you feel that way.
Of course! I have to ask - will there be a tour accompanying the album?
Corey Harper: Oh yeah! Yes. It's in the works right now, hopefully this winter and the next spring for sure.
Amazing! To wrap up, what do you hope listeners will gain from the album?
Corey Harper: I hope they'll gain my perspective. I hope they're able to gain a perspective of their own through what the songs mean to them in their own life. I hope people can really react and connect to the songs in a way that they can use – and be inspired to create more art in the world.
— —
— — — —
? © Harper Smith
:: Stream Corey Harper ::
---