With her second album 'Waska Matisiwin,' Atikamekw singer/songwriter Laura Niquay preserves her language and puts spotlight on her culture in an accessible and engaging way.
Stream: 'Waska Matisiwin' – Laura Niquay
---
What can we acquire from music?
We can make sense of our emotions, we can discover the context behind songs that leave us inspired or with greater cultural awareness, we can become aware of different instruments/methods of production, and we can even learn languages. For Laura Niquay, music is like a traditional form of storytelling. With songwriting she recount events and thoughts that can be passed on through generations, preserving the Atikamekw language which is becoming less frequently used, but the music itself is fresh and rounded thus fitting within the modern landscape.
The singer/songwriter's second album Waska Matisiwin (released in April 2021) is an album that pulls at the senses, each song strong in the way that it enforces a burst of energy, encapsulates an environment amongst nature, or brings a moment of reflection and calm. The music is familier enough that it can hold our attention but the incorporated touches, such as the harmonies, the chants, and the percussions, give it its identity.
In lead single "Moteskano (Les sentiers de nos ancêtres)" (meaning 'the paths of our ancestors'), there's what sounds like the crunching of leaves introducing the song, giving the impression of wondering through a secluded forest, before the trailing cry of a wolf supplied by the voice of artist Anachnid. The chorus has the air of a small anthem, a gathering of warming intensity, while the lyrics speak of the inspiration deriving from the words of her mother and how the way of life for future generations should be to pursue the good values of our elders and be proud of our origins.
Kape matce moteian Askik
Ni pikekiniskisin niki pisken
Mocak nikipe pisikon
Kirika nikawi 
Nanikotin niki otamicin
Nama nkitci atwerimon
Tapwe mocak niki takocinin nete 
Nikinako ketcikinako
Nikinako ketcikinako
– "Moteskano," Laura Niquay
---
Likewise, "Eki Petaman (Ce que j'ai toujours entendu)" ( meaning 'What I always heard') is high intensity, the type of light rock that encourages your body to move, and the integrated vocals give an authentic sense of community. "Nitanis Anaïs (Ma fille Anaïs)" has a slight grunge feel, an essence of striding forward through time, and speaks personally of the motivation and belief in the self that comes with having a child. "Icpimik (Le sommet, vers le haut)" is of perseverance that is intensified through the augmenting pace and the forcefulness of Niquay's distinct gravelly voice.
The debut album by Laura Niquay, Waratanak, was released in 2018 and is composed of creations rock and folk sung in Atikamekw. Waska Matisiwin (translated as 'life cycle') feels more developed, layered with bigger production, and the French translations written alongside the titles and lyrics present an openness that makes the stories more accessible, bringing a wider range of people into the Atikamekw community. There are also a lot more softer songs on this record. "Nicto-Kicko (Trois jours)" is sparse and melancholic and recounts a family anecdote set in the middle of winter. "Aski (Terre)" is dreamy country-folk with a poignant message about taking each day as it comes and preserving and embracing nature because that's what gives her life. "Otakocik (Hier)" is a gentil guitar ballad addressing the loss of somebody close.
Icpimik
Icpimik
Icpimik 
Epe ocki kicikak
Epe waseiak
Epe miro kicikak
Epe wapakanakak
"Icpimik," Laura Niquay
Having grown up in a family of musicians in the heart of the forest on a reserve in Haute-Mauricie, music was always an intrinsic part of her life. Her father had taught her guitar at a young age and her aunt would recommend artists such as The Cranberries, Melissa Etheridge and Tracy Chapman who ended up being big influences. Despite the range of international artists that had inspired Niquay's creativity, it was always an intention to write and sing in her first language Atikamekw and share her stories as a kind of spokesperson for future generations.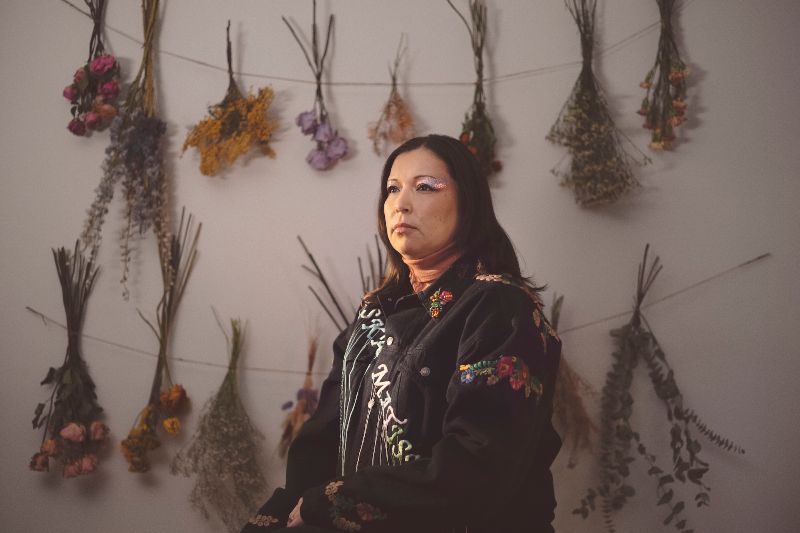 Laura Niquay is part of a growing number of indigenous artists who's music fits seamlessly within the Quebecois music scene, partaking for example in festivals and events. Even if the lyrics are not understood, we can feel the resilience and hope that is transferred through the instrumentation and voice. It creates intrigue and an entry into the self-education of the indigenous communities and cultures that exist around us. While research can be daunting when you don't know where to begin, music can have the power to open minds and put spotlight on specific subjects and stories. From there we can delve further into the facts and history.
At Les Francos de Montréal in June, a 9-day free music festival in the city consisting of established and up-and-coming francophone artists, there was a headline set entitled Émile Bilodeau et ses invités where the popular Quebecois singer/songwriter collaborated with several musicians who are friends from a variety of communities: Scott Pien-Picard and the group Maten who come from Uashat-Maliotenam and sing in Innu, Elisapie who comes from Salluit, Nunavik, and communicates in Inuktitut, and Laura Niquay who comes from Wemotaci and puts spotlight on the language Atikamekw. Niquay had performed a version of "Kirano (Nous)," an emotive song and the last on the album Waska Matisiwin, which she explained is about respecting the views and stories of elderly people because they know and have experienced a lot in the world. Émile Bilodeau is an artist who uses his platform to speak out about injustices, local politics and society but his songs are a lighthearted account of everyday life. For me personally he represents Quebec, at least my experience of Quebec, his music having been a part of chapters in my recent life as though by fate. This show at Les Francos de Montreal was one of those moments. The sense of togetherness was strong and I felt my mind and eagerness to discover being drastically opened up. If it was the case for me then I hope that surely it was the case for other people too.
The music of Laura Niquay fits well in a festival environment, where it could be seen on numerous occasions throughout the province this summer, with the fresh air intermingled with the purity of the songs. An intention is to help preserve the language and in an environment where people are joyously (more so due to several years of absence of live music due to the pandemic) assembled and open-minded about what's on the stage in front of them, Niquay has perhaps succeeded in creating more recognition of her culture. In 2012 Niquay was the first Atikamekw artist to participate in the aforementioned Francos de Montreal festival and in July this year she was awarded the SOCAN Foundation TD Indigenous Songwriter Award.
Waska Matisiwin is an album that draws upon the sharing of knowledge, problems in her society, loss, suicide, hope, and nature.
All of these things are transmitted with the music, giving the listener an understanding regardless of their background. The language, at the heart of the songs, is that added charm that strengthens the authenticity.
— —
Stream: 'Waska Matisiwin' – Laura Niquay
— — — —
? © Monse Muro
:: Stream Laura Niquay :: 
---