Natti Vogel's debut 'Serving Body' EP is indie pop with a lot to say about the way we date.
— —
Natti Vogel makes the type of music that you want to play when you enter a room. It's ear-catching and unique. It's baroque pop with a versatile vocalist who sounds as sexy as the themes of his songs. Vogel is sarcastic and slick, but what makes his debut Serving Body EP so worthwhile is the playful nature of all the songs.
Listen: Serving Body – Natti Vogel
---
Although the lyricism is modernist, Natti Vogel exercises his passions for an era when theatrical pop dominated the music world throughout the Serving Body EP. "Moonshine Melody" and "I Don't Wanna Find the One" dip their toes in the pop-music world while showing massive amounts of affection for the incredibly influential artists like Bowie or Queen who made the music popular. These songs are well-produced and catchy enough that they could be radio hits, but they also could've come from an intimate cabaret. Vogel's vocals are occasionally commanding like a traditional popstar, but he also can be walking down to your table in the local cabaret. Vogel's alluring croon is seen best in songs like "We All Move To Brooklyn" or "Brown Rice," where it sounds like he's the handsome devil on your shoulder, trying to lead you to a hedonistic evening.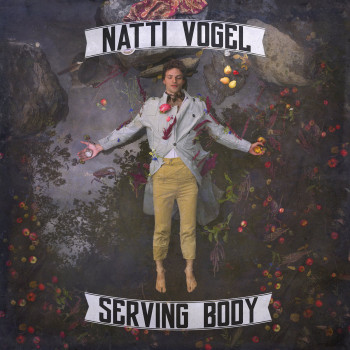 Sexuality and pleasure are the two biggest themes on the Serving Body EP. Vogel emits sexual prowess from the start of the EP. He plays with words like in the closing few lines of the opening track, "Cannibal:"
I finally found someone who's gonna help me
by helping themselves to a helping of me
thereby having some of me on me
"Love for a Limited Time Only" acts similarly with an opening verse that boasts, "You got your hipster boys. They're so boned up/With their gazes saying, "I'm on fire." It seems more like a list of "limited time" lovers, and Vogel is just happy to have his fun and bail out. Similarly, "Brown Rice" and "I Don't Wanna Find the One" both discuss the unwillingness to settle down. Even though we all romanticize the idea of just settling down with "the one," Vogel is adamant that you can be just as happy with brief, short-lived sexual and romantic encounters. "Brown Rice" and "I Don't Wanna Find the One" are vastly contrasting in tone; the first a sensual appreciation of a brief encounter, and the latter is a flashy, energetic number. "Moonshine Melody" features lyrics like:
What, have you been saving up your song
For one drunk moment to waste it on?
At any earlier hour, I wouldn't've been sour
Had it been by the terrace, I'd not've gone embarrassed
Goddamned poor thing, god damn! What have you been waiting for all of this time?
There was a time that I'd make do with a kiss that I can't do nothing with
It's a story about a drunken hookup gone awry, and it's instantly relatable to anyone that's had a poor experience after a long night of waiting around in a bar.
The album's center piece though is the piano-driven "We All Move to Brooklyn." Vogel is truly an artist for any young person living in a city today. Brooklyn has become a stand in for any number of "hip" cities, and he denounces the vacuous conversations so many people have in place of finding out how we're all doing. The chorus asking "Do you think that when we die our souls move to Brooklyn?" is funny and biting.
Vogel isn't just an artist; he's a cultural critic, observant about the way we act. Serving Body is part entertaining indie-pop album, part thinkpiece, part mantra. We should all move to Brooklyn to serve our own bodies.
— —
— — — —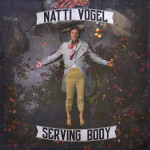 ? © 2018
:: Stream Natti Vogel ::