The Philly experimentalist Spirit of the Beehive's ambitious fourth record 'ENTERTAINMENT, DEATH' is an existential rejection of performance and stagnancy.
Stream: 'ENTERTAINMENT, DEATH' – Spirit of the Beehive
---
Spirit of the Beehive have lived many lives. Between numerous lineup changes, precarious recording settings, and frequent reconfigurations of their live sets, founding members Zack Schwartz and Rivka Ravede are no strangers to change. Since their self-titled, stoner-garage debut album in 2014, they've consistently proven themselves to be mesmerically amorphous, unbound by the limits of genre, convention, and speculation. With the addition of Chicago multi-instrumentalist Corey Wichlin in 2019 (along with pandemic isolation), the trio took a more patient and meticulous approach to crafting their fourth album. Sending audio files back and forth via email during the spring of last year, they ran wild experimenting, yielding a plethora of sprawling new sounds. Pleasure Suck and Hypnic Jerks saw them obliterate the confines of guitar music for a new age—ENTERTAINMENT, DEATH is quite literally what lies beyond.
Human adaptation to a constant barrage of content drives us to feel that we don't exist without constant output and performance. As a band today, Spirit of the Beehive knows this pressure all too well. Loosely narrative, ENTERTAINMENT, DEATH's 11 tracks unfurl into a succinctly nihilistic statement: "You do work, you die," as Schwartz phrased it in a recent interview. He breaks the story down further as a highway tire-blowout death that leads us into "basically a simulation" towards true death (more on that later). Other than that, the tight-lipped group would rather you find significance in their deadpan titles and stream-of-consciousness lyricism for yourself. When you look past the existential ouroboros of the meaning of life, our time on Earth, the afterlife, and the significance of our work, it really is as simple as entertainment, death. It's not that deep…but maybe it is.
The album crashes through an unseen psychic wall on opener "ENTERTAINMENT," a raging malfunction of shrieking synths and screeching metal, reminiscent of Akira's explosive finale—it's death as we know it, but it's not the end. Dust clears, giving way to Schwartz and Ravede harmonizing against a background of lush violins, blissful glitching, and a steadily chugging guitar carrying the promise of an adventure ahead. The melody inverts upon itself and shapeshifts into single "THERE'S NOTHING YOU CAN'T DO," a funky cacophony of eerie samples from who-knows-when, as Ravede's breathiness beckons to the void. The hypnotic danciness ramps into overdrive when Schwartz barrels in with feedback-drenched, hammering guitars, screaming "I'LL BE YOUR FRIEND" over and over with reckless abandon. Sonically overloaded, it reeks of frothing hedonism in the best way possible.
Watch: "THERE'S NOTHING YOU CAN'T DO" – Spirit of the Beehive
While they remain somewhat true to their roots, this is arguably the most expansive collection Spirit of the Beehive has shared thus far. As they further traverse this realm where dread and euphoria mingle in existential disarray, they become even more gloriously uncategorizable. Tracks like "GIVE UP YOUR LIFE" and "THE SERVER IS IMMERSED" tread familiar territory with clearer vision, striking a balance between crunchy static, droning chords, and shimmering synths, whereas "RAPID AND COMPLETE RECOVERY" surprises with warped horns and bongo beats among spoken-word murmurs. "IT MIGHT TAKE SOME TIME" sounds like the Beach Boys on a trip gone bad, as the trio's voices restructure into those of numerous bizarre characters, among foreboding blips and sugar-sweet twinkling that oozes into the strangely sunny "WAKE UP (IN ROTATION)."
The penultimate "I SUCK THE DEVIL'S COCK" is a nearly seven-minute ego death epic akin to Dante's Divine Comedy (or so I've gleaned), spiraling through chaotic vignettes of sound towards acceptance of an insignificant fate. As all fever dreams must come to a close some way or another, "DEATH" is a fitting epilogue. A slo-mo, funhouse sendoff into absolution, we reach what Schwartz describes as "the death of the soul." In the face of the impossible challenge to remain eternally unforgettable, forgoing all expectations and joining the leagues of nothingness might be what heaven looks like.
— —
— — — —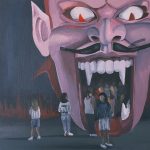 ? © 2021
ENTERTAINMENT, DEATH
an album by Spirit of the Beehive
---