Listening to "Bring It All Back" is a testament to how piercingly clear Leanne Tennant's songwriting intent is.
Stream: "Bring It All Back" – Leanne Tennant
[soundcloud url="https://api.soundcloud.com/tracks/657959396?secret_token=s-dFzEh" params="color=ff5500&auto_play=true&visual=true&hide_related=false&show_comments=true&show_user=true&show_reposts=false" width="100%" height="300″ iframe="true" /]
---
On Leanne Tennant's upcoming single, "Bring It All Back" (releasing August 22nd via LT Records), the UK born singer-songwriter will open your mind. After winning the Carol Lloyd Award, an award designed to promote female-identifying artists, as well as racking up some serious cred with her placings in the International Songwriting Competition and two Queensland Music Awards, the artist is back in the studio. "Bring It All Back" is the second single from Tennant's forthcoming album, following the mournful "Cherry Cola." Time will tell what flavors the album will hold, but "Bring It All Back" and its inviting compassion are quite the turn from "Cherry Cola's" minor scaled melancholia.
Back seat drive
your way to
someplace in anger
lost in blue
You can't see
through all the other haze
One sided food
Where vision fades
Open minds and dialogue, according to Tennant herself, are the theme of the song. As she tells Atwood, "The song is about two people in conversation with alternative views. One is suggesting that they open up the dialogue and explore alternative ideas and beliefs however their requests are futile as they're communicating with someone who has a fixed mindset." With her lyrics and the warmth of her voice, Tennant beckons an unseen party to come back, back from the brink, and asks them to give it another shot. 
The theme permeates through all layers of "Bring It All Back" – the tune sounds like clarity itself, like light refracting through a prism, casting rainbows and epiphanies across its containing room. With all of its elements working together towards a single theme, Tennant's release is looking to be stunningly cohesive, not to mention a killer, head-bobbing work of contemporary indie-blues.
"Bring It All Back" starts with a legato guitar lick that segues immediately into a persistent, striding bassline that sets the tone of the track as confident, steady. The bass also imbues the mix with a stellar balance of energy and calm, almost chameleonlike in how it changes based on its musical context. During the verse, it's a steady pulse complementing the warmth of Tennant's vocals; during the chorus it's a bluesy bedrock for the added layers of guitars and vocals bumped up in the mix. This is the sonic catalyst that blends the entire tune together – until it drops out entirely for a spacy vocal-and-guitar section before ramping back up and breathing renewed energy into the song for the outro.
This is all to say nothing of Tennant's vocals themselves. Without question, Tennant's pride is her vocal timbre. Listening to "Bring It All Back" is a testament to how piercingly clear Tennant's songwriting intent is. The vocals flow forth from the mix with all the clarity and warmth of a sunbeam after a rainstorm, making each vocal section somehow radiant, but also completely refreshing and chilled out. It fits, of course, that the lyrics themselves are a level headed plea for someone, probably a lover, to themselves calm down, come back, and try again.
Don't you forget me now
when you see that
you're only half as right as me
leave behind, those stubborn pieces
I bet ya, bet ya, bet ya, bet ya, that
If you bring it all back,
bring it all back
And I will look the other way
Take it all back, take it all back
And I'll do the same
Tennant sings, "It's time to simmer down/We've let off steam/both said things we didn't mean/Leave behind those stubborn pieces/I bet ya, bet ya, bet ya, bet ya, that/If you bring it all back, bring it all back/And I will look the other way/Take it all back, take it all back/And I'll do the same." Tennant's almost-repetition in the chorus lends to the cadence of the song – stable, determined, cool.
Listening to Tennant, we don't see how one could refuse.
While Tennant's quote to Atwood leads us to generalize who the other in the song could be – is it your best friend? Is it your estranged older relative that heard you mention women's studies over Thanksgiving dinner and is down your throat about it now? – the framing, both musical and lyrical, leads contextually to a spat between lovers. There's an intimacy and a residual heat that bear the markings of a mutually understood mistake. But in contrast to what music typically focuses on, "Bring It All Back" is the cool down, the reconciliation, rather than the moment of heat itself. This itself is refreshing, and commendable on Tennant's part.
On my side
I don't mean to shout
but you can't hear me
through all that doubt
Two minds torn
and left in the soil
Sweet righteousness
left to the boil
Crystal clear production courtesy of Konstantin Kersting (Tia Gostelow, The Belligerents, Mallrat) lets Tennant's voice pierce through the audio layers like an icy early morning stream, and tastefully overdriven guitars give "Bring It All Back" a rock edge without forfeiting the chill atmosphere and clarity that both drive the song's cohesion. Tennant's decision to add an a capella vocal section with intimate claps add a brilliant tension before the outro.
With its last few bars, "Bring It All Back" urges reconciliation, and leaves listeners with a lush, ethereal high note. Pre-save the song here!
Stream: "Bring It All Back" – Leanne Tennant
[soundcloud url="https://api.soundcloud.com/tracks/657959396?secret_token=s-dFzEh" params="color=ff5500&auto_play=false&visual=true&hide_related=false&show_comments=true&show_user=true&show_reposts=false" width="100%" height="300″ iframe="true" /]

— — — —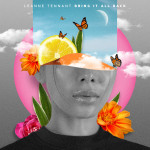 ? © Matt Loncar
:: Stream Leanne Tennant ::