'Californian Soil' is one album that could entirely transform your emotional life in these troubling times, and in London Grammar's third and resplendent full-length they deeply explore human relationships and dimensions of beauty and shimmering darkness in setting forward ways of utter transformation in this new yet old human epoch that we are all amidst.
written by guest writer David M. Buyze
Stream: 'Californian Soil' – London Grammar
---
"Pure emotion
Let it burn"
– "How Does It Feel," London Grammar
I am in deep in thought and reflection on the life that I am living as I listen to London Grammar's remarkable album Californian Soil in how they create an immensely lush soundscape that I intensely inhabit as they transport me through vestiges of self, experience, time, and memory in bringing me to greater clarity on the meaning of existence, and into dynamic spheres of actualized thinking on the positioning of one's self in the prisms of human relationships as one stands before the world.
In this review of the LP, it is certainly paramount to consider how music can be related to other artistic forms in ways that certainly extend and amplify how music is not only sound, but of how it can relate to transforming perceptions of one's own identity in relation to the self and other through varied artistic modes of expression that spur one to think very differently about time and memory, and how one is able to contemplate life from nuanced levels of perception through the listening performance of music in reflection to other ideas, images, and literature that have impacted one's consciousness and awareness.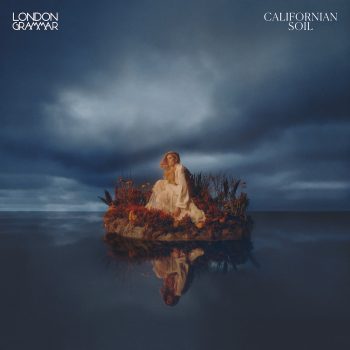 Californian Soil is one album that could entirely transform your emotional life in these troubling times, and in London Grammar's third and resplendent full-length they deeply explore human relationships and dimensions of beauty and shimmering darkness in setting forward ways of utter transformation in this new yet old human epoch that we are all amidst. This is an immensely empowering work of artistic grandeur that is not only sweeping in vision, but utterly captivating in how Hannah Reid explores emotional life with reverberating dimensions of acutely sculpted insight in her songwriting. These elements are an extremely rare find in music today, and these are not the only dimensions that make this album such a remarkable feature, as it is their uncanny ability to make an LP that is so very enveloped within our current time, and also one that applauds the simultaneous vintage and futuristic feel of their music, as through Reid's sagacious lyricism they have forged their own illustrative unique destiny as visionaries on the world in setting themselves apart and highly distinguished from most of their contemporary peers, and in this, they also set the stage for a wonderful plateau of comparison in thinking about some of the greatest albums in music history.
The mesmerizing operatic immersive darkness and fog of the "Intro" sets a pivotal tone for this album that is both forlorn of a forgotten time and precisely contemporary for more deeply submerging themselves in electronica that is continually accompanied by Reid's riveting poetic luminosity in creating an indelible timeless feel to their LP as they capture the arc of emotion in the past and how these dimensions strikingly register in our lives in the current moment. The sense of timeliness is crucial since how many albums can really and truly stand the test of time in simultaneously being of the age in which they were conceptualized, but also sounding as if they were released today. Californian Soil particularly reminds me in very different ways of these timeless watershed albums: Bat for Lashes' Lost Girls, Portishead's Dummy, Everything but the Girl's Walking Wounded, Editors' In Dream, and U2's The Joshua Tree.
Californian Soil is entirely in a sphere of its own in regard to sound and approach, and it also feels like an album like these in being poised as the soundtrack that can accompany infinite late nights, a break-up album, a reconciliation LP, and one that enables us to explore thinking and emotional life with more fervent degrees of introspection. Yet, like these artists and albums that preceded them, there is also a shifting sense of reality when it comes to processing the sound as the innovation is discordant with how one has previously imagined music in relation to the knowledge of sound in one's being, and this transformative inner experience is illustrative of a new manner in which human life can be expressed and understood. This experience with new music is so very revealing, and London Grammar have provided us with an opulence of knowledge and sound in which to deepen the interiority of ourselves, and reflexively, how to be in the world with more conscious degrees of awareness in the intimacy of human relationships.
The lyrics for the song "Call Your Friends" capture candid dynamics of these kinds of sentiments on a literary level, and one is then left to consider as to how this fathoms in the auditory experience:
"I've been waiting on my own
For a lifetime and it shows
God the way I seem to keep my distance from you
Baby there's no need to go prove you love me when it shows
Any the ones before you made it hard to love at all
Every time I tried
To make myself seem small
In the arms of others
Who never loved me better
All the ways I tried to make myself less selfish
It never made them stay
And I can't love me like this
I can't love me like this"
While London Grammar's first two albums were subtly and intimately empowering as magnificent works of art, Californian Soil is poised as a seminal masterpiece which takes more of bold vision on songwriting and the sound of their music to a triumphant level. Hannah Reid's emancipatory voice is paramount as she inscribes a deep and vast vessel in this body of work that almost feels as if it was created on an isolated, dark, yet illuminated island and cast forth as a lens of analysis on relationships and the world, as they consider how it is possible to understand human experience in ways that crystalize reflections of life on earth. The sense of the album being created and cast from an isolated island is already apparent with the image of Hannah Reid on the album cover, and while immersed in their music, I continually kept thinking of the illuminated yet dark, winding, beguiling, and mysterious corridors of Venice in winter as this LP seems to dwell within those exact physical interiors in its inexhaustible beauty. This is also reflected in the sense of being utterly removed from the world while one dwells within Venice in feeling metaphysically beyond being — Californian Soil also exists at that exact juncture in how one is able to imagine and perceive the self differently in the world through the experience of their vision in a temporary suspension of being. The positive paradoxical reality of this is that while one might feel a sense of removal from the world while in Venice or in Californian Soil, the real possibilities of transformation revolve around openings of recognition that make one more fully immersed in the world in recognition of the immense cultural historicity and endless potentiality of human experience that one is living amidst. The novelist Javier Marias incisively expresses ways of thinking in his memoir Venice: An Interior, that relate to interpreting the spatial sound ambience of Californian Soil, as he writes in speaking to the interiority of Venice:
"It means that it is self-sufficient, that it has no need of anything outside of its self and that this same self-sufficiency is what creates that 'endless imaginary fragmentation': the narrow becomes wide, the near becomes far, the limited becomes infinite, the identical becomes distinct, the timeless becomes transient." (Marias 49).
The stunning cohesion of this album's vision fragments how the self can be conceptualized in exposing emotional fears that are both interior to one's being and also exterior as to how one positions the self in relation to others.
As Marias illustrates in contemplating Venice in his memoir, London Grammar's Californian Soil also expands how the world and human experience can be contemplated in the imaginary, and most evocatively, how perspective can be transformed in reality, if one is willing to think otherwise.
This can also be considered another way which Aleksandar Hemon spatially illustrates in his memoir The Book of My Lives in speaking to the impact of Sarajevo on his physical and metaphysical awareness, as he writes, "I gradually became aware that my interiority was inseparable from my exteriority. Physically and metaphysically, I was placed." (Hemon 138). He elaborates on this further in speaking to his life in Sarajevo:
"The borders between interiority and exteriority were practically nonexistent. If you somehow vanished, your fellow citizens could have collectively reconstructed you from their collective memory and the gossip accrued over the years. Your sense of who you were, your deepest identity, was determined by your position in a human network, whose physical corollary was the architecture of the city." (Hemon 145).
The reversal and finessing of perspective that Marias addresses is entwined in the impact of this album in providing a sense of refuge from the world as one is able to enter into different ways of interpreting the self in shifting how time and space are considered in reflection to one's self, and in contemplating Hemon's expression on the interior self being reflected in the narratives of others and in the exterior world of a city.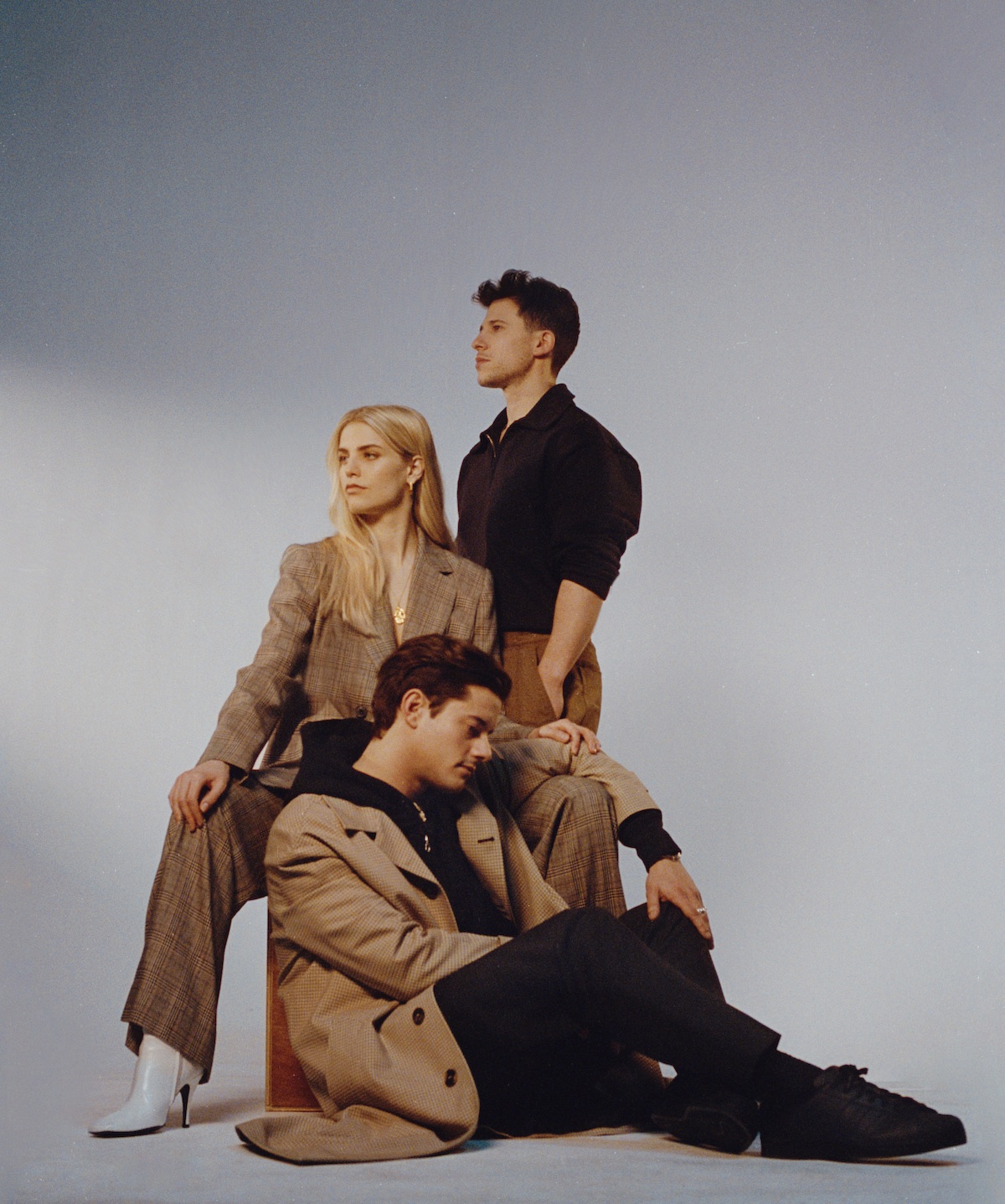 In this manner, Californian Soil also simultaneously distinguishes and then collapses interiority and exteriority in a total exposure of the self before the world; and this feeling is also intensely captured as one approaches the awe, magnificence, and seeming infinity of Venice from the water in arriving in the splendor that unfolds before one's eyes on the Grand Canal. One's subjectivity is forever transformed, and similarly, London Grammar have presented us with the incredible possibility and chance of becoming one's best infinite self in Californian Soil in ways that can astound how the self is perceived in providing immense degrees of reconciliation to your greatest fears and desires.
Marias' idea of 'endless imaginary fragmentation' captures the mood of this album which can also be thought about physically through the fog in winter in Venice which simultaneously consumes and disorients in utterly transfixing one's mind in ways that question perception on what is being seen and how one is witnessing the self through centuries of human experience. In Californian Soil one also becomes a witness to the weight of British music history that London Grammar have built upon in producing an album of elucidating integrity and creativity in transversing epochs as they whisper and pronounce through the ages of all that we are on a raw and confiding level. This photo of the Bridge of Sighs in Venice illustrates these senses of history and infinity which in my mind correlate to the feeling of the album.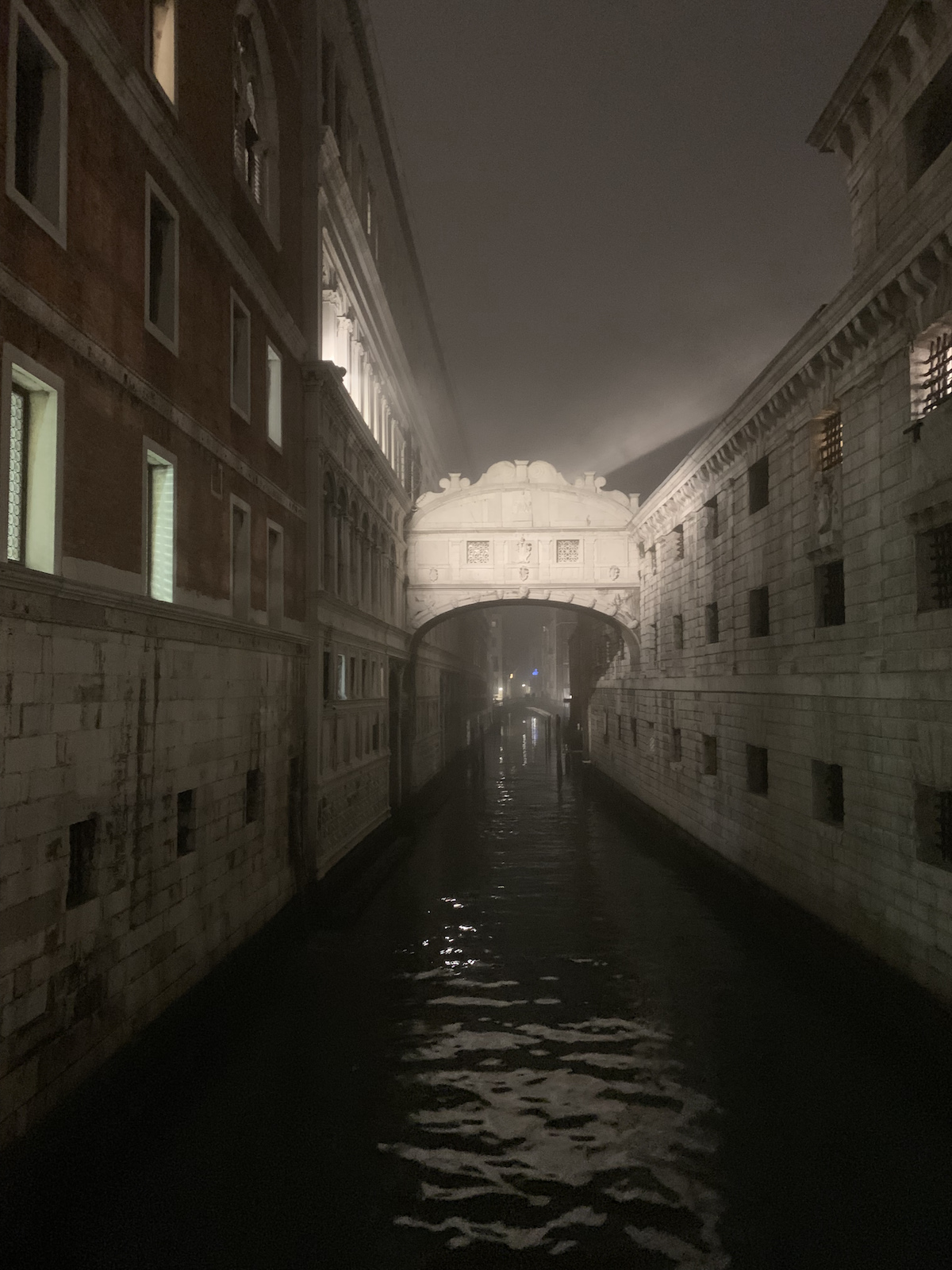 In dramatically shifting perspective, the following photo from within the interiority of the Bridge of Sighs reflects how Californian Soil provides a portal that can transport one to live a more meaningful and beautiful life in the exterior world, if it can be seized within the ephemerality of your being.
In listening to this LP, I was continually contemplating how the sound and the feel of the music could be expressed visually as there exists a continuous auditory tension between light and darkness that is also reflective to dimensions of lightness and heaviness of being in the world. Californian Soil begs the listener to consider these dimensions in solitude, while also offering a firm hand and vision that can accompany your hardest degrees of strife and your most lustrous dimensions of pleasure in human relationships. This can also be thought about physically in regard to how light and darkness are experienced very differently in correlation to water which also enables alternative ways of imagining how space and time are inhabited in beguiling human perception, as can be considered in this photo of Venice in winter in reflecting on the audio interiority of the album.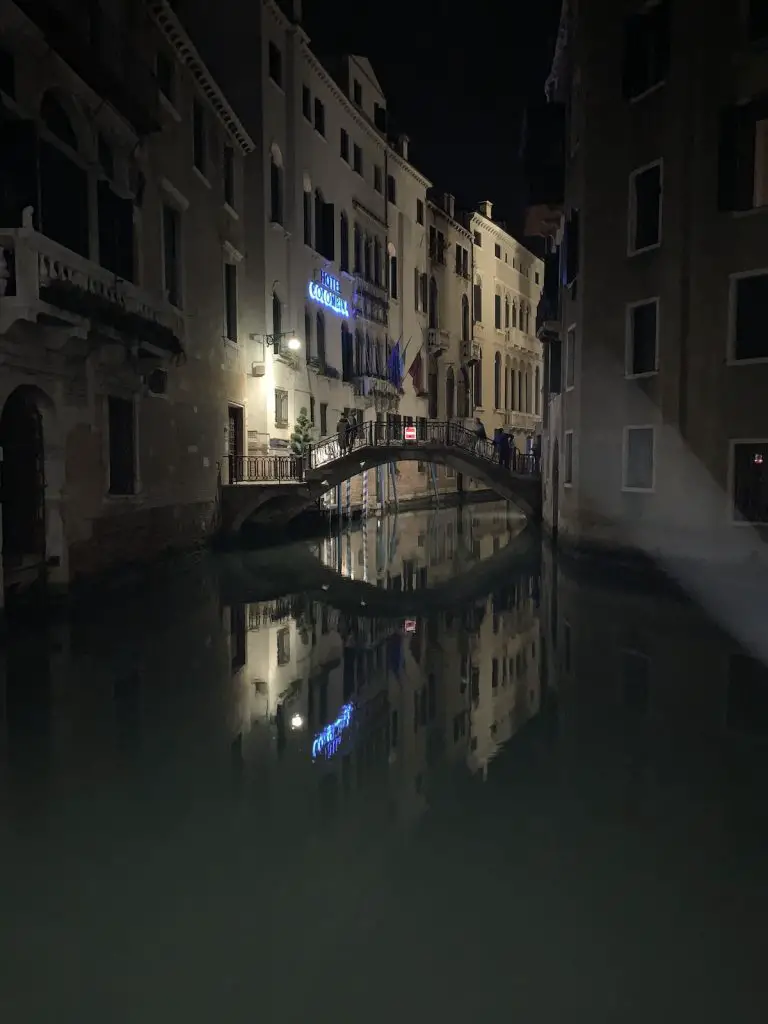 In Javier Marias' wonderfully unsettling novel The Infatuations he captivates a portrayal of human relationships that tread on the significance of this album as to how London Grammar are exploring emotion and relationships, as he writes:
"People start out seeing one thing and end up seeing quite the opposite. They start out loving and end up hating, or shifting from indifference to adoration. We can never be sure of what is going to be vital to us and who we will consider to be important. Our convictions are transient and fragile, even the ones we believe to be the strongest. It's the same with our feelings. We shouldn't trust ourselves." (Marias 94).
In Californian Soil there is a definitive sense of emotive transience and exposed arid fragility that is rife with an air of melancholy, but there is also a kindred sense of warm permanence that they are lending as a lens of fortitude in empowering the self. The musical and lyrical accomplishment of this album can be considered as sublime in both of the Kantian philosophical impressions as that which simultaneously overwhelms the sense of pleasure in the perception of beauty accompanied with feeling sensations of terrified awe in its magnificence. Dimensions of beauty and terror in the listening of this beautiful album reside on the exact rub and tension within how it confronts repression in making the unsaid articulate, and in also acutely considering how Hannah Reid is illuminating the voice of her experience.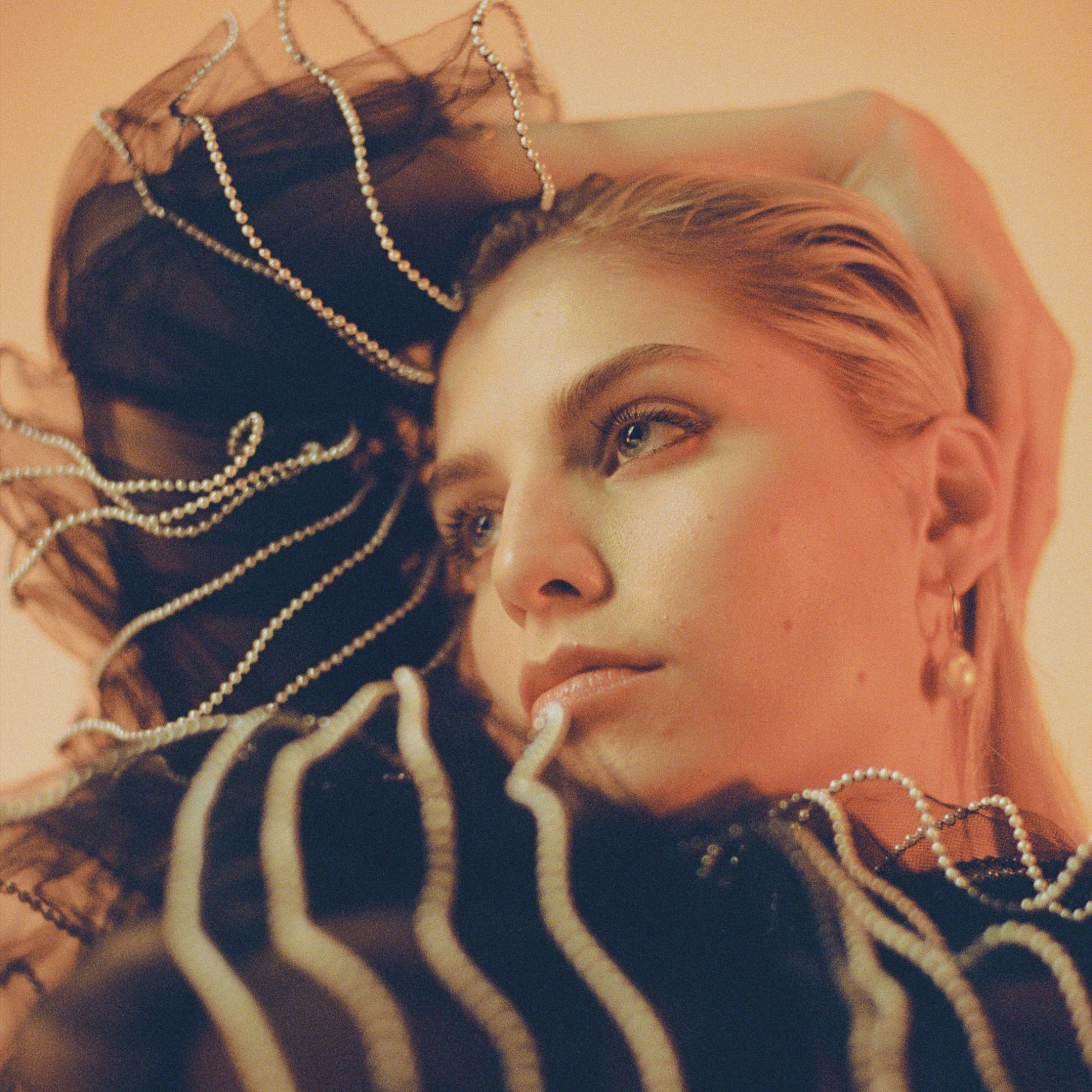 Reid's voice enraptures in enabling one to dwell deeply within her lyricism which evokes existential and metaphysical quandaries, tensions of intimate emotions, isolation, questions of self, place, and identity; and dark interiors of love, loss, and betrayal in human relationships.
The song "I Need The Night" resides on intense expressions of poignancy in exploring these realms:
"There is a voice it is chastising me
I was so cold what had become of me
Take all your limbs and wrap them round your neck
So they all laugh at your predicament
All of the boys and girls
All people in this world
Give me a dream and I will give you my word
I need the night
And I need this drink
Will you sit with me
And bring all your friends
Chase the morning light until all of this ends"
Every song has its own utterly unique place, but it is so very lucidly compelling to listen to Editors' "Ocean of Night" as a comparative sense of contemplation to London Grammar's "I Need The Night" in thinking about the intensity of the night wherein many of us come most alive in our immersion in the darkness which is often the only salve to illuminating our deepest fears and the underbelly of our emotional life through an emptying or disclosure of self. In this album there is a very finessed grasp of space and time according to cadence in acutely expressing such feelings as hesitation, fury, instability, warmth, comfort, solitude, and the fear of feeling emotionally bereft through their music. In dwelling on these feelings, this album also reverberates on dimensions of the sound and experience of Massive Attack's work with Tracey Thorn on "Protection" and "Better Things."
The songs "America" and "Californian Soil" situate a moving commentary and critique on American society in reflection to existential meaning, as can be reflected on through these lyrical excerpts:
"But all of our time chasing America
But she never had a home for me
All of our time chasing a dream
A dream that meant nothing to me
And all the parties they fade
And yes my looks will go away
I'll just be left here in America
But she never had a home for me"
– "America," London Grammar
•• ••
"I left my soul
On Californian soil
And I left my pride
With that woman by my side"
– "Californian Soil," London Grammar
Stream: "America" – London Grammar
---
The use of America as a metaphor on these two tracks can be compellingly compared to the sentiments and arc of U2's searing album The Joshua Tree in how a lens of self reflection and analysis is also located in exploring the myth and reality of American society, and how this spurs different aspects of existential reckoning. The issues of fear and attraction in America have also been brilliantly elucidated by David Bowie in his song "I'm Afraid of Americans" which powerfully examined these exact tensions.
It was previously considered how the novelist Aleksandar Hemon considered himself as inscribed in the narratives of others and in the exterior world through his life and experience in Sarajevo, and he further contrasts this to his life in Chicago, as he writes:
"Chicago, on the other hand, was built not for people to come together but for them to be safely apart. Size, power, and the need for privacy seemed to be the dominant dimensions of its architecture. Vast as it is, Chicago ignored the distinctions between freedom and isolation, between independence and selfishness, between privacy and loneliness. In this city, I had no human network within which I could place myself; my Sarajevo, the city that had existed inside me and was still there, was subject to siege and destruction. My displacement was metaphysical to the precisely same extent to which it was physical. But I couldn't live nowhere; I wanted from Chicago what I'd got from Sarajevo: a geography of the soul." (Hemon 145-6).
The songs "America" and "Californian Soil" deeply reverberate on this sense of metaphysical displacement, and what these songs and the entire album offer are indeed "a geography of the soul" that can ground one's being in providing a greater sense of self-orientation; how to live with more significant degrees of introspection through more profound degrees of awareness on how to reckon soured emotions and experiences; and how to more acutely resonate within the remarkable wonders and love of human relationships that transport one to otherworldly realms in defying logic and rationality.
---
The mood, music, and lyricism in this album in regard to its cultural historicity can also be particularly felt within Bat For Lashes' Lost Girls, Portishead's Dummy, and Everything But The Girl's Walking Wounded as these three albums deeply resonate on the paradigms of emotional life, loneliness, melancholy, loss, human relationships, coldness/warmth, affinity, and varied ways of pondering the complexities of ennui and ephemerality in life and love. These three albums created cultural watershed moments that also forged a new style of music in inspiring people to live differently in the world through the impact of their remarkable synergy of lyricism and musical innovation that invoked different considerations on how one could think about the self, and in reflection to the other and society.
The paradigms that are explored in these three albums can be considered through the three songs "Lord It's A Feeling," "Talking," and "Lose Your Head," where initially, dynamics of betrayal are boldly considered in "Lord It's A Feeling":
"I saw the way you made her feel like she should be somebody else
I saw the way she tried to hold you when your heart was just a shell
I saw the words she wrote that broke my heart it was a living hell
I saw the way you laughed behind her back when you fucked somebody else
I saw the way you made her feel like she should be somebody else
I know you think the stars align for you and not for her as well
I understand I can admit that I have felt those things myself
I saw the way you laughed behind her back when you fucked somebody else"
In "Talking" and "Lose Your Head" reflections on change, perceptions on the self and other, fragmentation of self, allure, and the steadfast preciousness of friendship, are evoked in the lyrics:
"All of these changes
Keep on following me
Visions that wake me relentless
Leaders mean nothing to me
All of these people
None of them true at the seams
But I see you in dark corners
Eyes they look away from me"
– "Talking," London Grammar
•• ••
"I need to learn, when this thing called love
When it's a mirror baby
Can you see all those parts of me broken across the world
I need to find some kind of peace of mind
It's a demon baby
When it comes, like my oldest friend
Have you got a friend in the night"
– "Lose Your Head," London Grammar
There are many times in life when one feels "broken across the world" as memory is so utterly entwined with space and location, and yet time has the capacity of varnishing, diminishing, and ultimately extinguishing many emotions, feelings, and memories in the fragile determination of all that life is in our limited time in inhabiting this earth.
Californian Soil is an album which is so eloquently and vibrantly positioned as your "friend in the night" in making that which is "pure emotion" and to "let it burn" in your mind as that which can transform your being in our continual quest and drive in striving for meaning and significance in the world, and more stridently in our relationships, as portrayed in the song, "How Does It Feel":
"Pure emotion
Let it burn
Like fire
Do you yearn for a change
And I hope that you've learned
To never make the same mistake
Do you think about me when you're all alone
When the tide comes in tell me where will you go
Do you think about us when you're feeling low
Do you think about us"
---
A burning sense of emotion is a pivotal paradigm in this LP and this is certainly invoked in all of its dimensions and moments that accompany a continual riveting sense of intensive inquiry of our minds and how we can dwell within a sense of being that can enlighten one's very own sense of lack and inadequacy, and likewise, through a very close degree of listening and resonance in this album, some people can understand how to reject negative emotional roles and behaviors that have disenfranchised and marginalized the experiences of others.
In the album Californian Soil, London Grammar have made our world a more profound place in which to inhabit in coming to greater degrees of self-reckoning in our lives amidst all that encompasses our spheres of experience, thought, and knowledge.
Their album can enable you to reflect more poignantly about emotion and relationships in your own life, and perhaps through the gift of their music in all that Californian Soil inhabits and portrays, this world can transform to become more real, honest, and beautiful, if one can reside deeply reside within the cocoon and portal that they have brilliantly provided for our lives.
— —
David M. Buyze is a writer and professor on music and culture, in addition to writing and teaching on various humanistic dynamics involving such issues as race, religion, conflict, nationalism, and postcolonial paradigms. He has a PhD from University of Toronto, and is particularly interested in cultural, social, and political issues of marginalization and how existential, social, and national dimensions of liberation can occur within literary and artistic forms of expressions. He is very passionate about the power of music in enabling people to vibrantly experience the world and think about existence in transcendent ways. Connect with him on Instagram @davidbuyze, Twitter @BuyzeDavid, or via email: d.buyze@tcu.edu
— —
— — — —
? © 2021
Works Cited
Hemon, Aleksandar. The Book of My Lives, Picador Books, 2014.
Marias, Javier. The Infatuations, Vintage, 2014.
Marias, Javier. Venice: An Interior, Hamish Hamilton, 2016.
— —
:: Stream London Grammar ::
---